Winger Marc Tardif played for the hockey team widely regarded as the greatest junior team to ever play. His abilities at the junior level vaulted him into a highly successful 14-year professional career. Today's average hockey fan may never have heard of Tardif. His final professional season was with the 1982-83 Quebec Nordiques. But between his time as a member of the Montreal Jr. Canadiens until he retired, Tardif forged a career as one of the best wingers in pro hockey.
The Lack of WHA Players in the HHoF
There has long been a belief that the Hockey Hall of Fame heavily favors NHL players when it comes to member induction. Within recent years, however, the Hall has endeavored to change that perception. Since 2010, multiple female hockey players have received induction. Separately, international stars who found greater success outside of the NHL have also been inducted, such as Valeri Kharlamov and Sergei Makarov.
But then there is the question of the World Hockey Association (WHA), the professional league that rivaled the NHL throughout much of the 1970s. Many of the true greats of the game – Wayne Gretzky, Gordie Howe, Mark Messier, Jacques Plante, Bobby Hull, Frank Mahovlich and Gerry Cheevers – all played in the WHA and are now in the Hall of Fame. The trouble is, most of them either played in the WHA during the twilight of their careers or before their careers truly took off.
#Podcast | @StephTurcotTVA a une incroyable anecdote sur Marc Tardif… #MoreaultenJase #RadioX | https://t.co/afBXhutRmq pic.twitter.com/8T2zhAqCUB

— CHOI 98,1 Radio X (@CHOIRadioX) December 7, 2016
Tardif, however, played in the WHA during the prime of his career and became one of the league's biggest stars. For the sake of argument, included here is his successes in the WHA as part of the validation behind his induction. It is important to note that Tardif had NHL success both before and after he played in WHA.
Tardif and the 1968-69 Montreal Jr. Canadiens
Tardif's stardom began in junior hockey as a member of the Montreal Jr. Canadiens. Many hockey scholars still to this day consider the 1968-69 Jr. Canadiens as the best junior team ever assembled. It is easy to see why. Every player on that squad played professional hockey at some level. One look at the names on that roster is reminiscent of a 1970s NHL All-Star team: Tardif, Gilbert Perreault, Rick Martin, Rejean Houle, Guy Charron, Jocelyn Guevremont, J.P. Bordeleau, Bobby Lalonde, Norm Gratton, Richard Lemieux, and Serge Lajeunesse – it was an incredibly talented team, to say the least.
Not only did the 1968-69 Jr. Canadiens win the Ontario Hockey Association (OHA) championship, but more importantly, they captured the Memorial Cup Trophy that season as the top junior team in Canada. Tardif finished fourth in team scoring with 31 goals, 41 assists and 72 points in 51 games that year.
An early feather in Tardif's cap towards Hall of Fame induction is that Memorial Cup Trophy. Granted, Tardif did not do it alone. That collection of talent on one junior team will likely never be seen again. But Tardif was certainly a vital cog for those Jr. Canadiens. He has every right to have that trophy emblazoned on his resume as much as Hall of Famer Perreault does.
Marc Tardif Joins the Canadiens
Following the Memorial Cup, Tardif had the opportunity to showcase his talents in the NHL. With an obsolete rule that may seem unfair these days, the parent club Montreal Canadiens used to have the right to select two French-Canadian players of their choosing before the rest of the league's amateur draft was held.
By happenstance, Tardif's draft year of 1969 was the last year that this rule was allowed. Sure enough, the Canadiens selected Tardif and his junior teammate Houle as the first two picks of the 1969 draft. Tardif split the 1969-70 season between the parent club Canadiens and their AHL affiliate the Montreal Voyageurs.
After his split rookie season, Tardif became a mainstay with "Le bleu, blanc et rouge" for the next three years. In three years time, Tardif won two Stanley Cups, in 1971 and in 1973. When those great Montreal teams are recalled, Tardif is often forgotten, unfortunately. Having Jean Beliveau, Ken Dryden, Jacques Lemaire, Guy Lafleur, Serge Savard, Guy Lapointe, Mahovlich, Yvan Cournoyer, Henri Richard, and Larry Robinson on one or both of those teams, it is more understandable to see why.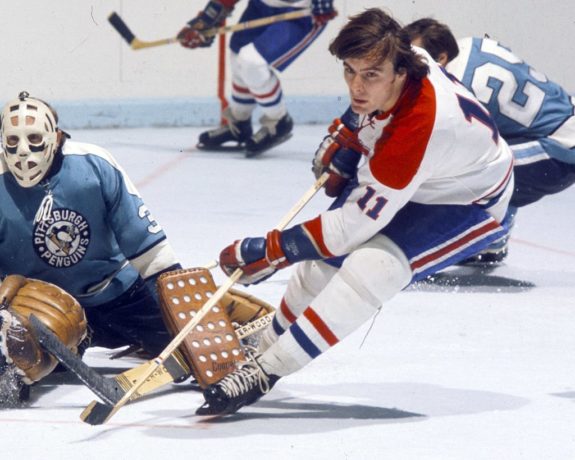 Make no mistake though, Tardif played his part on those championship teams. For the 1971 Cup-winner, Tardif finished tied with Richard as sixth on the team in points. He scored 19 goals and 30 assists in that first full year of his NHL career. For the 1973 team, his 25 goals and 25 assists placed him seventh on the team in scoring.
Oddly enough, in his finest offensive season with the Habs in 1971-72, he did not win a Cup. His 31 goals were fifth best on the team and his 53 points placed him seventh.
The Two Stanley Cup Championships
There is bound to be someone who will push the argument the other way and say that Tardif was just along for the ride. That those Montreal teams were stacked with talent, and that he reaped the benefit of playing on them. Hold on for a moment and view Tardif's lot on that team from a different perspective.
He found a full-time role on that team while being all of 21, 22 and 23 years of age and became a 30 goal-scorer in the process. The majority of the aforementioned Hall of Fame Canadiens playing alongside him were in their late-20s at the youngest, or well into their 30s like Mahovlich and Richard, or Beliveau who was practically 40. Tardif was able to stand alongside those legends and contribute. These days, players as old as Tardif are still considered prospects in many instances.
When it comes to having won the two Cups, Tardif had just as big a role as any Hab. In the 1971 and 1973 Stanley Cup Finals, he played all 13 games of the two series. While he would go pointless in 1971's seven-game battle between Montreal and the Chicago Blackhawks, he tied for the team lead with Guy Lapointe for 19 penalty minutes in the Finals, which is a sizable piece of the action.
In the 1973 Finals against Stan Mikita's Blackhawks, Tardif was a point-per-game player. In the six games, he scored three goals and three assists.
There is really no merit in saying that Tardif was a secondary player during his time with Montreal and their Cup victories. Rather, in two of the most hard-fought Stanley Cup championships of all time, he was necessary in swinging the outcome in Montreal's favor.
The Jump to the WHA
As did a substantial number of NHL players, Tardif jumped over to the rival WHA the following season after he won his second Stanley Cup. He signed with the Los Angeles Sharks in 1973, and in his first season (1973-74) became the Sharks' top scorer. Tardif scored 40 goals and 30 assists, and his goal total would be tied for seventh in the league.
Happy birthday to former #Habs forward Marc Tardif, who turned 67 on Sunday #HabsIO. pic.twitter.com/nlpy4l0GAS

— Stu Cowan (@StuCowan1) June 12, 2016
The Sharks, however, were an abysmal hockey club. They finished dead last despite Tardif's heroics. Upon completion of the 1973-74 season, the team moved to Detroit and became the Michigan Stags. Tardif scored 12 goals and 5 assists in his first 23 games for the Stags. Not halfway through the 1974-75 season, Tardif was traded to the Quebec Nordiques. From there, the winger exploded.
Upon arriving with the Nordiques, Tardif scored 38 goals and 34 assists for 72 points in only 53 games. On the whole, that gave him 50 goals and 39 assists between the two teams. Those numbers would seem paltry compared to what Tardif was about to do.
The Greatest Player of the WHA
The WHA would last four more years after the 1974-75 season before the league folded. In each of those four remaining seasons, Tardif finished among the top-ten scorers in the league. Pretty good, right? It gets even better. For the 1975-76 and 1977-78 seasons, Tardif led the league in goals, assists and points. He did so by producing numbers of epic proportions.
In his 81 games in 1975-76, he scored 71 goals, had 77 assists and his 148 points are the second highest point total in a season in WHA history. Only two players, "The Golden Jet" Bobby Hull and Tardif's teammate Real Cloutier, scored more goals in a season that he did.
RelaxInCanada: MnardPatrick: RT PhotosHistos: Marc Tardif avec la Coupe Avco remportée par les Nordiques de #Québe… http://t.co/Zs5KFdiZFW

— Relax In Canada (@RelaxInCanada) October 19, 2015
Two seasons later, Tardif broke his own points record by scoring 65 goals and 89 assists in 78 games. Those 154 points are the highest total ever recorded in the brief existence of the WHA. They are a mark that shall forever belong to Tardif.
His WHA accolades do not end there. In an injury-shortened 1976-77 season, Tardif helped lead the Nordiques to the Avco Cup – the WHA's version of the Stanley Cup. His 316 career goals are the most in league history. Tardif's 666 career points are second highest, and his 350 assists are third. At the end of it, those 666 points were compiled in just 446 games; superb numbers no matter what professional league we are considering.
A WHA/NHL Merger and Final Numbers
When the WHA ceased operations upon completion of the 1978-79 season, its four most viable teams were brought into and merged with the NHL. The Hartford Whalers, Edmonton Oilers, Winnipeg Jets, and Tardif's Nordiques were the four newest NHL teams at the time.
Marc Tardif remained with Quebec as part of the merger and became the Nordiques' first captain in NHL history. Oddly enough, his numbers during his second go-round in the NHL were even better than before. This time Tardif was the veteran player in his late-20s, early-30s. He had played the prime of his career in another league, yet he still managed to score seasons of 33, 23, 39 and 21 goals before retiring in 1983.
During his first season back (1979-80), Tardif's 33 goals and 35 assists came in just 58 games. He was capable of scoring at a similar pace achieved in the WHA. His 39 goals and 70 points in Tardif's 1981-82 season, would be the highest of his NHL career.
At the end of it all, Tardiff scored 194 goals, 207 assists and 401 points in 517 NHL games. Combined with his totals from the WHA, he scored 1,067 points in 963 career games between the two leagues; that includes 510 goals. Now, numbers such as those are typically defined as induction-worthy numbers, at least as far as NHL players go.
Should Tardif Receive HHoF Induction?
This is a bit of a tricky one. By looking at his NHL numbers alone, no, Tardif is not worthy of induction. His two Stanley Cup rings, even his Memorial Cup work in his favor, but in the end they are not enough. Tardif would have needed better NHL point totals and a longer NHL career in order to receive legitimate consideration.
BUT… if the Hall of Fame is indeed a "Hockey" Hall of Fame and not an "NHL" Hall of Fame, then it is a much different story as far as Tardif is concerned and shouldn't that be the case? The Hall is meant to preserve the history of the game and all facets of it. The best players in the women's game are now being enshrined. The best international stars are receiving induction. Builders and great contributors to the sport have found homes in its hallowed chambers. And yes, the best of the NHL is found widely throughout its walls.
So, if the governing body is truly concerned with preserving hockey history and in honoring those who have been the best in the sport and not just a particular league, then heroes of the WHA such as Tardif are worthy of consideration. At the very least, in an effort to archive this great sport, Marc Tardif should be included and done so as the best player of a league and a time long since gone.
General Manager of the Buffalo Beauts (NWHL). Hockey history writer "The Hockey Writers". Credentialed media for the NHL Combine and 2018 IIHF World Junior Championships in Buffalo, NY, USA. Born and raised in Buffalo, NY. Lifelong hockey fan for over 40 years. Proponent of the women's game.