Barrie Colts defenseman and top prospect from the Ontario Hockey League (OHL) Brandt Clarke is heading to Sweden to get more playing time until the OHL season begins. The Buffalo Sabres sign their eighth-overall selection from the 2020 NHL Entry Draft and a Colorado Avalanche prospect earns Quebec Major Junior Hockey League (QMJHL) Player of the Week honors.
Clarke Heads To Sweden
Unlike the 2020 NHL Entry Draft, it's looking like a wide-open race for first overall heading into 2021. One of those prospects in the running is Barrie Colts defenseman Brandt Clarke. Projected by some as an early favorite for first overall, THW's Josh Bell has him ranked second on his 2021 Top 31 Preseason Rankings. He was scheduled to return to the Colts for the 2020-21 season, but with the OHL pushing back their start date until Feb. 4, Clarke has found a new home in Sweden's HockeyAllsvenskan with Väsby IK.
THW's own Mathieu Sheridan had this to say about Clarke's abilities in his assessment of the race for first overall.
Clarke can change the game at any time. His elite skating ability allows him to create time and space with the puck on his stick and he can dish it off to his teammates in the slot without any hesitation. He loves to jump into the rush and is more than capable of getting back if the puck transitions the other way. Clarke is also no slouch in the defensive end either. Standing at 6-foot-1, he is great at using his size to clear the front of his net of any danger. He is not afraid to go into the corners to get the puck back and makes a great first pass to his forwards breaking through the neutral zone.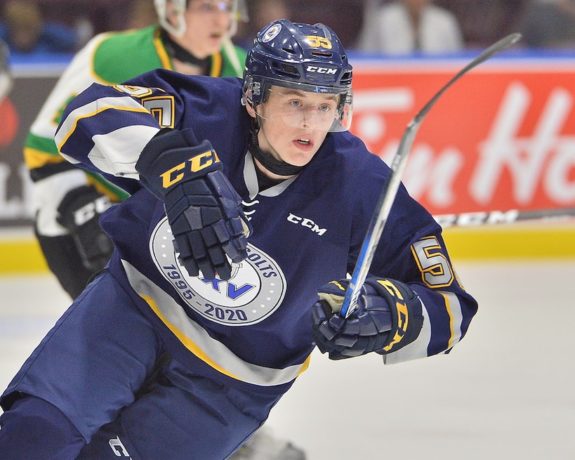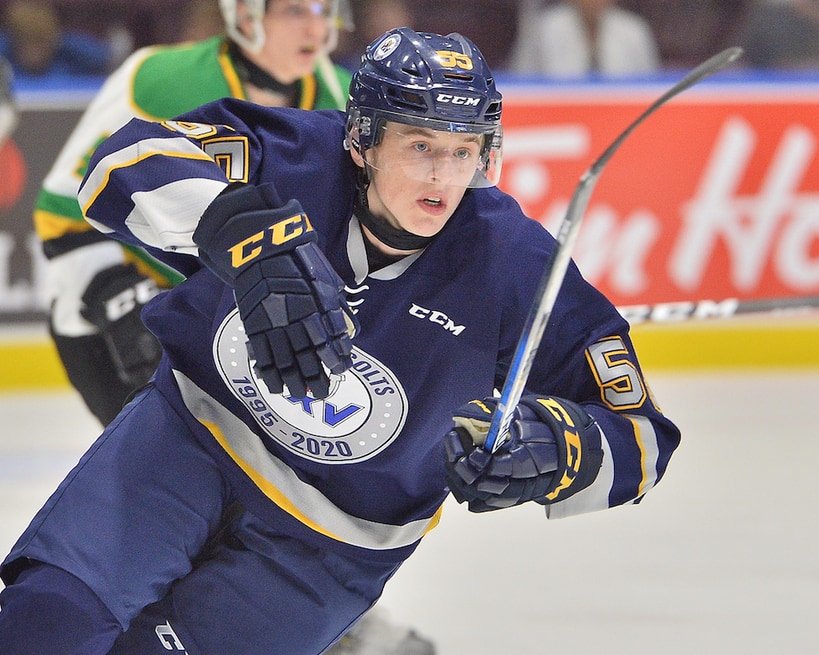 Clarke, who has given an 'A' rating by NHL Central Scouting, spent the 2019-20 season in the OHL with the Colts amassing an impressive six goals and 32 assists for 38 points in 57 games played. He led all rookie defensemen in scoring and led all rookies in assists. He featured for Canada Black in the 2020 World Under-17 Hockey Challenge registering one goal and five assists in five games played. Clarke will return the Colts when the OHL season begins in February.
Sabres Sign Jack Quinn
The Sabres announced on Monday that they've agreed to a standard three-year, entry-level contract for Jack Quinn. Drafted eighth overall in the 2020 NHL Entry Draft, Quinn spent the 2019-20 season with OHL powerhouse the Ottawa 67's. He amassed a ridiculous 52 goals across 62 games played, which was good enough for second in the entire league. He also put up 37 assists bringing him to a total of 89 points, which was a 57-point increase from his rookie season.
In a press release by the team, Sabres general manager Kevyn Adams had this to say about Quinn's potential.
He has what I would say is a really good self-awareness of who he is as a player and he also has a determination that I see him getting better and better. He has that growth mindset kind of mentality where you could just see it, he wants to get better. He was upset when he was younger that he didn't feel that he was where he wanted to be as a hockey player and then he started doing things to help him improve. To me, you see that trajectory and arc and we're going to be excited to have our player development guys now jump in and start doing work with them. But he's got a big ceiling.
Quinn will have to wait to begin his 2020-21 season with the OHL scheduled to return to play in February. We've already seen several players opt for loans in Europe in the meantime, so we'll have to wait and see if he opts for that route. When he does return to Ottawa it will be interesting to see how he does without Marco Rossi on the team. It will be Quinn's team in 2021 and all eyes will be on him to see he can replicate his production from last season.
Beaucage Named QMJHL Player of the Week
Avalanche prospect and Rouyn-Noranda Huskies forward Alex Beaucage was named QMJHL Player of the Week after amassing five goals and one assist across two games this week. Drafted 78th overall in the 2019 NHL Entry Draft, he compiled 40 goals and 30 assists for 70 points in 63 games played during the 2019-20 season. The year prior he won the Memorial Cup with the Huskies in a season in which he posted 39 goals and 40 assists for 79 points in 68 games played.
Beaucage recorded his first career four-goal performance in a 5-4 overtime victory over the Val-d'Or Foreurs. It was the first four-goal game for the Huskies since Timo Meier during the 2016 Playoffs. The 2020-21 QMJHL season is already underway and he currently has 13 goals and six assists in 10 games played. This is his final year of QMJHL eligibility and he will likely make the jump to the AHL during the 2021-22 season.
---
---