Over the last few seasons, the Carolina Hurricanes have found ways to unlock potential in players who might have been overlooked by other teams. Whether it be through the draft, free agency, or extended offer sheets, Carolina has found ways to make players fit into their system since Rod Brind'Amour became head coach and Don Waddell took over as general manager.
Among these players is the Hurricanes' Finnish second-line center Jesperi Kotkaniemi. Carolina extended an offer sheet to restricted free agent Kotkaniemi in August 2021 while he was with the Montreal Canadiens. But before that, Canadiens fans saw Kotkaniemi as a player who wasn't living up to his draft stock, drafted third overall in the 2018 NHL Entry Draft. Granted, in 2018, he played in 79 games as an 18-year-old rookie who was getting used to the NHL – most prospects who are immediately thrown into the league don't become Connor McDavid or Sidney Crosby; they learn and grow at different paces. Over the next two seasons, Kotkaniemi played only 96 games, which was mainly due to the shortened COVID season. In his time with Montreal, Kotkaniemi tallied 62 points (22 goals and 44 assists) in 171 games.
Learning the Carolina Way
Last season, his second with the Hurricanes, Kotkaniemi had a career year. He played all 82 games for the first time and recorded career-highs in goals (18), assists (25), and points (43). He was also the team's second-line center for much of the season after playing on the fourth line for all of 2021-22. He saw an increase in ice time and special teams minutes, playing a total of 1208 minutes, another career-high; the last time he played over 1000 minutes was in his rookie campaign in 2018-19.
In the past two seasons, Kotkaniemi's game has developed exponentially, and his style has been compared to captain Jordan Staal. If he continues this upward trend, he could one day become that Jordan Staal 2.0 that many see in him.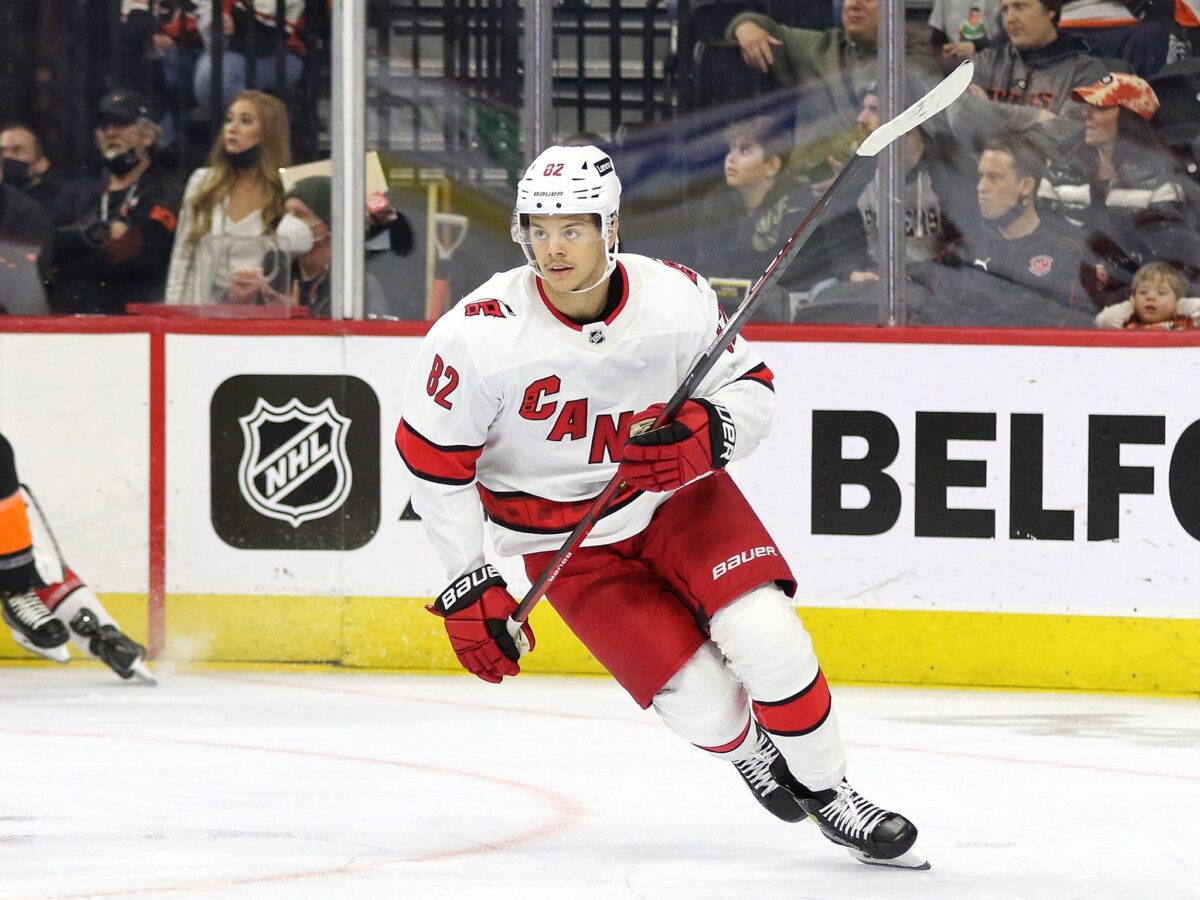 Last season, Kotkanimei had a faceoff percentage of 51.4 in all situations, although, looking at the special team's faceoff percentage, he has solid numbers as well. Kotkaniemi had a faceoff percentage of 51 on the power play and 75 percent on the penalty kill. Granted, he was not often used on the penalty kill but still showed promise there. At even strength, he had a 51.6 faceoff percentage.
Kotkaniemi's Corsi Numbers
Kotkaniemi also has pretty solid Corsi numbers, which measures how much the team controls the puck when a player is on the ice. For comparison, in over 1300 minutes last season, Staal had a Corsi-for percentage of 54.4 – anything over 50 percent means that Carolina had possession of the puck more often than the opposition with Staal on the ice. In over 1200 minutes of ice time last season, Kotkaniemi's Corsi for was an impressive 63.7 percent.
Related: Hockey 201: What the Heck is Corsi?
---
Latest News & Highlights
---
Kotkaniemi's offensive zone starts were 64.7 percent. Comparatively, Carolina used Staal more often in the defensive zone, with 56.5 percent. However, the Hurricanes use Kotkaniemi in the defensive zone in certain situations, which means that he should have the opportunity to develop into a shutdown faceoff taker moving forward.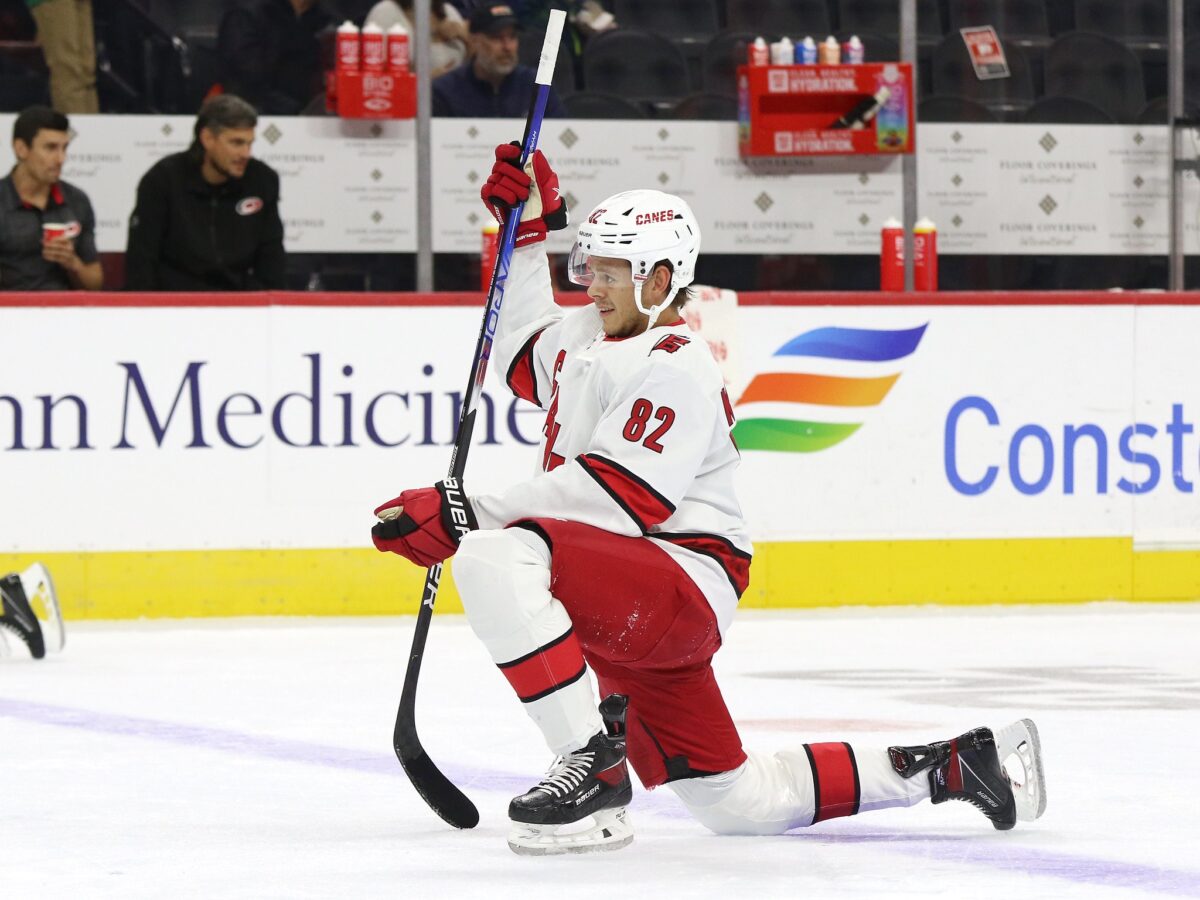 Away from the stats, Kotkaniemi has shown, especially last season, that he can become the player that scouts saw in him before he was drafted. He bolstered a line that helped Martin Necas, who finished with 71 points, to another career year. Those two, alongside Andrei Svechnikov, have the potential to be the deadliest second line in the NHL.
Related: Hurricanes' Kotkaniemi Picking Up His Play at the Right Time
In faceoffs, Corsi metrics, and in his overall development in the last two seasons, Kotkaniemi is finding a style that fits the system in Carolina. Brind'Amor and the Hurricanes seem to be unlocking the potential of the first-round pick. Kotkaniemi is only 23 years old and entering his sixth NHL season and the second year of the eight-year deal that he signed with Carolina on March 22, 2022, keeping him in Carolina through 2029-30 and giving him plenty of time to continue to grow.
Can Kotkaniemi Do It Again?
The sky is the limit for Kotkaniemi, and he has the potential to be Jordan Staal 2.0 over the next few years. If he can master faceoffs in the defensive zone, he will be essential for the Hurricanes in all zones. Furthermore, if he continues to build off of last season, especially on special teams, there is a chance he could crack 50 points this season.
Despite that Svechnikov was out for the last couple of months in 2022-23, Kotkaniemi still reached a career-high in points. If he can play with Svechnikov and Necas all season, there is no reason for him to not hit the 20-goal and 50-point mark. Watch for him to become the next Jordan Staal in Carolina. The Finnish center has more room to grow and prove more people wrong.