When looking back on 2023, Carolina Hurricanes fans will remember many events for their team. The Hurricanes made a deep playoff run to the Eastern Conference Finals. Maybe it is going back-to-back-to-back in division titles. Even yet, for most, it could be the Stadium Series. However, as the summer progressed, many Hurricanes fans will remember seeing one player in particular living his best life. The man they call "Marty Party" was certainly doing so.
Have Yourself a Career Year Mister Martinook
During the 2022-23 season, the Carolina Hurricanes hype man, third-line left-winger, and all-around good vibes man himself, Jordan Martinook was having a career year. After bouncing around the lineup the year before, Martinook cemented himself in that third-line left-wing position alongside Jordan Staal and Jesper Fast. The third line under head coach Rod Brind'Amour is known for being the Hurricanes' shutdown line for the last few seasons.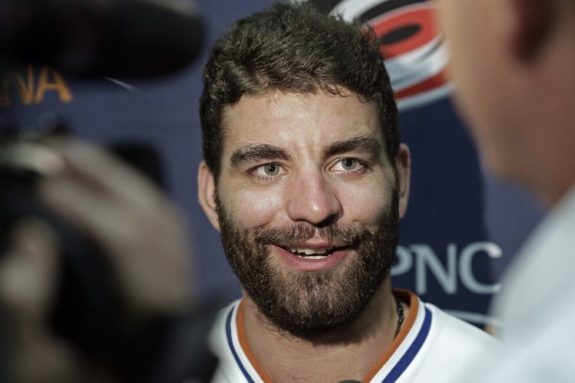 The season before, Nino Niederreiter was part of that line with Staal and Fast. In 2022-23, Martinook was that guy. Hurricanes fans know Martinook for being the team's hype man in the tunnel before every game, home or road. He is well known for his patented yell of "Mista Svechnikov" to fellow left-winger Andrei Svechnikov. That has been Martinook's war cry for the Russian winger since Svechnikov came into the league.
Whether it be screaming at Svechnikov in the tunnel, or jamming out to his favorite band "Nickleback", Martinook is well-loved by Hurricanes fans. The 22-23 season was a career year for the 31-year-old from Brandon, Manitoba, Canada. In 82 games played this past season, the second time of doing so in his career, Martinook tallied 13 goals and a career-high 21 assists for 34 points, also a career-high. What makes the past season even more special for Martinook, he absolutely dominated in the second round for the Hurricanes against the New Jersey Devils.
Marty Conn Smythe
After dispatching the New York Islanders in round one, the Hurricanes faced a familiar playoff foe in the Devils for round two. The Devils just came off a grueling seven-game series in round one versus the New York Rangers. Carolina themselves had a hard-fought series that took six games to defeat the Islanders. Before the 2023 NHL Playoffs, Martinook in 35 games played tallied two goals and nine assists for 11 points in that span.
Related: Hurricanes News & Rumors: Slavin, Burns, Martinook & Teravainen
---
Latest News & Highlights
---
During the second round alone, Martinook went on a tear that even commentators were describing as Wayne Gretzky-esqe. During the Hurricanes' five-game series against the Devils, Martinook had ten points in the series. On May 12th, he officially tied Bates Battaglia (2002 vs. MTL) and Cory Stillman (2006 CF vs. BUF) for the most points in a playoff series round. All Hurricanes fans will remember the night of game four during the broadcast on ESPN where Martinook was racing to the net and the announcer said "All of a sudden he's Wayne Gretzky".
It's A Marty Party Summer 2023
If a huge playoff series wasn't enough for Jordan Martinook, nothing could prepare him or Hurricanes fans for what was to come during the off-season of 2023. What kicked off the fun for Martinook was being invited by the Triple-A team Durham Bulls to throw out the first pitch on Canes Night. The event was even turned into a team outing as some of the Hurricanes' players and staff went to the game and even caught some batting practice while taking turns in the cage hitting baseballs. Martinook capped off the pregame festivities with his ceremonial pitch in Hurricanes-inspired jerseys that the Bulls wore that night.
The party was not done for Martinook as he collaborated with R&D Brewing to create a Marty Party Mexcian Beer Lager that even had an event for fans to come to meet him and try out the beer. Back on September 9th, Martinook and R&D Brewing hosted an event at the Bowstring Brewyard in Raleigh which had games, live music, autographed items and so much more. Furthermore, what made the event even more special was that there was support for Martinook's charity fundraiser with some select proceeds going to "A Doorway to Hope". From posts all over social media, it seemed like people had a great time trying out the beer and taking pictures with the man himself.
I Want to be a Rockstar
The last huge event for Marty Party Summer was that Nickelback, Martinook's favorite band, was in Raleigh on Thursday night September 14th. It comes as no surprise to Hurricanes fans that Martinook was a huge fan and everyone was hoping to see him on stage with his favorite band. As it would happen, during Rockstar, Martinook's go-to karaoke song, he came onto the stage and belted out with his favorite band in front of the best fans in all of hockey.
Talk about having yourself a summer, let alone a 2023 that even hasn't ended yet. Martinook since the season started saw him having a career year, a remarkable round two in the playoffs, a beer named after him, throwing out a first pitch, and ending it with rocking out alongside his favorite band. 2023 will be the year that Martinook and Hurricanes fans won't forget with their favorite party and hype man.
What's next for Martinook? The 2023-24 season is right around the corner, and there is a chance that he could build off of his point total from last year. He finished last season with 34 points, which if he continues the scoring touch from last season and even the playoffs, who is to say that 40 points wouldn't be out of reach for him?
Contract Year
While the summer was amazing for Martinook, there is the reality that he is going into a contract year. Martinook is in the final year of his current three-year deal that he signed back in 2021. His current cap hit is at $1.8 million, which only takes up 2.21% of the Hurricanes total. The 31-year-old does make the case for the Hurricanes to extend him past this season. However, the Hurricanes also have a plethora of other players who will become unrestricted free agents after this upcoming season as well. In all honesty, Martinook should get a two or three-year extension.
Martinook is an alternate captain and a locker room guy that every team needs. The numbers he put up last season show that he can provide the depth scoring that Carolina is known to have. He throws the body while being part of the shutdown line with Staal and Fast like they were last season. There is no reason why Martinook cannot be signed to a deal that pays him $2 million over two or three seasons. It makes sense to keep him during this run that Carolina is on right now, with five-straight playoff appearances and three-straight division titles. Martinook had a great season, a great summer, and another great season should be on the horizon. 2023 will be known as the year of the Martinook in Hurricanes' lore.
---

---