That was as frustrating a loss as you can get for the New York Islanders. They played a strong and physical game in Game 2, wanting to wear down the Carolina Hurricanes, and they did. They got goals from their top players, including Mathew Barzal, Brock Nelson, and Kyle Palmieri, but after an officiating blunder in overtime followed by a Jesper Fast game-winner, they are now down 2-0 in the series. The Islanders didn't have one power play opportunity the entire night.
Related: 4 Takeaways From Islanders 4-3 Game 2 Loss vs Hurricanes
---
Latest News & Highlights
---
Head coach Lane Lambert liked the team's effort, saying, "It was a hard-fought hockey game by both teams. We were physical. We continued to hit. And we continued to invest. That's what we have to do" (from 'Kurz: Missed calls steal show as Islanders fall to Hurricanes,' The Athletic, 4/20/23).
Friday will be the first-ever playoff game at UBS Arena, so the fans are sure to bring the energy. Hopefully, the Islanders can feed off the crowd and carry over that physical play from Game 2 on Friday. They have to keep shooting on Hurricanes goalie Anti Raanta because he showed in Game 2 that he is capable of giving up very soft goals. The offensive production was there, but to beat the Hurricanes, they need more help.
Islanders Need More From Horvat in Game 3
When Islanders general manager (GM) Lou Lamoriello traded for Bo Horvat, it shocked the hockey world. Horvat was having a career season and got off to a hot start with the Isles. In his first four games, he had four points and was developing real chemistry with Barzal. Unfortunately, Barzal went down with an injury, and Horvat has really struggled to find his game since. He has spent most of his time playing with Anders Lee on the wing and a combination of different forwards in Barzal's spot, including Simon Holmstrom and Hudson Fasching.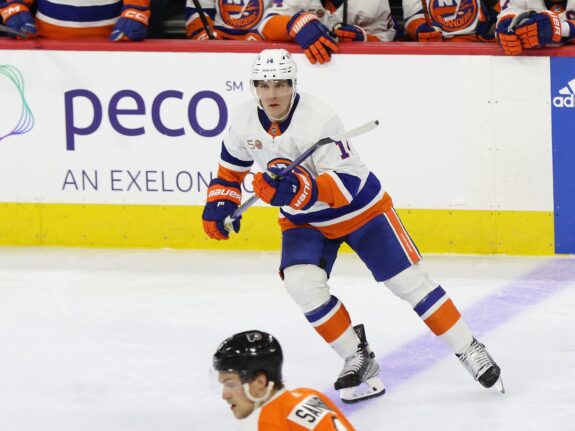 The Islanders found their way to the playoffs despite a lack of offensive production and injuries. However, they now find themselves down 2-0, and Horvat has been a non-factor in both games, with zero points in the series. Lamoriello put his faith in him when he signed him to an eight-year deal worth $68 million and an average annual value (AAV) of $8.5 million (from "Islanders sign Bo Horvat to 8-year deal after trading for him", The Province, 2/5/23). The team got contributions from their top players in Game 2, but to have a shot in this series, they are going to need production from him, especially on the power play.
Islanders Defense Has to Be Better
The defensive core has struggled through the first two games, especially against the Hurricanes' aggressive forecheck. They have a few inexperienced players like Sebastian Aho and Samuel Bolduc. Bolduc made a major mistake in the second period of Game 2, taking a double minor high-sticking penalty that put the Islanders back on the kill. Lambert was not happy with the young defenseman, and he didn't play the rest of the game.
"He hadn't played too many games up here, and with every young player that comes up, there's a continual learning process," said Lambert. "And playoffs are a completely different level" (from 'Lambert's Options Slim to Shore-Up Backend With Romanov Still Shelved,' The Hockey News, 4/20/23).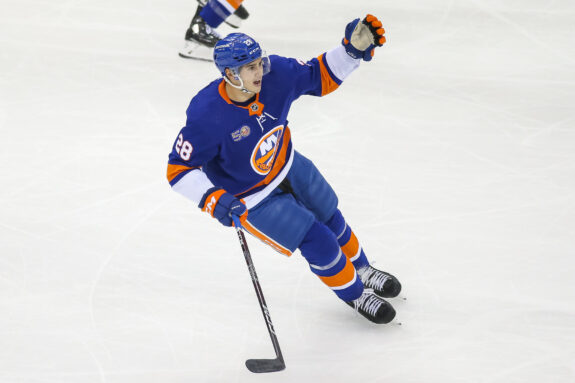 The Islanders also desperately miss Alexander Romanov. They need his physicality and his excellent skating in series like this. He had a strong season and set a career-high in points with 22. The biggest question is, when will he be healthy and ready to go? Lambert said that Romanov is "getting closer" but doesn't know if he has the strength to be playoff ready. It would be a huge boost to get him back for Game 3 and could take Bolduc out of the lineup. Romanov skated with the team again this morning and is expected to be a game-time decision.
Related: Islanders Keys to Beating the Hurricanes Following Game 1 Loss
The series is far from over, but the Islanders can't afford to lose Game 3, and they need Horvat to step up and produce. This team has far too much character to go down like this. UBS Arena will be rocking tonight, and the Islanders need to feed off of that energy to cut the Hurricanes' lead in half.
---
---