by Eldon MacDonald (edited by @ChrisRalphTHW)
NHL Draft War Room: Ivan Provorov
Ranked #12 – March 2015 War Room Rankings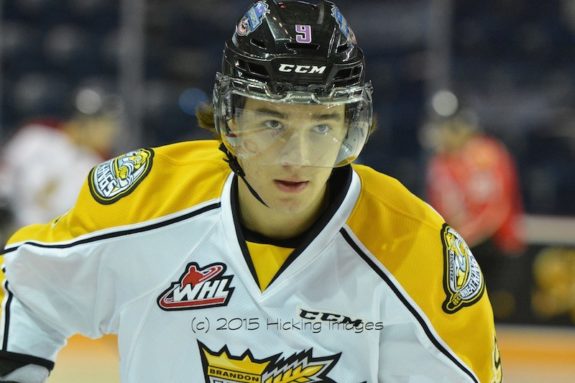 Hashtag: #MrNHLReady
Team: #9, Brandon, WHL
Position: Defense
Shoots: Left
Height: 6'0
Weight: 200 lb.
Born: Yaroslavl, Russia, 13-Jan-97
Twitter: @IvanProvorov 
Stats
Other Rankings
From THW's Draft War Room: "Mr. NHL Ready"
Eldon MacDonald, THW:  A few words on Ivan Provorov:
Mr. NHL Ready: Does you team want a solid NHL-ready defenseman with no glaring weaknesses – excellent on offense and defense, compete, poise, skills? If you team is lucky enough to have Ivan Provorov on the board when it picks, he is your man.
Five Reasons Why Ivan Provorov Could Play in the NHL Next Year
Solidness – Displays that I am in the right place, I am the right guy and I know what I have to do and I can do it in all situations – just the guy the coach wants out there.
Mental Game – Has that calmness that is almost precious when things get kind of hairy; is able to read the opposition and constantly adjust his game accordingly.
Two Way Game – Offense, defense, PK, powerplay, last minute – he is the guy you want out there.
Poise – Calm under pressure, nothing seems to faze him. Does not wilt, no matter what the situation.
No Glaring Weaknesses – Simple, when you think of Ivan Provorov's weaknesses, nothing comes up.
http://t.co/XjymQcv3NG
#9 Ivan Provorov
2015 – 16GP 4G 14A 18PTS. Elite puck moving, mobile defender. Dangerous weapon from the point.

— ISS Hockey (@ISShockey) March 12, 2015
Offense
Shooting – Solid shot, knows when to use it, gets it on net.
Passing – Knows how to pass, knows who to pass to and knows when to pass.
Skating – Speed, agility, balance, acceleration. Solid and NHL ready but does not have that "wow you" breakaway speed that a few of the smaller offensive defensemen have.
Transitional game – Can make the breakout pass or skate it out. Known for his dekes and head fakes to gain every advantage.
Vision – Has an eye for the game, knows where everybody is.
https://twitter.com/DubFromAbove/status/578006272785588225
Defense
Physicality and compete – Ivan has a high compete level and has shown a willingness to use his body to come up with the puck or prevent it from going into the net.
Positioning – Tilts the ice in his favour. Does not give up an inch.
Defensive reads – Excellent, knows when to push for a turnover, when to back-off and let the play come to him.
Active stick – Ivan makes up for his ordinary size by using a very long stick and knowing how to use it.
Awards and Achievements
2011-12: AYHL Bantam Major Champion – Wilkes Barre
2012-13: AYHL 16U National Champion – Wilkes Barre
2014-15: Crash Conditioning Defenseman of the Month (FC Hockey) – Oct-14
2014-15: IIHF U20 Tournament – Team Russia – Silver Medal
2014-15: Selected for BMO NHL/CHL Top Prospects Game
1/3 Lots of @bdnwheatkings among finalists for @TheWHL awards. Nolan Patrick for Rookie of Year; Ivan Provorov for Top Defencenan…#bdnmb

— Bruce Luebke (@bluebkemedia) March 25, 2015
Improvements to make: Ivan Provorov is not a player defined by his weaknesses. In fact, he is solid in every aspect of the game. The only item that may keep him from being picked in the top ten is his lack of "wow factor".
NHL Projection: Ivan Provorov should develop into that big minute-eating defenseman who plays in all situations, 5 on 5 against the opposition's best line, the PK and the powerplay, likely as the setup guy. That sounds like a first-pairing guy to me.
Draft placement: This is where it gets interesting and where there is a divergence of opinion. The big three defenseman are: Noah Hanifin, a solid but not flashy prospect with the size, toolset and game that most have projected as the number three guy in the draft. There is also Zachary Werenski, Noah Hanifin's former defense partner and road roommate. Zachary is very raw in his defensive game but probably has the most offensive upside of the three and has a similar size to Hanifin. So where does Mr. NHL Ready, Ivan Provorov fit in? The current rankings mainly have him in the 5 to 12 range. However, I think what counts is what the team wanting to pick a defenseman is looking for. Size, skills, solidness – solid, NHL ready, all situation guy with skill, compete and poise? Noah Hanifin. Potential as a big-man top power play producer? Zachary Werenski. The guy who will look good on your team next year? Ivan Provorov.  Who is number one, who is number two and who is number three? We'll know come June.
Editor's Notebook:
From my live viewing of Provorov, I noted his great stickwork and the use of his stick like a lightsabre on defense. He told me earlier this season he patterns his game after Niklas Lidstrom, but he is realistic about the potential comparison. When I've seen him he has been Lidstrom-esque. Ivan Provorov is not just a great potential name of a Bond villain, but a Russian Factor in the 2015 NHL draft. And I mean that in a positive way. Provorov came to North America a while back. He wants to play in the best league in the world and I don't see this guy bolting overseas anytime soon to earn rubles.
This was just one of his highlights from most recent viewing:
"@DubFromAbove Top play in @TheWHL this year? Hard to argue against that @IvanProvorov goes end to end & roofs it https://t.co/aD5dm85zTt"

— West Coast Prospects (@ProspectsWest) March 27, 2015
Quotable
Interviews
Profiles
Hockey World: Defenceman Ivan Provorov's NHL draft stock moving up — way up http://t.co/CbVVyDLAqy #HockeyOrDie #oilers

— Hockey Or Die (@HockeyOrDie) April 2, 2015
#NHLDraft prospect Ivan Provorov's @FCHockey Profile here: http://t.co/wPby2BdfLA #WHL

— Zenon Herasymiuk (@ZenonHerasymiuk) January 13, 2015
Videos
https://twitter.com/DubFromAbove/status/578018357984800768
[catlist categorypage="yes" numberposts=3 excludeposts=this]
Chris is THW's senior draft/prospect analyst and a Managing Editor. Watch for "The Next Ones" Prospect Profile series, exclusive rankings, mock drafts, as well as the annual THW NHL Entry Draft Guide. Follow @ChrisRalphYQ on Twitter as he infiltrates, dissects and analyzes all happenings of hockey prospects and the NHL entry draft. Email: cralph[at]thehockeywriters[dot]com