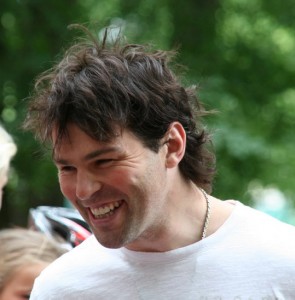 There have been rumors circulating in the past few months that Edmonton might be targeting former NHL superstar Jaromir Jagr. Recently at the Olympic games, Jagr stated that once his current contract with the KHL expires, he would be interested in returning to the National Hockey League, and the Oilers keep popping up as one of his possible destinations. Apparently the Oilers have already tried to sign Jagr a couple times in the past year or so, and current Oiler and Jagr's countryman Ales Hemsky says that it's certainly a possibility, especially since Jagr has acknowledged he appreciates the Oilers gusto in going after him.
But are the floundering Oilers a good fit for the 38 year old? Probably not. This team is not anywhere near being a playoff team, and adding an aging veteran that is most likely past his prime to a roster of undersized, underachieving players doesn't really make sense. Edmonton needs to get younger, bigger, and stronger. Jagr is a big body, but realistically, how many years does he have left in the tank? If Edmonton was to sign him this summer, what kind of impact could he really have? No doubt the Oilers would love to be a worst to first story, similar to the Philadelphia Flyers a few years ago, but with very little NHL talent, it's unlikely Edmonton will make a big jump next season. It's a nice story and all, to see Jagr united with Hemsky as the two Czechs try to bring the Oilers back to respectability. But in reality, all it might do is bring the Oilers further from another first overall pick in the 2011 draft. And stockpiling high picks and prospects is what this team desperately needs.
One of the Oiler Olympians will be coming home this weekend, but not the one everyone expected. The Russians fell Wednesday night to Team Canada by a huge margin of 7-3, thus sending defencemen Dennis Grebeshkov home early. The Russians put up surprisingly little effort against the surging Canadian team, who will now face Lubomir Visnovsky and Slovakia for a chance to play for gold. The Slovaks sent defending champion Sweden packing in an exciting contest late Wednesday night, and now face the task of a rejuvenated Canadian squad. Canada isn't looking past the Slovaks though, and hopefully the game will be alot more exciting then that of the blowout against the Russians.
The rest of the Oilers took to the ice this week as practice resumed for the NHL. With the break officially over, it's back to business for a team who no doubt isn't looking forward to the remainder of a lost season. But with the trade deadline soon approaching, there may be a lot of changes in the Oiler dressing room, making the next couple weeks a very interesting time for the city of Edmonton.
Marcy, a former hockey player, is a hockey correspondent on CTV News and TSN radio. She began her career as a Sports Journalist in 2009 and has been part of The Hockey Writers since 2010, where she is currently a senior writer and editor.