Joey Willis
2022-23 Team: Saginaw Spirit (OHL)
Date of Birth: Mar. 14, 2005
Place of Birth: Elmhurst, Illinois
Height: 5-foot-10, Weight: 170 pounds
Shoots: Left
Position: Centre
NHL Draft Eligibility: First-Year Eligible
Rankings
Joey Willis is a smart, two-way center that hasn't gained a lot of draft consideration due to his inconsistent point production. A native of Elmhurst, Illinois, he spent his entire minor hockey career with the Chicago Mission development organization before making the trek up to Michigan to join the Ontario Hockey League's (OHL) Saginaw Spirit, who selected him in the fourth round of the 2021 OHL Priority Draft, for the 2022-23 season. In his first six games, he scored five goals and 10 points, but then the points dried up. It took him 23 more games to double his point total and 45 more games to double his goal total. Where did his scoring touch go?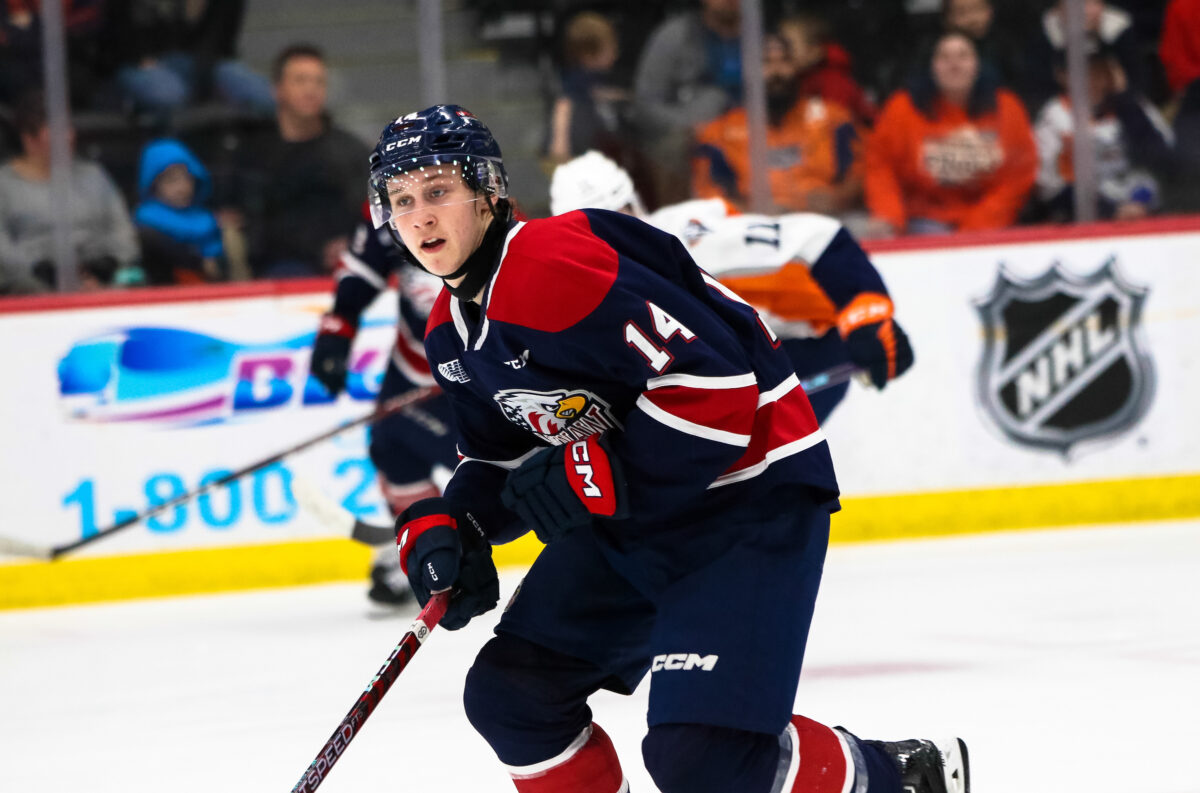 Turns out – nowhere. Willis was quickly identified as a highly intelligent hockey player who could see the game in ways that his teammates couldn't and could anticipate plays. That made him an invaluable defensive player, and together with his incredible work ethic and competitiveness, he was employed more and more in the defensive end. It was there he found his true niche as a defensive specialist. He has such great attention to detail to force turnovers and shift the momentum back to his teammates. He's not flashy, but he's smart, always watching how a play unfolds, and can use a burst of speed to ensure he's always in the right place at the right time.
But Willis can still flex his skills with the puck when called upon. His 45 points placed him fifth among all rookies in the OHL and earned him a spot on the league's All-Rookie Team. He's confident, hard-working, and has some hidden quickness that he can unleash at a moment's notice to get where he needs to be to make a pass or finish off a goal. That was never more apparent than in the last 11 games of the season, where he seemed to find his scoring touch once again and finished with five goals and 14 points. In the playoffs, he continued his hot streak, scoring four goals, the third-most on the Spirit.
One reason for his lack of production could be that, for the past two seasons, Willis played just 12 games. Whether this was due to injury or pandemic-related delays is uncertain, but in any case, a young player can't develop if they don't play consistently. In 2019-20 while playing for the Mission's under-14 team, he finished ninth on the team in scoring with five goals and 11 points in 17 games. As a 13-year-old, he outpaced teammate Gabe Perreault with eight goals in 12 games, compared to Perreault's nine goals in 16 games. Seeing as his former teammate just set a U.S. National Program record for the most points in a single season, there's a good chance that Willis' offensive abilities just need some time to develop.
---
Latest News & Highlights
---
There are also the eerie similarities that Willis has to Ottawa Senators' center Shane Pinto. In 2019, the Senators made a controversial selection when they selected Pinto 32nd overall. Most draft projections slotted him in the third round, and not even Pinto himself expected to go as early as the 32nd pick. He had strong offensive totals but was hailed for his vision and defensive awareness, and most scouts agreed that he was destined to be a solid bottom-six two-way center. He had just made the United States Hockey League's (USHL) All-Rookie Team but was criticized for his inconsistency. Fast forward two years and he was one of the best prospects in the NCAA, and in 2022-23, he scored 20 goals as an NHL rookie.
Related: The Hockey Writers' 2023 NHL Draft Guide
It should be stated that Willis and Pinto are different players and certainly don't have the same projection; for starters, Willis is four inches smaller than his 2019 counterpart. But the numerous similarities make me wonder if the two could follow a similar path. Willis has just a single OHL season under his belt, meaning that he is primed for a big breakout in 2023-24. Hopefully, NHL teams don't realize what they missed before it's too late.
Other THW Draft Profiles
Joey Willis – NHL Draft Projection
Willis is consistently ranked in the fourth round due to his lack of size and offensive production. He's a talented player but hasn't done quite enough to cement his place above other, flashier prospects. However, one more parallel between him and Pinto is the fact that Elite Prospects stuck out as a lone champion for their place as a second-round pick; in 2019, they were one of the only publications to put him within the top 40, and he ended up going 32nd overall. Given Willis' strong finish to the season, there's a chance that fans could see history repeat itself in 2023.
Quotables
"Willis shines defensively, which is partially why his offensive creation was a bit hit or miss for large stretches of the season. He's more focused on ensuring that his teammates are supported defensively, through scanning, reads, backchecks, and retrievals. Rarely does he exit his own end until he's sure his teammates have controlled possession on breakouts. Offensively, Willis flashes advanced playmaking ideas and has the ability to execute when he so chooses. He times arrivals to space and delays in the offensive zone at the right moments and has the ability to link plays with his teammates." – Lauren Kelly, Elite Prospects
"Willis is a smart, high-motor, smooth-skating forward who drives impressive transition results, excelling as a carrier between the dotted lines. His physicality has some catching up to do but he has a lot of strong foundational physical habits that will thrive with added lower body strength. His defensive game is one of his greatest strengths, he consistently forces turnovers when defending the rush and is a consistently active defender in the defensive zone as well. He has middle-six upside as a two-way skilled play-driver who can score from in tight and flashes good playmaking around the slot, weaponizing his and his teammates' movement." – Sebastien High, Dobber Prospects

"You have to look past the stats here. He didn't produce much with Saginaw, but watching him closely, you see the high-end hockey sense. You see a forward that has managed to make the most of limitations in his game, mainly physically, to create chances at pace. His defensive game is strong, too." – Steven Ellis, Daily Faceoff
Strengths
Awareness and vision
Defensive abilities
Work ethic
Under Construction – Improvements to Make
Skating
Offensive consistency
Creativity
NHL Potential
Willis projects to be a solid bottom-six two-way center who can contribute offensively when needed, but will primarily be relied on to play difficult minutes against some of the toughest competition. He looks like a high-floor/low-ceiling player that will likely make the NHL but has little future as an impact player. But something tells me that we haven't seen his full potential quite yet and that, just like Pinto, he could emerge as a legitimate top-six option if given time to develop.
Risk-Reward Potential
Risk – 2/5, Reward – 3/5
Fantasy Hockey Potential
Offence – 6/10, Defense – 8/10
Joey Willis Statistics
Videos