The inaugural game of the Los Angeles Kings' 2020-21 season took place on Thursday, Jan. 21. The biggest story of the game came from the opposing team, as Minnesota Wild rookie Kirill Kaprizov had a star-making three-point performance in his debut game.
Kaprizov skated away with all of the highlights from this game, which has largely overshadowed longtime Kings winger Dustin Brown's milestone moment.
At 17:05 of the second period, Brown netted his first goal of the 2020-21 season. This wasn't just any goal, as it was the 300th goal of his NHL career.
An Odd 300th Goal
Dustin Brown's 300th career goal was an odd one. In fact, it was originally credited to another LA forward, Adrian Kempe. Even the Kings' Twitter staff thought it was Kempe who scored.
Following the Kings' overtime loss to the Wild, Brown was asked about scoring his 300th career goal.
"Something I'm proud of," a matter-of-fact Brown said of the milestone. "I actually didn't even know until after the game because I assumed that Juice got his stick (on it) just the way the play happened."

Rink Royalty
Even Brown himself thought that "Juice" (which is a nickname for Kempe) had scored the goal. Overall, this was a very odd goal, as it's not often a player reaches a milestone as important as the 300-goal mark and it's not acknowledged during the game.
Brown joins an exclusive group of players to score 300 goals with the Kings, as the only other players who have done so are Luc Robitaille (557); Marcel Dionne (550); Dave Taylor (431); Anze Kopitar (333); and Bernie Nicholls (327).
How Brown Got Here
Brown's 300th goal was a long time in the making. He was drafted 13th overall by the Kings in the 2003 NHL Entry Draft and has since skated for them for 16 seasons. He was the captain of the team for two Stanley Cup victories and played an important role in those Cup wins.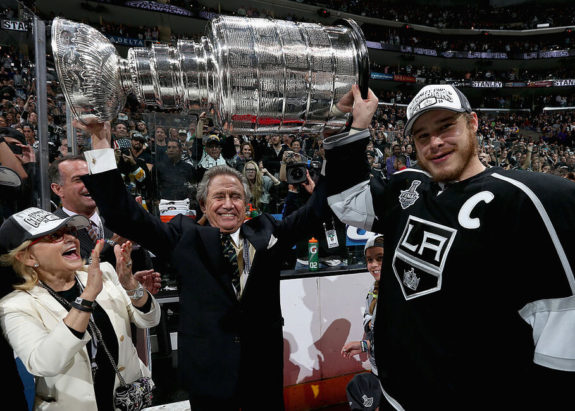 Brown's goalscoring has been remarkably consistent throughout his entire career. In his first season (2003-04), he scored one lone goal. He scored 14 goals in his sophomore season (2005-06) and then racked up 17 in his third year (2006-07).
Related: Kings Look for Redemption After Opening Night Loss to the Wild
Brown scored a career-high 33 goals in his fourth season and followed it up with back-to-back 24-goal campaigns. He scored 28 times in 2010-11 and 24 times in 2011-12. From 2012-13 to 2016-17, he scored between 11 and 17 goals in each campaign.
In 2017-18, Brown had a career renaissance, potting 28 goals for the first time since 2010-11. He's since followed it up with a 22-goal season (2018-19) and a 17-goal season (2019-20). Heading into 2020-21, he had a total of 299 goals, subsequently, he quickly scored his 300th goal in the first game of the season.
More to Come
Despite being 36 years of age, Brown still has at least a few more seasons left in the tank. The Kings have him inked on a contract, paying him $5.875 million per season until 2022-23. If he were to score 20 goals a season for the rest of his contract, he'd be near the 350-goal mark, as that would put him on pace for 340 goals when his contract expires. This is a distinct possibility, as it is definitely possible for him to score 19 more goals this season, and if 2021-22 is a full 82-game season, he should score at least 20.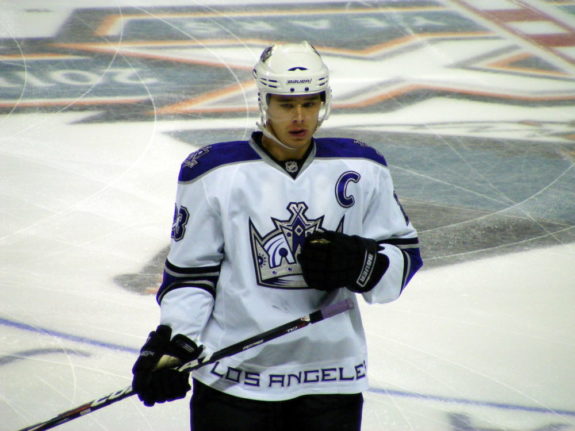 Brown has skated in 1,185 games, and should easily hit a milestone 1,200 games played during 2020-21. The only active players who have this achievement are Patrick Marleau (1,724 GP); Joe Thornton (1,638 GP); Zdeno Chara (1,555 GP); and Eric Staal (1,242 GP).
Dustin Brown is set to achieve many more accolades throughout his career and Kings fans should be excited for what's to come.
Stats per Hockey Reference & QuantHockey
---
---
I am a lifelong hockey fan who will be covering the Los Angeles Kings and Vancouver Canucks here at The Hockey Writers. Before joining The Hockey Writers I spent two years blogging about hockey.
Feel free to follow my Twitter @TheRoyalQuinn or on Insta @thw_quinn for updates on when my newest articles are published.