The Los Angeles Kings' prospect pool has seen a lot of turnover over the last couple of seasons. Top prospects like Quinton Byfield and Arthur Kaliyev have graduated and project to play key roles for the foreseeable future. That's the goal of every prospect, and that's why the Kings' prospect pool was considered one of the league's best since the start of the decade.

Though the monarchs of Tinsel Town have focused on moving out future assets in recent years as they push to become a contender in the Western Conference, their prospect pool still contains several players that have a shot at becoming regular players in the NHL. For some, that shot will come this season. For others, slow and steady progress is the name of the game while the Kings pass the torch from one generation to the next.
Here are the Kings' top 10 prospects as they approach the 2023-24 season.
10. (C) Samuel Helenius – 2021, 59th Overall
2022-23 Stats: Ontario Reign (AHL) – 61 Games Played, 2 Goals, 14 Points
Samuel Helenius is big, he's mean, and he didn't look terribly out of place in his first season in the American Hockey League (AHL). Even going back to his time playing over in Finland, offense hasn't been a huge part of his game. Instead, he focuses on physicality and wearing down his opponent, and his play in his own end seems like an area that can be further developed.
Related: 5 LA Kings Prospects That Could Make NHL Roster in 2023-24
---
Latest News & Highlight
---
There is a realistic chance for Helenius to make his NHL debut this season, especially if the Kings find their forward group could use more of a physical edge. Even if he doesn't light up the scoresheet in the AHL or the NHL, he can still develop into a punishing forward that is willing to put his body on the line for his team. A wise plan for him would be to focus on becoming a dependable penalty killer so that he has more than just one use in the NHL.
9. (D) Jakub Dvořák – 2023, 54th Overall
2022-23: Bílí Tygři Liberec (Czechia) – 24 GP, 0 G, 2 P
When the Kings were one of the most dominant teams of the last decade, they reached that status, in large part, through strong team defense. Much of the Kings' next wave of talent also have strong two-way abilities, and Jakub Dvořák is no exception.
One of two 2023 draftees on this list, Dvořák is a large, surprisingly mobile defender that moves the puck well and has a strong understanding of the defensive side of the game. His offensive totals from last season may be a bit misleading, but he isn't going to be a high-end producer in his prime. He is likely to become a complementary defenseman that provides some predictability alongside a more offensively-gifted defender. His NHL timeline is a bit foggy at this time, but the Kings can afford to take their time with his development.
8. (RW) Martin Chromiak – 2020, 128th Overall
2022-23: Ontario Reign (AHL) – 55 GP, 15 G, 28 P
In some ways, Martin Chromiak is similar to Kaliyev. Both players make their money by shooting the puck, and both players aren't exactly graceful on their feet. Also like Kaliyev, Chromiak can be particularly streaky, and he's an outright force when he's on his game. When he's off his game, he's a virtual nonfactor, and that adds some uncertainty in terms of whether or not he can become a full-time NHLer someday.
Chromiak had a solid rookie season in the American Hockey League (AHL), his first in North America. He would inspire a lot of confidence if he can build on last season's success and be a force for the Ontario Reign on a more consistent basis. He isn't quite as dynamic as Kaliyev, so he'll need to either elevate his strengths or round out his weaknesses to earn an NHL opportunity. In all likelihood, the 2023-24 season could decide the trajectory of the rest of Chromiak's North American career.
7. (LW) Samuel Fagemo – 2019, 50th Overall
2022-23: Ontario Reign (AHL) – 56 GP, 23 G, 32 P
Like Chromiak, Samuel Fagemo is a scoring winger that doesn't provide much else. Fagemo does possess slick puck skills that allow him to beat defenders and get clean looks on net. His stat line in the AHL last season is indicative of what he provides to the lineup: he shoots, he finishes, and he looks for opportunities to do both whenever he's on the ice.
Given his lack of upside in other areas, Fagemo is essentially cornered into relying on his scoring ability to become an everyday NHLer. Luckily for him, he has one of the best shots throughout the Kings' depth chart, and he already flashed the ability to score in the NHL twice in nine games last season. He'll need to find the right linemates and the right opportunity to realize his NHL potential, but the opportunity is there for him to become a steady source of scoring in LA's middle six.
6. (RW) Koehn Ziemmer – 2023, 78th Overall
2022-23: Prince George Cougars (WHL) – 68 GP, 41 G, 89 P
Koehn Ziemmer is a stocky, offensively-oriented winger that could one day prove to be one of the bigger steals of the 2023 draft. Not only does he already know how to use his 6-foot, 209-pound frame to his advantage, but he is also as passionate a player as they come. He loves to make things happen, and he finds ways to do so even if the puck isn't finding the back of the net.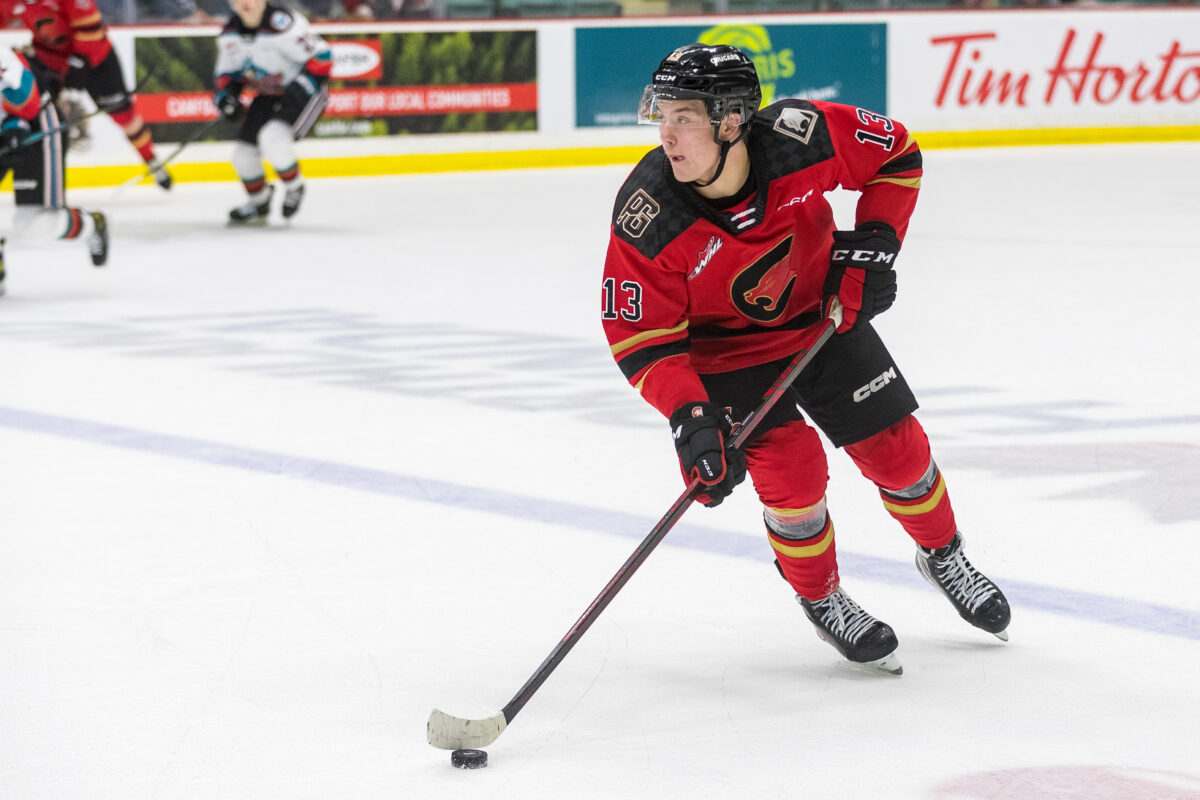 On the defensive side of the puck, Ziemmer has a solid base to build on. He applies pressure all over the ice, allowing him to create turnovers and push the play in the right direction. He probably won't ever be a go-to guy on the penalty kill or in defensive situations, but he understands that side of the game well enough that he can contribute. But what makes him a potential fan-favorite down the line isn't what he does in the defensive end, it's his in-your-face style of hockey in the offensive end. It will be fun to watch him develop over the next few seasons.
5. (C) Francesco Pinelli – 2021, 42nd Overall
2022-23: Kitchener Rangers (OHL) – 60 GP, 41 G, 90 P
As the second-year captain of the Kitchener Rangers of the Ontario Hockey League (OHL), Francesco Pinelli was one of just 12 players in that league to reach the 90-point plateau. Unlike the two players immediately preceding him on this list, he is an adept playmaker that also showcased the ability to finish plays. He is as creative a player as the Kings have in their system, and he's really only a strong start in the AHL away from vaulting up this list the next time around.
Given the sheer amount of depth the Kings have down the middle now and into the future, Pinelli's future with the team likely lies on the wing. It will be interesting to see how he adapts to a more north-south brand of hockey if that is the route the Kings take with him, as he is particularly adept at maneuvering around the ice while exploiting the freedom of the center position. He competes well and his defensive game, while having plenty of room to grow, is in a good place given his age. Right now he projects as a middle six forward, but a top six projection isn't out of the question quite yet.
4. (G) Erik Portillo – 2019, 67th Overall
2022-23: University of Michigan (NCAA) – 25-11-2, 3.00 GAA, .908 SV%
Erik Portillo joined the Kings' prospect pool in the spring after opting against signing with the Buffalo Sabres, the team that drafted him back in 2019. Now set to embark on his first professional season after three seasons with the University of Michigan, he represents the Kings' best shot at a long-term plan in goal in the post-Jonathan Quick era.
Portillo is massive, standing at 6-foot-6, 225 pounds, and he loves to be active in the crease. As Scott Wheeler mentions in the post above, Portillo's puck-moving abilities set him apart from his peers. He can create offensive opportunities with a well-timed stretch pass, and he can effectively kill a team's dump and chase strategy by moving the puck out of the zone before they can get to it. There is some doubt about what his ultimate upside is in the NHL, but a strong first season in the AHL would do a lot to quell those concerns.
3. (RW) Alex Laferriere – 2020, 83rd Overall
2022-23: Harvard University (NCAA) – 34 GP, 21 G, 42 P
Alex Laferriere's upward trajectory over the last year has been something to behold. He led Harvard University in goals and finished second in points; only Montreal Canadiens prospect Sean Farrell had more points, and he made his NHL debut with the Canadiens once Harvard's season was over. Laferriere is poised to begin his professional career this season in the AHL with the Reign.
Much like other players on this list, Laferriere excels at carrying and burying the puck in the offensive zone. He goes to the scoring areas of the ice and finds ways to beat defenders. While his overall skill level isn't super high, he does have enough offensive potential to become a solid middle-six forward someday. It will be interesting to see how he adapts to life in the AHL, but momentum is certainly on his side right now. The sooner he finds chemistry with a playmaker in Ontario, the better off he'll be.
2. (C/LW) Alex Turcotte – 2019, 5th Overall
2022-23: Ontario Reign (AHL) – 32 GP, 6 G, 17 P
Perhaps it is a bit misguided to still believe in Alex Turcotte at this point. After all, the Kings' top pick in the 2019 draft has yet to play at least 40 games in a single season since turning pro back in 2021. When he has played, he has looked good, but not at the level you would expect a former fifth overall selection to be at. But like Jack Hughes, the top pick in that same 2019 draft, showed last season, sometimes one healthy season is all it takes to put a player back on track.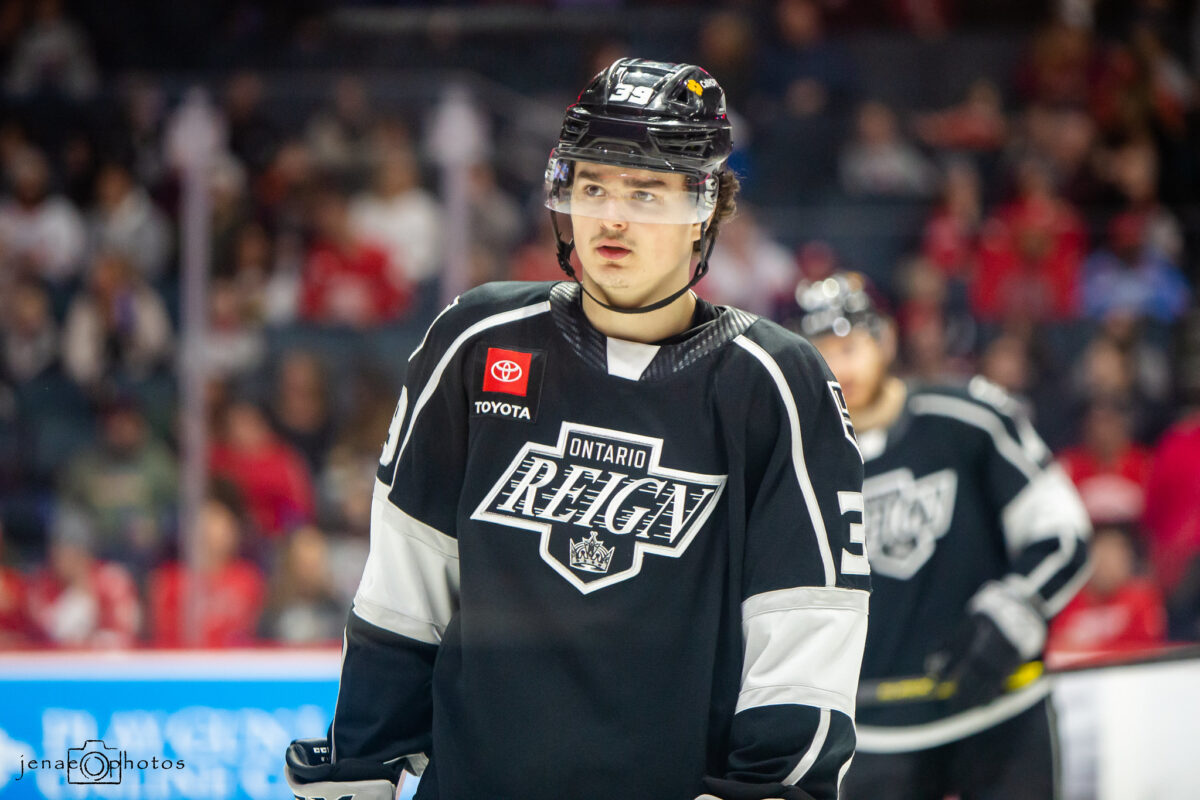 That's not to say that Turcotte is suddenly going to look like a franchise centerman this season, but a big leap forward isn't out of the question if he maintains a clean bill of health and is able to build some momentum in what will be his age 22 season. That's a big if, as Kings fans (and Reign fans for that matter) are fully aware of at this point.
1. (D) Brandt Clarke – 2021, 8th Overall
2022-23: Barrie Colts (OHL) – 31 GP, 23 G, 61 P
There really isn't much debate about who is the Kings' top prospect. Brandt Clarke can already say he has made an NHL roster out of training camp after doing so last season. After he was returned to the OHL midway through the season, he was simply on another level than most of his opponents. He's ready to play professional hockey, now the question becomes how good can he be?
Early indications are that he is going to be an integral part of the Kings' blue line for a long time.
Share your top-10 in the comments section down below!
---