If you didn't know who Tye Kartye was before the Seattle Kraken's 3-2 Game 5 victory over the Colorado Avalanche, you do now. In the biggest game of the Kraken's season, he scored what at the time was the go-ahead goal, in his NHL debut. Just in case that didn't put a tear in your eye, his parents were at the game.
He drew into the lineup to replace 40-goal scorer Jared McCann. Kartye had some pretty big shoes to fill… literally. He didn't just get put on the fourth line and have other players shifted higher in the lineup, he suited up on the first line in McCann's slot. It's unknown at this point how long he'll be sidelined following the Cale Makar hit that knocked him out of Game 4, but it's safe to say Kartye's audition is off to a solid start.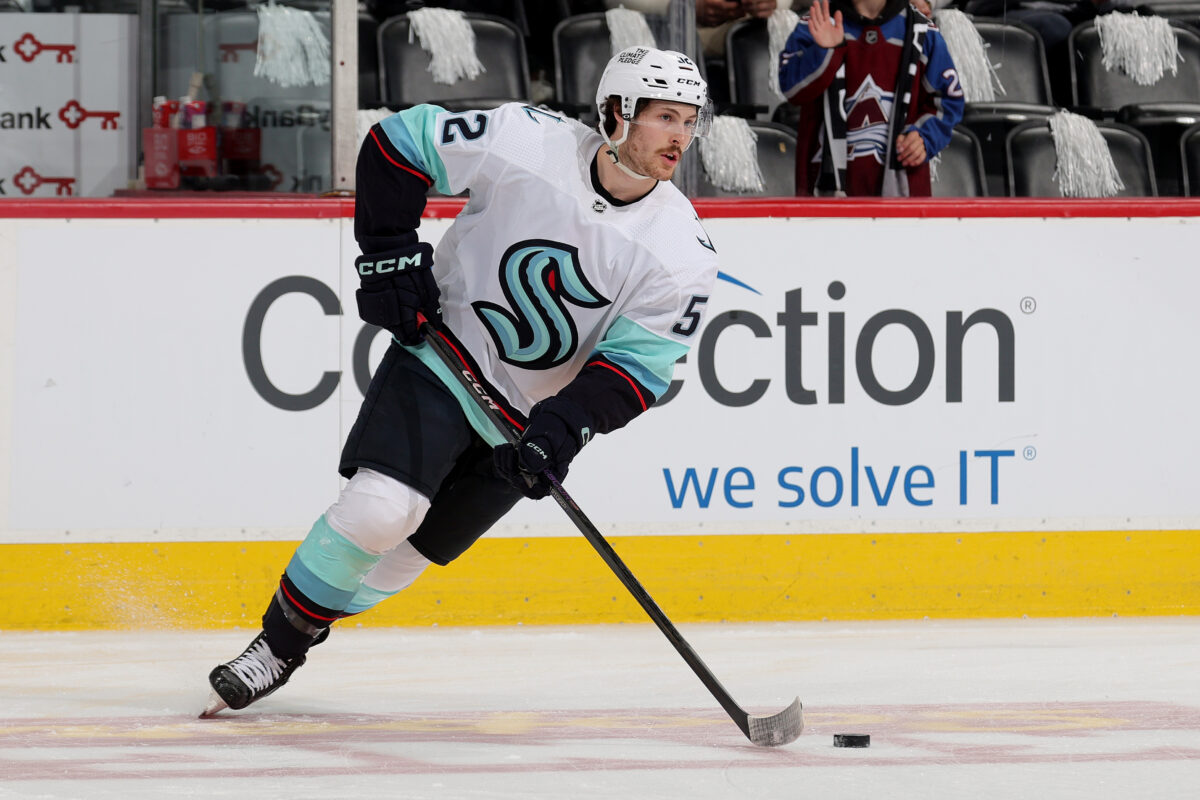 While he only spent 8:41 time on ice (TOI), including 39 seconds on the power play, he made his presence known. He tallied three hits and scored a goal on his first, and only, shot of the game. I'm going to look at his path to The Show, analyze his goal, and compare him to a fellow Kraken forward. Get reading!
Tye Kartye's Path to The Show
Kartye had a strong junior hockey career playing for the Sault Ste. Marie Greyhounds of the Ontario Hockey League (OHL) for three seasons. He showed consistent offensive growth and embarked on two playoff runs. It's important to note, and impressive to see, that he got to this point despite missing the 2020-21 season due to the COVID-19 pandemic. I'll put his statistics from his time playing junior hockey below.
| | | | | |
| --- | --- | --- | --- | --- |
| Year | Games | Goals | Points | Plus/Minus |
| 2018-19 | 64 | 4 | 24 | Plus-5 |
| 2019-20 | 64 | 25 | 53 | Plus-14 |
| 2021-22 | 63 | 45 | 79 | Plus-21 |
Tye Kartye's stats with the OHL's Soo Greyhounds
During the 2019 Postseason, Kartye scored two goals and three points in 11 games. His next playoff appearance was during the 2021-22 season, and he increased those totals to seven goals and nine points in 10 games. Despite showing consistent offensive growth, he went undrafted. The Kraken kicked off March 2022 by signing him as a free agent, and he really began to shine once the calendar flipped to 2023.
On Dec. 31, 2022, Kartye had four goals and 11 points in 29 games with their American Hockey League (AHL) affiliate, the Coachella Valley Firebirds. From Jan. 1 on, he scored 43 points in 43 games and took home Rookie of the Year. Shoutout to Kraken Editor-in-Chief Bob Condor for pointing that out. His season totals for the Firebirds were 28 goals and 57 points in 72 games, tying him with Max McCormick for second on the team in goals, and placing him in third place for points. He had two goals in three playoff games prior to being called up to the Kraken.
For my gamers out there, he's listed as a 64-overall with medium bottom-six forward potential in NHL 23 as of the April 19 online roster update. Considering his aforementioned success, I think that's soon to be on the rise.
Analyzing Kartye's First NHL Goal
I want to take a look at Kartye's goal because he did a lot of things right, which is great to see from a rookie in his first NHL game while playing both limited minutes and a top-line role. While spending 7:49 TOI with Matty Beniers and Jordan Eberle at 5-on-5, the trio had a 52.94 Corsi-for percentage (CF%) and three high-danger scoring chances to the Avalanche's one, according to Natural Stat Trick. Here's the goal:
Let's dissect this a bit, shall we? If you skip 10 seconds in, you'll see the zone entry by the Kraken. They have numbers in this situation following Nathan MacKinnon's… disagreement with what he felt was a missed tripping call against him in the Kraken's defensive zone. Eberle circles the net behind the goal line, tight to the net to create some separation, and the Kraken outnumber the Avalanche in the slot, three players to two. 
When you get to 15 seconds, you can see that Eberle now has two backdoor options, and Kartye found the soft area higher up in the slot, thus putting himself in a better position than Beniers to receive the pass. The Avalanche back-checker was a split second too late in attempting to tie up or lift Kartye's stick, and that's all it took. He made no mistake and buried it. I'm curious if there was any communication between him and Beniers as they were positioning themselves to support Eberle. 
Related: Seattle Kraken: What is Tye Kartye's Future Role?
---
Latest News & Highlights
---
What did he do right here? He was patient. He didn't try to force anything, he put himself into a position to receive a pass and trusted that his (new) teammate would find him. One thing I really liked is that he was aware of Eberle's body position and read that once he turned that corner behind the net, he would see him. It wasn't until Eberle passed it that Artturi Lehkonen turned around and realized he was wide open, and the puck was in the net before he could attempt to block it. 
If Kartye was overly aggressive and smacking his stick on the ice when he realized how open he was, Lehkonen could've adjusted. It was a smart play from the nearly 22-year-old (his birthday is April 30), who is now an NHL goalscorer.
Tye Kartye Player Comparison: Daniel Sprong
I'm going to keep it in-house for this comparison. I see some similarities between Kartye and Daniel Sprong. They're a similar size; Kartye is listed as 6-foot-1 and 198 pounds, whereas Sprong is 6-foot and 194 pounds, both according to their Elite Prospects pages, respectively.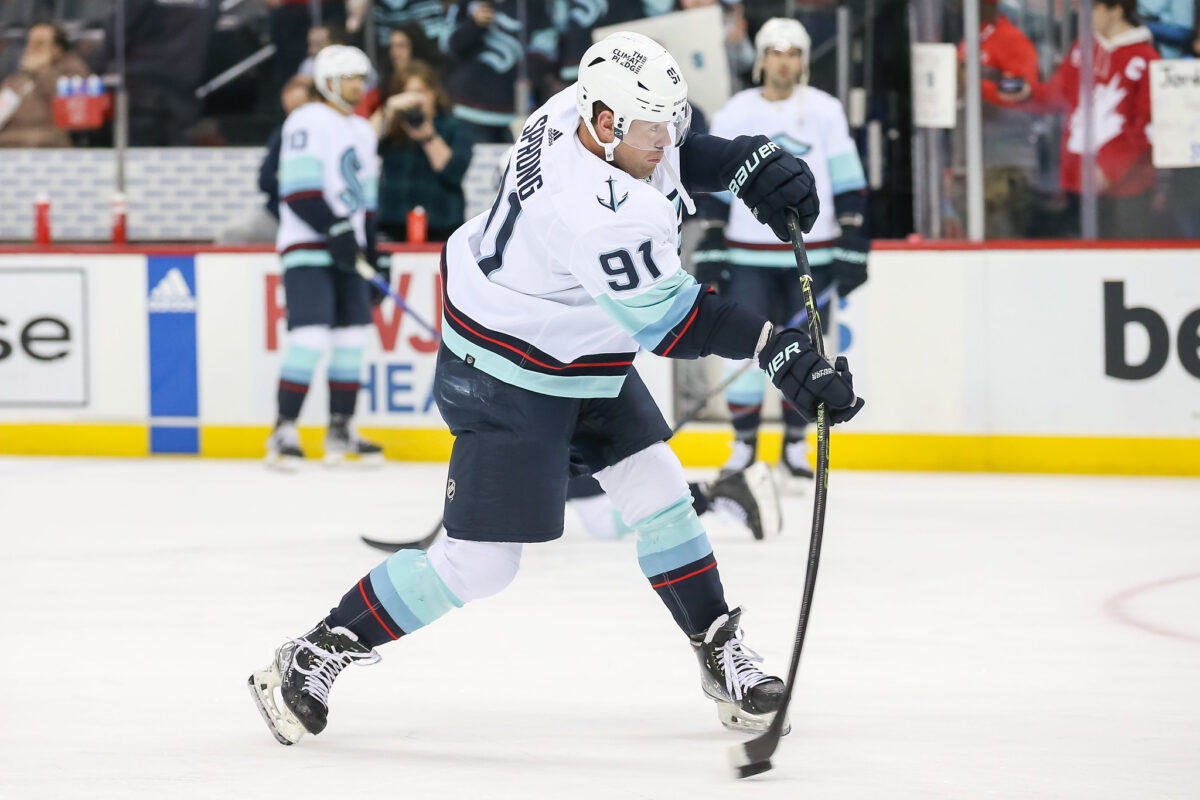 Kartye was passed over in the NHL Draft and signed as a free agent. While Sprong was drafted 46th overall in 2015, he's been through three different NHL organizations, playing both NHL and AHL games, but never finding a home. Both players have shown they can score, it just took Sprong a few more years to get going, and realistically they could be playing middle-six minutes (though I wouldn't advise changing anything that they're doing with Sprong right now). Both players were overlooked and found a home with the Kraken.
Kraken Are a Deep Team, Kartye's Success Highlights Organizational Depth
The Kraken succeed because of their depth. Kartye was on the first line, but played limited minutes. To me, that and a 20-goal fourth liner in Sprong only highlight how deep this team is, and it's paying off. Next step? Defend home ice and close this series out in front of the Kraken faithful at Climate Pledge Arena.