Tucker Robertson has turned into one of the steals of the 2022 NHL Draft after another fantastic season with the Peterborough Petes. Selected 123rd overall by the Seattle Kraken, he finished tied for 11th in the Ontario Hockey League (OHL) for points with 90 while also adding 22 points in 23 playoff games. He was also the Petes' nominee this season for the Red Tilson Trophy given to the league's Most Outstanding Player. He is a prospect that continues to work on his game and has developed into one of the top centers in the OHL.
Hard Work Pays Off at the Draft
As mentioned, the Kraken selected Robertson with their second pick of the fourth round. He was coming off a 41-goal, 81-point campaign and was ready to hear his name called after being passed over in the 2021 Draft. When he was finally selected, he was ecstatic and ready to show Seattle they made the right choice.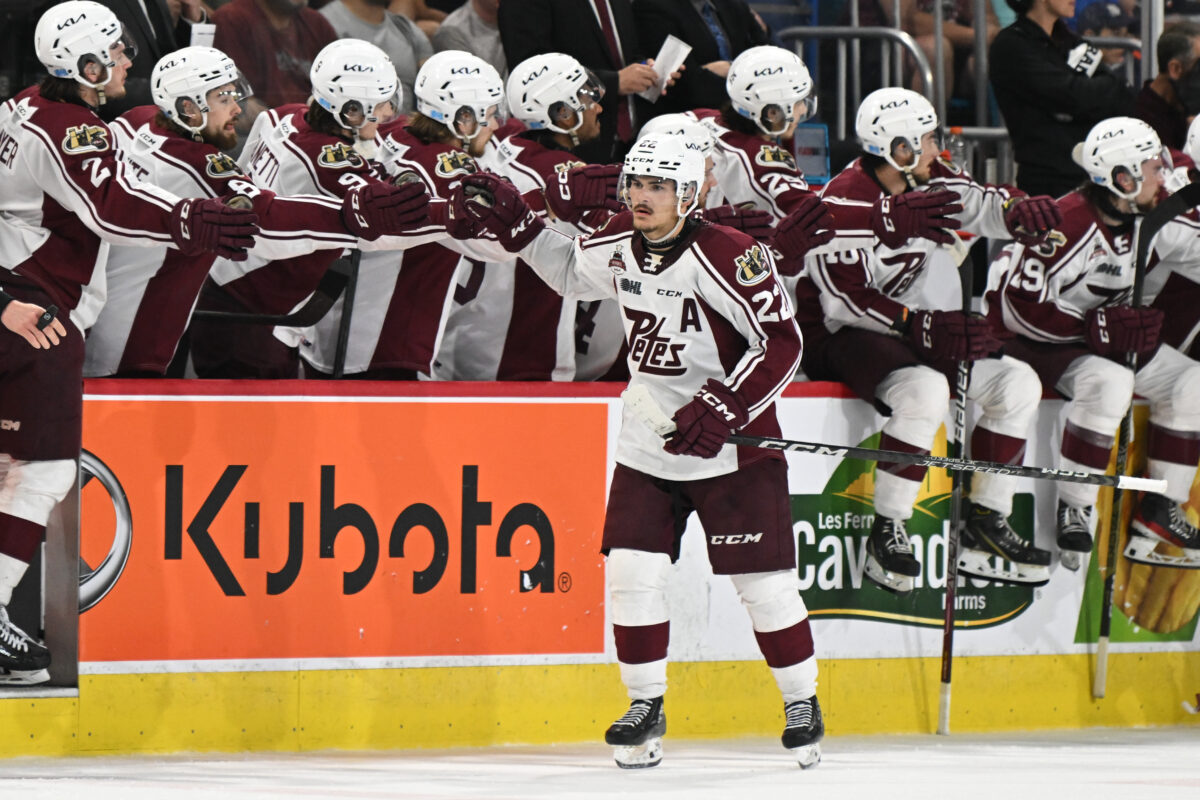 "I was super happy," said Robertson. "It is a really high-end organization that has some really good players. I am really excited to be with them, and hopefully, I can make the team soon."
One of the big reasons that it took an extra year for Robertson to get drafted was the COVID-19 pandemic. After the season was cancelled, many OHLers missed an entire year of development and scouting by NHL teams. While he didn't know when the league would be back, he was determined to stay in shape and keep improving so that he could become a difference-maker when the OHL resumed.
"It is hard when you aren't playing games to not fall behind, but I think if you put the work in and do the right things, you are going to stay up to date and not fall behind. It's about getting in the gym and on the ice as much as you can during COVID and trying to keep in game shape for when you come back. You know you are going to come back at some point, just don't know when."
When the league did resume, the work Robertson put in during the year paid off, as he saw a 63-point increase from the 2019-20 season to the 2021-22 campaign. He also became a better two-way player and was given opportunities on the power play and penalty kill. The hard work paid off as he started to develop into the player he is today.

"I pride myself on working hard during the summer. Always trying to get bigger, faster and stronger. I have a lot of good people around me that help tweak little things for me to help improve my game. Seattle has helped me a lot with video and showing me things that I can do better, so I have a lot of people helping me that put a lot of work in."
Related: Tucker Robertson – 2022 NHL Draft Prospect Profile
While he has yet to sign his entry-level contract with Seattle, it is an encouraging sign that they worked with him throughout the season. It shows that the organization sees him as part of their future; otherwise, they may not spend the time and resources to help him continue to develop. He has developed into one of their most interesting prospects and a player that could impress at development camp.
Journey To The Memorial Cup
Sticking with the Kraken theme, an interesting pattern emerged during the OHL Playoffs. In order to make it to the Memorial Cup, Robertson had to beat a Kraken prospect in every round of the postseason. He beat David Goyette and the Sudbury Wolves in the first round, took down Logan Morrison and the Ottawa 67's in the second, and had to defeat the North Bay Battalion in Ty Nelson and Kyle Jackson before facing the London Knights and Ryan Winterton in the OHL Final. All of the players are expected to be at development camp for the 2023-24 season, which should make for some interesting discussions as he now has bragging rights over his future teammates.
"Definitely a little bit. We will probably talk about it during the odd time at training camp and during the year. I just enjoy battling with them. I don't have full bragging rights as Logan (Morrison) and Ryan (Winterton) beat me last year in the playoffs, so I wanted to get one back."
Robertson was one of the key reasons why the Petes made it to the Memorial Cup. Not only was he dominant on the ice, but he was also able to demonstrate his leadership ability, wearing an "A" for the historic club. Being part of the leadership group was a challenge he was ready for, and he thrived in this season.
"It is really cool. It is a storied organization and an OHL championship team, so just to be able to call myself one of the leaders on this team is a privilege, and I am super happy."
At the Memorial Cup, he continued where left on in the OHL Playoffs, recording a goal and two assists during the Petes' five games. His best game of the tournament came when Peterborough needed him most, as he registered a goal and an assist during a round-robin win over the Québec Remparts to keep them alive at the Memorial Cup. While scoring and being named Player of the Game were special moments, what meant more to him was the win, as it meant he and his teammates would continue their remarkable journey at the historic tournament.
"It is definitely really nice. I am more happy to get the win because I want to keep playing, but anytime you are recognized at such a big tournament, it is really cool. Happy to get the award but happier to get the win."
Related: Seattle Kraken Top 15 Prospects: 2023 Trade Deadline Rankings
---
Latest News & Highlights
---
The Petes would go on to win their tie-breaker game versus the Kamloops Blazers before being defeated by the Seattle Thunderbirds in the semi-final. While his season didn't end with a Memorial Cup championship, Robertson and his teammates can take pride in the way they played and how resilient they were all year. A team that wasn't expected to even be in the OHL Eastern Conference Final, they proved the doubters wrong and put on a performance that will be talked about in Peterborough for a long time.
An Impressive Season For Robertson
At the end of the day, it is hard to argue that Robertson didn't have the best season of any Kraken prospect playing in the Canadian Hockey League (CHL). He played in every single Petes game throughout the year and was the only prospect to make it to the Memorial Cup. A draft day steal, it is clear Seattle has a player with a bright future ahead and one that fans in the Emerald City should be excited to see at training camp.
---
---