The Memorial Cup (Quebec French: Coupe Memorial) is the national championship of the Canadian Hockey League, a consortium of three major junior ice hockey leagues operating in Canada and parts of the United States. It is a four-team round-robin tournament played between the champions of the Ontario Hockey League (OHL), Quebec Major Junior Hockey League (QMJHL) and Western Hockey League (WHL), and a fourth, the hosting team, which alternates between the three leagues annually. The Memorial Cup Trophy was established by Captain James T. Sutherland to honour those who died in service during World War I. It was rededicated during the 2010 tournament to honour all soldiers who died fighting for Canada in any conflict.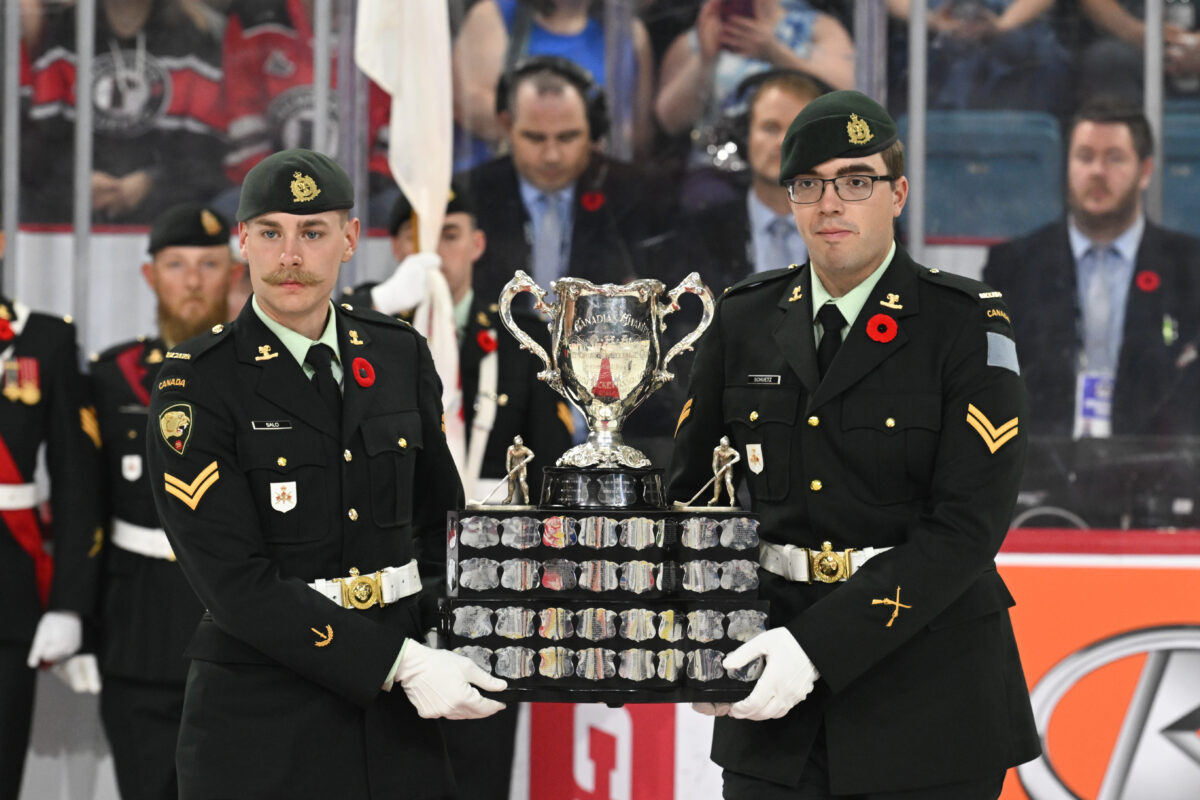 The trophy was originally known as the OHA Memorial Cup and was donated by the Ontario Hockey Association (OHA) in 1919 to be awarded to the junior ice hockey champion of Canada. From its inception until 1971, the Memorial Cup was open to all Junior A teams in the country and was awarded following a series of league, provincial and regional playoffs culminating in an east–west championship. The three-league tournament format began in 1972, a season after the Canadian Amateur Hockey Association divided the Junior A rank into two tiers, naming the Memorial Cup as the championship of the Major Junior level.
The Memorial Cup is sometimes referred to as one of the hardest championships to win in hockey, factoring in the number of teams across the CHL's member leagues nationwide, the Memorial Cup tournament being played between their top teams, and the limited eligibility period for players to compete at the major junior level.
The Western Hockey League has won the title 19 times since the adoption of the three league tournament format in 1972. The Ontario Hockey League has 17 titles, and the Quebec Major Junior Hockey League has 14.
Since the creation of the Memorial Cup, the Toronto Marlboros have won the most titles with seven. Among currently active teams, the Oshawa Generals lead with five titles, the latest one in 2015, while the Regina Pats follow with four.
Memorial Cup Awards
| Award | Description | Founded |
| --- | --- | --- |
| Stafford Smythe Memorial Trophy | Most valuable player | 1972 |
| George Parsons Trophy | Most sportsmanlike player | 1974 |
| Hap Emms Memorial Trophy | Outstanding goaltender | 1975 |
| Ed Chynoweth Trophy | Leading scorer | 1996 |
| Memorial Cup All-Star Team | Best player at each position | 1975 |
Memorial Cup Champions & Challengers
1919 to 1971
| Cup | Champion | Runner-up |
| --- | --- | --- |
| 1919 | University of Toronto Schools | Regina Patricia |
| 1920 | Toronto Canoe Club Paddlers | Selkirk Fishermen |
| 1921 | Winnipeg Junior Falcons | Stratford Midgets |
| 1922 | Fort William Great War Vets | Regina Patricia |
| 1923 | University of Manitoba Bisons | Kitchener Colts |
| 1924 | Owen Sound Greys | Calgary Canadians |
| 1925 | Regina Pats | Toronto Aura Lee |
| 1926 | Calgary Canadians | Queen's University |
| 1927 | Owen Sound Greys | Port Arthur West End Jrs. |
| 1928 | Regina Monarchs | Ottawa Gunners |
| 1929 | Toronto Marlboros | Elmwood Millionaires |
| 1930 | Regina Pats | West Toronto Nationals |
| 1931 | Elmwood Millionaires | Ottawa Primroses |
| 1932 | Sudbury Cub Wolves | Winnipeg Monarchs |
| 1933 | Newmarket Redmen | Regina Pats |
| 1934 | Toronto St. Michael's Majors | Edmonton A.C. Athletics |
| 1935 | Winnipeg Monarchs | Sudbury Cub Wolves |
| 1936 | West Toronto Nationals | Saskatoon Wesleys |
| 1937 | Winnipeg Monarchs | Copper Cliff Redmen |
| 1938 | St. Boniface Seals | Oshawa Generals |
| 1939 | Oshawa Generals | Edmonton A.C. Roamers |
| 1940 | Oshawa Generals | Kenora Thistles |
| 1941 | Winnipeg Rangers | Montreal Royals |
| 1942 | Portage la Prairie Terriers | Oshawa Generals |
| 1943 | Winnipeg Rangers | Oshawa Generals |
| 1944 | Oshawa Generals | Trail Smoke Eaters |
| 1945 | Toronto St. Michael's Majors | Moose Jaw Canucks |
| 1946 | Winnipeg Monarchs | Toronto St. Michael's Majors |
| 1947 | Toronto St. Michael's Majors | Moose Jaw Canucks |
| 1948 | Port Arthur West End Bruins | Barrie Flyers |
| 1949 | Montreal Royals | Brandon Wheat Kings |
| 1950 | Montreal Junior Canadiens | Regina Pats |
| 1951 | Barrie Flyers | Winnipeg Monarchs |
| 1952 | Guelph Biltmore Mad Hatters | Regina Pats |
| 1953 | Barrie Flyers | St. Boniface Canadiens |
| 1954 | St. Catharines Teepees | Edmonton Oil Kings |
| 1955 | Toronto Marlboros | Regina Pats |
| 1956 | Toronto Marlboros | Regina Pats |
| 1957 | Flin Flon Bombers | Ottawa-Hull Junior Canadiens |
| 1958 | Ottawa-Hull Junior Canadiens | Regina Pats |
| 1959 | Winnipeg Braves | Peterborough TPT Petes |
| 1960 | St. Catharines Teepees | Edmonton Oil Kings |
| 1961 | Toronto St. Michael's Majors | Edmonton Oil Kings |
| 1962 | Hamilton Red Wings | Edmonton Oil Kings |
| 1963 | Edmonton Oil Kings | Niagara Falls Flyers |
| 1964 | Toronto Marlboros | Edmonton Oil Kings |
| 1965 | Niagara Falls Flyers | Edmonton Oil Kings |
| 1966 | Edmonton Oil Kings | Oshawa Generals |
| 1967 | Toronto Marlboros | Port Arthur Marrs |
| 1968 | Niagara Falls Flyers | Estevan Bruins |
| 1969 | Montreal Junior Canadiens | Regina Pats |
| 1970 | Montreal Junior Canadiens | Weyburn Red Wings |
| 1971 | Quebec Remparts | Edmonton Oil Kings |
1972 to 1982
| Cup | Champion | Runner-up |
| --- | --- | --- |
| 1972 | Cornwall Royals (QMJHL) | Peterborough Petes (OHA) |
| 1973 | Toronto Marlboros (OHA) | Quebec Remparts (QMJHL) |
| 1974 | Regina Pats (WCHL) | Quebec Remparts (QMJHL) |
| 1975 | Toronto Marlboros (OHA) | New Westminster Bruins (WCHL) |
| 1976 | Hamilton Fincups (OHA) | New Westminster Bruins (WCHL) |
| 1977 | New Westminster Bruins (WCHL) | Ottawa 67's (OHA) |
| 1978 | New Westminster Bruins (WHL) | Peterborough Petes (OHA) |
| 1979 | Peterborough Petes (OHA) | Brandon Wheat Kings (WHL) |
| 1980 | Cornwall Royals (QMJHL) | Peterborough Petes (OHA) |
| 1981 | Cornwall Royals (QMJHL) | Kitchener Rangers (OHL) |
| 1982 | Kitchener Rangers (OHL) | Sherbrooke Castors (QMJHL) |
1983 to present
| Cup | Champion | Runner-up |
| --- | --- | --- |
| 1983 | Portland Winter Hawks (WHL) | Oshawa Generals (OHL) |
| 1984 | Ottawa 67's (OHL) | Kitchener Rangers (OHL) |
| 1985 | Prince Albert Raiders (WHL) | Shawinigan Cataractes (QMJHL) |
| 1986 | Guelph Platers (OHL) | Hull Olympiques (QMJHL) |
| 1987 | Medicine Hat Tigers (WHL) | Oshawa Generals (OHL) |
| 1988 | Medicine Hat Tigers (WHL) | Windsor Spitfires (OHL) |
| 1989 | Swift Current Broncos (WHL) | Saskatoon Blades (WHL) |
| 1990 | Oshawa Generals (OHL) | Kitchener Rangers (OHL)[c] |
| 1991 | Spokane Chiefs (WHL) | Drummondville Voltigeurs (QMJHL)[d] |
| 1992 | Kamloops Blazers (WHL) | Sault Ste. Marie Greyhounds (OHL) |
| 1993 | Sault Ste. Marie Greyhounds (OHL)[e] | Peterborough Petes (OHL) |
| 1994 | Kamloops Blazers (WHL) | Laval Titan (QMJHL) |
| 1995 | Kamloops Blazers (WHL) | Detroit Junior Red Wings (OHL) |
| 1996 | Granby Prédateurs (QMJHL) | Peterborough Petes (OHL) |
| 1997 | Hull Olympiques (QMJHL) | Lethbridge Hurricanes (WHL) |
| 1998 | Portland Winter Hawks (WHL) | Guelph Storm (OHL) |
| 1999 | Ottawa 67's (OHL) | Calgary Hitmen (WHL) |
| 2000 | Rimouski Océanic (QMJHL) | Barrie Colts (OHL) |
| 2001 | Red Deer Rebels (WHL) | Val-d'Or Foreurs (QMJHL) |
| 2002 | Kootenay Ice (WHL) | Victoriaville Tigres (QMJHL) |
| 2003 | Kitchener Rangers (OHL) | Hull Olympiques (QMJHL) |
| 2004 | Kelowna Rockets (WHL) | Gatineau Olympiques (QMJHL) |
| 2005 | London Knights (OHL) | Rimouski Océanic (QMJHL) |
| 2006 | Quebec Remparts (QMJHL) | Moncton Wildcats (QMJHL) |
| 2007 | Vancouver Giants (WHL) | Medicine Hat Tigers (WHL) |
| 2008 | Spokane Chiefs (WHL) | Kitchener Rangers (OHL) |
| 2009 | Windsor Spitfires (OHL) | Kelowna Rockets (WHL) |
| 2010 | Windsor Spitfires (OHL) | Brandon Wheat Kings (WHL) |
| 2011 | Saint John Sea Dogs (QMJHL) | Mississauga St. Michael's Majors (OHL) |
| 2012 | Shawinigan Cataractes (QMJHL) | London Knights (OHL) |
| 2013 | Halifax Mooseheads (QMJHL) | Portland Winterhawks (WHL) |
| 2014 | Edmonton Oil Kings (WHL) | Guelph Storm (OHL) |
| 2015 | Oshawa Generals (OHL) | Kelowna Rockets (WHL) |
| 2016 | London Knights (OHL) | Rouyn-Noranda Huskies (QMJHL) |
| 2017 | Windsor Spitfires (OHL) | Erie Otters (OHL) |
| 2018 | Acadie-Bathurst Titan (QMJHL) | Regina Pats (WHL) |
| 2019 | Rouyn-Noranda Huskies (QMJHL) | Halifax Mooseheads (QMJHL) |
| 2020 | Cancelled due to COVID-19 | – |
| 2021 | Cancelled due to COVID-19 | – |
| 2022 | Saint John Sea Dogs (QMJHL) | Hamilton Bulldogs (OHL) |
| 2023 | Quebec Remparts (QMJHL) | Seattle Thunderbirds (WHL) |
Sources