Undersized, underachieving and underutilized, prospect Jordan Subban of the Vancouver Canucks was traded to the Los Angeles Kings in early December, where he was given a fresh start to rediscover his game.
The youngest brother of Vegas Golden Knights goalie Malcolm Subban and Nashville Predators defenseman P.K. Subban, Jordan has shown flashes of high-end talent in the American Hockey League (AHL), but defensive deficiencies have held him back from getting a chance in the NHL.
The 5-foot-9, 185-pound defenseman has often struggled in his own zone, but an offensive mindset backed with smooth skating and point production has supported his career climb.
Reaching Los Angeles
In 2012-13, Subban scored 15 goals and 36 assists for 51 points in 68 games to go along with a plus-22 rating with the Ontario Hockey League's (OHL) Belleville Bulls. He went plus-10 and added another two goals and five points in 17 playoff games before the Bulls were eliminated in the conference finals. It was a significant upgrade to his 20-point, minus-23 campaign as a rookie the season prior.
The Rexdale, Ontario native was selected in the fourth round in 2013 by Vancouver but took a slight step back following his draft year. He scored 12 goals and added 30 assists for 42 points in 66 games and finished minus-11 as the Bulls failed to make the playoffs.
Vancouver opted to send the then-19-year-old back to Belleville for another year after his regression in 2013-14 hoping he could fine-tune his game before pushing for a spot on the Canucks roster. He responded with a career year with 25 goals and 27 assists for 52 points in 63 games, helping push the Bulls back into the playoffs. He tallied another three goals in four games but went minus-18 in the regular season and playoffs combined.
Subban joined the AHL's Utica Comets in 2015-16. He had a modest minus-5 rating and finished sixth in scoring among rookie defensemen with 36 points and third with 11 goals. He added another two goals and three points in four playoff games.
The mobile defenseman scored another 36 points (16 goals, 20 assists) in 65 games in 2016-17 as his defensive rating fell to minus-12. He was starting to fall down the depth chart as other prospects showed more promise on both ends of the ice.
Making it in Hollywood
Subban aimed for a spot out of camp in October, where Utica coach Travis Green was promoted to take over the Canucks in the offseason.
"Get my foot in the door, then knock down the door,"Subban told Luke Fox of Sportsnet in August. "Nothing changes. I'm in the same mindset I've always been in."
An unimpressive camp meant his the door led back to Utica, which turned into a slow start to his third professional season. He was a healthy scratch in six of Utica's first 22 games; he went minus-3 with five assists in 16 games.
On Dec. 7, he was traded to the Los Angeles Kings for center Nic Dowd. The Kings assigned him to their AHL affiliate, the Ontario Reign, where they hoped he could refocus and find his game and confidence. In his first 14 games, he scored three goals and three assists, but has tallied just one goal over his past nine games with a minus-3 rating since joining the Reign.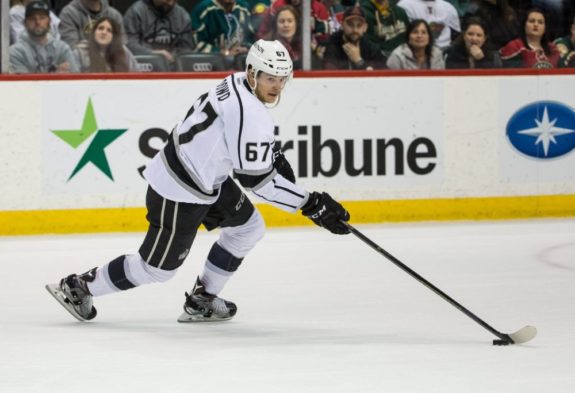 Freshly 23 years old, an NHL career could still be in the cards. His story could be that of Brian Rafalski, who didn't join the NHL until the age of 26 and overcame his 5-foot-10 stature with offensive prowess and a dedication to his own zone. He's studied another undersized defenseman, however, trying to better his defensive side of the game in the offseason.
Consistent attention to the defensive zone is something Subban is still seeking and for a Kings team pushing for the postseason, he likely won't earn his chance this year.
Related: Tyler Toffoli is Key to Kings Playoff Push
As a restricted free agent this summer, the Kings will be able to sit down with Subban and discuss the potential they saw in him at the time of the trade and where they believe he fits moving forward.
I offer opinions and insight on the Detroit Red Wings organization and its prospects.