For years now, Tampa Bay Lightning forward Cedric Paquette has been a prime example of a solid bottom-six talent. He brings a lot to the ice for his team. He likes to get under opponents' skin and play a rougher style of hockey, while also finding ways to contribute his fair share of offense. (from 'Jones: Lightning's Cedric Paquette is a jerk,' Tampa Bay Times, 02/25/2016) The Lightning is up against the salary cap and decisions will need to be made by general manager Julien BriseBois as to who stays or goes. Paquette's name has been bounced around as one player who may find his way out of the organization. Whether he dons the Blue and White or another sweater though, he is going to still be the same old Paquette.
Making a Name for Himself
Paquette suited up for the Blainville-Boisbriand Armada for two seasons in the Quebec Major Junior Hockey League (QMJHL). He showed stellar progress from his first season to the next, with a scoring increase by 35 points. He was drafted by Tampa in the 4th round (101st overall) in 2012. He soon left the Armada following the end of their 2013 postseason run to start his development in the American Hockey League (AHL). He posted the following with the Armada:
2011-12: 31 goals and 17 assists for 48 points in 63 games
2012-13: 27 goals and 56 assists for 83 points in 63 games
He made his AHL debut during the 2013 playoffs when he suited up in three games for the Syracuse Crunch. He then had his first full campaign with the club in 2013-14. He posted 20 goals and 24 assists for 44 points in 70 games. He also received 153 penalty minutes, proving the tougher style he brought every night. He showed he wouldn't back down from a physical challenge and wasn't afraid to get involved in the battles on the ice.
He made his NHL debut during the 2013-14 season with the Lightning, before becoming a regular on the squad in 2014-15. He made a powerful early impression with Bolts fans, tallying 12 goals and seven assists for 19 points in 64 games in 2014-15. He got a grand taste of postseason hockey that year as well, as Tampa advanced all the way to the Stanley Cup Final where they lost to the Chicago Blackhawks. Paquette scored three goals in 24 games on that run.
While Paquette's rookie campaign to this day is still his career best in regular-season points (19), he has almost hit that milestone the past couple of seasons. 2018-19 saw him notch 17 points in 80 games (13 goals and four assists), while he accrued 18 in 61 contests (seven goals and 11 assists) in 2019-20. Overall, he posted the following regular season stats with Tampa:
2013-14: one assist in two games
2014-15: 12 goals and seven assists for 19 points in 64 games
2015-16: six goals and five assists for 11 points in 56 games
2016-17: four goals and six assists for 10 points in 58 games
2017-18: five goals and four assists for nine points in 56 games
2018-19: 13 goals and four assists for 17 points in 80 games
2019-20: seven goals and 11 assists for 18 points in 61 games
His playoff production was beneficial as well. He posted the following through his postseason runs:
2013-14: two assists in four games
2014-15: three goals in 24 games
2015-16: one assist in 17 games
2017-18: one goal and one assist for two points in 17 games
2018-19: one goal in four games
2019-20: 3 assists in 25 games
The high point for Paquette was helping Tampa win the Cup in 2020 against the Dallas Stars after being a part of the team that lost to Chicago in 2015. The Lightning claimed the NHL's top prize after falling short only a few seasons before. For players like Paquette who were there in 2015, they completed their job of winning the Cup.
NHL Future
Throughout the 2020 offseason, there has been speculation about how BriseBois plans to get under the salary cap, especially with the cap being flat due to the COVID-19 pandemic.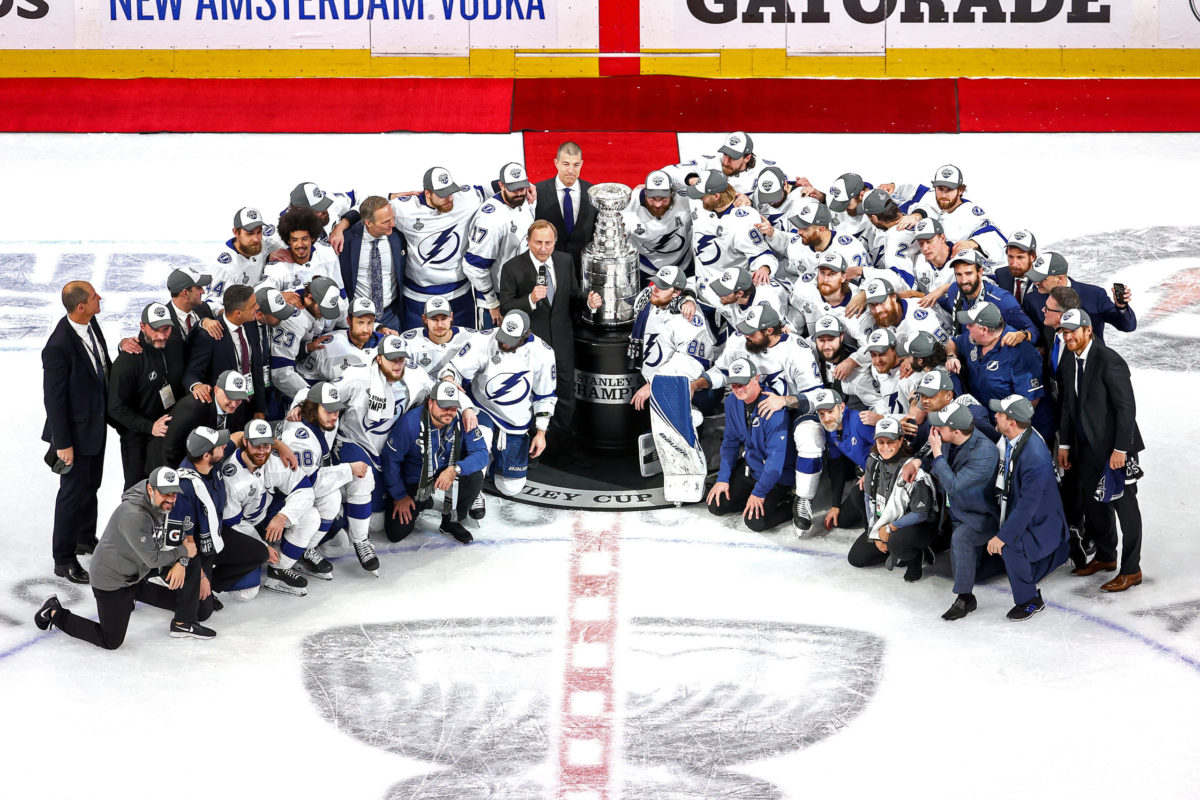 Crucial restricted free agents were a priority in getting signed to new deals in defenseman Mikhail Sergachev and center Anthony Cirelli (who still has yet to re-sign). The organization also brought veteran winger Patrick Maroon and defenseman Luke Schenn back into the fold. Maroon was considered a key presence in the locker room in Tampa's Cup victory, having previously won it the year prior with the St. Louis Blues in 2019. Schenn is a solid defender who added solid depth at the position.
Forward Tyler Johnson was one name who was mentioned on the trading block, but nothing has led up to a deal as of right now. Paquette is another player who has talked about getting dealt. If they do not trade him at some point in the near future, there is also speculation he may be an option for the Seattle Kraken when they hold their expansion draft. It seems really possible that no matter what, Paquette's days with the Lightning are numbered.
As good as Paquette is, one reason he might be an odd man out is the emergence of other bottom-six talents. Mathieu Joseph and Mitchell Stephens both have established themselves to a degree in the NHL.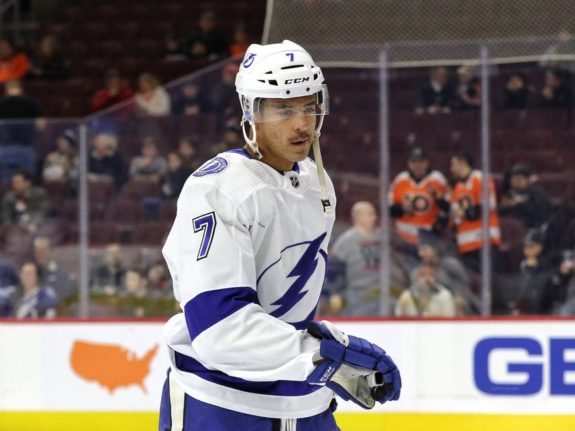 Joseph debuted in the 2018-19 season, accumulating 13 goals and 13 assists for 26 points. He had four goals and three assists for seven points in 37 contests in 2019-20. Stephens had his rookie campaign in 2019-20, posting three goals and three assists for six points in 38 games.
This is without even factoring players from the Crunch too as well. Alexander Volkov put up 30 points in 46 contests for them last season (nine goals and 21 assists) and is someone who could potentially push for a spot. One of the top contributors last season for Syracuse was Alex Barre-Boulet. He led the team in points with 56 in 60 games (27 goals and 29 assists). His services could possibly be used in Tampa as well. BriseBois and Lightning head coach Jon Cooper have a variety of players who can slot in a bottom-six role for their squad.
It is unknown what Paquette's status is for the future. As things stand right now, he is scheduled to become an unrestricted free agent at the end of the 2020-21 campaign. He might be considered a core member of Tampa's franchise going forward beyond this upcoming season, he might help debut the Kraken, or he might find himself a face of another team's bottom-six.
One thing for sure is that Paquette is going to put his best foot forward and continue playing that gritty game with a touch of offense in the mix. I long considered him a good example of what a bottom-six player does, and he has not slowed down since. His future will soon be unveiled.
---
---