The '12 Days of Christmas' is a classic holiday song first published in its current form in 1908. In a nod to the classic carol, join The Hockey Writers as we count down the 12 Days of Hockeymas. Each day, we will provide you with a piece of hockey history as we eagerly await the start of the 2020-21 NHL season.
Being that today is Dec. 13, we happen to be exactly 12 days from Christmas. The number 12 has many different meanings for the Oilers organization. It was worn by many great players over the years, including Jimmy Carson, Adam Graves, and in more recent years, players such as Sergei Samsonov and Rob Klinkhammer.
Of course, Oilers fans and many other fans will remember that the last player who donned the No. 12 was none other than Colby Cave, who tragically passed away on April 11 this past year.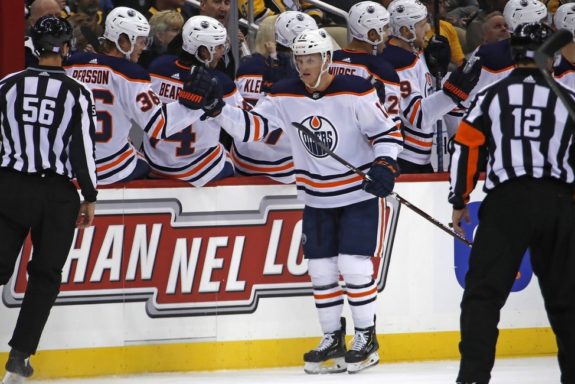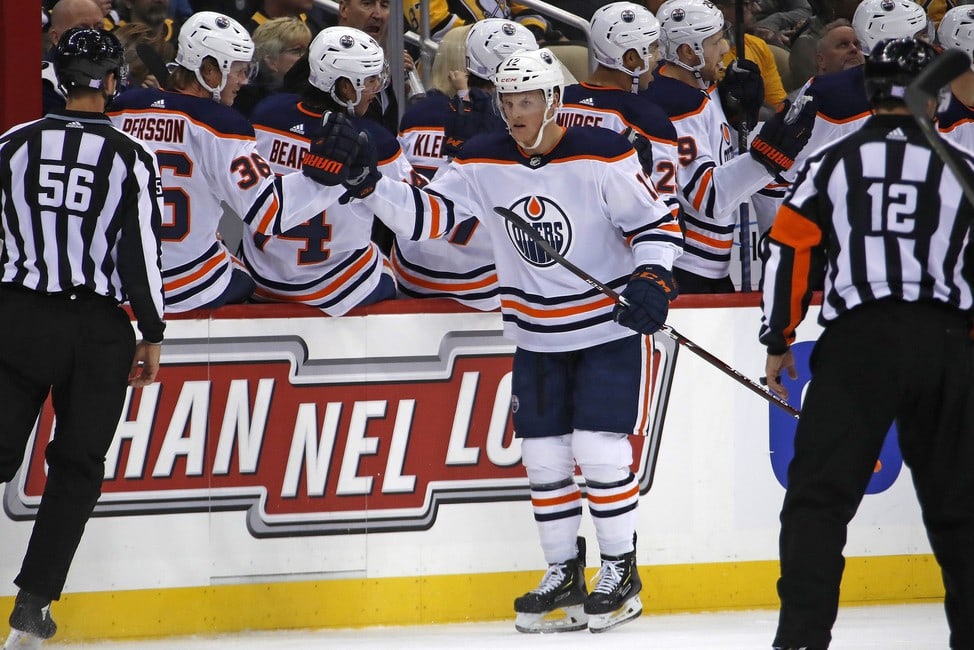 Aside from the jersey numbers, the No. 12 also has many other different meanings and fun facts that relate directly to the Oilers. One, in particular, is that 12 happens to be the number of goals Adam Larsson has scored since becoming an Edmonton Oiler prior to the start of the 2016-17 season. The 28-year-old Swedish defenceman has been a solid addition to the team for the most part, as his rugged style on the back end was something this team had lacked for years. Unfortunately for him, he was dealt straight up for former first overall pick Taylor Hall, and is often still judged based on that deal.
Early on Reactions
June 29, 2016 was a huge day for the Oilers franchise. Former general manager Peter Chiarelli, who had been with the team for just over a year at that point, elected to trade one of the team's best players in Hall to the New Jersey Devils in exchange for Larsson. This trade was part of what has been dubbed "The 23 minutes that shook the hockey world" as it occurred just minutes apart from another blockbuster trade in P.K. Subban being traded straight up for Shea Weber, as well as Steven Stamkos electing to re-sign with the Tampa Bay Lightning after months of speculation that he was leaving.
For the Oilers and Chiarelli's sake, this trade faced skepticism from just about every corner. Oilers fans were furious, while other fans around the league were puzzled and some even mocked the trade. TSN's own Bob McKenzie had a tweet that circulates around the internet today that read, "Trade is one for one: Adam Larsson for Taylor Hall".
In theory, this trade made some sense for the Oilers who were in desperate need of help on the blueline. However, the value wasn't close to even at the time, as Hall was already being regarded as one of the more dynamic wingers in the entire NHL, while Larsson was beginning to develop into a top-four rearguard but still had some inconsistencies in his game.
On top of that, the Oilers were, and still continue to be, a team that struggles to produce offence outside of their few top forwards. That is why trading Hall, who had been one of the team's top scorers since arriving in 2010-11, for a defenceman in Larsson who had just one season over 20 points at the time, made very little sense.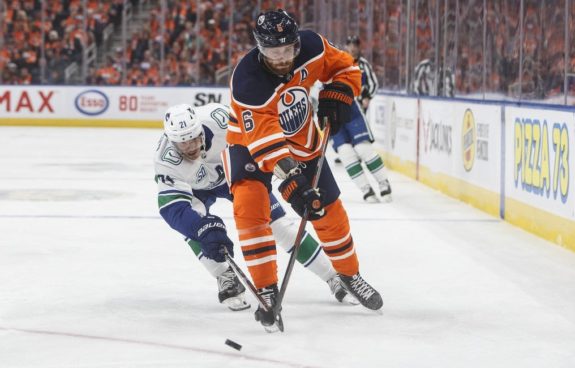 The other problem with it was the fact Chiarelli was not able to bring in anything else. Sure, Larsson was a nice starting piece, but the fact he was not able to bring in prospects or draft picks along with him was very frustrating to Oilers fans, many of whom still saw Hall as one of the main solutions to the team improving in the future. As you can see, there was plenty of questions surrounding this deal, which meant Larsson was coming into Edmonton with a ton of pressure on him.
Change in Discussion
Thankfully for Larsson, the opinions on this trade changed in a hurry once the 2016-17 season began. The Oilers got off to a great start and were eventually able to clinch a playoff spot for the first time since the 2005-06 season. Larsson played a big part in that, as he averaged over 20 minutes in ice time per game and had the second-best plus/minus rating on the team of plus-21, trailing only Connor McDavid who sat at plus-27.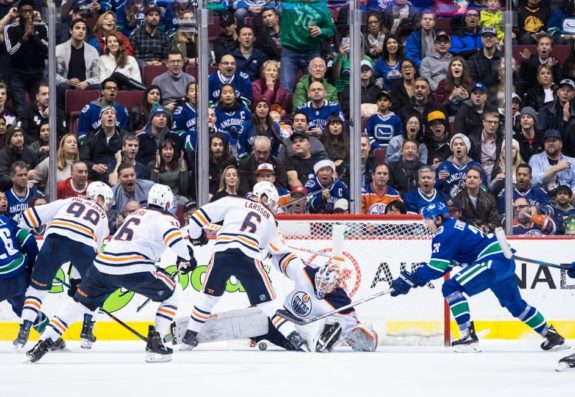 That strong play continued for Larsson in the playoffs, as he played a huge role in the Oilers advancing past the San Jose Sharks in the first round. Unfortunately, they were not able to get past the Anaheim Ducks in Round 2, but Oilers fans were for once truly excited about the future of this team and believed at this point the trade to bring in Larsson was a success. It certainly appeared to be paying off at the time, as he was a horse in the playoffs, leading his team in ice time with averaging just under 24 minutes per game.
As for Hall, his first season with the Devils was one to forget. The team struggled immensely with a 28-40-14 record, and had very few offensive weapons up front. He finished that season with just 20 goals and 53 points in 72 games, and at times looked disinterested. Many started to suggest that he was a locker room cancer.
Proving His Hart
In a trade that had already had changing narratives multiple times, the 2017-18 season caused that to happen yet again. After the 2016-17 season had concluded, many who had openly mocked this trade were backing off as it appeared Chiarelli made the right move. However, from day one of the 2017-18 campaign, Hall was on a mission to prove anyone doubting him wrong.
Despite the Devils yet again having an underwhelming roster, he was able to almost singlehandedly carry them to the postseason, posting 39 goals and 93 points in 76 games. To put into perspective just how great his season was, the Devils' second-leading scorer was Nico Hischier who had just 52 points.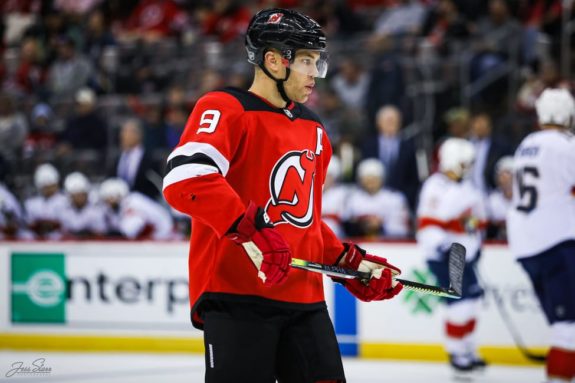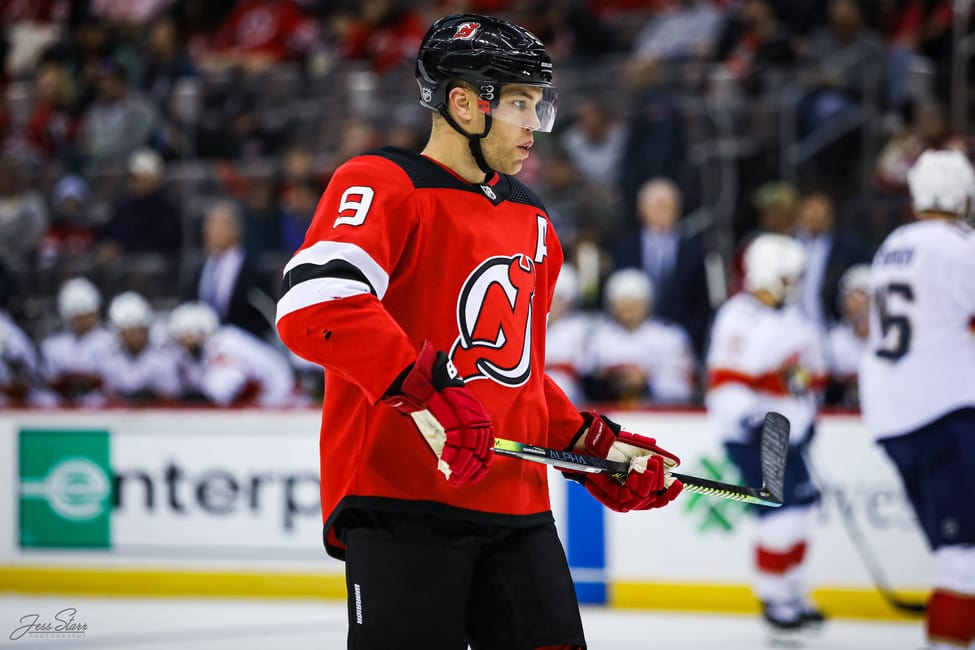 Though the Devils were eliminated by the Tampa Bay Lightning in just five games, they still had much better team success than the Oilers, who reverted back to their old ways, finishing 23rd in league standings with a disappointing 36-40-6 record. Despite a 108-point season from McDavid, they also finished 23rd in team scoring. This had many pointing to the fact they needed more scoring forwards, and how much better the Oilers would have been had they kept Hall. To make matters even worse, the Devils forward went on to win the Hart Trophy, which in turn led to more media scrutiny.
Years Since
Despite the anger many Oilers fans had regarding this trade, they were able to rejoice midway through the 2018-19 season when it was announced Chiarelli was being fired. While the Hall for Larsson deal certainly wasn't his only questionable decision, it was and will continue to be one of the most talked-about whenever his tenure with the Oilers is brought up.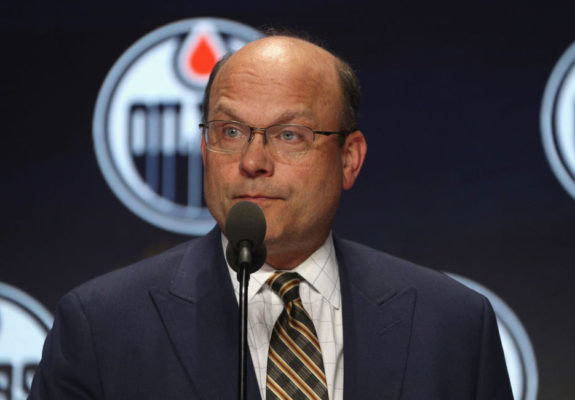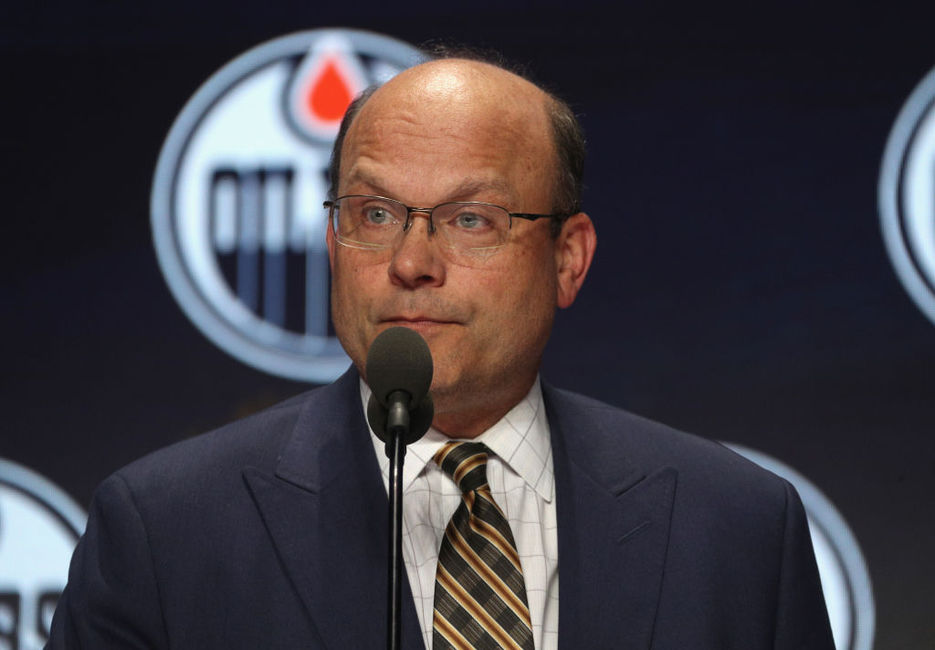 As a whole, the chatter around this trade has slowed down over the past year. Neither player has played poorly, but neither has exactly set the world on fire either. Another big reason for the talk dying down is due to the fact the Devils decided to trade Hall to the Arizona Coyotes prior to the 2020 NHL Trade Deadline. The 29-year-old went on to finish the season with the Coyotes before signing a surprising one-year deal with the Buffalo Sabres this offseason.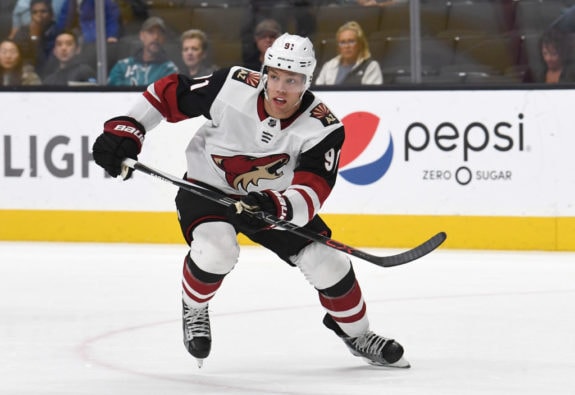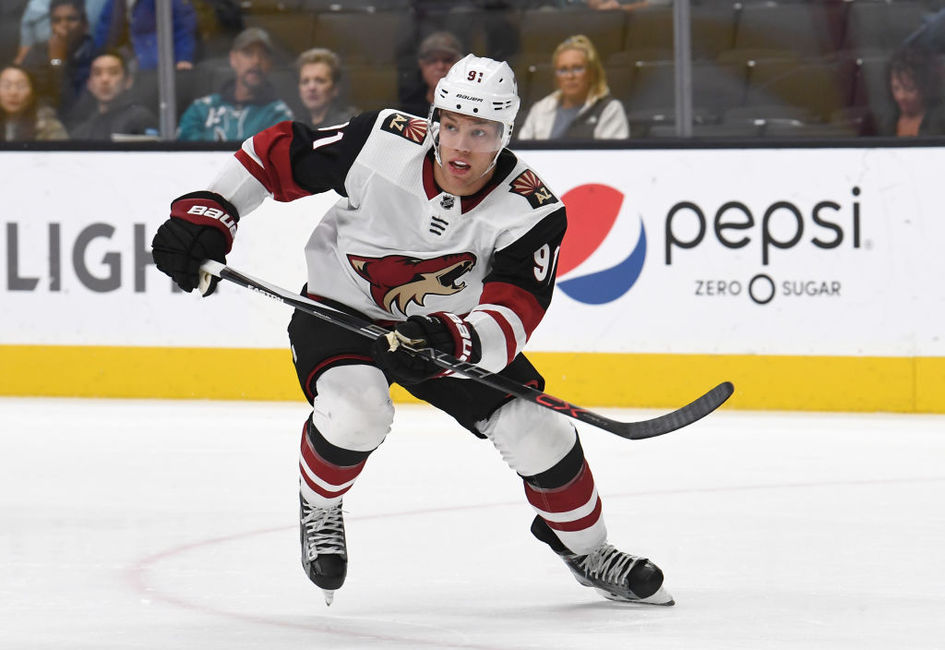 Larsson, for the most part, has been somewhat underappreciated for the last few seasons. There is no doubt that the main reasoning for this is still because of the price the Oilers paid to get him, which simply isn't fair. Had they drafted Larsson or signed him as a free agent, fans would likely have a lot more respect for his game. While he does have his limitations as a player, particularly offensively, he gives it his all every game and is a solid stay at home top-four defenceman.
Going Forward
Unfortunately for Larsson, this trade will likely continue to be seen as a loss for the Oilers. Again, it isn't his fault, as he has played well for the majority of his time in Edmonton. It was simply just a bad trade by Chiarelli, as Hall is clearly the more talented of the two. As mentioned above, had the Oilers been able to acquire prospects or picks in this deal, perhaps it would be viewed differently.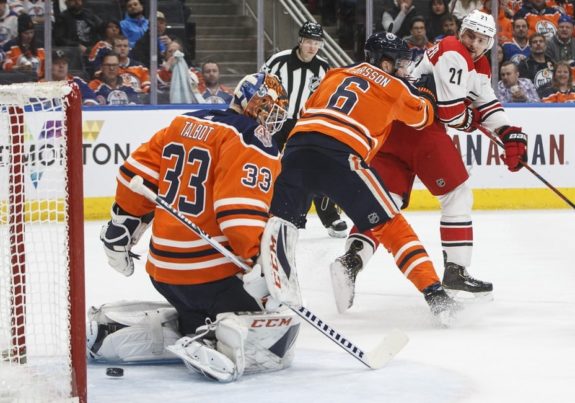 While Hall has already moved on from the team that acquired him in this trade, Larsson may soon be doing the same. The 28-year-old is now in the final year of his six-year deal that carries a cap hit of $4.166 million. Given the number of talented blueline prospects they currently possess, it remains unknown whether or not Ken Holland and the rest of the Oilers management plan on offering an extension to Larsson.
The 2019-20 season wasn't a great one for Larsson. Despite the team's success, he was limited to just 49 games due to injury and was never really able to get up to speed when he did play. He managed just one goal and five helpers throughout the season, though putting up points isn't something he's relied on for. However, something he had been relied upon early with the Oilers was being a minute muncher, which was not the case last season as he averaged just 19:50 per game. That marked the first time he averaged below 20 minutes a game since the 2013-14 season.
Last season, Larsson was often caught out of position in the defensive zone, and was getting uncharacteristically beaten on the rush as he appeared to be a half step behind everyone else. The hope heading into the 2020-21 season is that he is healed from a nagging back injury that has been bugging him for large parts of the last two seasons. Assuming he is healthy, the expectation is that he will return to being the rugged, hard nose shut down style defenceman he has proven he can be when on top of his game.
For the Oilers sake, they will certainly need him to be at his best given that fellow Swedish defenceman Oscar Klefbom is expected to miss a big chunk if not all of the upcoming season. If Larsson is able to play at his best for the entirety of the season, the Oilers may very well do their best to extend his contract. That may be tough however, given that they are tight against the salary cap along with the fact this will likely be Larsson's last chance to cash in on a lengthy contract. Of course, as everyone knows, things can change very quickly in the game of hockey, so as far as Larsson's future with this team is concerned, it very much remains a wait and see at this point.
---
---
Colton Pankiw is a former Jr. A hockey player who now provides his knowledge of the game through writing. He's been a very active and reliable source for nearly two years at The Hockey Writers. He is a credentialed writer for the Calgary Flames but also does features on other teams throughout the league. Other writing contributions include: Yahoo Sports, Las Vegas Chronicle, Oil On Whyte, and Markerzone.com. Colton is also a co-host of both Oilers Overtime and Flames Faceoff podcasts. Any interview requests or content info can be made through him on Twitter. Take a look at his work here.