"We're going to Borrelli's!" shouts Frankie Borrelli of East Meadow, Long Island, tightly hugging his father, Frank Jr. Borrelli, live-streaming during a New York Islanders win. The video, which is a routine for the Borrellis, captures the iconic father-son bond alongside the whirlwind emotions of watching an Islanders playoff game. The phrase, coined by Borelli and synonymous with 'we're going home,' signifies an Islanders win and a popular postgame destination to enjoy great Italian food with fellow Islanders fans who feel like family.
Next Door Neighbors With Nassau Coliseum
Borrelli's Restaurant in East Meadow, Long Island was opened in the fall of 1955 by Al, Phil, and Frank from Naples, Italy. The three brothers were a trifecta comprised of a pizza man, waiter, and cook who began serving the Long Island community with authentic Italian cuisine and family-friendly service. With much success, the restaurant expanded in the 1960s, and in 1972, Borrelli's had a new neighbor moving in that would transform the family-owned business forever: the newly built Nassau Coliseum.
Frank Jr. Borrelli, son of Frank Borrelli, recalls how the restaurant gained many new loyal customers almost immediately after the Islanders began playing at the Coliseum. He began working at his father's beloved restaurant when he was 12 years old, describing the atmosphere as "a lot like the movie Sandlot," which was filled with traditions and familiar faces.
From its inception, the restaurant was more than a place for a great Italian meal but became a home to many Long Islanders, "I met my wife here and my father met his wife here. There was not a weekend where people say they had their first dates here," Borelli says. The now 64-year-old has been an Islanders' season ticket holder since the beginning and has had the pleasure to witness the Islanders' dynasty era, "The games were so exciting and overtime wins. The parade would come right down Hempstead Turnpike. We'd be on the roof [of Borrelli's] four years in a row throwing confetti from the roof. We especially loved John Tonelli and would carry a 'Borelli's Loves Tonelli.' When they retired his number, I made another sign that resembled the one from 30 years ago and brought it against the boards," Borelli says.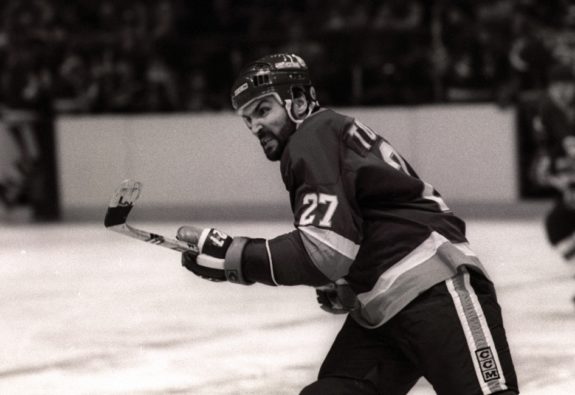 Like most Islanders fans, Borrelli has a great sense of humor and resilience as he recalls the wonderful Cup parades and even the dark years. "I would fall asleep during the second period. Still, I would take my son to every game when he was young and drop him off with his friends. He never missed a game. The restaurant continued to fill up before every game. The fanatics never failed to come," Borrelli says. After almost 49 years of having loyal Islanders fans fill up the restaurant before and after many wins and losses, the Islanders finally moved to their new home in Elmont at UBS Arena.
Viewing Parties Filled With Islanders Fans
In the last few years, the success of Borrelli's has soared to new heights via social media. While the restaurant has always stood as an institution among the Long Island community for its food and fanfare, it has most recently been the setting for some incredible viewing parties.
"Viewing parties started slowly. My son works with Barstool Sports. He would do it from his phone and go live with the two of us watching the game and people would see our reactions. All of a sudden, people began filling the restaurant, getting a great reaction. When we went to the Coliseum, there was a Monday game, we were closed, so we started filming our live reactions to watching the game and that video went viral. Now a tradition of people experiencing games here. People will say, 'Mr. Borrelli this is better than UBS Arena and Coliseum!'" said Borrelli. The experience of watching an Islanders game at Borrelli's is unmatched, most of which Borrelli attributes to Islanders fans themselves.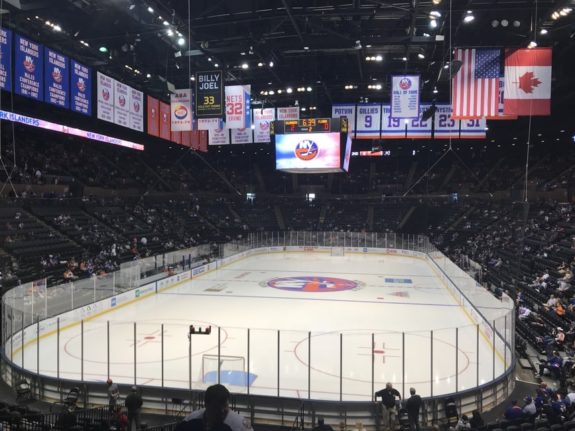 "[The Islanders] are one of the only teams who can draw such a fanbase. You're not going to get a watch party for a team that wins all the time. The experience is unbelievable. Even on the games we lost. It's a different experience of going to a game, you're in close and on top of each other," said Frank Jr. Borrelli.
---
Latest News & Highlights
---
Hands-down one of their most memorable videos occurred during the 2021 Stanley Cup Playoffs in Round 2 when the Islanders faced the heavily-favored Boston Bruins. Such viewing parties consisted of Mr. Borrelli, his son, and dozens of Islanders fans dressed in their blue and orange garb geared up for an uphill battle against Boston. With the live reactions of the Borrellis and the Barstool Sports crew going viral, the videos and commentary became a mainstay during the electric series between the two teams. It's impossible not to laugh and cry alongside the father-son pair who are mesmerized by their favorite team, wince when they make a mistake, and literally jump for joy when they score. It was also a beautifully relatable scene of watching a father and son build memories with each other live on social media, reflecting the family-first sentiment of Borrelli's restaurant and the Islanders fanbase.
From Barstool Sports to the Islanders Booster Club
These now famously touching viewing parties almost would not have been possible if not for Dave Portnoy and Barstool Sports. Borrelli's was among the long list of restaurants affected by the COVID-19 pandemic, threatening the business' future. "We were struggling like every other restaurant. Takeout only. Nobody was coming in for like a year. We're known for low prices and high volume with over 30 people on payroll. We need to be busy to survive. We were helped out with the Barstool Fund and Dave Portnoy. If he didn't help us out we were gonna have to shut the doors," describes Borrelli. As the first recipient of the Barstool Fund, Mr. Borrelli kept almost everyone on payroll and the doors open.
Related: Bruins: 3 Potential Free-Agent Destinations for Connor Clifton
It's hard to imagine the Islanders fanbase without Borrelli's in business. Mr. Borrelli has become not only the face of the restaurant but a friendly figure at home games. "Hey Frankie! Can I get a picture? During intermissions, I'll hear 'Mr. Borrelli! Mr. Borrelli! I can't go ten steps without being noticed," laughs Mr. Borrelli. His popularity is understandable and well-deserved and has been noticed not only by Islanders fans and Barstool Sports but even by Islanders owner Jon Ledecky who occasionally watches games at Borrelli's with the fans.
Mr. Borrell speaks highly of the Islanders organization, "We've had a great partnership with the Islanders from selling food, tickets, they've been great partners with me over the years. Great organization. We've had the booster club here. [Ledecky] would say 'Tell me what we need to do,' And we would voice our opinion. [Ledecky] cares and wants to know and wants to fix things," says Mr. Borrelli.
The future is bright for Borrelli's which continues to host awesome viewing parties and late-night celebrations in honor of the Long Island team. The well-respected establishment is going on its 68th year in business and with Mr. Borrelli and his son at the helm, it's certain to remain a classic place for Islanders fans of all ages to come have a slice of pizza, support their team, and, of course, create special memories with friends and family.