300 wins. It's impressive. Especially considering the fact that Marc-Andre Fleury hasn't turned 30 yet. Fleury was the 31st goalie in NHL history to reach the 300 win mark; there are 19 goalies on that list that are eligible for the Hall of Fame, and 12 of them have already been inducted. As we commend the Flower on his accomplishment, let's look back at some of his most memorable performances.
#Marc-Andre Fleury became the 31st goalie in #NHL history to record his 300th career win and the third-youngest… http://t.co/OuKLfv8ik5

— Diehardfans (@Diehard_Fans) November 25, 2014
Fleury's Start in Pittsburgh
Fleury was drafted in 2003 and appeared in 21 games his rookie season going 4-14-2. The learning curve was helped by the 2004 lock-out which allowed Fleury to play 54 games in the AHL, winning 26 games. However, he continued to struggle in the 2005 season going 13-27 with a save percentage sub .900. But almost overnight, and possibly the emergence of a certain 1st round draft pick in 2005, Fleury bursted onto the NHL top goalie watch in 2006-07 winning 40 games; Fleury has won 30+ games in every season since (aside from the lock shortened 2012-13 season).
Fleury's Top Saves
The save on Karlsson may go down as one of Fleury's best regular season saves.
Something that has always impressed me about Fleury is his ability to spin on his head and keep his team in close games.
Among goalies with at least 30 shootout decisions, no one is better than Marc-Andre Fleury, who has a .763% save percentage in shootouts. It's obvious as to why, is it not?
What's move impressive about Fleury is his athleticism; he can adjust and make the save with whatever body part he can get in front of the puck.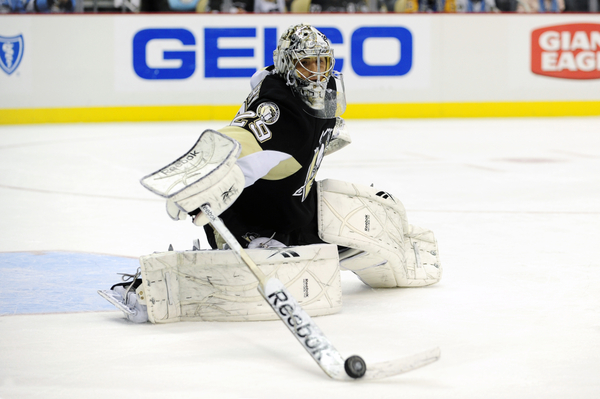 Fleury's Most Memorable Save
The save that made Fleury a Pittsburgh Hero and etched him into the history books was what many refer to as the Cup winning save. With 1.6 seconds left on the clock, Fleury dove in front of an empty net and secure the win, and the Stanley Cup, for the Penguins.

Fleury's Future in Pittsburgh
Marc-Andre Fleury loves Pittsburgh and recently signed an extension that will keep him in black and gold for four more years. He's had his ups (Stanley Cup, 2009), and he's certainly had his downs (Flyers playoff series, 2012). But regardless, he's the goalie in Pittsburgh. 2014-15 is shaping up to be a special year for him.
He's over the 300 win mark before his 30th birthday, which is on November 28th.
He currently leads the NHL in shutouts with 4
His save percentage of .926% is fourth best in the NHL among goalies who've played in 10 games
And with a much improved defense, Fleury seems to feel much more comfortable in his crease.
Malkin on Fleury's 300th career win: "Every shootout, I score on him. I don't know how he win 300. It surprises me."https://t.co/wux2Y0MnPn

— Pittsburgh Penguins (@penguins) November 25, 2014