It's a hot topic in amongst fans of the Toronto Maple Leafs right now — what will the team do with the 28th overall pick at the 2023 NHL Entry Draft? For now, we're operating under the assumption that they will make the selection, even with Brad Treliving not in attendance.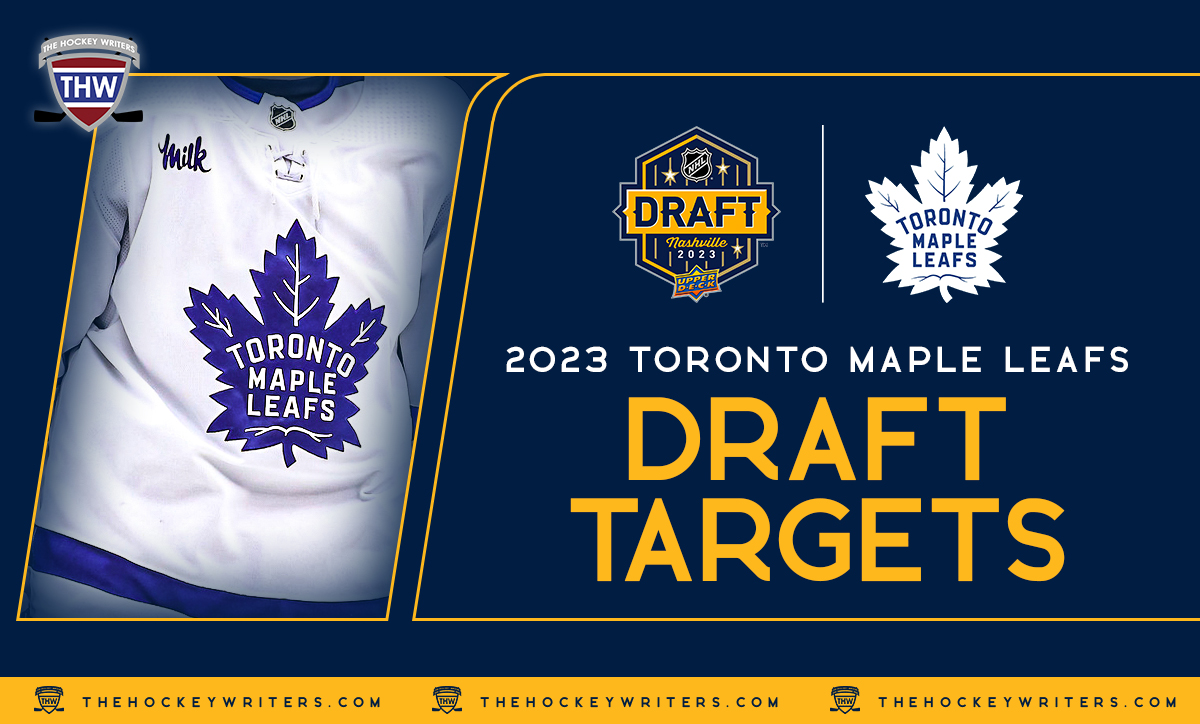 We've already discussed the possibility of the Maple Leafs taking defenceman Oliver Bonk with the pick, but with the depth of talent in the 2023 NHL Draft, there are a number of possibilities when it comes to who exactly the Maple Leafs could take with that pick — one of which is Sudbury Wolves winger Quentin Musty.
Musty's Scouting Report
Earlier in the season, Musty was considered a top-half of the first round type of player. While his play certainly didn't deteriorate throughout the year, other players within the draft moved up based on their seasons and their respective production — ultimately pushing Musty down a number of rankings.
Related: Quentin Musty – 2023 NHL Draft Prospect Profile
---
Latest News & Highlight
---
He's a player that has a big frame and he uses it in a number of aspects of his game. He battles along the boards and doesn't shy away from the physical play to pry the puck from opponents. He's an important net-front presence with his size and drives hard to the net from the wing upon entering the zone.
He sees the ice well and his playmaking matches that of his shooting ability as well. His vision might be among the top five in the first round of the draft and his 52 assists this season for the Wolves is quite a telling stat. He's creative with the puck and when it calls for it can be very deceptive while driving towards opponents.

Consistency might be his biggest question mark which is why he saw a drop in some rankings, but his 68 points over the final 42 games of the regular season this year should show teams that he has the ability to play a big role offensively. Away from the puck, he has some work to do, but that shouldn't take away from the pure skill that this kid possesses.
Musty's Statistics
Why the Maple Leafs Should be Interested
His size and skill are the easy answers to why the Maple Leafs should be interested in Musty. Let's face it, that's all you really need. But he offers more than that. He has the potential to be a top-six player if he can continue to produce consistently and use his strength to become a legitimate power winger in the NHL.
He is so offensively driven that he projects to be more of a rewarding pick than a risk at this point and while some might still consider him a top-20 pick in this year's draft, if he slips to 28th overall the Maple Leafs have to pull trigger on a player of his caliber.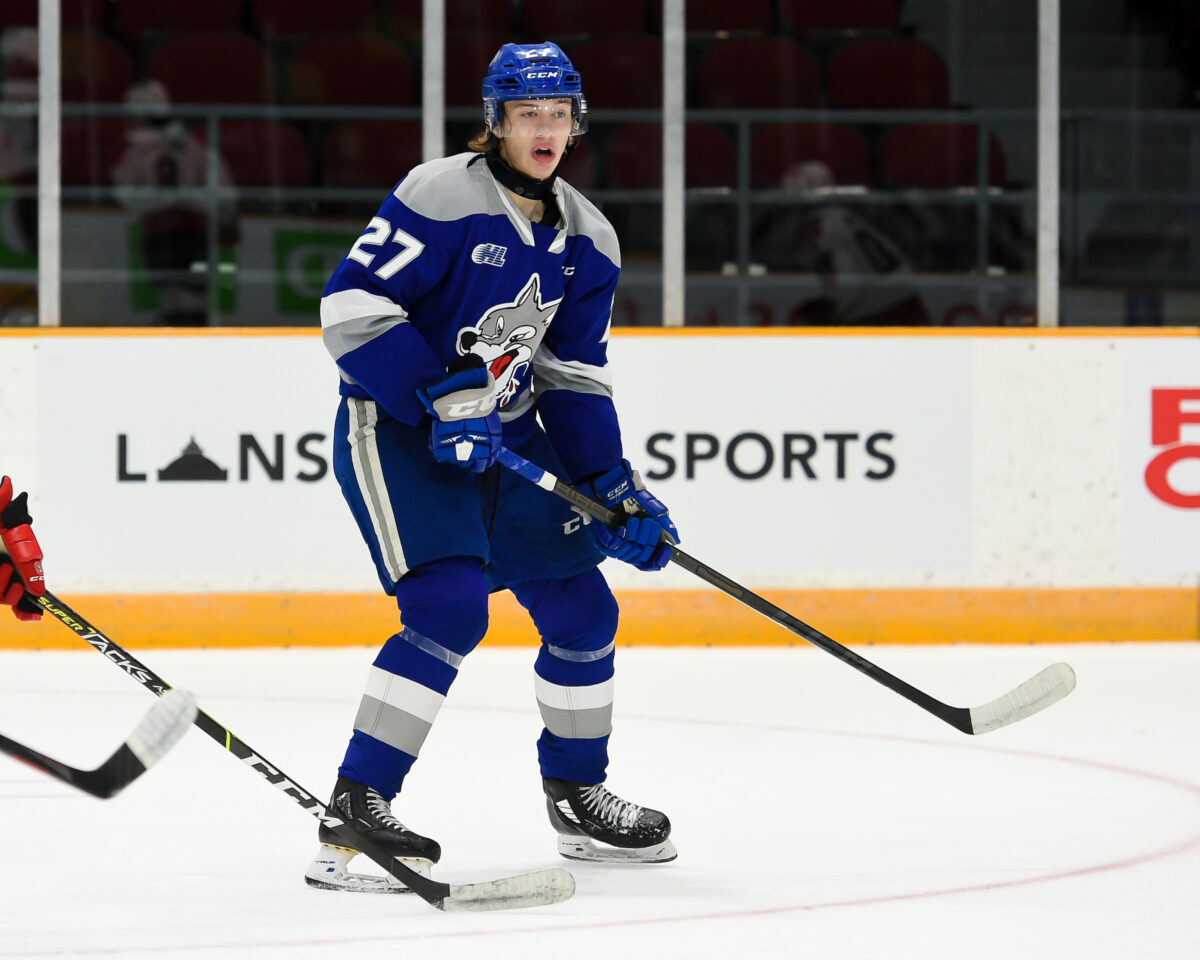 He has a strong release and his jump in the goal department this season to 26 shows just how lethal he can be with the puck. The Maple Leafs could use another strong winger prospect to look forward to outside of Matthew Knies considering the complicated contract situation this team could be in with William Nylander and Mitch Marner over the next couple of seasons.
In no way is Musty the fix for that issue, but it sure doesn't hurt having an option in the pipeline that can provide some offence — especially when they play the style of game that Musty does.
Why the Maple Leafs May Stay Away
Well, it was mentioned earlier. Musty is completely offensively driven. That doesn't mean he's not defensively responsible, it just means there is room for him to develop that part of his game.
As for the Maple Leafs, they have a history of drafting offensively gifted players that lack in the physicality department. With that in mind, Musty might not fit the bill of a smaller, skilled player. That said, Treliving is at the helm now and his vision for the Maple Leafs will surely ring differently than that of his predecessor, Kyle Dubas.
Related: 2023 NHL Draft Guide
He has struggled with injuries early in his OHL career, but nothing serious enough to plague him long-term.
I'd be lying if I said there was a valid reason for the Maple Leafs to steer clear of Musty. If he's the best available when their pick rolls around, and if he does slip to the 28th overall, it's hard to believe there are any good reasons for the Maple Leafs to not select the Wolves' forward.
Will the Maple Leafs Take Musty?
Simply put, yes. Musty finished with 78 points in 53 regular season games with the Wolves in 2022-23. He added four points in four playoff games while the Wolves got swept in the first round of the OHL playoffs.
That said, his goal production more than doubled in 2022-23 from his rookie season and his overall play improved. There are still some question marks around his play away from the puck and his overall drive when he's not the one rushing it up ice, but given some time and proper development he could become a legitimate threat with a solid 200-foot game.
I'm not ready to say he's a legitimate power forward option, but he could have power forward potential if he continues to play the same game that he has throughout his junior career. With that in mind, there's no reason why the Maple Leafs would pass him up at 28th if given the opportunity.
---
Other Maple Leafs' draft targets: