Welcome to the 2023 Blue Jackets' NHL Draft Guide. With a total of seven picks entering the week, they have a chance to make picks that will significantly alter the direction of their franchise.

We will get you ready for everything to expect from potential players available with their top-two picks to some other big storylines to follow. For the Blue Jackets, the big story in Nashville will be who they take with the third-overall pick.
Third Pick Expectations
The Blue Jackets are guaranteed to leave Nashville with one of the top centers available in this draft. Who they pick will depend on two things: their list and who the Anaheim Ducks select.
---
Latest News & Highlight
---
The belief is that one of the below three players will hear their name called by the Blue Jackets. You can click on each name below to see their THW Draft Profile.
Matvei Michkov is not expected to be selected by the Blue Jackets, although he is scheduled to meet with several teams in Nashville this week.
The thing we will learn at this draft is what the Blue Jackets ultimately valued in these players. When there is a situation with this many great talents available, it will be interesting to learn what became the deciding factor.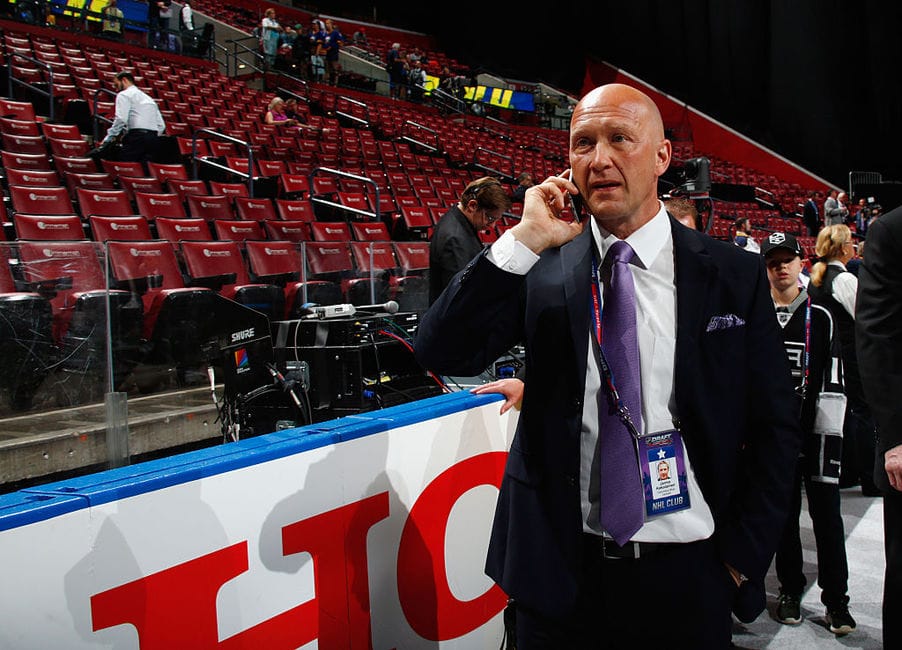 Fantilli, Carlsson and Smith each bring a little something different to the table. All three project to be top-line centers in the NHL. Fantilli and Carlsson each have a shot at the NHL in 2023-24 but that's not a given in either case. Smith will attend Boston College in the fall.
Expect the Blue Jackets to keep the third pick. The only way they would ever consider trading it is if they can trade up with it or land a top center with term.
Blue Jackets' Other Picks
Besides the third pick, the Blue Jackets own picks 34, 66, 98, 114, 156 and 194. Owning the second pick of Day 2 is like holding a late first-round pick.
In some of the early mocks that have been published, some good players have dropped out of the first round for one reason or another. The Blue Jackets will take the best available player on their list. They could also trade up or down depending on the situation.
Here's one thing to watch. The goaltending situation within the organization. The Blue Jackets lack a top-end goaltending prospect behind Elvis Merzlikins and Daniil Tarasov. Could they use the 34th pick to rectify that?
Carson Bjarnason, Michael Hrabal and Trey Augustine are ranked one, two and three according to NHL Central Scouting. The Blue Jackets could leave Nashville with two of the best prospects this draft has to offer in two key positions.
If they elect to not choose a goaltender at 34, the Blue Jackets will have no shortage of players to pick from at forward or defense. Here is a small sample of players that could go in that range.
Forwards: Riley Heidt, Danny Nelson, Gracyn Sawchyn and Koehn Ziemmer.
Defense: Etienne Morin, Oliver Bonk, Tanner Molendyk and Beau Akey.
As for their other picks, it's always tough to gauge who will be available in those spots. You can see the full list of NHL Central Scouting's Final Rankings here. You can also click below to view our THW Draft Guide with well over 100 prospect profiles you can view.
Related: 2023 NHL Draft Guide
Other Storylines to Follow
There will be several things to watch as the week in Nashville unfolds. With so much talk going on behind the scenes, the Blue Jackets will be on the receiving end of calls from other teams.
Teams will inquire about the third pick. As we stated earlier, the Blue Jackets are expected to make that pick. But that won't stop teams from calling and inquiring about the potential price.
Teams will also call the Blue Jackets about the 34th pick. This is especially true for teams who don't hold a first-round pick. Pick 34 would be a great way to jump back into action on the draft floor. Again that price will be high.
You Might Also Like
The Blue Jackets have already added both Damon Severson and Ivan Provorov to their blue line. That would make seven players on the roster that have at least a $2 million cap hit. Those are Zach Werenski, Severson, Provorov, Erik Gudbranson, Andrew Peeke, Adam Boqvist and Jake Bean. There's some pretty noticeable names missing most notably David Jiricek and Nick Blankenburg.
As we saw last season, injuries ravaged the team. The Blue Jackets needed the depth. For that reason, we can't assume a trade will happen. But also, have you seen how many righties they have? It does leave room to acquire a lefty if they want more balance.
We can't have a discussion about the Blue Jackets without talking about their centers on the roster. On one hand, the team said at the end of last season that need to evaluate their center depth. Alex Texier is back and Dmitri Voronkov is signed. Both could play center. If they can't land someone via trade or free agency, they'll once again look at their internal options.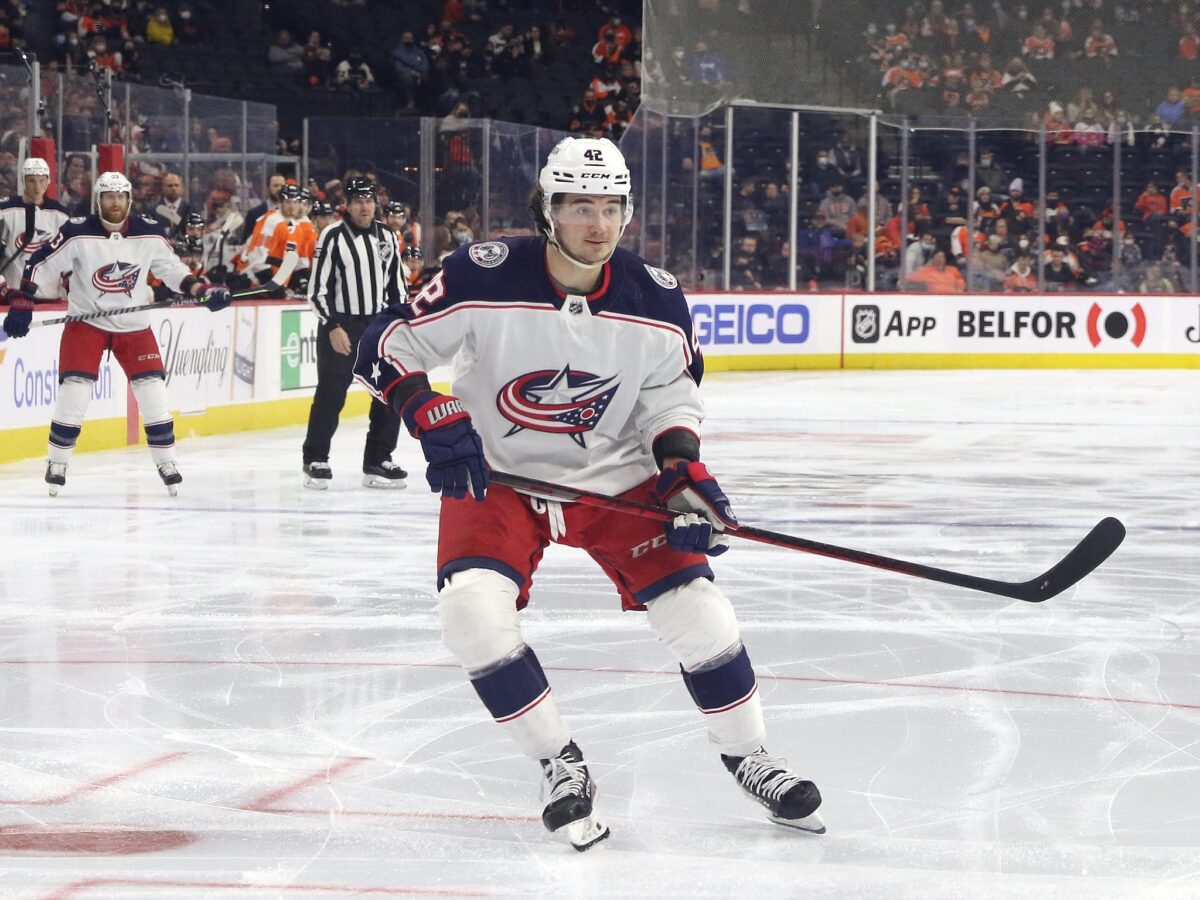 As for external options, this feels like a tough ask. Top centers are rarely available. They are usually trades of opportunity. Elias Lindholm comes to mind if he does not want to re-sign with the Calgary Flames. Outside of that, teams have to draft top centers.
Would the Blue Jackets be willing to pay upwards of $5.5 million on a 3-4 year contract to get Ryan O'Reilly? Would he even be interested in coming to Columbus.
That's the other challenging part to finding a top center. It will take premium assets to land that kind of player. There must be assurance and a willingness to re-sign if acquired in a trade.
Low key thing to watch. The Blue Jackets situation presents favorably. You're a top center and could play with Johnny Gaudreau, Patrik Laine, Kent Johnson and Kirill Marchenko among others? Not many teams can provide that kind of talent on the wings. This may open some doors for them not previously open thanks to the Gaudreau signing.
What a Successful Draft Looks Like
We already know the Blue Jackets will get a great player at third overall. But what would make this week in Nashville a successful one?
On top of landing a top center, if they are able to address center on the NHL roster while addressing other needs with their other picks, that will make for a good week.
I see a path of top center, top goalie prospect and intriguing defensive prospect with their first three picks. Imagine one of Fantilli/Carlsson/Smith at three and then one of Hrabel/Augustine at 34 and then a talented defenseman like Beau Akey, Cameron Allen, Caden Price, Paul Fisher or Drew Fortescue in the third. The Blue Jackets could leave Nashville with the top-ranked prospect pool in the NHL.
Couple that with the chance to make some shrewd moves on the roster and that would make for a successful week in Nashville. The Blue Jackets have options. We'll see which ones they feel are the best for them.
Side Dishes
The third overall pick has yielded some excellent players over the years. Henrik Sedin, Marian Gaborik, Jay Bouwmeester, Nathan Horton, Jonathan Toews, Jonathan Huberdeau, Leon Draisaitl, Miro Heiskanen, Tim Stutzle, Mason McTavish and Logan Cooley come to mind. Current Blue Jacket Gudbranson was also a third-overall pick. The third pick traditionally does well. But not always, see Alex Galchenyuk for example.
As for the 34th pick, the Ducks took Olen Zellweger in 2021. He's trending to be a good player. The Sabres took J.J. Peterka there in 2020. He's on the right path so far as well. The Vegas Golden Knights took Nic Hague there in 2017. He just won the Stanley Cup as an important contributor on their blue line. The Blue Jackets held the 34th pick in 2016 and selected Andrew Peeke. Pretty good results so far. The New York Islanders took Scott Mayfield 34th in 2011. That's worked out too.
Top Russian prospects are expected to be in Nashville for the draft including Michkov. The Blue Jackets haven't had a scout in Russia given the current situation. Other teams have followed suit in that regard. How will this affect the who goes where in the draft?
The last time the draft was held in Nashville was in 2003 when the Blue Jackets took Nikolay Zherdev fourth overall. Remember how that one ended? He was traded five years later in the summer of 2008. The team hopes this doesn't happen again with their top pick made in Nashville.
The NHL Awards is Monday night at Bridgestone Arena. Then on Tuesday, the top prospects will hold a media availability. Round one of the draft goes Wednesday night and then rounds 2-7 go Thursday.
Enjoy the madness that's about to unfold.