In this edition of Toronto Maple Leafs News & Rumors, I'll look at two Maple Leafs' prospects who have recently come from the KHL. One is Semyon Der-Arguchintsev, who's recuperating from a bone bruise, and the other is Rodion Amirov, who will be playing for Team Russia during the upcoming World Junior Championships in Edmonton starting on Christmas Day.
Related: Maple Leafs News & Rumors: Timashov, Gauthier & Future Possibilities
Finally, I'll look at what Mitch Marner has to say about two of his new teammates – Joe Thornton and Wayne Simmonds.
Item One: Semyon Der-Arguchintsev Injured His Knee in KHL Game
Yesterday, Joshua Kloke of The Athletic reported that Maple Leafs prospect Semyon Der-Arguchintsev had suffered a knee injury (a bone bruise) during a KHL game on November 29 that put him out for four weeks. (from Maple Leafs Prospect Report: World juniors, injury updates, rising stock, more, Joshua Kloke, The Athletic, 15/12/20).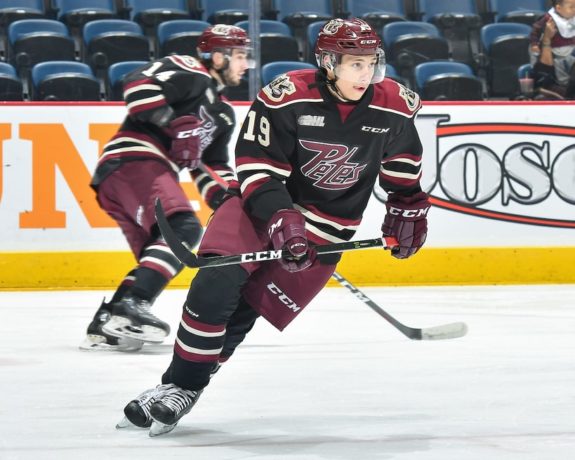 Der-Arguchintsev was the Maple Leafs third-round pick during the 2018 NHL Entry Draft and is perhaps as well-known by Maple Leafs fans for playing with budding star Nick Robertson as for his own skill. Der-Arguchintsev (who's known for short as SDA) scored 12 goals and 63 assists (for 75 points) as Robertson's teammate with the Peterborough Petes of the OHL last season.
At the end of October this year, Der-Arguchintsev was loaned to Torpedo of the KHL. During the 10 games he played there before his injury, he's scored a goal and five points.
Der-Arguchintsev reported that, "At the end of the day I was still happy with my team here and I was happy to play some hockey. My coaches put me on the ice a lot in situations where I could be successful. During the games, I tried to shoot the puck more and tried to get into the middle of the ice (more) than I did in the OHL."
Related: Maple Leafs' Forgotten Ones: Jyrki Lumme
Assuming there'll be AHL play this season, that's Der-Arguchintsev's likely destination.
Item Two: Rodion Amirov Is Causing Buzz with Maple Leafs Brass
The World Junior Championships are scheduled to begin on Christmas Day in Edmonton, and one of the gifts Maple Leafs brass can't wait to open is watching their first-round draft pick Rodion Amirov play for Team Russia. Amirov was Toronto's 15th overall at the October NHL Entry Draft.
Amirov has already shown he can play on the international stage. At the Karjala Cup in early November, which is a tournament usually played by European men's professional teams, the Russians played their junior team against professionals from Sweden, Finland, and the Czech Republic. Not only did the Russian Juniors win all three games, but Amirov led all goal scorers with three in those three games.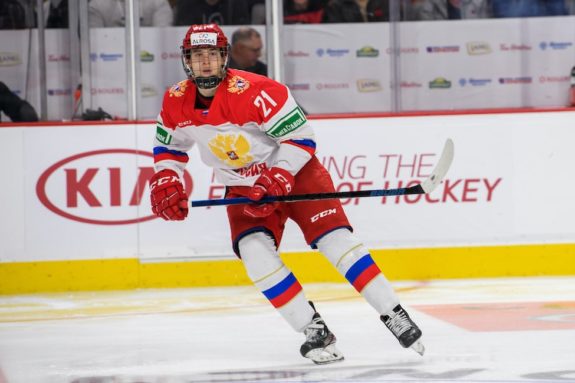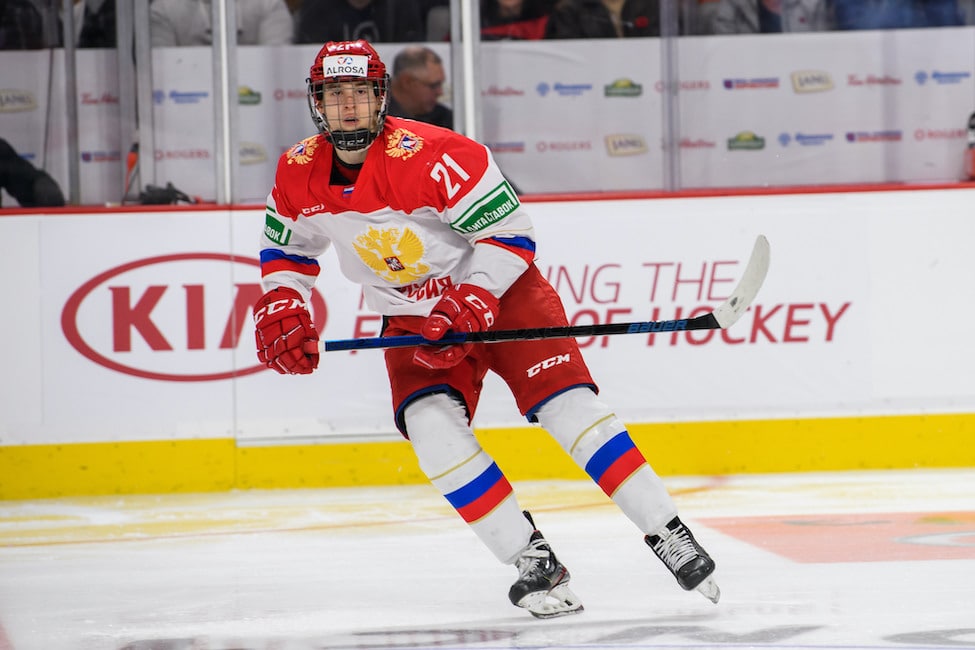 Although Amirov has only scored five goals and totaled eight points in 23 KHL games this season, Toronto's director of amateur scouting John Lilley doesn't seem concerned. 
Lilley noted, "The KHL is a difficult league to play in as a young guy. It's low-scoring, and I think he has done well. It makes him better because he has to be aware of his surroundings on the ice and rely on his sense and speed and skill because he is playing against men. When you get isolated in a one-on-one with a 28-year-old ex-NHL player and you're growing, and you're young … he has done a good job of finding ways to have success despite still getting stronger."
Related: Six Add Scoring Depth, Leadership with Signing of Fluke
Although no one's certain when Amirov might join the Maple Leafs in the future, there is a buzz within the organization about that possibility. (from "Lilley, Leafs scouting staff ready for live look-in during world junior tournament," Terry Koshan, Toronto Sun, 14/12/20).
Item Three: Mitch Marner Looking Forward to Playing with Thornton and Simmonds
Yesterday, Mitch Marner was a guest of the Tim & Sid Show on Sportsnet. During the show, Tim and Sid asked Marner about his thoughts about the newcomers on the Maple Leafs' team. He was especially excited about playing with the new guys and had specific thoughts about Joe Thornton and Wayne Simmonds.
When Patrick Marleau was a teammate of Marner and Auston Matthews, it was widely known that he took the two then very-young Maple Leafs stars under his wing. In fact, he sort of adopted them. They spent holidays with the Marleau family and obviously talked hockey – lots and lots of hockey.
In fact, Marleau was so appreciated by the duo that, during the NHL All Star Game in San Jose in 2019, Matthews paid tribute to Marleau during the skills competition by removing his own jersey to show a Marleau jersey underneath it.
The threesome built a great relationship when Marleau was in Toronto. During the interview, Marner was asked if he called "uncle Patty Marleau" to ask for "the lowdown on Joe Thornton." Marner hadn't reached out to Marleau since Thornton was signed; however, he noted that Marleau had spoken lots about Thornton from the time the two played together with the San Jose Sharks.
Just after Thornton signed with the Maple Leafs, Marleau tweeted this message:
From Marleau, Marner learned that Thornton liked to keep things "light" and have a great time. But Marleau had also shared that Thornton was competitive on the ice and played hard to win. When Marner heard Thornton had signed, he texted him to say how excited the team was to have him.
Marner had played with Wayne Simmonds for Canada at the 2017 world championships. He believed both Simmonds and Zach Bogosian would be great on-ice examples for the group.
Marner noted that they were "Guys that every single night come to play. They can do a lot of different things, throwing the body, fighting if need be, but at the same time having the ability to make skillful plays."
Marner spoke with Simmonds after the power forward had signed and knew he was excited to be with the team. Marner believed Simmonds "wants to prove to everyone that he's still the player he was."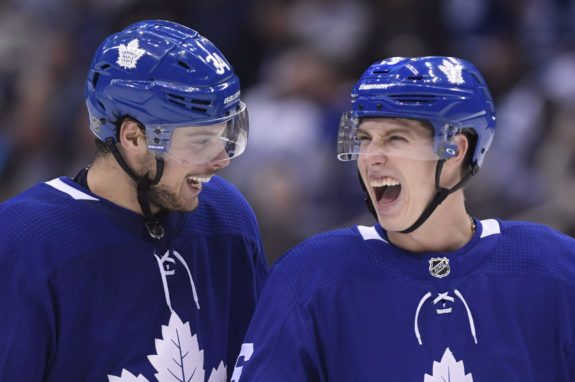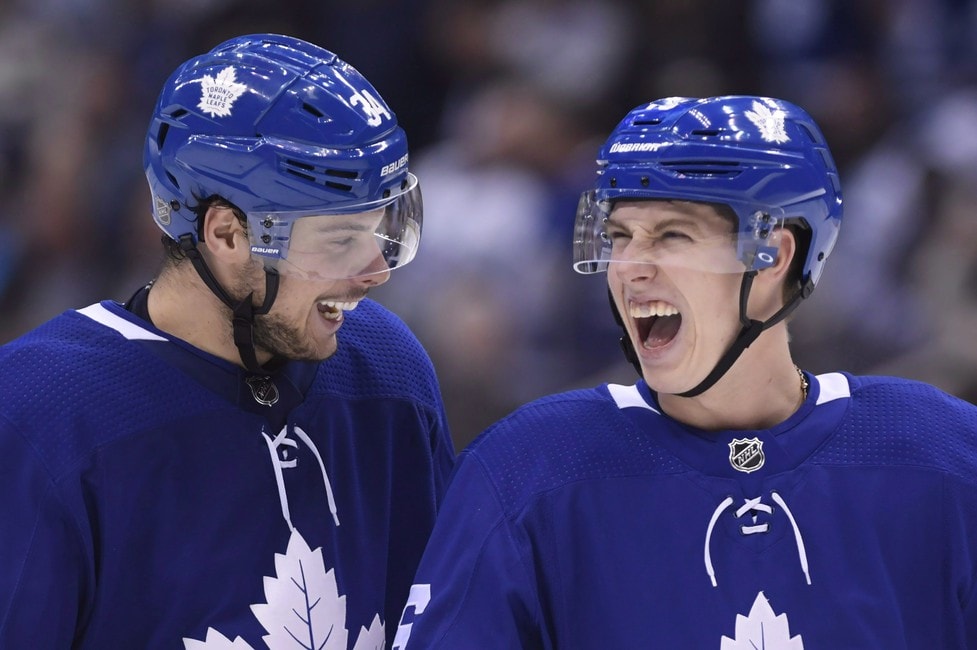 Marner has been practicing with Simmonds and reports that he looks "like a beast out there." Specifically, Marner noted that when Simmonds was working down low and has the puck, it's hard to get it off him. He's a "big, big man" who can control the puck around the net and seldom misses from close-in. Simmonds has impressed him already.
What's Next for the Maple Leafs?
With the World Juniors coming, the decision made to keep Robertson at the Maple Leafs training camp is interesting. It would be a bit interesting for me to know who made that decision.
Related: Toronto Maple Leafs' 2020-21 Roster: Who's Staying, Going & Coming?
There's no doubt that Robertson is absolutely all in with his attempt to make the Maple Leafs roster. It might be that the Maple Leafs are committed to having him on that roster; or, on the other hand, it might have been totally Robertson's decision not to play for Team USA in Edmonton, and the organization shouldered the decision to deflect any bad feelings by Team USA away from its young prospect.
Whatever the reason, it will be interesting to see Robertson's final landing spot this season. I, for one, would love to see him in a Maple Leafs uniform.