Ah, the annual Toronto Maple Leafs' goaltending discussion has arrived. Every season, it seems like one of the Maple Leafs' goalies either falls off or gets hurt right before the NHL Trade Deadline (March 3, 2023).
---
---
This season, it's a bit of both, as Matt Murray was sidelined following a strange incident during pregame warm-ups on Jan. 27 against the Ottawa Senators. He was supposed to start the game against his former team, but he pulled himself, giving Ilya Samsonov his fifth straight start – which is now up to six after his game against the Washington Capitals on Sunday. It was later revealed that Murray suffered an ankle injury, although it doesn't seem to be long-term.
With Murray on the shelf for an unknown amount of time and Samsonov shouldering the load, the Maple Leafs should look at additional options. Even though the organization has a red-hot Joseph Woll and Erik Källgren in the minors, they should find out the asking price for NHL goaltenders. If Murray or Samsonov sustain injuries during the final stretch or in the playoffs, they will need insurance. Of course, there are two factors to consider. First, whom they try to get will depend on Murray's situation. Second, who will make their goalies available; it is anticipated that only the bottom-tier teams will do so.
Related: 3 Trade Targets with Term for the Maple Leafs
---
Latest News & Highlights
---
Woll, who was recalled by the Maple Leafs on Jan. 29, 2023, on an emergency basis, can fill in as Samsonov's backup if Murray is out for a short time. Unfortunately, both Woll and Källgren lack postseason experience, so if Murray is out for a long time, Toronto might seek a long-term replacement elsewhere.
Eric Comrie
The Maple Leafs could benefit from an intriguing situation in Buffalo. The Sabres now have three NHL goalies, and with Devon Levi soon to join the group, they will be well-positioned between the pipes. It would be surprising if Craig Anderson were moved because he has been dependable and has guided the team's young players. On the other hand, Anderson's younger teammate, Ukko-Pekka Lukkonen, is expected to be one of Buffalo's goaltenders of the future and could benefit from playing in the second half. That leaves Eric Comrie, who is currently in the first year of a two-year deal worth $1.8 million per season. If they trade a goalie at the deadline, it will most likely be him.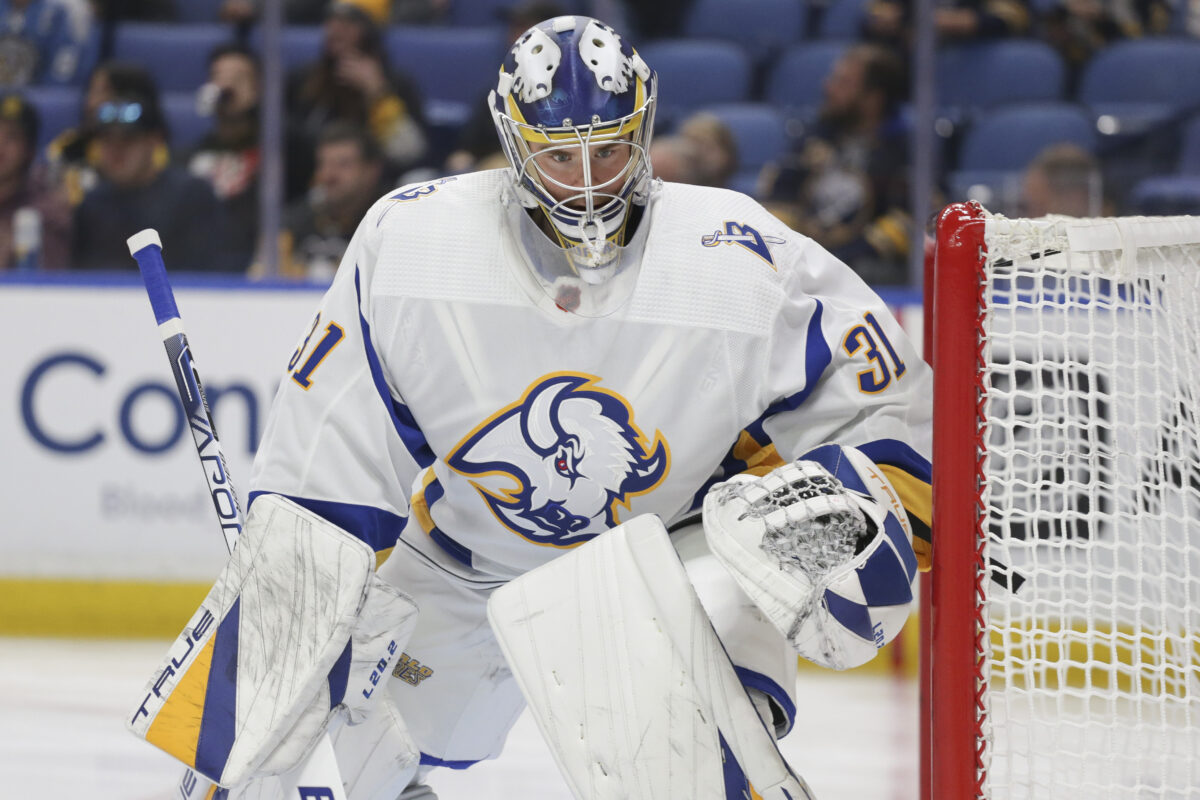 This season, the 27-year-old has a 5-8-0 record with a.884 save percentage (SV%) and a 3.54 goals-against average (GAA) in 13 games. Joining the Maple Leafs should improve those numbers, but until then, Toronto might convince the Sabres to accept a lower asking price. Having said that, the price for Comrie should be comparable to the David Rittich deal that general manager Kyle Dubas made on April 11, 2020, which was a third-round pick. If he is traded, Buffalo should receive a late-round pick, maybe a fifth-rounder. This would give them an additional selection in the draft and give Toronto the third-string goalie that they need. 
Alex Nedeljkovic
When the Detroit Red Wings acquired Ville Husso from the St. Louis Blues this offseason, it impacted the crease. Alex Nedeljkovic was forced to compete for the starting job, and it hasn't gone as well as expected. He only played in nine of Detroit's games this season, and on Jan. 15, they placed him on waivers, where he was left unclaimed and was reassigned to their American Hockey League (AHL) affiliate, the Grand Rapids Griffins. He had a.880 SV% and a 4.09 GAA in the NHL but improved his numbers in the AHL, where he has also played nine games, with a 2.55 GAA and a.917 SV%.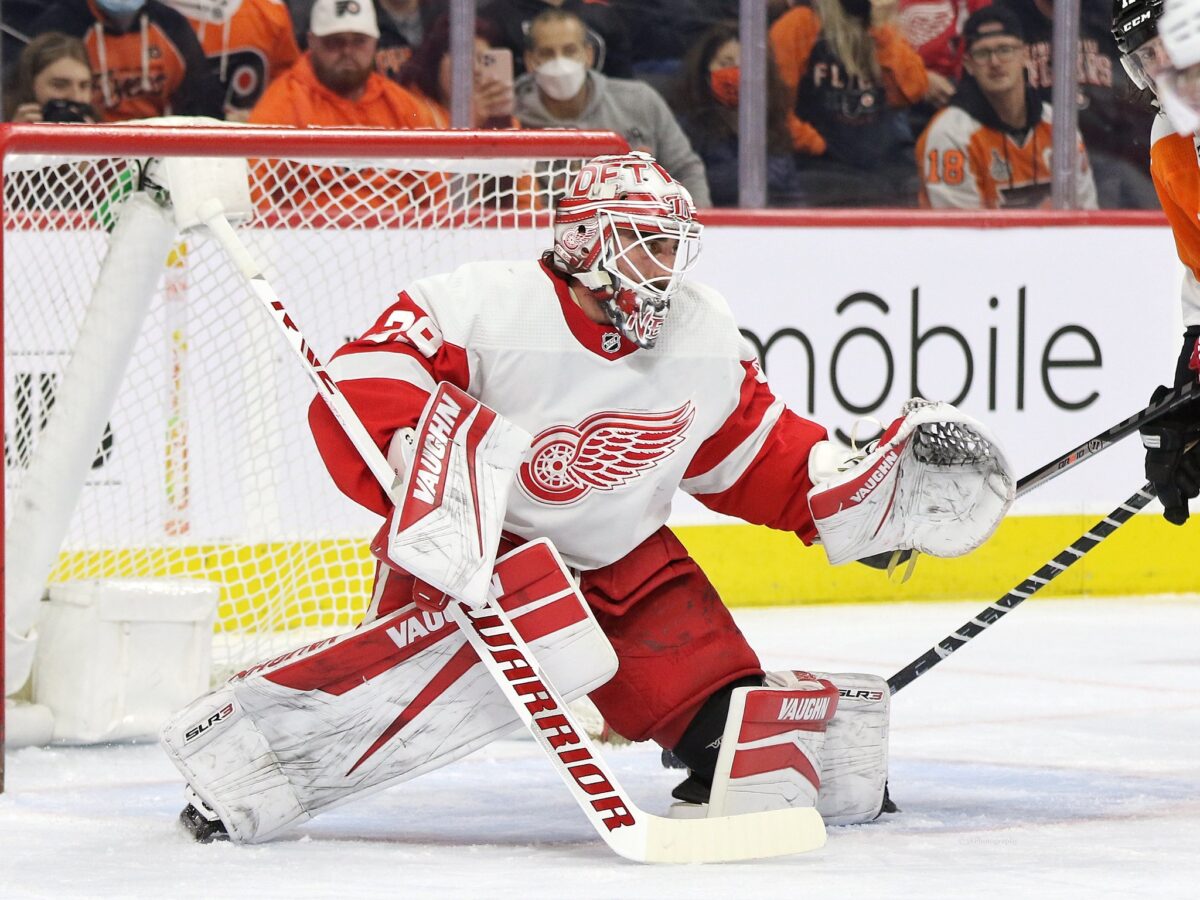 He has demonstrated that he can be a valuable member of a team, posting a.921 SV% and a 1.90 GAA in 23 games for the Carolina Hurricanes in 2020-21. He may not be a bonafide starter, but he put up a .901 SV% and a 3.31 GAA in 59 games with the Red Wings last season, which are respectable numbers for an NHL backup. Nedeljkovic is in the second year of a two-year contract worth $3 million annually. Given that the Red Wings have $16 million in cap space, they may be willing to retain 50% of his salary ($1.5 million), which allows them to fetch another asset in return. The fact that he was placed on waivers and went unclaimed should give the Maple Leafs leverage in trade negotiations.
Related: Maple Leafs' Alex Kerfoot: Swiss Army Knife & Ultimate Trade Chip
If Toronto can't persuade Detroit to keep half of that contract, the asking price will most likely be a middle-round pick. At the end of 2022–23, he is set to become an unrestricted free agent (UFA). However, if he can play at a higher level, as he does in the AHL, he'd make an affordable backup for 2023–24.
James Reimer
It would be great if "Optimus Reim" returned to blue and white, and this season would be the best time to make it happen. James Reimer will be a sought-after trade candidate given that the San Jose Sharks are in sell mode. He has a five-team no-trade list and is in the final year of a two-year contract with an average annual value (AAV) of $2.25 million. Reimer's stats have substantially dropped this season, and the Sharks' poor play has contributed to some of that. He has a 3.31 GAA and a.895 SV% in 28 games, his lowest SV% and GAA of his career.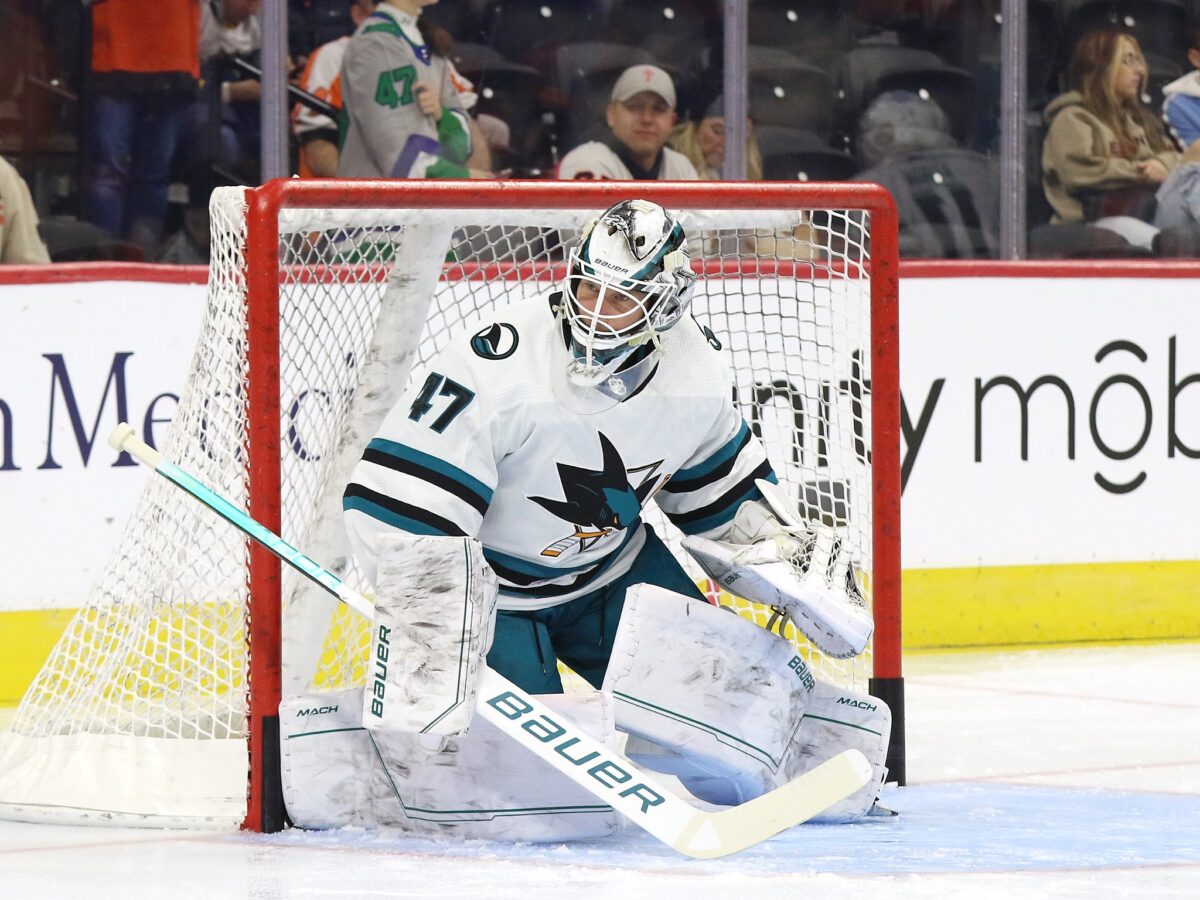 The Sharks and general manager Mike Grier are expected to be sellers at the deadline; if the Maple Leafs want to add Reimer, Murray's injury timeline would need to be long-term—possibly for the rest of the season. Reimer is not a third-string goalie but a backup or the second goalie in a 1A/1B option, which is what the Maple Leafs would likely want from him. Similar to the other trades, he will presumably be moved for a draft pick; however, such a trade would likely be contingent on whether he re-signs with the club or how far the team goes in the playoffs.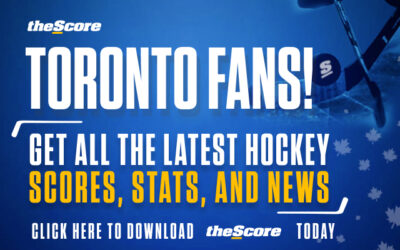 The Sharks would likely need a second or third-round pick and a prospect for this trade to go through. Overall, because of his experience and reliability, it should take more than one asset for any team to acquire Reimer before the deadline.
Related: Maple Leafs' Trade Deadline Plans – What Do We Know So Far?
The Maple Leafs must consider the goaltenders on the market, whether Murray is out long-term or not. Samsonov has been performing well and getting starts, but they don't want to overplay him down the stretch because they don't have confidence in their backup. Adding insurance between the pipes will be the team's best chance to go on a run in the postseason.
Similar circumstances led to the acquisition of Rittich in 2020 when Jack Campbell and Frederik Andersen were dealing with injuries and fatigue, and the club needed a third goalie to take some of the pressure off. Although he didn't participate in the playoffs, the idea that they had a third goaltender was reassuring. This should be their mindset heading into the deadline.