After Curtis McElhinney's latest shutout, a 33-save whitewash of the lowly Montreal Canadiens on Saturday – his third in 16 games this season, and on St. Patrick's Day, no less – it seemed like the appropriate time to look back on the 34-year-old's journey to Toronto. Remember, this is someone who was claimed on waivers by the Buds last January to replace Jhonas Enroth, who was less than stellar during his very brief stint in 'The 6ix.' Now, McElhinney is a legitimate member of the "Best Backup Goalie in the NHL" conversation.
McElhinney a Journeyman Backup
McElhinney has played games for a total of nine professional teams (between the American Hockey League and the NHL) in his 13-season professional career. He was a draft pick of his hometown Calgary Flames, 176th overall in 2002. Before turning professional, he played four seasons at Colorado College, where he went 91-62 with a 2.32 goals-against average and made two All-American NCAA teams (one First and one Second).
He then moved to the AHL where he played with the Quad City Flames (including two seasons when they were known as the Omaha Ak-Sar-Ben Knights) before getting called up to Calgary for a five-game cup of coffee in 2007-08. After two sub-par seasons in Calgary as the backup to Miikka Kiprusoff, he was dealt to the Anaheim Ducks in exchange for Vesa Toskala. He was then dealt again, less than 12 months later, to Tampa Bay for Dan Ellis, but he never played a game for the Lightning.
That was just the beginning of McElhinney's tour around professional hockey. Since his deal to Tampa, he has spent time in Ottawa; Phoenix; Portland, Maine; Springfield, Mass.; Columbus, and, finally Toronto.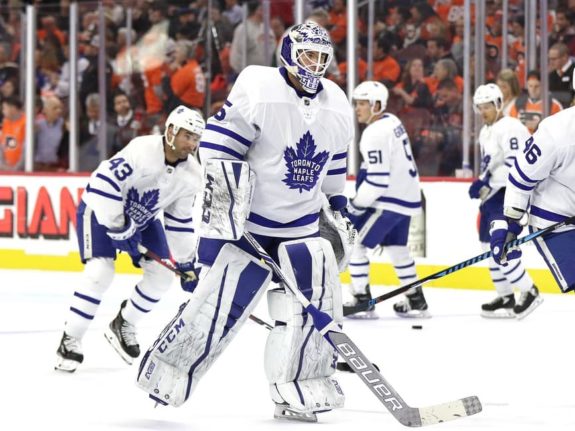 It's difficult to know what the Flames had in mind when they drafted McElhinney, though they must have thought he at least had a chance to become the heir apparent to Miikka Kiprusoff. Besides, he wouldn't have been the first goalie to become a star despite being a late-round draft pick; the man the Flames hoped he would replace was one of them.
However, all throughout his career, McElhinney had struggled to settle down. He struggled to win games at the NHL level, and, therefore, was easily disposable. Combine his pedestrian-at-best numbers with his propensity to be dealt or waived, and what do you get? 'McBackup.'
'McBackup' Arrives in Toronto
Enroth was a failed experiment, and the Leafs were in desperate search for a veteran to come in and be an effective option off the bench when No. 1 netminder Frederik Andersen needed a breather. When the Leafs acquired McElhinney, fans didn't really know what to expect. Some probably knew the name; others maybe not, and they were hoping he could do what Enroth could not, but with someone with the pedigree of McElhinney, you just never knew.
It hasn't been all sunshine and roses for 'Mac' since his arrival in Leaf Land, but there has been a lot more sunshine than there has been rain. McElhinney went 6-7 with the Leafs last season, but sported a 2.85 goals-against and a .914 save percentage – one of the best marks of his career. That includes his incredible, jaw-dropping save on Sidney Crosby, of all people, to save the Maple Leafs' season and send them to the playoffs in an 82-game season for the first time since 2004.
This season, with a new two-year contract in his back pocket – and, thus, some sense of job security for the first time in a long, long while – McElhinney has elevated his play to an even higher level. Although it looked like he may lose the backup job early in the season after struggling out of the gate and losing four of his first seven starts, ever since the calendar has turned to 2018, he has been exceptional.
McElhinney Takes His Play to the Next Level
Since the dawn of the new year, McElhinney has gone 7-0-1 with a dazzling 1.37 goals-against average and a .951 save percentage. Those are off-the-charts-numbers, even for a starter. It's even more remarkable when you consider where McElhinney has come from, what Toronto got him for, and – perhaps most glaringly – the role he plays on the team.
Up until recently with the injury to Andersen, McElhinney's only opportunity to play has come on the back end of a back-to-back. Early in the season, he would sit on the bench for three weeks or a month at a time while Andersen carried the load. Luckily for McElhinney, the Leafs have had their share of back-to-backs in the second half of the season, which could account for the elevation in his game.
The increase in playing time, while a factor, shouldn't be used as a crutch to diminish McElhinney's play. It is imperative for a backup goalie to perform well, which is something McElhinney struggled to do consistently prior to coming to Toronto. Most coaches ask their backups to go .500 and not lose them any games they should have won. McElhinney has more than held up his end of the rope this season, and, with Freddie Andersen, formed one of the top five or ten goalie tandems in the entire league – almost out of nowhere.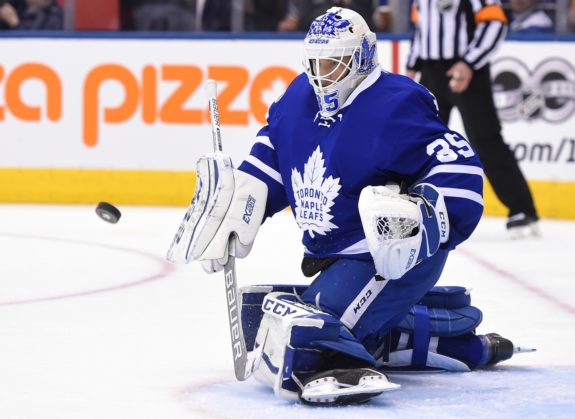 McElhinney has gone from a 'nobody' to a 'somebody' over his time in Toronto. It's difficult to pinpoint what has been the reason for his 'surgence' (it's hard to call it a 'resurgence,' in this case, as this isn't something we've seen before from the Leafs' backup), but whatever the reason, it's certainly welcome. He has performed in a way no Leafs backup has since the Corey Schwab days of the early 2000s.
It would be extremely difficult to argue against bringing McElhinney back once his contract is up in the summer of 2019 if he keeps up this level of play. And while that's still a fairly sizeable 'if' right now, should he continue to play at this level, he figures to be the Leafs' backup 'tender for the foreseeable future.