After a few days of being relatively quiet, the Toronto Maple Leafs generated a good deal of news today. Not that there was really anything too big, but the news was important, nevertheless. Although there were no trades to announce, the Maple Leafs made a number of moves.
First, from a personal perspective, I'm happy to report that the team re-signed veteran Jason Spezza to another one-year contract at the NHL minimum of $700,000. That seemed like a no-brainer. As well, the Maple Leafs announced they had loaned Kristians Rubins to a European hockey league centered in Denmark.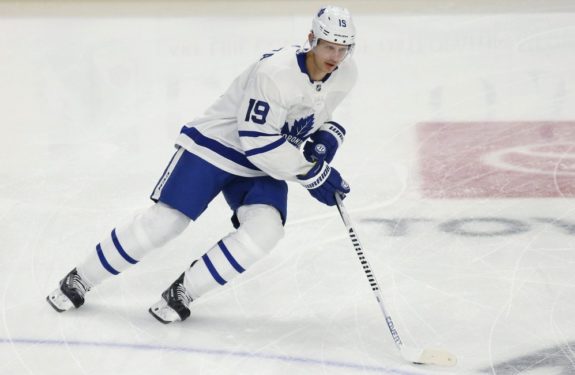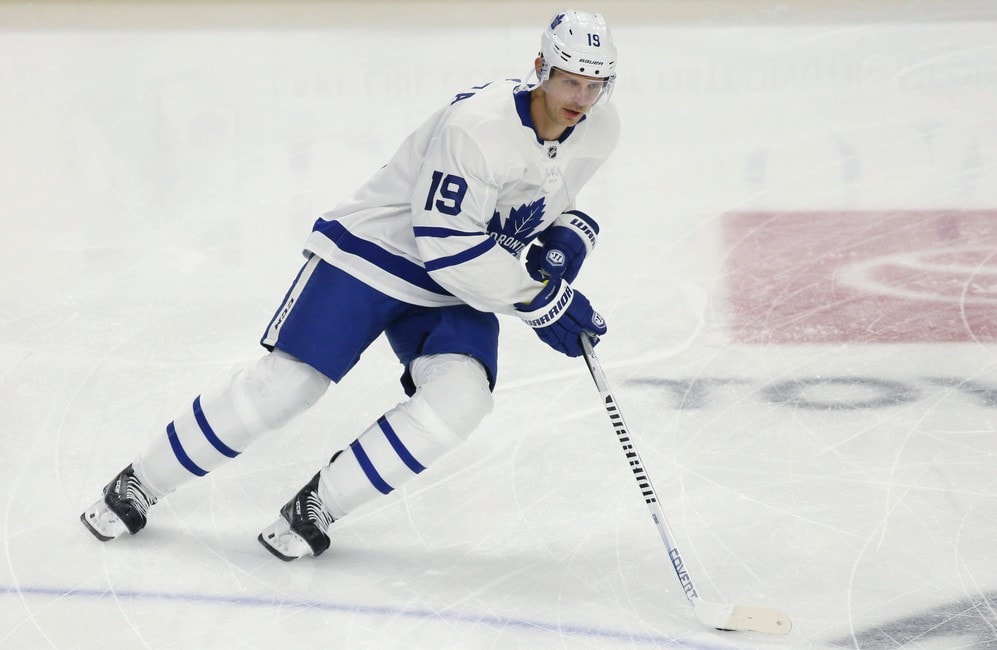 However, perhaps the most interesting piece of news is that, when general manager Kyle Dubas met with the media today, he hinted that he might have scolded starting goaltender Frederik Andersen about setting off speculation that he would be traded. Dubas specifically contradicted Andersen trade rumors by suggesting that, "as of this moment," Andersen would be the team's starting goalie during the 2020-21 season.
Obviously, forgetting for a minute the caveat "as of this moment," if that's so, it at least gives fans a hint that the organization wants to take another run toward the Stanley Cup with the core of players that's currently on the roster. Any fallout from any contractual implications will be sorted out at a later time. At least that's the news this morning.
In this edition of Maple Leafs News & Rumors, I'll take an opportunity to share more about some of these fast-breaking news stories as well as speculate on what they mean to Maple Leafs fans.
Item One: Kristians Rubins Loaned to a Team in Denmark
Yesterday, Elite Prospects tweeted that Kristians Rubins was loaned to the Frederikshavn White Hawks of Denmark's Metal Ligaen. Rubins is a 22-year-old, 6-foot-4 Latvian left-shot defenseman who's played the last two seasons with the Toronto Marlies.
Like similar deals where the Maple Leafs have lent prospects to European leagues, it's assumed Rubins would return to North America once training camps open prior to the 2020-21 season. In 47 games with the AHL's Marlies last season, Rubins scored two goals and added 12 assists. 
Item Two: Jason Spezza Re-signs with the Maple Leafs
Jason Spezza got his wish. He said almost immediately after the Maple Leafs eliminated by the Columbus Blue Jackets that his desire was to be back with the team next season. The Maple Leafs, although they waited quite a while to make the announcement, obviously agreed.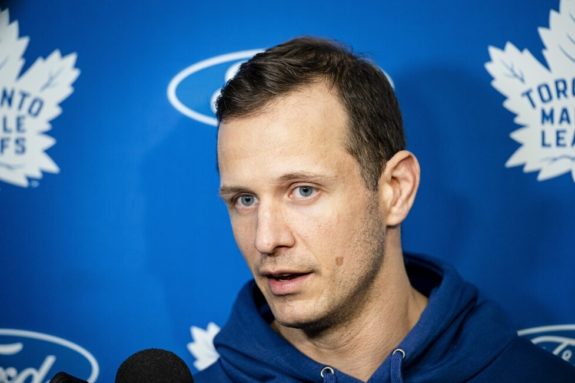 Just this morning, the team announced that Spezza had re-signed with the team. He'll return as a veteran depth forward who brings leadership and experience for one more season; again, his contract calls for him to play at a league minimum salary of $700,000.
The contract is the same that Spezza signed last season when he scored nine goals and totaled 25 points in 58 games. He'll likely be a bottom-two center for the team this season and take a shift or two on the second power-play unit.
Spezza will benefit from having a more settled role with the team. Although his season was decent, it was like night (when Mike Babcock was coaching) and day (when Sheldon Keefe was coaching). The 37-year-old showed his professionalism, leadership, and commitment to the team as the season progressed and he settled into a role. Keefe seemed to give Spezza more responsibility as the season progressed.
Related: Maple Leafs' Forgotten Ones: Glen Wesley
Other than Spezza's skill and personality, he represents added value on an inexpensive contract, which is a key need for this team. Although he might have gotten a bit more money had he entered free agency, his re-signing suggests he likes the team and believes it has a chance to contend for the Stanley Cup. He's been clear from the start that a Stanley Cup is a goal he's really seeking.
Item Three: For the "Moment," Dubas Expects Andersen Will Be the Starting Goalie
Kyle Dubas expects Frederik Andersen to be the team's number one goalie going into next season. When Dubas spoke with the media this morning, he was clear where he stood with the situation: "I expect him to be the starting goalie for our team whenever we get there [to next season]."
Related: Who is the NHL's Top Goaltending Prospect?
Andersen has been the subject of trade rumors this offseason and Dubas didn't seem to appreciate that speculation. He said he's had "many discussions" with Andersen since the rumors emerged. 
Sportsnet's Chris Johnston commented that the Maple Leafs general manager was "unhappy about where the trade speculation originated and has addressed it directly with Andersen."
For fans who have been following the news and rumors about Andersen and the Maple Leafs, today's report is confusing. Clearly, as I've been following the situation, it seems to have started with rumors that the team was shopping Andersen; next Andersen responded that he expected he might be traded; next Dubas noted that he "wasn't shopping" Andersen per se but "was listening to offers from interested teams." Now this note from Dubas about Andersen.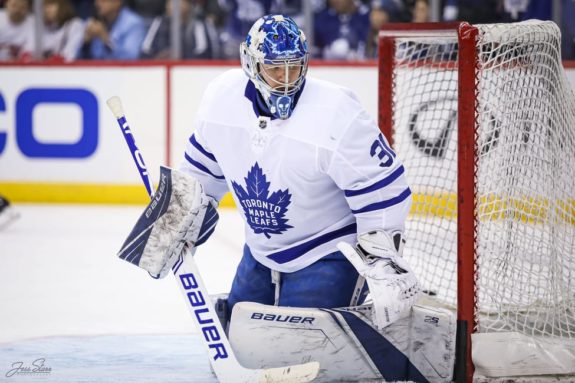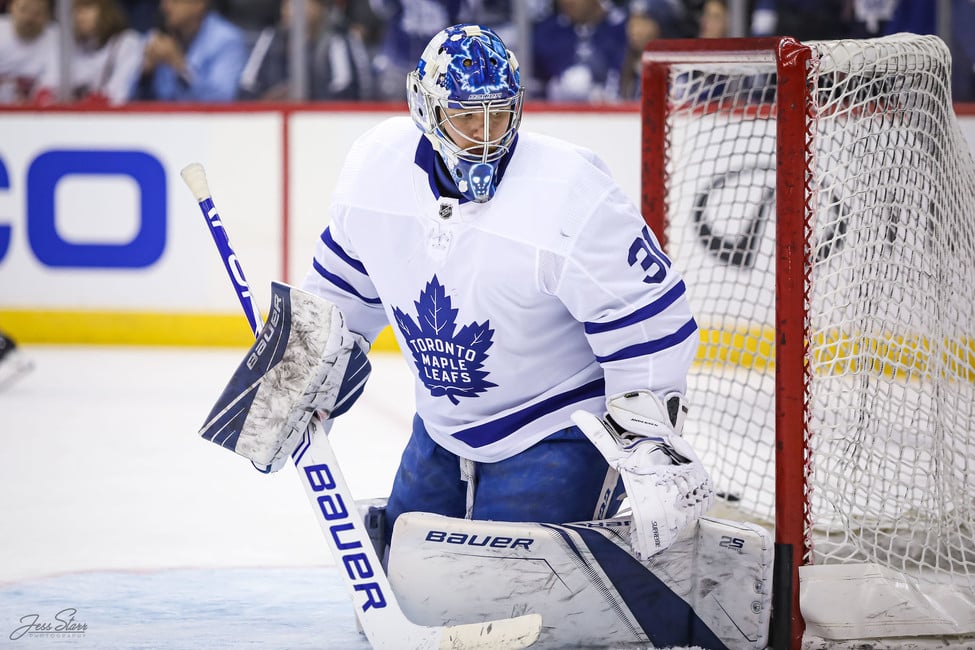 As a hockey commentator who reports on the Maple Leafs, it's hard to follow what's going on. Does this mean that Andersen is THE starter next season – no matter what – and the team isn't listening to trade propositions? Or, might it mean Dubas wasn't able to find a trade he desired for Andersen and has tried to ease off on such speculations?
It's interesting to me that Dubas said "as of this moment."
What's Next for the Maple Leafs?
In his talk with the media, Dubas reported that he wanted his team to be tougher to play against. Again, it's hard to say what he might exactly mean by that comment, but I'm guessing it means he's going to construct a bottom-six forward and a bottom-four defense that has more grit and that plays a more physical game.
To me, that seems both wise and one of the easier fixes to make because it's cheaper. In today's NHL market, grit is less expensive than skill. Perhaps that's how it should be, and the game is more entertaining for that reason. Still, a player like Patrick Maroon – who's been on the Stanley Cup winners last season with the St. Louis Blues and this season with the Tampa Bay Lightning – keeps showing up in the right place at the right time for (last season) $900,000.
Related: Maple Leafs Rumors: Choosing Morgan Rielly or Alex Pietrangelo?
These players add something to the roster that seems to work when crunch time comes. I would guess that Dubas might be looking for such players over the next week.
---
---