It all came together for the Nashville Predators as the team returned to the postseason for the first time since the 2011-12 season. The Preds used a strong start, great defense and great goaltending to finish second in the Central Division after flirting with the President's Trophy for a majority of the season.
The team flourished despite the change in leadership from Barry Trotz to Peter Laviolette. These weren't "your father's Predators" as Laviolette opened it up and allowed the team, especially the defense, to have more freedom and creativity on offense. That freedom allowed Nashville to use its full arsenal and set a faster pace.
Injuries and a lack of scoring cost Nashville the division title, and it fell to the eventual Stanley Cup-champion Chicago Blackhawks four games to two in the opening round of the National Hockey League playoffs.
Despite the early exit, there are signs of optimism in the Music City as the Predators are looking to take the next step and make a deep run in this season's playoffs. The team's good mix of young wingers and defensemen along with saavy veteran goalies and defense have fans believing.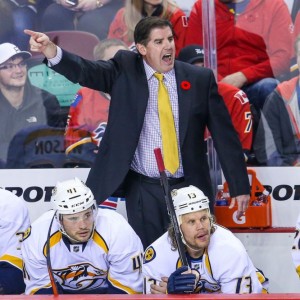 2014-15 Record (Finish)
Record: 47-25-10 (104 points)
NHL: 5th
Conference: 3rd
Division: 2nd
GF: 14th
GA: 9th
PP: 25th
PK: 19th
Key Additions
Cody Hodgson (UFA signing)
Barret Jackson (UFA signing)
Key Losses
Cody Franson (Signed by Buffalo)
Mike Santorelli (Signed by Anaheim)
Viktor Stalberg (Signed by New York Rangers)
Taylor Beck (Traded to Toronto)
Projected Forward Lines
Forsberg-Ribeiro-Neal
Wilson-Fisher-Smith
Moses-Hodgson-Jarnkrok
Bourque-Gaustad-Nystrom
Forwards
LW- Filip Forsberg – Prince Filip arrived and carried the scoring load with 26 goals and 37 assists in a season that was worthy of the being nominated for the Calder Trophy. He wasn't selected for the top three rookies, but did make the All-Rookie team. Forsberg helped fill the void of an inconsistent James Neal and looked comfortable on the top line with Mike Ribeiro. He got the first playoff hat trick in franchise history.
Forsberg works hard and doesn't give up on plays, as plenty of his goals came by following his own misses. There's always the worry for the dreaded "sophomore slump," but he could be equipped to break that label.
RW- James Neal – It was an up-and-down season for Neal, as he scored 23 goals, but was injured for a couple of chunks in his opening season in Smashville. He started out hot, with a great October, including a hat trick on Oct. 23 against Chicago. He did struggle at the end of the regular season, but scored four goals in the playoff series against the Blackhawks.
When Neal did score, he seemed to get plenty of clutch goals with 13 coming in the third or overtime. Six of his goals were game-winners as well. Neal also seems like he's matured and shaken off some of his past aggressive play. 23 goals is usually good, but a scorer like Neal wants more.
C- Mike Ribeiro – There was concern that Ribeiro was going to play himself out of the league, but he was reborn as he scored 15 goals and added 47 assists. He was one of the bargains of the 2014 offseason, as GM David Poile took a low-risk one-year, $1.5 million deal on Ribeiro.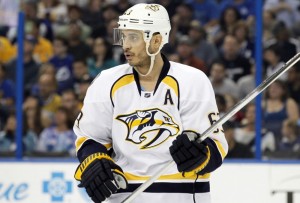 Ribeiro seemed to really connect with Forsberg and gave the Predators the scoring punch that had been lacking near the end of the Trotz era. Ribeiro was rewarded with a two-year, $7 million contract for his efforts. There are concerns about his age and faceoff play, but Ribeiro is a good option at the center spot until the youthful crop in Milwaukee gets better.
RW- Craig Smith – Smith turned in another 20-plus goal season with 23 in the 2014-15 campaign. Smith is another one of the solid wingers along with Forsberg, Neal and Colin Wilson. He has settled in nicely on the second line with Wilson and center Mike Fisher.
Smith is the prototypical Predators player where he may not be flashy or well-known, but he'll play hard and give you timely goals. Smith also seems like a guy that could be a sneaky play in fantasy league. He'll also be trying to justify that five-year, $21.25 million deal.
C- Mike Fisher – Fisher just missed out on another 20-goal season by one, and finished with 39 points. Fisher did a lot to help Smith and Wilson to make a quality second line. He was rewarded with a two-year, $8.8 million contract in the offseason.
Fisher did miss parts of the end of the regular season and some of the playoff series against Chicago. However, he did return and his veteran presence helped the young team push the champs. Like Ribeiro, there are concerns about his age, but Fisher is a needed piece on the Preds.
LW- Colin Wilson – Wilson is not flashy and is under the radar, but there's no denying he is an important part of the future. He's settled in to his role as a top-six forward, and notched his first 20-goal season in 2014-15.
Wilson may have justified his new four-year, $15.75 million deal with his solid performance in the playoffs, as he tied a franchise record for goals in playoff series with five. Wilson is looking to add some more goals to help Nashville take the next step.
Projected Defensive Pairings
Josi-Weber
Jackman-Jones
Ekholm-Ellis
Defense
Shea Weber- The captain's numbers may have gone down last season, but that's not a bad thing. Weber was usually relied on to try to and generate most of the defensive points, but he doesn't have to with the emergence of his partner Roman Josi. Weber was allowed to play the more traditional stay-at-home role and show his physical side.
There has been talk on whether or not the Predators should deal Weber due to his large contract, but he is still the linchpin to one of the best defenses in the league. Weber did have to get knee surgery after the season, but he said he's ready to go.
Roman Josi- The Swiss blueliner broke out in the 2014-15 season with 15 goals and 40 assists, and made his case for the Norris Trophy. Josi was able to exploit Laviolette's new system that allows defensive players more freedom. He was able to take some of the heat off of Weber.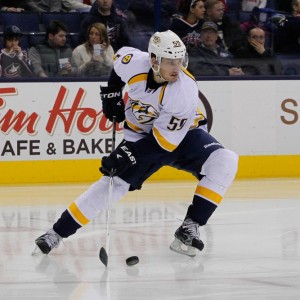 Josi can be compared to Ottawa Senators All-Star defenseman Erik Karlsson because of his speed and playmaking ability. Josi is a valuable asset in all phases of the game, and is staking his claim as the future of the Predators defense.
Seth Jones- Jones has settled into his role as a very good second pair defender. He is 6'4″, 205 pounds, but he is a good skater that can eat up big minutes when others are injured. He's also grown defensively and has gotten better at both ends.
There are still concerns about Jones' offensive game, but he's only scratching the surface of what he can do. They'd also like to see Jones try to use his big frame and establish more of a physical presence.
Mattias Ekholm – Ekholm also benefited from the change in leadership, as he was given a larger role despite often being in the second or third defensive pairing. He's embraced the up-tempo style of Laviolette and the goal versus Montreal showed that he can really skate.
He does like to fire the puck on the net as he attempted 282 shots, which was good enough for fifth for defensemen. Like Jones, the Preds would love to see Ekholm use the body a bit more. However, he is a third-pair defenseman that most teams would have in the second group.
Ryan Ellis – He's one of the unsung heroes on defense along with Jones and Ekholm. Ellis also benefited from the change in coaches as he was able to use his speed to make things happen on the blueline. He also possess a very underrated slap-shot that helped him equal his career-high in points with 27.
Ellis will need to stay healthy if he wants to break his career bests. He missed 24 games last season with a lower-body injury and he is on the smaller side at 5'10", 175 pounds.
Barret Jackman- One of the few acquisitions the Predators made was picking up the veteran defender from the division rival St. Louis Blues at the start of free agency. Jackman is a bruiser at 6′, 205 pounds and is not afraid to throw his weight around with the body or his fists.
Jackman's play had decreased in his last couple of seasons with the Blues, but he won't be asked to be on a top pairing like he was. His  lefthanded shot could also be an asset on a power play-unit that struggled last season.
Goaltending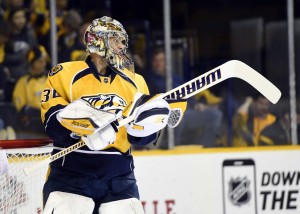 Pekka Rinne- The Finnish netminder bounced back from an injury-riddled 2013-14 season with a season to remember. He went 41-17-6 with a 2.18 goals against average and .923 save percentage. He was one of the main reasons the Predators got off to a strong start. Rinne was even considered the first half MVP by many, but a January injury took him out of the running for the Hart and Vezina trophies.
Rinne is a top five goalie in the league, and Nashville can go far with him being in form and injury-free. He's expected to play 55-60 regular season games if he gets through the season unscathed. Backup Carter Hutton isn't expected to get much work, and is probably keeping the backup spot warm for Marek Mazanec or Juuse Saros.
Breakout Performer
Seth Jones- The 20-year-old has improved in his first two seasons with the team. He's been asked to be more of a defensive bluelinder, but he'll be partnered up with Jackman this season. That will allow Jones to be more involved in the offense and that should boost his numbers. Jones was the fourth overall pick in 2013, and he wants to chip in some more on the offense.
Player With the Most to Prove
Cody Hodgson- Hodgson was bought out by the Buffalo Sabres and was quickly snatched up by Poile on one of his bargain basement "prove it" deals for just over $1 million. Hodgson will be slotted  into the third center spot, which will allow Calle Jarnkrok to move to the wing. Hodgson took a lot of blame for some of the issues in Buffalo, but he may benefit from a change of scenery. He struggled to only 13 points in 2014-15, but he's only two seasons removed from a 40-point season. A good season may be a chance to get a better deal.
Season Outlook
Nashville was one of the top teams for most of the season, but its loss to Chicago in the first round was disappointing. The Predators didn't need to make many changes, but do need to fine tune things like special teams. The power play took a downward turn from the days of Trotz, and there are some concerns on if the centers can hold up to the rigors of an 82-game season and the tough pivots in the division. Defense and goaltending help win championships, and the Preds have that in spades. Nashville has a good shot at claiming its first division title, and can make a solid playoff run. Getting to the second round or the Western Conference final is not out of the realm of possibility.
Subscribe to our Predators stories to get email updates every time a new story is published.
Dan Mount is a Nashville Predators staff writer for The Hockey Writers. You can follow him on Twitter, @DanMountSports.
Covered hockey since attending SUNY Oswego in Upstate New York in the early 2000s. Has written about college, major junior and professional hockey for the last five years.
Resides in Watertown, NY.