The Nashville Predators' farm system isn't strong. As a team that is a Stanley Cup contender on an annual basis, that's unsurprising. But if they hope to be long-term contenders, they need to address their farm system, and with the 2019 NHL Draft less than a month away, now is an appropriate time to look into that system and see what their needs are. It begins with the prospects who played this season at the highest level, in the AHL.
AHL – Milwaukee Admirals
Forwards
In 2018-19, the Predators didn't have their own ECHL affiliate, and therefore kept the majority of their older prospects in the AHL with the Milwaukee Admirals. In Milwaukee, the Predators largely have younger prospects, which bodes well for those players' playing time. At the time of writing this, the Admirals have 14 forwards signed through 2019-20. Just two of those forwards is over the age of 25 and 11 are 23 or younger. They also have two forwards who are RFAs and both are 25 or younger, as well as two UFAs, both older than 25.
Related: THW's 2019 Draft Guide
The Predators' forward prospects in the AHL are generally unexciting players whose ceilings are as depth forwards in the NHL. Players like Anthony Richard, Laurent Dauphin, and Adam Helewka are good prospects but are unlikely to ever develop into impactful NHL players. The Predators do, however, have four intriguing forward prospects who played this season in the AHL.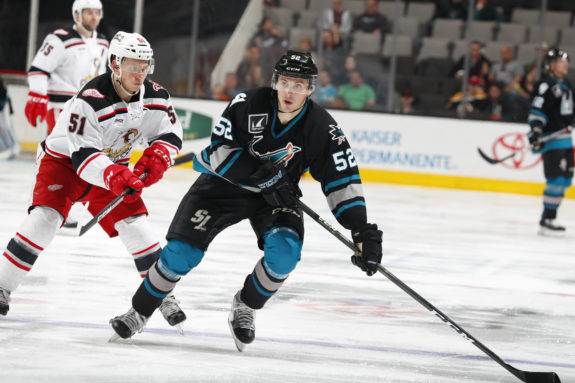 The first is Eeli Tolvanen, the Predators' top prospect and 2017 first-round pick. He tied for third on the Admirals in scoring with 35 points in 58 games this season while his two-way game developed a great deal. The Predators have been incredibly patient with him, but his ceiling is that of a top-six NHL winger.
The second is Rem Pitlick, a 2016 third-round pick. He turned pro in March after his college season ended, where he tied for 10th in the nation with 45 points. The Predators liked him enough that they burned a year of his entry-level contract (ELC) for one NHL game. He should start next season in the AHL. He has all the skills to succeed despite being undersized. Him developing into an NHL middle-six winger isn't out of the realm of possibilities.
The last two players are ceiling players. Yakov Trenin is a former second round pick who just completed his second full professional season and doubled his output from last season. At 6-foot-2, he has an NHL frame and he's a much better two-way player than most are at his age. If he can develop into a more consistent scorer, he could earn a call-up next season and has the potential to be an NHL regular in the future. I feel his upside is as a third-line checking winger who's also a scoring threat.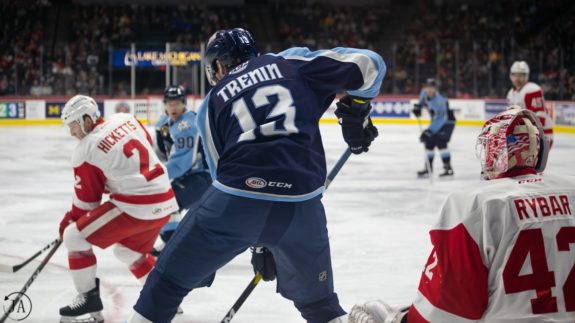 The last player is Josh Wilkins, whom the Predators signed as an undrafted free agent in April after his junior season at Providence College. He led the Friars with 46 points, also ninth-most in the NCAA. He is slightly undersized, but is a dynamic passer and playmaker who improved every season in college. His two-year deal starts in 2019-20 and he'll be invited to NHL training camp but will start the season with the Admirals. If he adjusts to the professional game, he should develop into an NHL player and could be a diamond in the rough for the Predators.
Defensemen
The Admirals have seven defensemen signed through 2019-20. Two are older than 25 while four are 22 or younger, so they have a nice blend of youth and veteran leadership. Two players who I like quite a bit are Frédéric Allard and Alexandre Carrier. Both are right-shot puck-moving blueliners with upside.
Carrier is the older of the two, at 22, and was a fourth-round pick in 2015. He paced all Admirals defensemen with 37 points this season. For most franchises, he could likely be a sixth or seventh defenseman at the NHL level next season, however, the Predators are patient with their prospects, so he's unlikely to see consistent NHL action until 2020-21, when the contracts of Dan Hamhuis, Matt Irwin, and Yannick Weber are up. His upside is that of a bottom three defenseman and he could stand to be a more physical player, although his active stick makes up for this.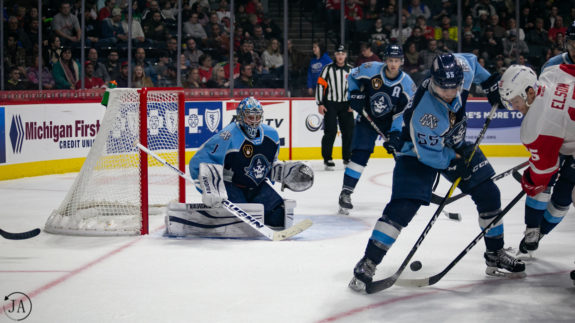 The Predators drafted Allard in the third round in 2016 and he just finished his second professional season. He finished with 29 points in 65 points and struggled with consistency throughout. Allard could also stand to be more physical when defending, but he uses his stick and positioning to succeed. Has developed quite a bit, especially defensively, since the Predators drafted him, and he's proven that he's willing to do whatever it takes to succeed. He too could be an extra defenseman for the Predators in 2020-21 and projects as a bottom-pair defenseman unless he gets more consistent.
Another intriguing defenseman is Brandon Fortunato, another undrafted college free agent. He just completed his fourth collegiate season, and his second with Quinnipiac University. He began his college career with Boston University but transferred to Quinnipiac due to a crowded blue line that included current Predator Dante Fabbro. While Fortunato struggled in his first season with Quinnipiac, he was excellent this season, with 28 points in 26 games before a broken fibula ended his campaign in January.
The Predators' front office liked what they saw and signed Fortunato to a two-year deal that starts next season. He is an undersized defenseman who's a left-shot. His offense is his best tool, and he's an excellent power-play weapon, both as a distributor and shooter. His skating made him a threat to lead rushes into the offensive zone. Defensively, he needs work, as he often chases pucks rather than rely on positioning.
Goaltenders
The Admirals have two goaltenders signed for next season. One is 29-year-old Troy Grosenick, who was recalled by the Predators a few times in 2018-19 but never saw game action. In 46 AHL games, he had a .919 save percentage (SV%) and a 2.41 goals-against average (GAA). He's largely an AHL starter with limited upside who should split starts and serve as the mentor for the next goaltender.
That goalie would be Niclas Westerholm, a 21-year-old who went undrafted. The Predators signed him in April 2018 after a great season in Finland's junior league. In 2018-19, he played the majority of the season with SaiPa of Finland's Liiga, where he turned in a .907 SV% and a 2.27 GAA. The Predators brought him over after his season ended and he traveled with the NHL squad down the stretch and in the playoffs.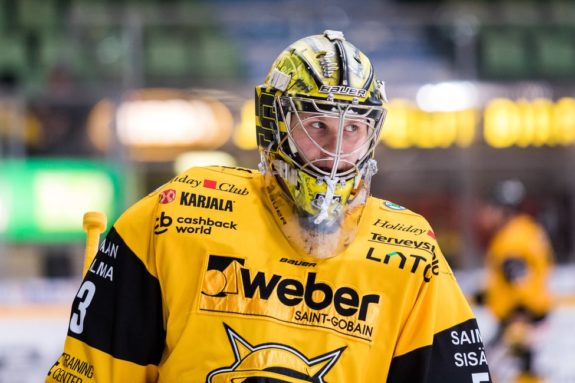 There are two things that can happen with Westerholm next season. The first is he returns to be SaiPa's starter, giving him a large workload. The second is he plays for Milwaukee and splits starts with Grosenick. It's typical for teams to want their goaltending prospects to play as much as possible, but I'm also sure the Predators want Westerholm getting accustomed to the North American professional game. Personally, I think it'd be best to not rush him and let him play in Finland before having him be Milwaukee's starter in 2020-21. He has the tools, and at 6-foot-4, he's plenty tall enough. He's a future NHL starter if his development continues.
College Prospects
Forwards
The Predators currently have three forward prospects in the NCAA. Most interesting is Jáchym Kondelík, a Czech center who just finished his freshman season at the University of Connecticut. At 6-foot-7 and 218 pounds, he's big, and he managed 26 points in 33 games on a bad UConn team. He also had two points in five games at the World Junior Championships. He's done a lot to improve his defensive game, and I feel confident that the Predators will do everything they can to sign him. The Huskies figure to improve next season with draft-eligible prospects Vladislav Firstov and Eric Linell committed for next season. That should improve Kondelík's offensive output. His physical makeup and skillset scream third-line center in the NHL.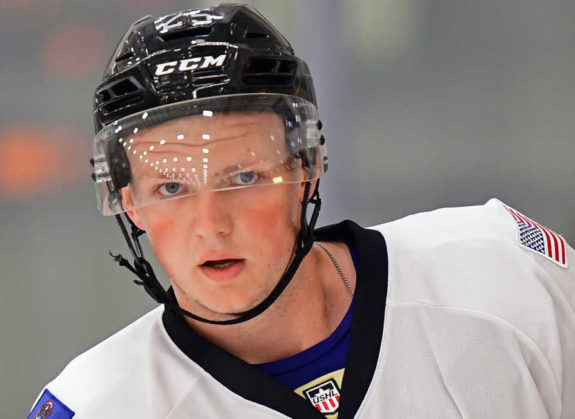 Next is Patrick Harper, who will be a senior at B.U. next season. He had the worst season of his college career in 2018-19 with only 20 points in 38 games, but he played well down the stretch. He suffered a mysterious illness last season that held him to only 20 games, so perhaps lingering effects of that were to blame for his early struggles this season. Either way, he'll have a great opportunity to earn an NHL contract next season, after which he becomes a free agent. He'll take on a leadership role and should have the chance to earn top minutes and play on the Terriers' power play. If all works out, he has a similar ceiling as Pitlick.
Last is Grant Mismash, a soon-to-be junior with the University of North Dakota. After a great freshman season with 22 points in 38 games, he suffered a devastating knee injury in January. He returned to the lineup for three games at season's end and finished with 10 points in 24 total games. It was a disappointing campaign for the former second-round pick. He'll look to get his career back on track after a full offseason to recover, but he'll need to prove himself next season to have a future with the Predators.
Defensemen
The Predators have two interesting defense prospects in college, and they play opposite styles. The first is B.U.'s David Farrance, who played on a pair with Fabbro this season. Farrance entered B.U. after a successful career with the USNDP but struggled in his freshman season. He returned as a sophomore and played much better, with 20 points in 37 games. He's an offensive defenseman who's had to work on the defensive aspects of his game, but this season was encouraging. Next season he'll take on a bigger role with and won't be able to lean on Fabbro. How he performs in that position will reveal what his future could look like. If he can continue his development, his offensive skillset could make him an NHL blueliner, perhaps even as Fabbro's partner again.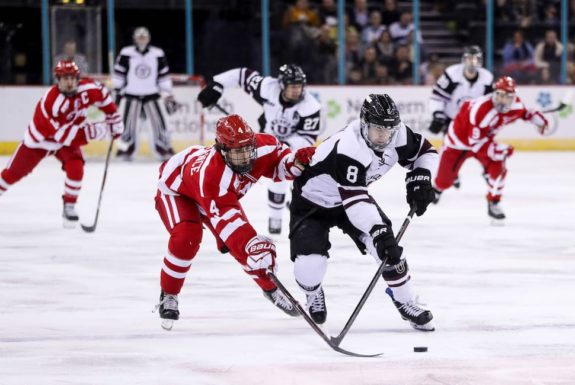 The other defenseman is Spencer Stastney, who just finished his freshman season with the University of Notre Dame. He finished with four points in 39 games, which isn't a great total, however, he is an excellent skater and can break out the puck on his own. Only a fifth-round draft pick, he'll be an intriguing player to follow in his sophomore season. Plays a safe game that can eventually translate to a third-pair in the NHL.
Goaltender
The Predators' only goaltending prospect in the college ranks is UConn's Tomas Vomacka. As a freshman, he had a .922 SV% and a 2.32 GAA in 15 appearances. And again, that was on a bad Huskies team. Although the backup, he outplayed starter Adam Huska, who's since signed with the New York Rangers. Next season, Vomacka will be UConn's starter, and he has the ability to dominate the Hockey East Conference. He may only be a fifth-round pick, but he could compete with Westerholm as the Predators' future in net behind Juuse Saros.
CHL Prospects
The Predators currently have one prospect who plays in the CHL,  Belarusian defenseman Vladislav Yeryomenko, their 2018 fifth-round pick. He played all of 2018-19 with the WHL's Calgary Hitmen, where he had 33 points in 63 games. It was his third season with the Hitmen and he regressed from the 41 points he had last season. After his season concluded, he was dealt to the Moose Jaw Warriors. The Warriors aren't as good as the Hitmen, so perhaps he plays a bigger role. The Predators have until June 1, 2020 to sign him. I would expect them to eventually get a deal done.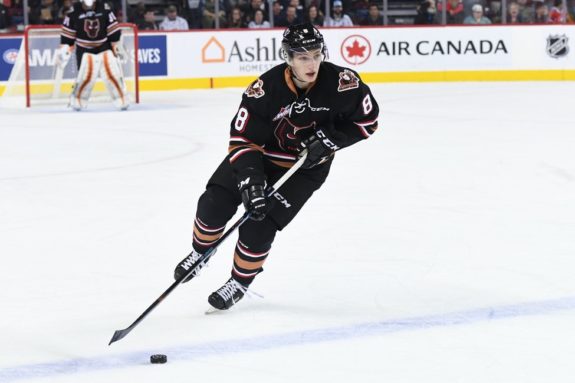 European Prospects
Another area the Predators draft a lot of prospects from is Europe. They currently only have three prospects playing in Europe, one defenseman and two goaltenders.
Defensemen
Their lone European skater prospect is Swede Hardy Häman Aktell. The Predators drafted him in the fourth round of the 2016 Draft, and he played 2018-19 mostly in the Allsvenskan league, Sweden's second-tier men's league. He was also loaned to the third-tier league for two games. In his first season playing against men, he was underwhelming, but it appears that he struggled to find playing time. It's hard to find much information about him, and until he plays in the SHL, Sweden's top league, it's difficult to determine whether he has an NHL future ahead of him.
Goaltenders
The first goaltender is Milan Kloucek, a 2018 seventh-round pick. He split the 2018-19 season between the top Czech league (20 games, .901 SV%, 3.04 GAA) and the nation's second league (11 games, .925 SV%, 2.25 GAA). Having just turned 21, he's still early in the development cycle and has a lot to work on. He struggles on his blocker side and can go into his butterfly stance too early at times. A major problem is that he plays for a bad team, so development could be a struggle. He certainly has the physical tools to transition to North America, but with a contract that runs through 2020-21, it will be at least 2021-22 before that happens.
The last player I'll discuss is Russian netminder Konstantin Volkov, the Predators' 2016 sixth-round pick. Considering he will be 22 before next season starts, his development has been slower than expected. He only appeared in eight games this season, all in Russia's VHL, the second-tier league. He was pretty good in those games, but he's yet to play in the KHL, and until he does, it's difficult to know what he is. The Predators aren't constrained by a timeline to sign him, due to the absence of a transfer agreement between Russia and the NHL, but unless he excels next season, it's unlikely the team ever signs him.
Farm System Needs
After a look at Predators prospects across all the levels, plus the state of the NHL roster, it's clear the team has several areas of weakness that need addressed. It starts up front with their forward group. They lack scoring forwards top-to-bottom, including at the NHL level, which was one of the main reasons they fell short of their goal this season. They can address this to an extent through free agency and trades this offseason, but that does't fix the fact that there's a void of upper-level forward talent in the farm system. Tolvanen is their only forward prospect who's a sure-fire NHLer, and the only one with realistic top-six potential.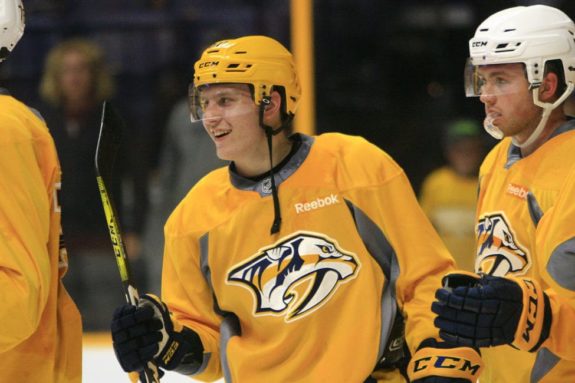 They have plenty of future middle-six and bottom-six forwards, but all need work just to get to that level. Taking a forward with upside in the first round of this year's draft is a real possibility and could help a lot. But more than that, I think they should consider using the majority of their seven picks in the draft on forwards. They need bodies who can hopefully develop into future NHLers.
On the blue line, it's an interesting situation. Their NHL group is pretty much locked down, and with the emergence of Fabbro, it should be good for a long time. Unless something major happens, they have enough defensemen for 2019-20 when including veterans in the AHL. Even their younger defensemen in Milwaukee likely have NHL futures, but are limited in their potentials. Their only defense prospect who has a real shot at developing into a top-four blueliner is Farrance, and his path to get there is kind of hazy. The other prospects are fifth or sixth defensemen at best, and none provide an offensive threat.
That's why I think there's reason for the Predators to draft a defenseman in the first round. They have the luxury to be patient with defensive prospects, and getting the next wave of future NHL defensemen into the system is a smart move.
The Predators don't have any issues to address in net. Pekka Rinne is still playing well as the NHL starter, and Saros looks like a future star. Behind him, the team is fine with Westerholm and Vomacka in the system. Unless general manager David Poile come across a can't-miss prospect late in the draft, there's no reason to take a goaltender this year.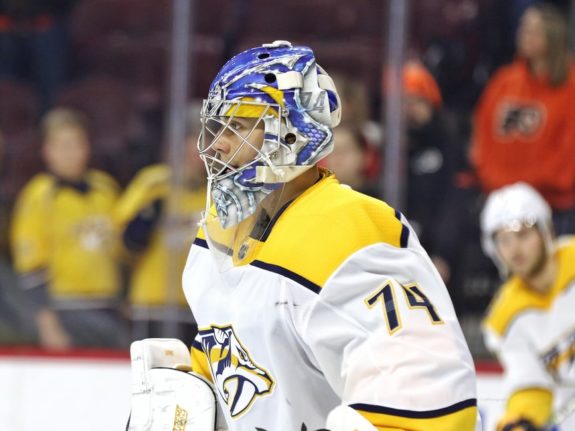 With a farm system that's taken hits in recent years due to graduation and trades, the Predators need to hit on this year's draft. By focusing on the needs listed above, they'll begin the process of rebuilding their prospect pool. In doing so, they ensure the potential for consistent success in the future.