Current PairWise Rankings, via USCHO.com (as of Thursday, 3/6):
1. Minnesota
2. Wisconsin
3. Clarkson
4. Cornell
5. Boston College
6. Harvard
7. Robert Morris
8. Mercyhurst
9. Quinnipiac
10. North Dakota
T-11. Boston University
T-11. Northeastern
T-13. Minnesota Duluth
T-13. Syracuse
15. Ohio State
16. Princeton
17. Vermont
WCHA Final Face-Off
Semifinals (Friday, March 8):
#1 Minnesota (34-1-1) vs. #4 Minnesota Duluth (15-14-6), 8:07 p.m. EST
#2 Wisconsin (27-6-2) vs. #3 North Dakota (19-11-4), 5:07 p.m. EST
Championship Game: Saturday, March 8 at 8:07 p.m. EST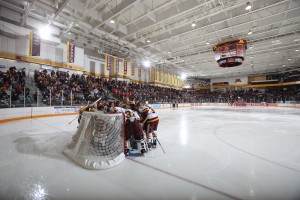 The Gophers enter the weekend as the obvious favorites to three-peat and win the tournament again. They swept St. Cloud State in the quarterfinals last week with a 4-1 win and a 7-1 win, scoring four goals in a 57-second span in that second victory. Minnesota has a deep offense thanks to players like Kelly Terry, Sarah Davis, and Dani Cameranesi, and a very mobile defensive corps led by Rachel Ramsey and Milica McMillen. It's going to be tough for anyone to unseat them, but they'll probably have to win the special teams battle against the Gophers for that to happen, who have been extremely proficient on both the power play and penalty kill all season.
Minnesota Duluth got swept by Minnesota in the last weekend of the regular season with a pair of 6-0 losses, but advanced to the Final Face-Off after besting Ohio State two games to one in the quarterfinals. It took everything they had to get past the Buckeyes in an evenly-matched series,so the Bulldogs will have their work cut out for them against the Gophers, who are much deeper. They'll need a great goaltending performance out of Kayla Black to start. Top players like Jenna McParland, Lara Stalder, and Jamie Kenyon are going to see a lot of ice time, and they're going to have to come through in a big way. A player like Meghan Huertas will also be important; her secondary scoring will be needed for Minnesota Duluth to match Minnesota's offense.
Minnesota State pushed the Badgers to a third game last weekend, but Wisconsin came away with the series-deciding win to advance. They've got a really tough match-up in the semifinals against North Dakota, but they went 2-1-1 against UND in the regular season. The Badgers have great goaltending in Alex Rigsby and a strong team defense. Led by Brittany Ammerman and Blayre Turnbull, they've gotten the most of their top players and they've been able to put up efficient offensive numbers all season. Wisconsin will need to generate chances consistently and keep UND from possessing the puck in order to advance to the championship game.
North Dakota swept Bemijdi State last weekend with a 4-1 win and a 3-2 overtime win to earn a trip to the Final Face-Off. The team slipped up at the end of the regular season, getting swept by Minnesota State and Ohio State, but their offense has broken through with both Michelle Karvinen and Susanna Tapani back in the lineup. UND also has a really solid defense; its shots on goal against average is fourth-best in the country at 22.62 per game. It's going to be important for their penalty kill to prevent the Badgers' power play from being a game-changer, and for them to get to the front of the net and win battles there.
College Hockey America Championship
Semifinals (Friday, March 7):
#1 Mercyhurst (22-7-4) vs. #4 Syracuse (20-13-3), 4 p.m. EST
#2 Robert Morris (24-7-3) vs. #3 RIT (18-15-3), 7:30 p.m. EST
Championship Game: Saturday, March 8 at 3 p.m. EST
Mercyhurst has picked it up over the second half of the year after a rocky start, and has only lost twice since Nov. 22. They played well enough to overtake Robert Morris for first place in the CHA and earn the #1 seed, but placing first here isn't really a lock for them like it's been in years past. The Lakers went 3-0-1 against Syracuse this year, so they've definitely proven to be the better team. However, a solid defensive effort from the Orange and a good goaltending performance could be a lot for Mercyhurst to handle. Syracuse got big weekends out of Margot Scharfe and Melissa Piacentini against Lindenwood in the quarterfinals, and they'll likely play a big role in any upset bid on the Orange's part.
The Colonials are the biggest reason why a CHA Tournament win is far from a guarantee for the Lakers, but they'll have to face RIT first to advance to the championship game. The last month of the season proved to be a little tough for Robert Morris, who suffered losses to Mercyhurst, RIT, and Lindenwood. The Colonials were still able to secure a bye to the semifinals, but I think they'll be looking for a definitive win here to be confident going into the championship game. Tigers goaltender Ali Binnington will make it tough for the Colonials to move on, but RIT can't match their top talent, and that should see them through as long as they play to that level.
It's hard to say who's the better team between Mercyhurst and Robert Morris. They split their regular season series, and the Lakers finished just two wins ahead of the Colonials in the standings. Up front, Mercyhurst has Christine Bestland and Emily Janiga; Robert Morris has Brittany Howard and Rebecca Vint; and each team has three or four secondary scorers to round out their top-sixes. The Colonials' blue line, though, is more polished defensively with Anneline Lauziere, Kylie St. Louis, and Brandi Pollock, and Jessica Dodds gives them an edge in goal. If the two squads meet in the championship game, a more wide-open game probably favors the Lakers, while a low-scoring contest would play more to the Colonials' strengths.