Your favorite NHL team was one of the fifteen that didn't qualify for the playoffs this season but you still want to watch and enjoy the playoffs. Who do you root for? Most of you will probably hate watch against your favorite team's rivals or divisional opponents, but if you're looking for a team to follow along with during the Stanley Cup Playoffs – here's one that you should keep your eyes on.
The New Jersey Devils. The team that no one gave a chance to all season. Oh, they had a good start to the season? They'll fall off. Oh, they're in a playoff spot? They'll fall out. Oh, they have a six-game road trip through Nashville, Vegas, California, and Pittsburgh? This is when they crumble. Oh, they need to win seven of their last ten games to get into the playoffs for the first time in six seasons? Someone will pass them.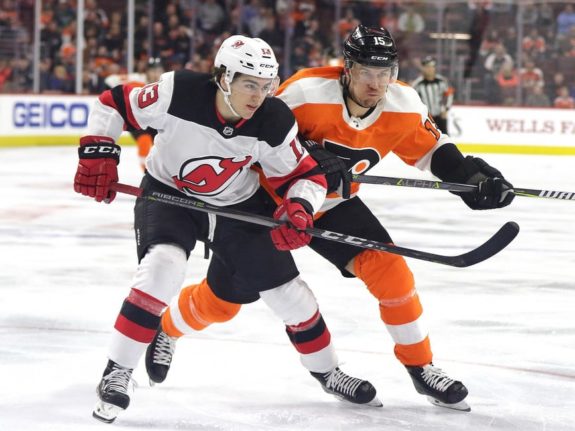 None of that happened. They didn't fall off. They never fell out of a playoff spot. They went 4-2-0 on the road against the Preds, Golden Knights, California trio, and two-time defending champions. The Florida Panthers never passed them in the standings. 
Here's a quick guide to what you need to know to jump on the Devils' bandwagon during the Stanley Cup Playoffs.
1) New Jersey will start out in the Atlantic Division bracket. That means if your enemies are the Boston Bruins, Tampa Bay Lightning, or Toronto Maple Leafs – the Devils are your team. They have youth (Nico Hischier, Will Butcher, Jesper Bratt, Blake Coleman) if you're into the new era NHL. They have a bunch of former Anaheim Ducks (Kyle Palmieri, Ben Lovejoy, Stefan Noesen, Sami Vatanen, Patrick Maroon — so if your a Ducks' fan looking for an East Coast team there's your easy tie-in.
No one saw it coming. We did. #NowWeRise https://t.co/eiALmXb5jK

— New Jersey Devils (@NJDevils) April 6, 2018
2) Taylor Hall is good. Like really, really good. He may not win the Hart Trophy as the league's MVP but he likely will be a finalist. He led the team in just about every category as finished as the NHL's sixth-leading scorer with 93 points (39g-54a). Finally free from the ridiculous scrutiny in Edmonton and finally over the trade that rocked his world, Hall has embraced being a Devil and has led this team by example with his extraordinary effort night-in and night-out. This will be Hall's first foray into NHL playoff hockey (529 career games/4th most among active players) and the sky is the limit. Take note: his speed and precision passes will dazzle you when you watch him every game, and his shot is not half-bad either. Last season he had to watch the Edmonton Oilers in the playoffs for the first time in eons after they traded him away from Alberta a summer prior. This postseason, they'll be watching him.
3) The made the playoffs without Cory Schneider (who started the season as their no. 1 goalie) winning a game in the year 2018. Keith Kinkaid stepped into the crease, had a 16-3-1 record over last 20 decisions, and he will become the first goalie not named Martin Brodeur to start a playoff game for New Jersey in eons (1994, Chris Terreri). In 41 games this season Kinkaid was 26-10-3, including wins against: Washington, Pittsburgh (3x), Philadelphia, Nashville, Vegas, Los Angeles, Tampa, and Toronto.
Fun fact:
Game 1 of the 2018 playoffs for the #NJDevils will mark the first time since May 11, 1994 (Round 2 – Game 6, 5-3W at Boston) that someone not named Martin Brodeur starts a postseason game for NJ. Chris Terreri was the crease man that night for the club.

— Leo Scaglione Jr. (@LeoScaglioneJr) April 7, 2018
4) Brian Boyle. We could have just ended it right there. How could you not root for Boyle? After everything, he's been through this season – with his own health issues as well as his son's – Boyle played in 69 games and has been an inspiration to not only the Devils' fan base but hockey fans everywhere. 
5) Everyone loves an underdog story. The Devils will begin postseason play as the East's 8-seed and fifteenth out of sixteen teams as ranked by points. Basically, it'll be business as usual for them. No one thought they'd be here. They'll be the underdog no matter who they play. You might have read one or two writers say they doubted the Devils before, but now they don't. If they lose one game, you can bet they'll doubt them again. That's exactly what's happened all season, soooo: business as usual.