It's no secret the New Jersey Devils need to improve their defense this summer. Late last week, I wrote about who they could target in free agency to do so. However, there aren't many desirable options come July 1. If they're unable to add someone through free agency, Ray Shero may have to look for help through the trade market.
One defenseman that should get the organization's attention is Noah Hanifin. A former top-five pick by the Carolina Hurricanes, the 21-year-old is a restricted free agent this summer. He's currently ninth on TSN's trade bait list and could be part of the Hurricanes' plans to reshuffle their roster. Here's a breakdown of Hanifin's progress and why he'd be an upgrade for the Devils.
Hanifin Has Shown Year-to-Year Improvement
Although he's only 21 years old, Hanifin has already played three full NHL seasons, showing improvement in each year. For example, his point totals have increased in each season — from 22 to 29 to 32. His game has also taken a positive step forward at five-on-five.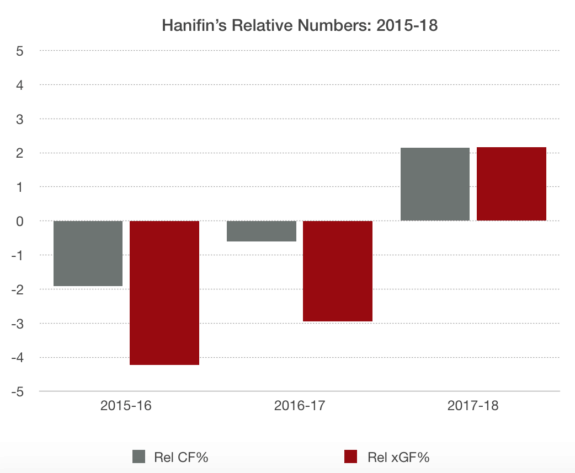 In his first two years, Hanifin had a negative impact on shot attempts (Rel CF%) and expected goals (Rel xGF%). In 2017-18, the Hurricanes benefited from having him on the ice. He had a positive impact on both shot attempts and expected goals. They also generated 64.5 shot attempts per 60 minutes as opposed to 50.87 against per 60 minutes when he was on the ice.
There's no denying Hanifin's improved numbers. However, he was the beneficiary of favorable zone starts. The Hurricanes relied on Jaccob Slavin, Brett Pesce, and Justin Faulk to play against other teams' top lines. Hanifin took advantage of his minutes, but he shouldn't be counted on as a top-pair, shutdown defenseman at this point in his career.
Devils Could Use Hanifin's Offense
I mentioned Hanifin's point totals above. They may not seem impressive but have also improved at five-on-five. In each of the last three seasons, his points per 60 minutes (P/60) has increased — from 0.61 to 0.69 to 1.07. That latter number puts him with the likes of Seth Jones, Morgan Rielly, and P.K. Subban.
In comparison to current Devils' defensemen, Hanifin's 1.07 P/60 would be the best on the team. Will Butcher had the best production at five-on-five in 2017-18, averaging 0.97 P/60. The second best was Damon Severson, who finished scoring at a rate of 0.84 P/60.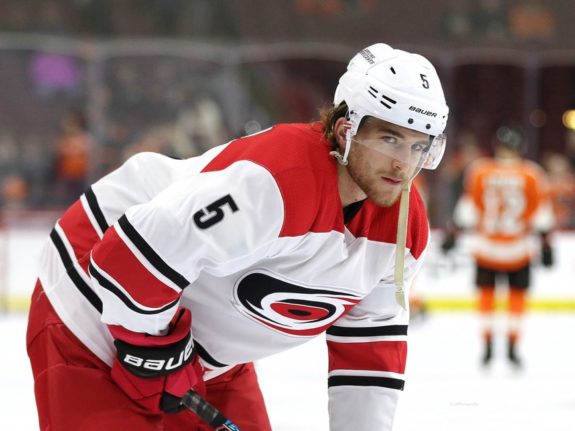 The Devils are in good shape with Butcher and Sami Vatanen operating their power play. That said, it can't hurt to have another option in Hanifin. He's averaged 3.54 P/60 since 2016, has skating ability, and can move the puck. He may not be an all-world offensive defenseman, but there's no doubt he could help in all situations.
Related: 6 UFA Forwards the Devils Should Target
Why Hanifin Should Interest the Devils
There are a few reasons why Hanifin is worth a look for the Devils. Andy Greene's best years are behind him. They could also lose John Moore in free agency, which means they'd have a spot to fill for a left-handed defenseman. Being a left-handed shot, Hanifin fills that need and would be an upgrade over Moore.
The Devils have made a habit of acquiring players with term on their deals under Shero (Taylor Hall, Vatanen to name a couple). At 21 years old and a restricted free agent, Hanifin will be under team control for a while. That would fit the mold of how the Devils are building their team.
Even though Hanifin needs to improve on defense, his offense would prove valuable. He's one of the best defensemen in the league at creating controlled entries into the offensive zone. The Devils like to play a fast, attacking style of hockey so having a defenseman that doesn't consistently dump the puck in is a plus.
Hanifin Won't Come Cheap
For the Devils, this is where things could get complicated. They don't have second or third-round picks in 2018. That could make them unwilling to part with the 17th pick before or during tomorrow night's Entry Draft. They're still in the process of deepening their prospect pool and not having a pick until the fourth-round wouldn't help.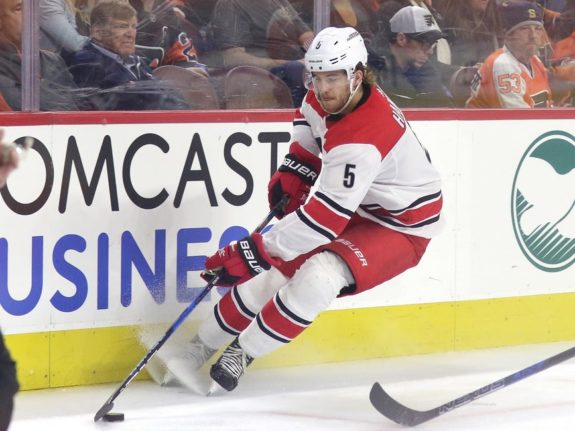 The Devils would also have to give up one of their promising young players. It would likely take a top prospect like Michael McLeod or Joey Anderson. If not, the Hurricanes could look at Jesper Bratt or Miles Wood. They're both young players with NHL experience and would help the Hurricanes' roster immediately.
Most 21-year-old defensemen available through trades aren't cheap, and Hanifin wouldn't be any different. His contract status, age, improving numbers, and draft position three years ago means the Hurricanes won't give him up for a bag of pucks. He's a proven NHLer and fits the Devils' long-term plans. As long as a trade doesn't mortgage the future, he'd be a worthy upgrade for the Devils' blue line.
*     *     *
Advanced stats from Corsica Hockey