On June 19, Elliotte Friedman tweeted: "There is word today that Artemi Panarin has told CLB that he is not ready to consider an extension 'at this time'" (UFA July 2019.) As a result, the Blue Jackets are testing the market for him."
https://twitter.com/FriedgeHNIC/status/1009138149824421888
Friedman is a Canadian sports journalist who serves as a hockey reporter for Sportsnet, an insider for The NHL Network and a regular on CBC's Hockey Night in Canada. He is perhaps the most knowledgeable and trusted pundit in hockey today. When he has something to report, it can be taken to the bank.
This earthquake of an announcement has to have every team in the league re-assessing their trade, draft and salary cap plans. Reliable scoring from a plus player is hard to come by in today's fast-paced league. Panarin, termed the "Breadman" after the Panera Bread bakery and café chain by Chicago head coach Joel Quenneville, is an established scorer. Going into his fourth year, Panarin is averaging 29 goals, 49 assists and 78 points. And he's plus-49.
Related: The Best Nicknames in Hockey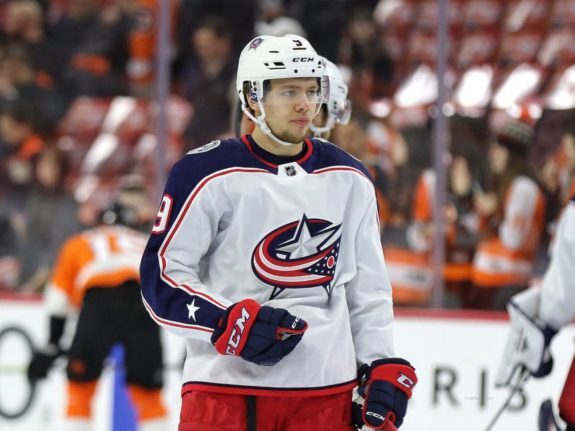 Before this announcement, unrestricted free agent New York Islander John Tavares was considered the best player and prize of the off-season. Teams not in a position to contest for his services were only hoping to get a player in the draft who would one day develop into a Tavares-like All-Star. Now there is an option. With all due respect to Tavares' impressive production, leadership and professionalism, Panarin is younger, faster and higher-scoring. And he's proven it on two teams with different linemates.
Some will suggest Panarin's accomplishments were due in large part to him playing alongside Patrick Kane. "It should be noted that Patrick Kane had a couple of his best seasons of his career too playing with Artemi, so it goes both ways," said Columbus Blue Jackets general manager Jarmo Kekalainen.
In his first three seasons in the NHL, Panarin has played for the Chicago Blackhawks and Columbus Blue Jackets. He's seventh in scoring behind former linemate Patrick Kane (271 points), Sidney Crosby (263 points) and Connor McDavid (256 points). His production (233 points) is well ahead of big-name stars such as Brad Marchand, Evgeni Malkin, Nicklas Backstrom, Alex Ovechkin, Claude Giroux and the aforementioned Tavares.
The Situation in Columbus
According to Kekalainen, "Artemi is an elite National Hockey League player. Our position has been that we want him to be a Blue Jacket for many years and that has not changed. He has a year left on his contract, so there is plenty of time to work towards that end. Should anything change moving forward, we will address it at that time and any decision we make will be in the best interest of our club."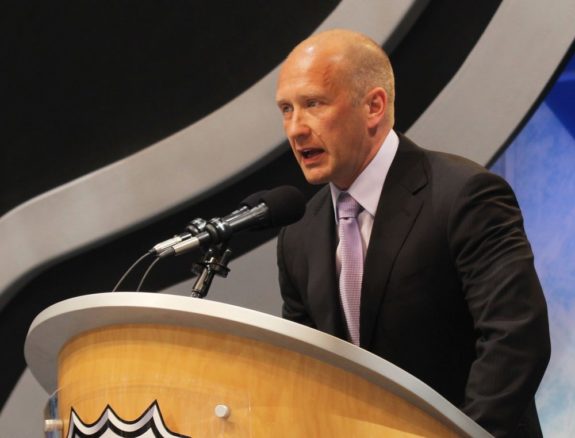 The 26-year-old Breadman is in the second and final year of a $6 million bridge contract that he signed in December of 2016 with the Blackhawks. At the end of that season, he was traded to Columbus because of salary cap constraints in Chicago. He will be the Jackets highest-paid skater this coming season (goaltender Sergei Bobrovsky will make $7.425 million). He is a good fit and part of a good, young core. Losing him would be a several-year setback in the Columbus Stanley Cup pursuit plan.
The Blue Jackets made the postseason only twice in their first fifteen seasons in the NHL. They've since made it in each of the last two seasons, though they've yet to win a playoff series.
While the Russian left winger is not unhappy in Ohio, it is his time to cash in on his talent. Likely his next contract will represent his professional and earnings zenith. By letting the hockey world know that he is not looking to extend with Columbus now, he is signaling his intent to procure a seven or eight-year deal, likely in the $9-11 million range.
Sabres Need Panarin
With all due respect to DiCamillos, Western New York needs a new kind of Breadman.
Buffalo Sabres general manager Jason Botterill should be madly scrambling to update, re-work and double-check his plan to move the Sabres from the cellar to the playoffs. Aside from untouchables Jack Eichel, Casey Mittlestadt and Rasmus Dahlin (soon to be selected first overall in the entry draft), the rest of organization should be on the table.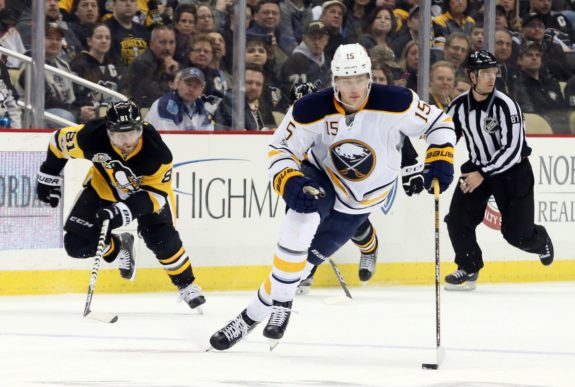 The Sabres have no consistent, proven scoring wingers. And barely any who naturally play the left wing at all. The idea of the Breadman lining up to accept passes from Jack Eichel to put the biscuit in the basket should bring back memories of LaFontaine and Mogilny. The excitement in Buffalo would reach a crescendo not experienced since the 'scary good' days of long ago. The Sabres need Panarin.
Acquiring Panarin
There are a number of concerns in getting Panarin into a blue and gold jersey. Columbus is not going to let him go easily. The Jackets need to get as much value as they can before he becomes a UFA at the end of this season. He's also going to want a big, multi-year contract. And a chance to sip from Lord Stanley's Cup.
Botterill has the money to spare. The Sabres do have several large, anchoring contracts on the books, but their current cap hit is $55.8 million, leaving space of just over $19 million. Even with the need to sign current players, that's a lot of money. And many of the wasteful overpaid pacts will be expiring after this year. The scuttlebutt is that the league cap will be going up to $80 million in short order. Money is not a prohibitive issue. The Sabres can afford to have two young $10 million All-Stars.
In trade, the much-gossiped Ryan O'Reilly might find a home in Ohio. Conceivably, he might be the Jackets new No. 1 center. Pierre-Luc Dubois and Alexander Wennberg are the best that Columbus has down the middle. On the ice, this might be a good fit. And his $7 million contract would go with him.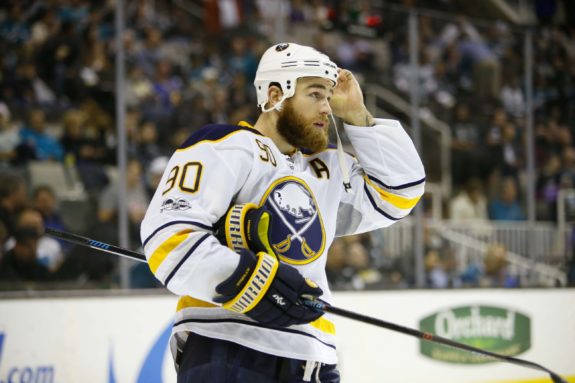 Botterill might also risk a 2019 first-round pick or combination of picks to get Panarin. Everything should be made available as the Breadman is tailor-made to fill the Sabres' biggest need.
Sabres Could Rise from Worst to Contenders
If Botterill can loosen Panarin from the Blue Jackets, the Sabres could quickly rise up the standings. They'll have some resemblance to the Cup-winning Chicago Blackhawks team that featured Patrick Kane and Jonathan Toews up front and blueliners Brent Seabrook and Duncan Keith.
Eichel, Casey Mittelstadt, Sam Reinhart and defensemen Rasmus Ristolainen and Rasmus Dahlin are a solid core from which to grow. If nothing else, adding Panarin would be an exciting influx of talent and excitement to a roster that desperately needs change. And to a franchise that hasn't sniffed playoff hockey for seven years, he's definitely worth the dough.