The 2016-17 preseason starts in less than a week, and we're going to start seeing prospects everywhere making NHL debuts. The most exciting debuts will be made by those who produce points right off the bat. The Metropolitan Division is filled with point-producing players, and that obviously makes sense. It wasn't that long ago when this division's Pittsburgh Penguins won the Stanley Cup.
Having a high number of point producers isn't the do all or end all though. Since the 2015-16 season ended, there's been some changes in the lineups, and there's also been a few trades. Looking in the preseason, I've charted metropolitan teams and players and have a pretty good understanding of who the point producers are this year. Based on most points produced per game from each player's last NHL season played, the top-25 point producers for all positions, forwards only and defensemen only are among the following teams: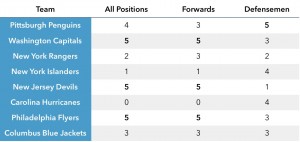 The New Jersey Devils are one of three Metropolitan teams tied for having the most top-25 point-producing players, as well as forwards, in their division. The Washington Capitals and Philadelphia Flyers also have five. However, the Devils also have the least amount of top point-producing defensemen in the entire division.
Top Point-Producers:
Washington Capitals
Evgeny Kuznetsov
Nicklas Backstrom
Alex Ovechkin
John Carlson
T.J. Oshie
New Jersey Devils
Pavel Zacha
Michael Cammalleri
Taylor Hall
Kyle Palmieri
Adam Henrique
Philadelphia Flyers
Claude Giroux
Jakub Voracek
Brayden Schenn
Wayne Simmonds
Shayne Gostisbehere
Having few point-producing defensemen could simply mean that the Devils have uniquely defined roles, which don't include too many offensive opportunities. It doesn't necessarily mean their defensemen are trying to score, but failing at it.
Camp Before Preseason
The 2016 Prospects Challenge was held at the HarborCenter in Buffalo, New York, from Sept. 16-19, 2016, and it featured the Buffalo Sabres', Boston Bruins' and the New Jersey Devils' top prospects. The showcase revealed several areas of strength and weakness for each pool of prospects, and for New Jersey's future stars, an area of weakness seemed to be puck possession. In their game against Boston's prospects on Sunday night at the Challenge, Boston's players were getting lots of shots on net in comparison to New Jersey's players. In the last three and a half minutes of the game, Boston had accumulated 41 shots on net, while New Jersey only had 17. The final score of the game was 4-3, in favor of Boston.
Game over. Devils rally comes up short in 4-3 loss to Bruins. NJD split #ProspectsChallenge, going 1-1.

— New Jersey Devils (@NJDevils) September 19, 2016
It's pretty safe to say that if it weren't for Mackenzie Blackwood, New Jersey's youngest goalie coming through the prospect pipeline, the final score would have looked a lot different.
In a one-on-one interview with Devil's prospect John Quenneville, selected at No. 30 in the first round of the 2014 Draft, he told The Hockey Writers a little bit about the team's slower-than-usual start that evening.
The team just had a slow start in the first and second, and it seemed like we couldn't get anything going, and we weren't getting very many shots on goal. We picked it up in the third, and I felt a little bit better about the game. – John Quenneville
That being said, Blackwood wasn't the only game changer on New Jersey's roster. Blake Speers notched four points in the two games he played there.
It's safe to say that @bspeers18 turned some heads this weekend, tallying 3g-1a in two #ProspectsChallenge games. https://t.co/vCnVDggGhc

— New Jersey Devils (@NJDevils) September 19, 2016
Spears and Colton White had such convincing performances over the two-game Challenge, they each signed three-year, entry-level contracts the day after it ended.
Quenneville's UVP
Quenneville has a rather unique value proposition (UVP) as a hockey player, compared to other prospects competing for a spot in the National Hockey League. That is, he's heavily connected to the NHL, and that actually benefits his skill-sets. His second cousin is Joel Quenneville, head coach of the Chicago Blackhawks, which could indicate some sort of sixth sense for coaching, and guiding players to chronic victory. John Quenneville's Uncle through marriage is Johnny Boychuk, the second highest point-producing defenseman with the New York Islanders, with a PPG of 0.36 for the 2015-16 season. He also trains Quenneville and his brothers during the summer months in Edmonton.
Finally, both his younger and older brothers were recently drafted into the NHL as well.

Being able to train with someone who's currently playing hockey in the NHL can have a huge impact on anyone, let alone a future NHL star. When I asked Quenneville what he's been able to learn from Boychuk, this is what he had to say.
It's his great work ethic I think. You know, he hasn't gotten to where he is for no reason. I think that he has a great work ethic, even though he has a big contract, and a secured spot in the NHL, he still shows up every morning, and puts in the work. He's a real dedicated guy, and it pays off for sure. – John Quenneville
This specialized training may also be giving him an even bigger competitive advantage as an NHL asset. In fact, if you take a look back to the Metropolitan Division's list of point producers chart, you'll see that the New York Islanders rank quite highly for having a lot of top point-producing defensemen within their division. Quenneville considers himself to be an offensive forward, and what better way can a forward train than with a soon-to-be opponent? If Quenneville did inherit anything from his cousin in Chicago, he's likely making some good insights regarding the Islanders' defensive style-of-play.
With Brandon, I took on a role of being an offensive forward. Obviously as I got older, I became a complete player. I was a fairly dominant player I felt, in the league. I was a leader on my team, and I think I had a good career there. – John Quenneville
Prospects Performance Summary Entering Preseason
Even though the Devils didn't win the game against Boston on Saturday night at the Prospects Challenge, some players were still able to catch the attention of Ray Shero through excellent game play. Their first game at the Challenge against Buffalo was a huge success, beating the Sabre's prospects, 6-3.
The Devils' training camp starts today, with a roster that includes the likes of Blake Speers, Colton White, Pavel Zacha, Joshua Jacobs, Mackenzie Blackwood and John Quenneville.
#NJDevils training camp kicks-off today at The Rock! Hear from Blake Coleman and Joshua Jacobs: https://t.co/mxIVZ5HmIx pic.twitter.com/4f0IEw5BXa

— New Jersey Devils (@NJDevils) September 22, 2016
We're down to the last four days before the Devil's first preseason game, which is taking place on Sept. 26 against the Philadelphia Flyers in New Jersey. This season will feature some of New Jersey's most anticipated game changers, including Taylor Hall. The 2016-17 preseason will surely create a lot of buzz among New Jersey hockey fans.