---
When the calendar flips to June, it becomes crunch time for scouts and NHL teams in terms of finalizing their rankings for the upcoming draft.
The month starts with the annual combine, where 100-plus prospects are poked in interviews and prodded in a variety of fitness tests. With no on-ice component, it is debatable how much those results impact the rankings.
However, there was still hockey being played throughout the month of May — most notably in the CHL playoffs, culminating with the Memorial Cup, and at the men's world championship where a select few draft-eligibles were representing their countries. There was also the lesser-known Black Sea Cup in Russia and some lower-level junior leagues wrapping up across North America.
Rest assured, the scouts stayed busy in May to make sure they were prepared for June.
Myself included, and with my final Top 100 rankings recently publishing, here are 10 of my biggest risers over the last month:
RELATED: 10 Fallers From Fisher's Final Top 100
1) Matej Pekar (C/RW, Czech Republic, Muskegon USHL)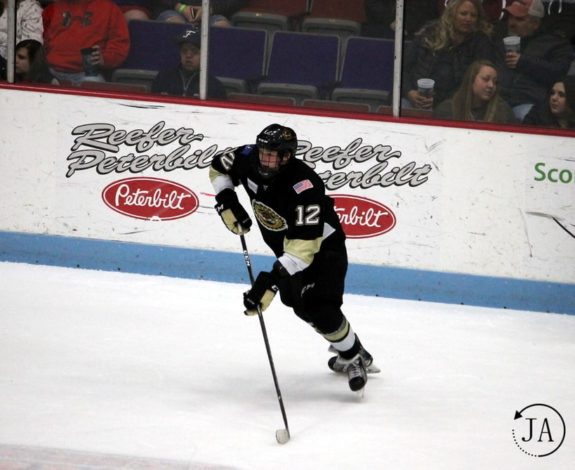 JUNE RANKING: 49
MAY RANKING: 99
VARIATION: +50
ANALYSIS: I was late getting on the Pekar bandwagon — Ryan Kennedy of The Hockey News has been driving that one for months — but he's definitely going to be a riser as the USHL's Rookie of the Year after matching Eeli Tolvanen's point total (54) from last season in that league. Pekar also interviewed well at the combine by the sounds of it, so that should help his rise. I have Pekar ranked at No. 49, but it wouldn't surprise me if he snuck into the 30s. In fact, in my seven-round mock draft, I had the Rangers reaching for Pekar at No. 28 with their third of three first-round picks. However, my USHL sources are split on Pekar, with one insisting that reach should have been made on another import forward, Sampo Ranta, who might be more comparable to Tolvanen since both hail from Finland and both played for Sioux City in the USHL. Central Scouting is also significantly higher on Ranta (18) than Pekar (55), so perhaps I'll be proven wrong in ranking Ranta at No. 73 and mocking him at No. 89 as a late third-rounder to Nashville. The feedback from my mock suggests Ranta should go at least a full round higher than that in my "consensus last-minute mock" to be published next week, but Pekar also received another vote of confidence as a potential surprise riser. Regardless, Pekar is deserving of topping this list since he's sure to go much higher than I previously had him ranked at No. 99 — even if he ends up in the 50s or 60s.
2) Alec Regula (RHD, USA, London OHL)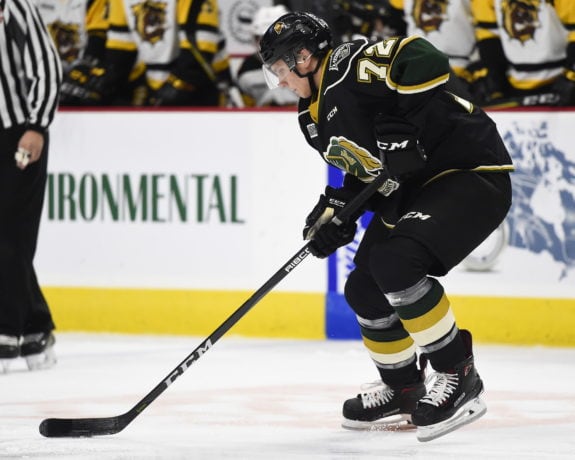 JUNE RANKING: 70
MAY RANKING: Not Ranked (outside the top 100)
VARIATION: +31
ANALYSIS: Regula had been on my radar for months — on the bubble for my top 100 — but I finally took the plunge on him and some say No. 70 is still too low. I had Regula mocked at No. 85 and a few people reached out to say he should be higher — with their opinions ranging from 40s to 60s. It makes sense, Regula is a rare right-handed defender with size and strong offensive instincts, even if he didn't put up big numbers in his draft year while playing second fiddle to Evan Bouchard in London. Some believe Bouchard will make the leap to the NHL next season, leaving Regula as the featured defenceman in London, with the potential for a huge breakout on a highly skilled team. That's entirely possible and NHL teams might also be anticipating that scenario, so keep Regula in mind as a draft riser.
3) Nikolai Kovalenko (RW, Russia/USA, Loko Yaroslavl MHL)
JUNE RANKING: 76
MAY RANKING: NR
VARIATION: +25
ANALYSIS: The son of the Russian tank — former NHL winger Andrei — Kovalenko enjoyed a strong finishing kick and was dominant at times during that Black Sea Cup to close out his draft year. Kovalenko plays bigger than he is and has a skill-set that should translate well to North America. The bloodlines help too and Kovalenko certainly belongs on this list as a riser — as a potential second- or third-round pick. I would tell you where I have Kovalenko going in my mock, but I'd rather you take a look for yourself.
4) Liam Foudy (C, Canada, London OHL)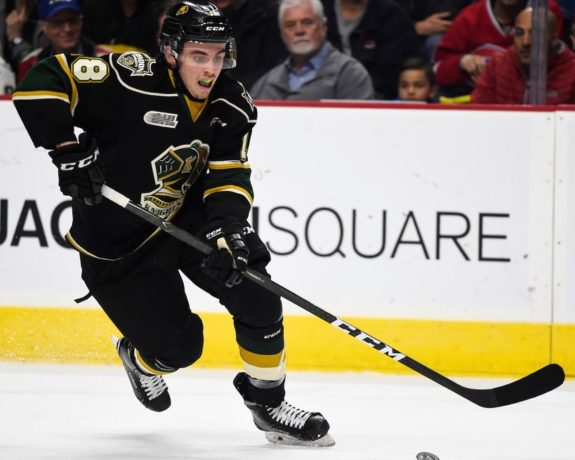 JUNE RANKING: 36
MAY RANKING: 57
VARIATION: +21
ANALYSIS: With the game getting faster and faster, Foudy's speed is getting him plenty of consideration as a first-round pick — even if most still have him mocked somewhere in the second round. Foudy's stock is definitely on the rise thanks to a strong second half and a few impressive sequences at the world under-18 tournament. A teammate of Regula in London, Foudy should also have a stellar draft-plus-one campaign — perhaps similar to Morgan Frost in terms of increasing his point total. Frost, a somewhat surprising first-rounder last year (27th overall), went from 62 to 112 points in the OHL. Foudy only produced 40 points in his draft year, but that stat-line included 24 goals, so there is potential to post a big number next season. Don't be surprised if some team reaches for Foudy, as a riser, in the first round.
5) Jay O'Brien (C, USA, Thayer High School)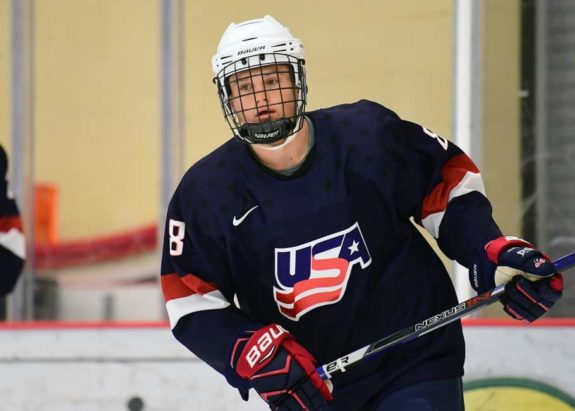 JUNE RANKING: 50
MAY RANKING: 60
VARIATION: +10
ANALYSIS: O'Brien apparently made a strong impression at the combine and sold some scouts on his first-round potential. Yes, O'Brien could be a candidate to go in the top 31 and might have been a better "reach" than Pekar, who I had ranked one spot ahead of O'Brien (49 to 50). Wanting to include a surprise pick or two in my mock — a reach, as they say — I did consider O'Brien before going with Pekar, so I wouldn't be shocked if that came to fruition. In saying that, high-schoolers like O'Brien are always difficult to rank since they aren't playing against top-level competition in their draft year. I feel No. 50 represented a good rise for O'Brien, from No. 60, but I totally could have taken a bolder approach and slotted O'Brien at No. 40 — or even somewhere in the 30s. I wouldn't be surprised if O'Brien was in (or very near) the top 31 for Bob McKenzie's final rankings, to be revealed on Monday (June 18). The upside is there with O'Brien and it sure sounds like he's going to be a riser.
6) Ty Dellandrea (C, Canada, Flint OHL)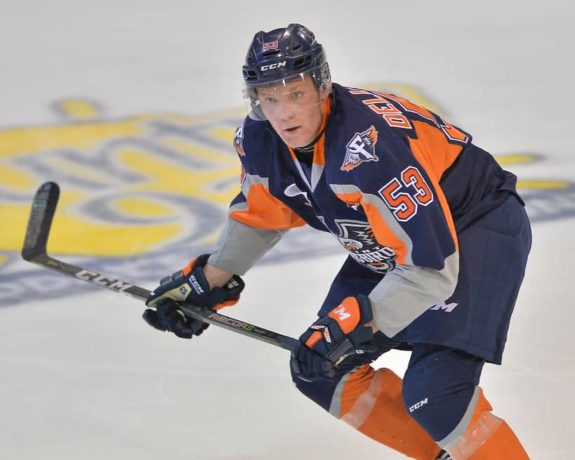 JUNE RANKING: 30
MAY RANKING: 39
VARIATION: +9
ANALYSIS: Dellandrea might prove to be the best of that OHL bunch ranked in the 20s and 30s — a group that also includes Akil Thomas (29), Serron Noel (35), Foudy (36) and Ryan McLeod (37). In hindsight, with another week to think about my final rankings, I would have slotted Dellandrea ahead of Thomas, who I may have dropped to No. 34 to start that run of OHLers. Dellandrea put up really good numbers on a really bad Flint team, so his ability to produce without a quality supporting cast should bode well for Dellandrea becoming a riser on draft day and for his chances of cracking the first round. I'm now thinking it's more likely than not that Dellandrea gets selected somewhere in the 20s, with an outside shot that some team takes him in the teens.
7) Jake Wise (C, USA, NTDP U18)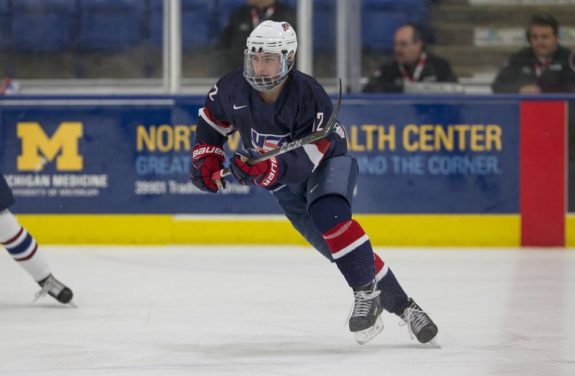 JUNE RANKING: 31
MAY RANKING: 37
VARIATION: +6
ANALYSIS: Wise squeaked back into the first-round range for my final rankings — a nice little rise from May — but I think he could go even higher in the draft. In my mock, Wise was my other big reach besides Pekar. Spoiler alert, I had Wise going at No. 18 to Columbus, and I still don't think that is as farfetched as others seem to believe. A lot of people forget that Wise was once considered a top-10 lock and a candidate to go first overall in 2018. The talent has always been there — and is still there — but Wise suffered an injury setback, missing the first half of his draft year and seemingly getting surpassed by many in the eyes of the masses. Reality is, we live in a "what have you done for me lately" world but, even then, I would argue that Wise enjoyed a strong finish to his draft year, posting some impressive second-half numbers and looking good again at the U18s. Of course, his numbers still look low at first glance because of that missed time, but Wise could be a steal anywhere in the second round, which is probably where he'll end up for my "consensus last-minute mock." But in my mind, Wise is a riser and should be a first-round pick.
8) Jakub Skarek (G, Czech Republic, Dukla Jihlava)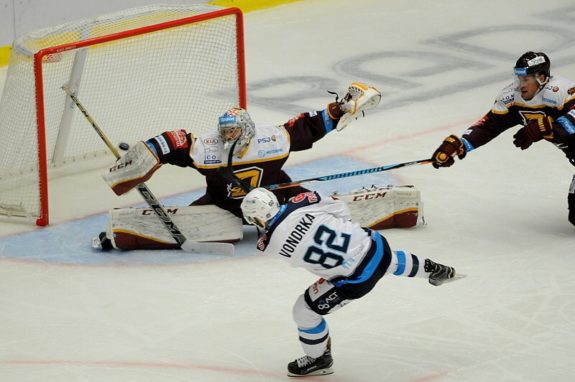 JUNE RANKING: 71
MAY RANKING: 91
VARIATION: +20
ANALYSIS: Skarek is back to being my top goalie for 2018 and I still think there's a good chance that he'll be a second-round pick, especially with so many teams having several selections in the top 62. This isn't seen as a good year for goalies and Skarek's stock dropped after a disappointing World Juniors — he was getting first-round hype heading into the season — but all things considered, I bumped Skarek back up my rankings based on my belief that he possesses starter potential for the future and should be capable of rebounding once the weight of getting drafted is off his shoulders.
9) Alexander Alexeyev (LHD, Russia, Red Deer WHL)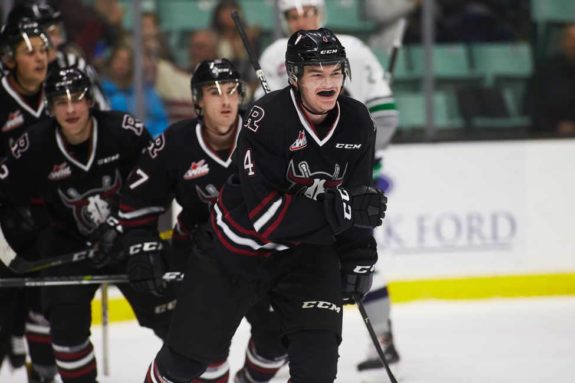 JUNE RANKING: 33
MAY RANKING: 50
VARIATION: +17
ANALYSIS: Alexeyev is a big workhorse who projects as a pretty "safe" pick to become a top-four defenceman in the NHL within a couple years. While some teams prefer "upside", others will be happy to go with "safe" at the end of the first round or start of the second round. Alexeyev isn't a riser in the same sense as the first seven names on this list, more so just a riser from my May rankings where I clearly had him too low at No. 50. Alexeyev isn't viewed as a riser by other scouts since most already had him in this range — somewhere in the 30s.
10) Jared McIsaac (LHD, Canada, Halifax QMJHL)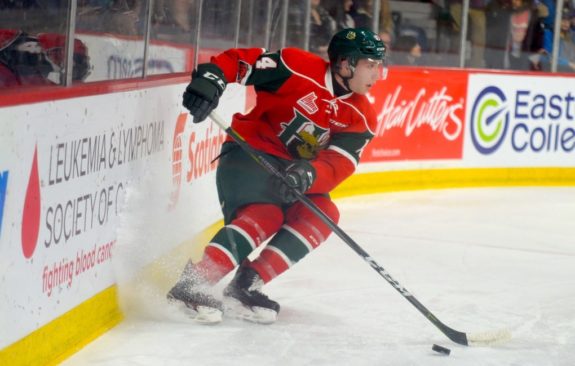 JUNE RANKING: 28
MAY RANKING: 44
VARIATION: +16
ANALYSIS: Ditto for McIsaac, who wouldn't be labelled a riser at No. 28, if not for being ranked too low in May at No. 44. McIsaac was named one of Canada's top-three players at the under-18 tournament, making for a good end to an up-and-down draft year that started with McIsaac as a lock for the first round and in the conversation for the top 10. McIsaac needed that U18 accolade to stay in the mix for the first round, though it wouldn't be shocking if he slipped out of the top 31. But, as mentioned, I had McIsaac far too low at No. 44 and needed to make amends for my final rankings.
RELATED: THW Guide to 2018 NHL Entry Draft
Honourable Mentions
NOTE: Here are some more prospects who made a notable rise in my final rankings, listed from highest to lowest variation. It should also be noted that these first two were regrettable omissions from my May list and should have been ranked in roughly the same range.
Filip Johansson (RHD, Sweden, Leksands J20)
JUNE RANKING: 54
MAY RANKING: NR
VARIATION: +47
Philipp Kurashev (C, Switzerland, Quebec QMJHL)
JUNE RANKING: 60
MAY RANKING: NR
VARIATION: +41
Martin Fehervary (LHD, Slovakia, Oskarshamn Sweden)
JUNE RANKING: 67
MAY RANKING: NR
VARIATION: +34
Cam Hillis (C, Canada, Guelph OHL)
JUNE RANKING: 62
MAY RANKING: 82
VARIATION: +20
Ivan Morozov (C, Russia, Mamonty Yugry, MHL)
JUNE RANKING: 53
MAY RANKING: 70
VARIATION: +17
Curtis Douglas (C, Canada, Windsor OHL)
JUNE RANKING: 85
MAY RANKING: NR
VARIATION: +16
Chase Wouters (C, Canada, Saskatoon WHL)
JUNE RANKING: 87
MAY RANKING: NR
VARIATION: +14
Aidan Dudas (C, Canada, Owen Sound OHL)
JUNE RANKING: 51
MAY RANKING: 65
VARIATION: +14
Dmitry Zavgorodniy (RW, Russia, Rimouski QMJHL)
JUNE RANKING: 58
MAY RANKING: 72
VARIATION: +14
David Gustafsson (C, Sweden, HV71 J20)
JUNE RANKING: 38
MAY RANKING: 48
VARIATION: +10
Alex Steeves (F, USA, Dubuque USHL)
JUNE RANKING: 91
MAY RANKING: NR
VARIATION: +10
Tyler Weiss (C/LW, USA, NTDP U18)
JUNE RANKING: 75
MAY RANKING: 84
VARIATION: +9
Jordan Harris (LHD, USA, Kimball Union High School)
JUNE RANKING: 92
MAY RANKING: NR
VARIATION: +9
Spencer Stastney (LHD, USA, NTDP U18)
JUNE RANKING: 68
MAY RANKING: 76
VARIATION: +8
Jakub Lauko (C, Czech Republic, Chomutov)
JUNE RANKING: 40
MAY RANKING: 46
VARIATION: +6
Semyon Der-Arguchintsev (C/RW, Russia, Peterborough OHL)
JUNE RANKING: 95
MAY RANKING: NR
VARIATION: +6
Filip Kral (LHD, Czech Republic, Spokane WHL)
JUNE RANKING: 93
MAY RANKING: 99
VARIATION: +6
Jonatan Berggren (C/W, Sweden, Skelleftea J20)
JUNE RANKING: 20
MAY RANKING: 25
VARIATION: +5
Jesse Ylonen (RW, Finland/USA, Espoo United)
JUNE RANKING: 42
MAY RANKING: 47
VARIATION: +5
Ty Emberson (RHD, USA, NTDP U18)
JUNE RANKING: 57
MAY RANKING: 62
VARIATION: +5
Pavel Gogolev (RW, Russia, Peterborough OHL)
JUNE RANKING: 96
MAY RANKING: NR
VARIATION: +5
Martin Kaut (RW, Czech Republic, Pardubice)
JUNE RANKING: 19
MAY RANKING: 23
VARIATION: +4
Rasmus Sandin (LHD, Sweden, Sault Ste. Marie OHL)
JUNE RANKING: 25
MAY RANKING: 29
VARIATION: +4
Jonny Tychonick (LHD, Canada, Penticton BCHL)
JUNE RANKING: 27
MAY RANKING: 31
VARIATION: +4
Bode Wilde (RHD, USA/Canada, NTDP U18)
JUNE RANKING: 17
MAY RANKING: 20
VARIATION: +3
K'Andre Miller (LHD, USA, NTDP U18)
JUNE RANKING: 18
MAY RANKING: 21
VARIATION: +3
Dominik Bokk (RW, Germany, Vaxjo J20)
JUNE RANKING: 21
MAY RANKING: 24
VARIATION: +3
Noah Dobson (RHD, Canada, Acadie Bathurst QMJHL)
JUNE RANKING: 8
MAY RANKING: 10
VARIATION: +2