In today's NHL rumors rundown, could the Montreal Canadiens trade Jeff Petry to the Dallas Stars? Are the Montreal Canadiens also looking at moving Casey DeSmith? Meanwhile, it sounds like Ryan Ellis' career with the Philadelphia Flyers and in the NHL might be over. Finally, the Toronto Maple Leafs signed Martin Jones. Are they going to be able to keep him?
Is Petry of Interest to the Dallas Stars?
Chris Johnston suggests the Dallas Stars as a potential landing spot for Jeff Petry. According to Johnston, Petry's new contract value shines in the deal that took place between the Canadiens, San Jose Sharks, and Pittsburgh Penguins, with the possibility of a 50% contract retention, reducing the cost of his contract to just over $2 million. This attractive offer could draw interest from several teams despite Petry's age, as discussed on the recent CJ Show episode.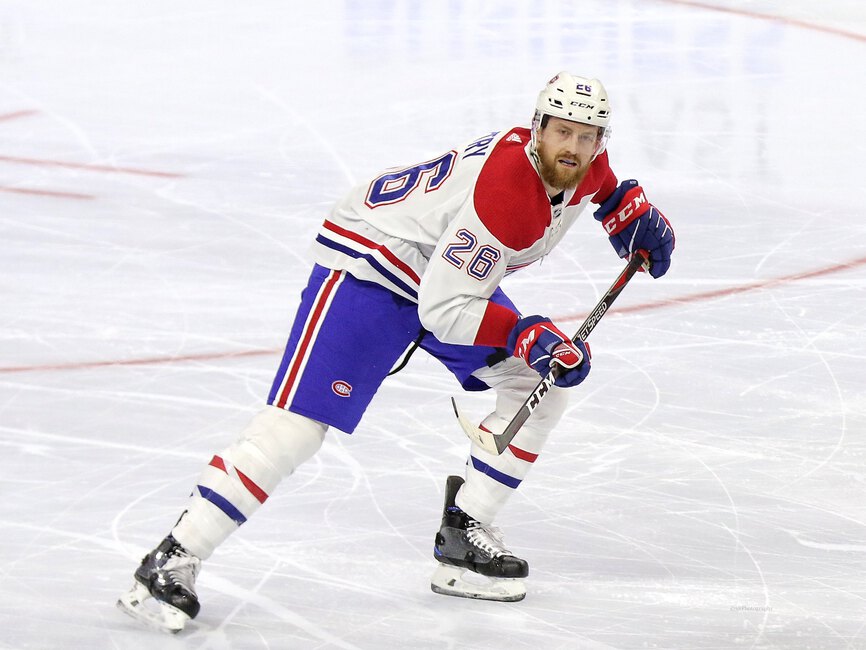 A team to keep an eye on is Dallas," said Johnston. "I know they're a team that has had an interest in Jeff Petry over the last couple of years. The Stars, like a lot of teams in the league, don't have endless cap space. There's been a multitude of reasons why they haven't been able to act on a trade prior to now. All of a sudden, the conditions are in place. Maybe the trade doesn't happen by training camp, maybe it doesn't happen by the start of the regular season. But certainly, in these next few months, the Canadiens can look at what's out there for Petry, and whether it makes sense to move him or not."

The Canadiens have quietly stocked up on assets in trades where they take on pieces that net them solid picks and prospects. If they can help the Stars get under the cap ceiling while letting Dallas take on Petry's deal, it could be another move where the Canadiens wind up winning the trade.
Silence Surrounding Both Petry and DeSmith Speak Volumes
Both general manager Kent Hughes and players Petry and Casey DeSmith have refrained from addressing media inquiries following the trade that sent them to Montreal. The Canadiens' lack of communication has prompted inquiries regarding the roles Petry and DeSmith will assume in the team's upcoming season.
Related: To Boo Montreal Canadiens Defenseman Jeff Petry or Not
Moreover, this silence has fueled conjecture that either one or both players might be poised for a potential move to another club. As mentioned above, talk of Petry is out there already and with so many goaltenders now in Montreal, it makes sense that Hughes might try to move someone versus losing a player on waivers.
Is Ryan Ellis Done in the NHL?
Defenseman Ryan Ellis, acquired by the Philadelphia Flyers on July 17, 2021, endured a brief four-game stint before succumbing to injury. Since November 13, 2021, he has remained sidelined due to a torn psoas muscle in his back. Despite earnest efforts to stage a comeback, the prospects of resuming his playing career appear grim, as stated by Keith Jones, the Flyers' president of hockey operations.
---
Latest News & Highlight
---
Jones acknowledged the uncertainty surrounding Ellis' potential return, drawing from his own experience of facing a similar situation at the twilight of his career. He noted, "I think that he's exhausting everything that he can in order to play, like we all do. You never want to have the void of not doing something that you'd love to do. And he did it very effectively when he played, so it's got to be really difficult."
Maple Leafs Add Martin Jones, Will They Place Him on Waivers?
In a strategic move, the Toronto Maple Leafs have secured goaltender Martin Jones on a budget-friendly one-year contract worth $875K. With a focus on bolstering their goaltending depth, the Leafs aimed to provide coverage for Ilya Samsonov and Joseph Woll. Given the developmental status of their other prospects, the team opted for a seasoned player.
The Leafs reportedly explored options with Brian Elliott, indicating their preference for an experienced third-string netminder. Speculation arises as Steve Dangle, from SDPN, speculates that either Woll or Jones could face waivers, highlighting the potential risk of losing Woll due to a probable claim. The more likely option is that Jones is placed on waivers in October and Scott Wheeler of The Athletic adds that a waiver claim on Jones might transpire, leaving the Maple Leafs, once again, without a veteran third-string option.