In today's rumor rundown, we try to wrap our heads around what's actually happening with the Pittsburgh Penguins, another goalie could follow Chad Johnson on the waiver wire, and the Minnesota Wild are shopping a forward. The Sharks might go after a star from the Maple Leafs and, might the Bruins and Oilers be working on a pretty big trade?
Clarification on Kessel and the Penguins
There is a great deal of back and forth when it comes to what's really going on in Pittsburgh. There were rumors Phil Kessel was available, then speculation he wasn't. The team was out of the playoff race, now they're back in it. General manager Jim Rutherford wants to make trades, but instead might be patient… It's tough to know what to expect from the Penguins these days.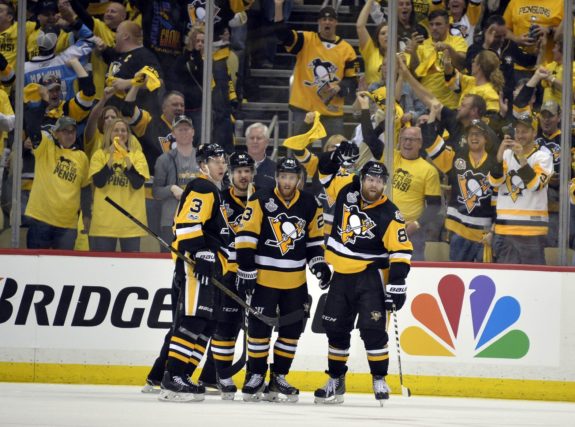 The latest comes from Jason Mackey of the Pittsburgh Post-Gazette who suggested the Penguins might trade a defenseman when Justin Schultz returns from injury. This includes potentially moving defenseman Olli Maatta if the right deal is out there for him.
Also, while on TSN 1200, Bob McKenzie said that while the Penguins were struggling Rutherford made it known that Crosby and Malkin are their only untouchables and anyone else could be available for the right price. This is where the speculation over Kessel came from and that status hasn't changed. Anyone not named Malkin or Crosby could be available in the right deal.
Related: NHL Rumors: Karlsson, Parayko, Coyotes, More
Ducks Claim Chad Johnson off Waivers
On Tuesday, the Anaheim Ducks claimed Chad Johnson off waivers from the St. Louis Blues, according to Elliotte Friedman of Sportsnet. What this means for either Ryan Miller or Johnson long-term is uncertain since both are free agents at the end of the season. But, for now, Johnson helps while Miller is out with an injury.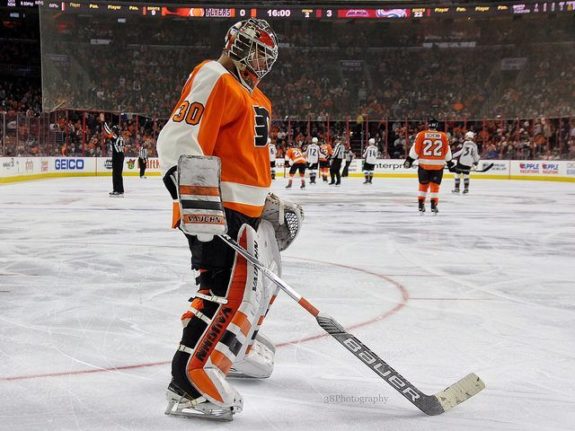 It didn't take long for Johnson to get claimed and another goaltender might not be far behind him.  Dave Isaac of the Cherry Hill Courier-Post suggests that Flyers goalie Michal Neuvirth could be waived once Brian Elliott returns from his groin injury. Waiving Neuvirth would open up an opportunity for Anthony Stolarz to remain with the team.
Issac writes:
Yes, there's a new general manager in town who has to form his own opinion, but how many chances does Neuvirth get? The leash has to be short on his injury history alone and his performance Sunday did him no favors. It's believed that Hextall tried to trade Neuvirth over the summer and couldn't find any takers. That probably doesn't change now unless Arizona finds itself totally desperate after news that Antti Raanta could miss the rest of the season. It's a tough business, but with the Flyers trying desperately to get back to the playoffs, he can't be one of their top two options. He might be a waiver candidate.

source – 'Flyers Mailbag: The search for a goalie marches on' – Dave Issac – Courier Post – 12/10/2018
Related: NHL Rumors: Pietrangelo, Duchene, Matthews, More
Wild Shopping Charlie Coyle
According to Michael Russo of The Athletic, the Minnesota Wild are shopping forward Charlie Coyle who has 13 points through 29 games. Russo notes that three Atlantic Division teams are believed to have shown some level of interest in Boston, Montreal, and Ottawa.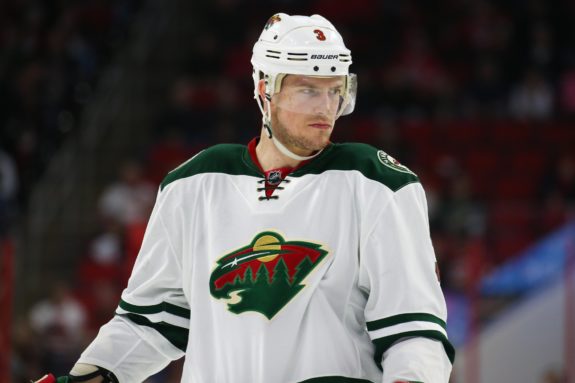 Russo writes:
Now, that really shouldn't come as a shock considering how tough a season he had last year and how hopes of a bounce-back season have dwindled with a four-goal, nine-assist start to this season. It is believed that Eastern Conference teams Ottawa, Montreal and Boston have at least shown interest and are watching Coyle closely. The Canadiens have shown interest in prior years, too.

source – 'Russo: Goaltending crisis, Koivu's hurt, team's swooning — this will be Wild GM Paul Fenton's first big test' – Michael Russo – The Athletic – 12/07/2018
Sharks Interested in Mitch Marner?
The Mercury News is suggesting if Erik Karlsson decides not to re-sign with the San Jose Sharks, general manager Doug Wilson might consider pursuing Toronto Maple Leafs winger Mitch Marner. Karlsson out would leave the Sharks with a ton of cap room to play and the Maple Leafs are clearly going to have months of hard work head trying to fit everyone in under the salary cap.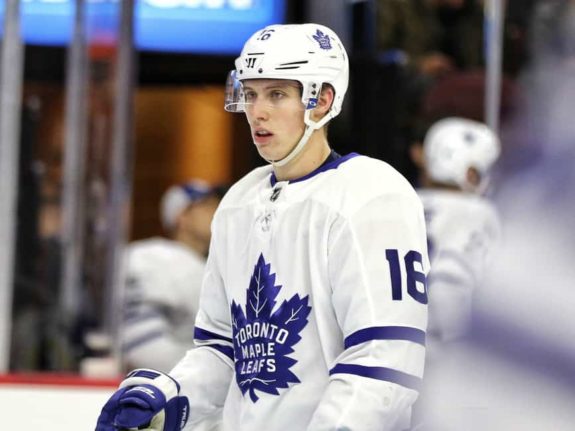 Marner would add youth, speed, and playmaking skills to the Sharks' forward lines which for some reason has struggled this season. Keeping in mind, if such a move was not done via trade, the Sharks would have to go the offer sheet route which is much less likely and far more difficult to make work. This is especially true for the Sharks who would need to make trade to reacquire the draft picks needed to even table an offer.
Paul Gackle writes:
At this point, the assumption is that the Maple Leafs will do everything possible to hang onto Matthews. If that's the case, the Sharks could take a run at Marner, either through trade or offer sheet. The latter would be costly and require some real finagling.

source – 'Sharks ramblings: Erik Karlsson, Mitch Marner and a possible Plan B' – Paul Gackle – The Mercury News – 12/10/2018
Related: NHL Rumors: Kessel, Gagner, Expansion News, More
Torey Krug for Ryan Nugent-Hopkins?
There were reports the Bruins were scouting the Oilers vs. Flames game on Sunday and Matt Porter of the Boston Globe wonders if a potential trade that includes defenseman Torey Krug for center Ryan Nugent-Hopkins is possible. Both players would fill needs for the respective teams and Porter points out the Oilers had some interest in Krug last summer.
Porter suggests Boston sweetening the pot by including a promising forward such as Jake DeBrusk, Anders Bjork, Jakob Forsbacka Karlsson, Ryan Donato or Danton Heinen.
For these rumors and more, check out The Hockey Writers Podcast