It may have taken longer than yours truly was hoping but it looks as though the Edmonton Oilers have finally come to their senses and shifted Leon Draisaitl over to the wing. To be fair, it appeared as though Todd McLellan was leaning towards doing just that during training camp but an ill-timed injury to Drake Caggiula forced his hand and put the move on hold. While the duo of Connor McDavid and Cam Talbot carried much of the load early on, that was never going to be a viable long-term solution and everyone knew it.
Draisaitl with the game-winning goal, 20:16 of ice time, 10/16 in the circle.

— Reid Wilkins (@ReidWilkins) December 4, 2016
After watching most of his players struggle to put points on the board with any kind of consistency during the month of November, the Oilers bench boss could not wait any longer before revisiting his original plan. Be it alongside the struggling Ryan Nugent-Hopkins or lining him up next to McDavid, moving Draisaitl was an absolute must if the plan was to keep this group in the playoff hunt in the Western Conference. By no means is that to suggest he get no time at centre but rather that he get as many looks as possible with the better players on the roster…be it down the middle or on the wing.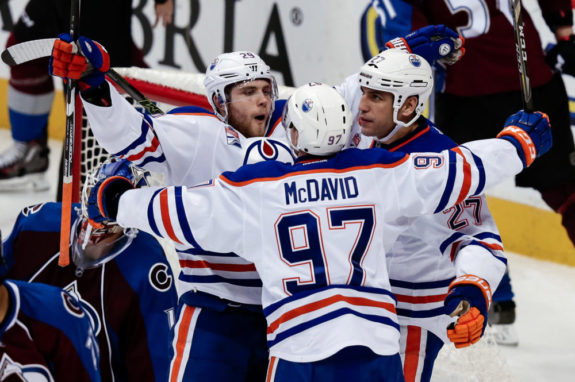 McDavid or Nugent-Hopkins
Well, that breaking point came during the third period of last week's 4-2 loss to the Toronto Maple Leafs, when McLellan decided to throw Draisaitl and McDavid together and let the chips land where they may. While the Oilers have played just over seven periods of hockey since making the switch, the club has scored nine times in two games en route to victories over the Winnipeg Jets and Anaheim Ducks. In the blink of an eye, this group has suddenly found its finish around the net and started to score on the power play following a difficult stretch.
While the league's leading scorer remains the straw that stirs the drink, guess who has led the way on the scoresheet over the last two games? After being fed inferior linemates for much of the season, Draisaitl wasted little time at pouncing on the opportunity he was handed. Last night's overtime winner against Ducks gave the talented German four points over his last two games and ten points over his last seven. In the span of just over a week, the third-overall selection of the 2014 NHL Entry Draft has gone from a player this coaching staff was needing more from, to a player with 21 points in 26 games and a team-leading 15 points on the man advantage.
Draisaitl continues strong play of late, GWG in OT, 7-6-13 last 10 GP. Hard fought win for Oil

— Bob Stauffer (@Bob_Stauffer) December 4, 2016
Funny what happens when a guy with Draisaitl's skill-set is actually given linemates with an ability to process the game at his level. Let's not forget, prior to this season, his best stretch as an Oiler came playing with Taylor Hall and one of Nugent-Hopkins and Teddy Purcell in 2015-16. With all due respect to the players this kid has skated alongside in Edmonton's first 24 games, none of them come close to seeing what the likes of Hall, never mind McDavid, sees out on that ice and the results speak for themselves.
Draisaitl Still Needs Help
In my mind, asking a 21-year old to carry a scoring line on a team like the Oilers, with less than 140 games of experience under his belt was not only unrealistic but downright unfair. Draisaitl is still getting his feet wet at this level and in order for him to continue and develop into the kind of player this organization envisions him becoming, being put into situations to succeed is a must. The moment Peter Chiarelli decided to pull the trigger on the Hall for Adam Larsson swap was the moment he should have went out and found an impact winger or legit third line centre to help fill the void…in addition to the signing Milan Lucic to a seven-year deal via free agency.
Again, luckily the schedule and aforementioned performances from their No. 1 goalie and franchise player kept it from biting them. At this time of year, the chances of a general manager being able to go out and find reinforcements in today's trade market are almost non-existent, which makes the shifting of Draisaitl all the more important. Thankfully the combination of Caggiula and Mark Letestu have shown signs of at least being able to hold their own in bottom six roles on most nights. Hince, giving McLellan the wiggle room to continue "experimenting" with the lineup construction he had in mind since the first day of training camp.
Leon Draisaitl with his overtime winner now moves into Top 20 of NHL scoring.

— Terry Jones (@byterryjones) December 4, 2016
No matter how you slice it, in order for this year's edition of the Edmonton Oilers to have any chance of ending their decade-long absence from the playoffs, they are going to have to use their trio of young centres inside the top six. Like it or not, that is the situation this organization now finds itself in and it looks as though Leon Draisaitl has every intention of making it next to impossible for them to play him anywhere else in the lineup.