Entering the 2022-23 season, most felt the Edmonton Oilers were an improved group after an already very successful 2021-22 outing, in large part due to their change of goaltenders. A duo of Jack Campbell and Stuart Skinner felt like a clear upgrade to almost everybody; however, through the first quarter of the 2022-23 campaign, it has been anything but.
Related: Oilers' Recent Injuries Represent Opportunities For Depth Players
While Stuart Skinner has been as good as anyone could have hoped, his counterpart in Jack Campbell has been even worse than his biggest critics could have imagined. After Thursday night's 5-3 loss to the Minnesota Wild, he now owns a ghastly 4.12 goals against average (GAA) along with a .872 save percentage (SV%), numbers that would have been ugly in the 1980s, let alone now.
As much heat as Mike Smith took at times during his tenure as an Oiler, there would be no one complaining if he were somehow to return and take over as this team's starting netminder. That, of course, won't happen, but it is clear they miss him for a multitude of reasons. Here are the main three.
Puck Handling
Even as Smith's career came into its late stages, one thing that never diminished was his ability to play the puck. While he was more active in that regard than some would have preferred, no one could deny just how good he was at it. In fact, it often times felt like the Oilers had a third defenseman back there with him in between the pipes, and it often resulted in plenty of seamless breakouts.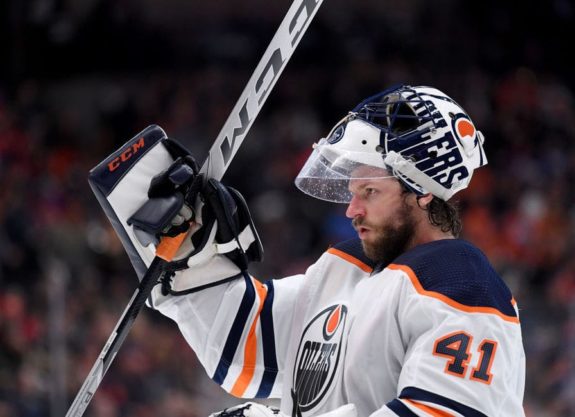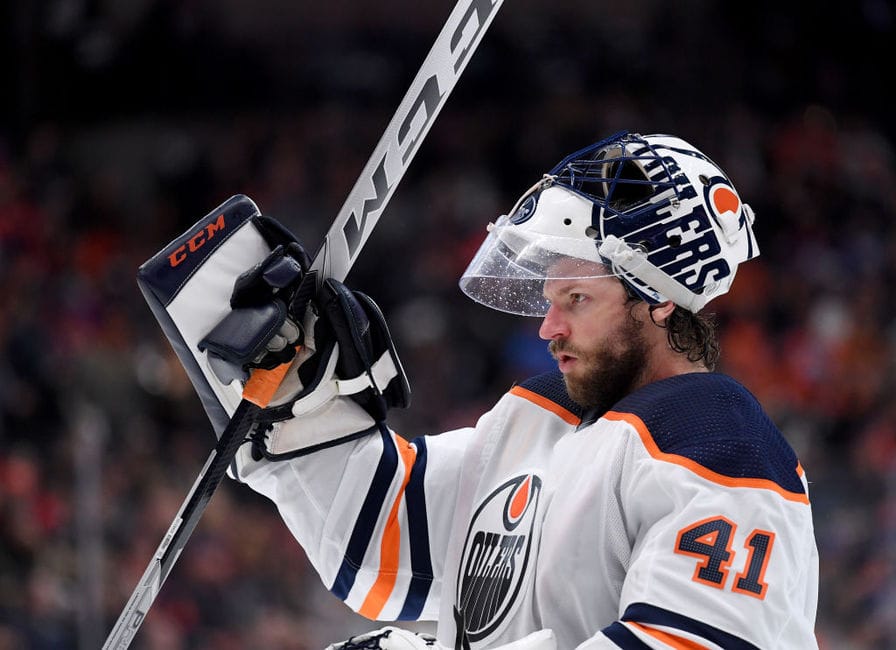 That puck-playing ability is simply not there with Campbell, who at times, and particularly in his latest start against the Wild, appeared out of sync with his defenseman when he came to play the puck behind the net. Several sloppy plays on his end nearly came back to bite him, and it is far from the first time we have seen him struggle in this area as a member of the Oilers.
That said, it isn't fair to blame this specifically on Campbell, as his defensemen also have to do a better job both communicating and supporting him. He clearly hasn't meshed with his new teammates just yet, but even when, or if, he does, it is a clear downgrade in terms of puck-handling ability to what they had just a season prior in Smith.
Campbell Lacks Confidence
While there were often extreme highs and lows with Smith, it was always clear his confidence level was never shaken. He never appeared rattled in post-game press conferences after a bad performance, and always seemed to be able to shake off a bad goal the second it went by him. That is far from the case with Campbell.
---
Latest News & Highlights
---
With Campbell, his poor body language after every goal allowed makes it clear as day he has very little confidence in his game right now. It not only reflects poorly on him, but doesn't portray a very confident vibe to his teammates or the fan base. The same can be said in his post-game interviews, where he often appears to be lost for words. This isn't meant as a dig, as you can tell he truly cares, but there is a distinctive difference between the mindset of him and Smith.
Smith was quite extraordinary in the fact that he could go out and allow seven goals in one start, and then have a 30-plus save shutout the very next. He had an incredible ability to keep his mind on the present, and quickly forget about any potential bad games and/or goals from the past. That is an extremely important trait to have as a netminder, and despite some of Smith's faults, there were few as good as him when it comes to the mental side of the game.
Campbell is the polar opposite, and it isn't a new thing. During his time with the Toronto Maple Leafs, there were several stories about how he tends to be far too hard on himself. This not only means he has trouble flushing things from his memory, but allows it to drag on to the point that it completely removes his confidence. It isn't a good quality to have when you are being relied upon as a number one goaltender in the NHL.
Oilers Lack Leadership
By all accounts, there are few players as universally loved in a dressing room than Campbell. His former Maple Leafs teammates all raved about how good of a locker room guy he was when he was with them, and were genuine in wishing him all the best when he signed his contract with the Oilers. Since joining his new team, the ringing endorsement of his new teammates has continued.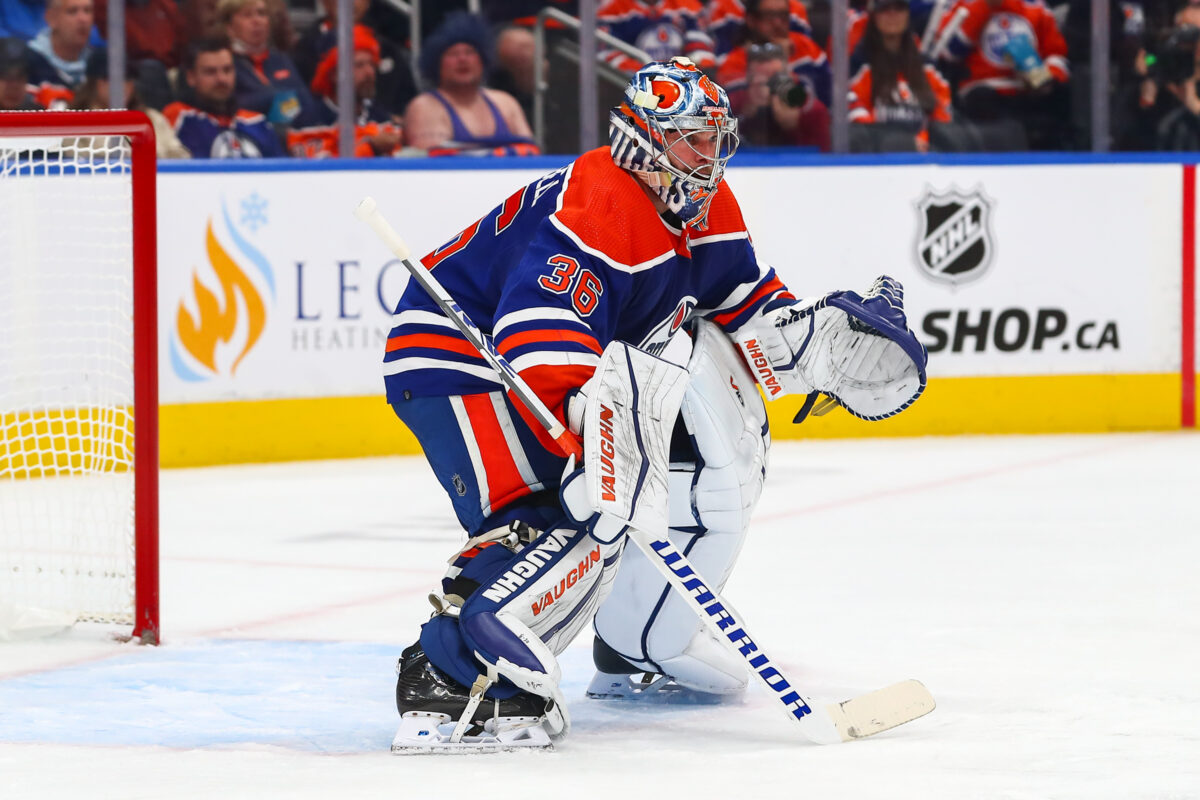 That said, being a likeable guy and a great teammate doesn't necessarily make you a leader, which Smith was. In order to be a leader, you have to be truly confident in what you say, and back it up on the ice. While Smith was certainly inconsistent at times, you could always count on him to battle each and every time he was put in between the pipes, as he was as fiery of a competitor as there is.
You may also like:
That intensity Smith brought is something Campbell lacks, as he is a much quieter personality. Unlike Smith, he doesn't seem the type to be able to call out his teammates if they aren't playing their best hockey. Not having that leadership from Smith, as well as another veteran from last season in Duncan Keith, has clearly hurt this Oilers team.
Oilers Have No Choice But to Stick with Campbell
Given how poorly things have gone this far, many are already trying to come up with ways for the Oilers to offload Campbell and his contract. Unfortunately, that isn't a very realistic option, especially in the midst of the regular season. At this point, the only thing Jay Woodcroft and his coaching staff can do is sit and hope their $25 million man is able to figure things out. The good news is that he has proven to be very streaky in the past. Perhaps a hot stretch will soon be on the horizon.
---