The Florida Panthers are in their first Eastern Conference Final since 1996. They are currently up 2-0 on the Carolina Hurricanes after stealing both games on the road in Raleigh.
One of the biggest reasons the Cats are in the position they're in right now is because of their starting goaltender, Sergei Bobrovsky. Since coming in relief for Alex Lyon in Game 3 in the first round against the Boston Bruins, he's been a brick wall in net. As a result of his performances, he's earning every penny of the $10 million average annual value contract he signed back in the summer of 2019.
Bob's Back on the Case
"Bob" has easily been one of the hottest goaltenders in the postseason. Through the playoffs, he has a .931 save percentage (SV%), a 2.32 goals-against average (GAA) and he's won nine games through 11 starts and 12 games played.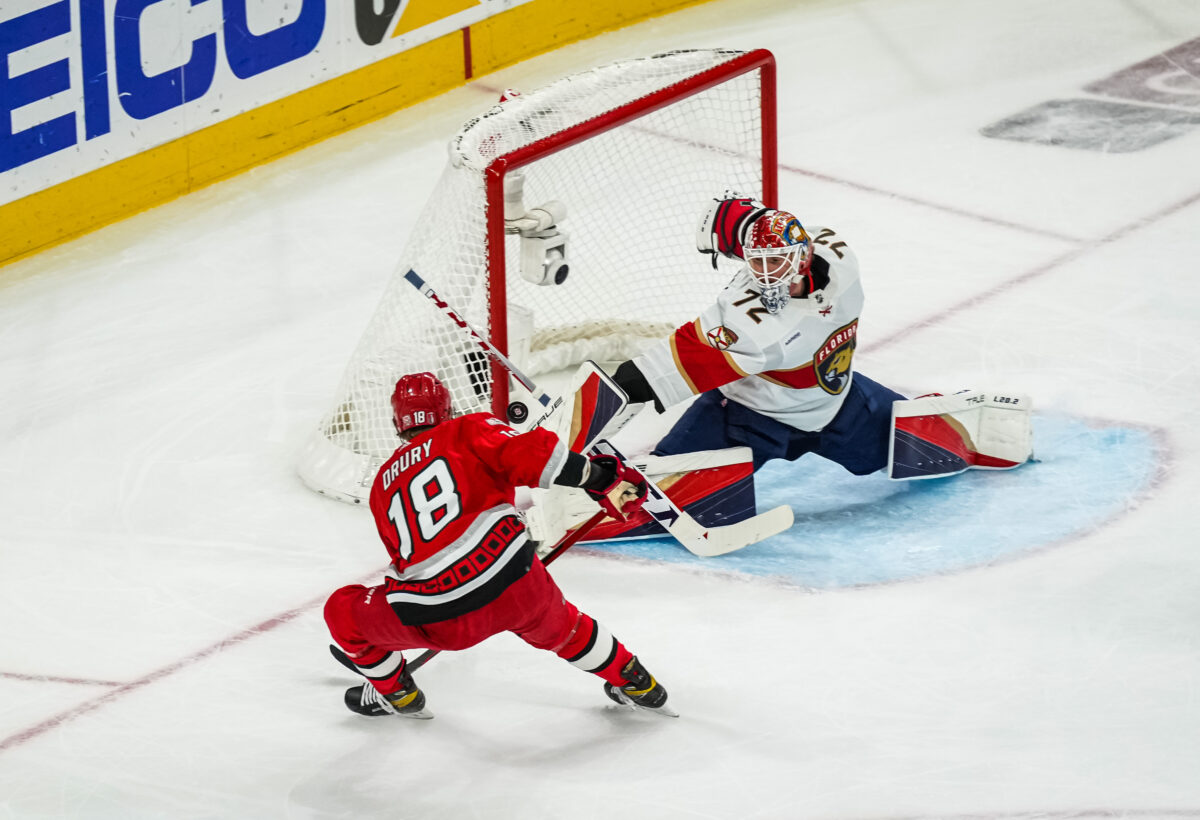 In two of his last three games, he's faced over 50 shots on goal and has made over 50 saves with 52 against the Toronto Maple Leafs in a Game 5 win and a massive 63-save performance in a quadruple overtime win against the Canes in Game 1 of the Eastern Conference Final. In both of those games, his SV% was above .960. In addition, his TOI combined between those was 215:15. That is nearly three and a half regulation games of hockey.
Related: Panthers Game 1 Win vs. Hurricanes Is an Instant Playoff Classic
It seems like a lot, but a starting goaltender has to be willing to play these kinds of minutes this deep in the postseason. Furthermore, in Game 2 of the Eastern Conference Final, he had a .974 SV%, which was the highest he's had in a single playoff game in his career.
"He's just incredible…Every game, every day, people are talking about him, and he deserves even more than that. He's been our team's backbone."

Panthers' captain Aleskander Barkov on Sergei Bobrovsky
---
Latest News & Highlights
---
Bobrovsky's hot streak is one of the biggest reasons the Panthers have gotten to a point that fans and analysts could not believe they're at.
The Team Thanks Bob for What He Does
If it was not for a couple of jaw-dropping saves and managing to weather the storm in the last two games, the Cats would be either tied or down in the series against the Hurricanes. The team around him is extremely thankful they can say that is not the case.
"We didn't start off great, and he allowed us the time we needed to get going…We knew he was going to hold the fort for us. We don't want to get into the habit. But even if it took us half the game to get going, we knew he was going to stand there and make all the saves to keep it a one-goal game or keep us in reach, and he did that."

Panthers forward Matthew Tkachuk on Sergei Bobrovsky in Game 2 of the Eastern Conference Final against the Carolina Hurricanes
He's finally playing like the two-time Vezina Trophy winner he is, and it's coming at the best time possible for head coach Paul Maurice and his squad.
Bob Looks to Take The Cats Back to the Cup Final
The Cats are just two wins away from potentially their first Stanley Cup Final berth since 1996 and their second appearance in franchise history. If it were to happen, it would be a remarkable turnaround for the team after barely sneaking into the postseason back in April after a rough start.
Related: Florida Panthers Following Lightning's Path to Cup
Because of that, everyone is locked in and does not want to drop out after clawing so hard to get to this point in the playoffs.

 "I'm fortunate to be here and happy to play hockey, playoff hockey."

Sergei Bobrovsky after his win in Game 2 of the Eastern Conference Final
Regardless of when this run stops, the goaltending excellence department, coaching staff and front office can now confidently say that Bobrovsky is their starting goaltender for years to come.