The Florida Panthers have found life in the tight playoff race in the Eastern Conference. They sit just one point ahead of the Pittsburgh Penguins in the final wild-card spot and trail by one point behind the New York Islanders for the top wild-card spot in the East.
According to MoneyPuck.com, the Panthers have an 80% chance to get to the dance. As of now, they control their destiny. Let's take a look at who they're chasing and what they are up against in their attempt to punch their ticket to the 2023 Postseason.
Pittsburgh Penguins
Games Remaining: 12
Points: 78
Regulation and Overtime Wins: 33
The Pens put themselves in a massive hole over the past couple of weeks. They've lost four straight games and six of their last 10, including a blown lead against the New York Islanders 4-3 in overtime on March 9. For a while, they had games in hand on the Cats and points above them. But now, they have the same number of games left as them and are on the outside looking in the playoff bubble.
Related: Montour has been Panther's Best Defenseman This Season
---
Latest News & Highlights
---
The worst part is that it doesn't get any easier for Sidney Crosby and company. While clinging on for life in the playoff hunt, they still have to play one of the toughest schedules in the league, with games left to play against the Boston Bruins, Dallas Stars, Colorado Avalanche, New Jersey Devils and Minnesota Wild. Florida has to jump on this chance given the fact that eight of their next 13 opponents are out of the bubble, with the only potential contender being the Buffalo Sabres.
New York Islanders
Games Remaining: 11
Points: 80
Regulation and Overtime Wins: 36
The Islanders have been nearly the complete opposite of their division rivals in west Pennsylvania. They're on a two-game winning streak, won six of their last 10 and collected points in seven of their last 10. The one thing they share with the Penguins is that they still have tough opponents remaining on their schedule, this includes two matchups against the Tampa Bay Lightning, a meeting with the Toronto Maple Leafs and a game against the Carolina Hurricanes.
Related: Panthers' To-Do List to Reach the 2023 Playoffs
Despite being behind them in points, the Panthers have one small advantage over the team from Long Island. They have two games in hand against them, giving them a chance to pounce if the Isles slip up.
Florida Panthers
Games Remaining: 12
Points: 79
Regulation and Overtime Wins: 34
Florida has been revving it up in their push toward the postseason. They're on a three-game winning streak and have a record of 7-2-1 in their last 10 games. This includes an impressive seven-game home stand in which they collected points in all but one game, a 2-1 loss to the Nashville Predators on March 2.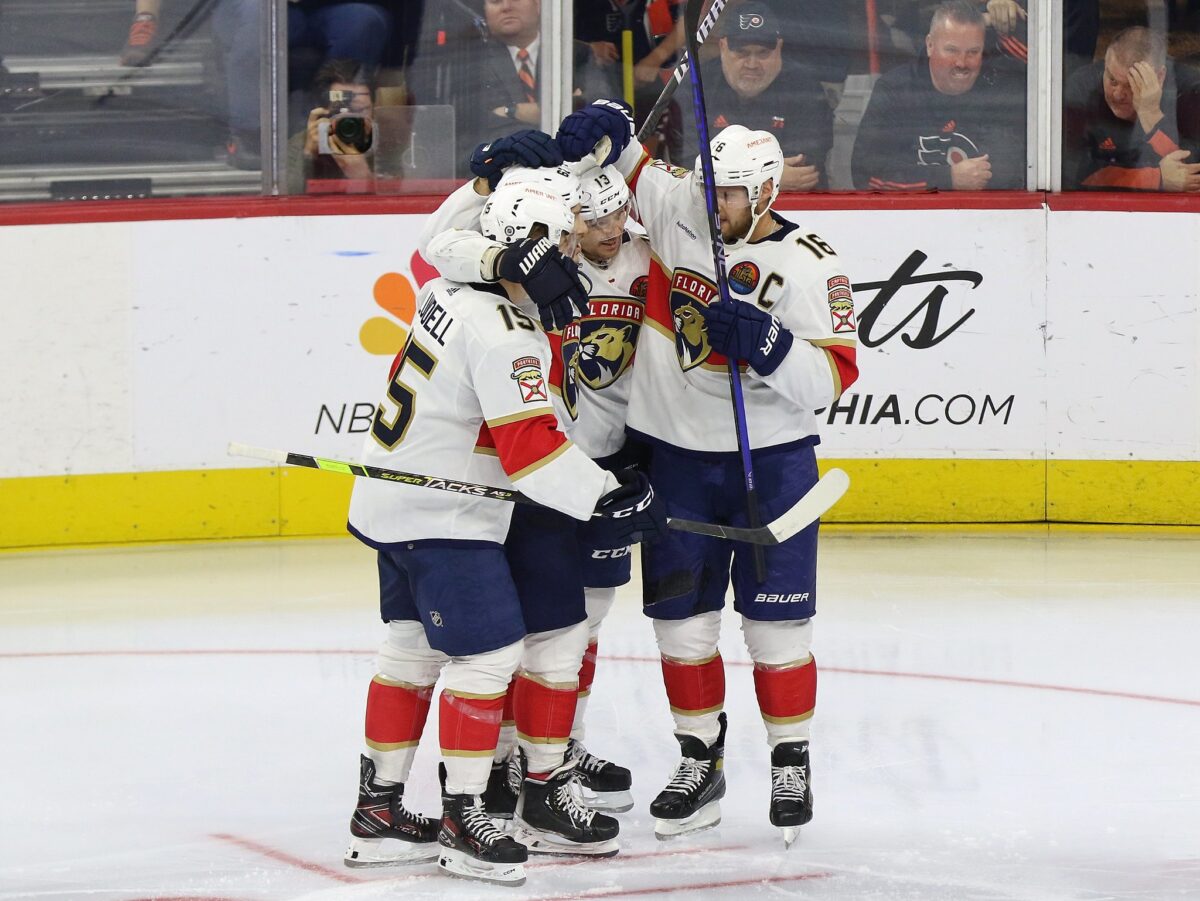 As previously mentioned, eight of their last 13 games are against non-playoff teams. But that does not mean it's an easy task. They still have to play the Maple Leafs three times while also playing the Hurricanes once and the New York Rangers one more time. On the bright side, most of their tougher games are at home. However, these teams are geared towards a deep playoff run and should not be taken lightly.
Can Florida Make some Magic Happen?
If Florida manages to pull it off, it would be their third straight playoff birth, which would be a franchise record for most consecutive appearances. But their work is far from over. While their schedule is easier compared to the other competitors, the Cats have to take this one game at a time. In addition, they have some problems they need to fix, such as their inability to stay out of the box. But the goal remains the same: get to the playoffs.
Everything is in alignment for the South Floridian hockey squad. It's up to them to achieve their goal. If not, it could mean an even crazier offseason than previously anticipated.