When the Calgary Flames selected Mikael Backlund in the 2007 NHL Draft, they probably hoped that he would turn out to be a steady contributor in their lineup. After a decade in the organization, Backlund may have actually exceeded expectations as he's quietly established himself as the club's best center.
In an organization with several prominent centers that are hoped to be long-term assets, Backlund's gradual emergence is a great example of patience in terms of player development.
Slow and Steady Development
After a couple seasons spent bouncing between the Flames and their AHL afilliates, Backlund became a full-time NHLer in the 2010-11 season. Initially, Backlund came into the Flames fold behind a slew of well-established centers – the other three centers during his rookie season were Olli Jokinen, Brendan Morrison and Matt Stajan – which allowed the team to shelter him and utilize him in conditions that allowed him to be successful.
In his rookie year, Backlund began 54 percent of his shifts in the offensive zone and had a Corsi For percentage (CF%) of 56.8%. His results are fairly typical of what you'd expect to see from a rookie on a veteran-laden team. His offense wasn't quite there, though, generating 0.34 points-per-game in a bottom six role and putting up 10 goals and 25 points. His positive Relative Corsi – the difference between the team's performance when he's on the ice versus off of it – as a rookie was basically a reflection of how sheltered he was, facing bottom six opposition primarily in the offensive zone.
But here's an illustration of how Backlund's gradually become a strong 200-foot player, as evidenced by his Player Usage Chart: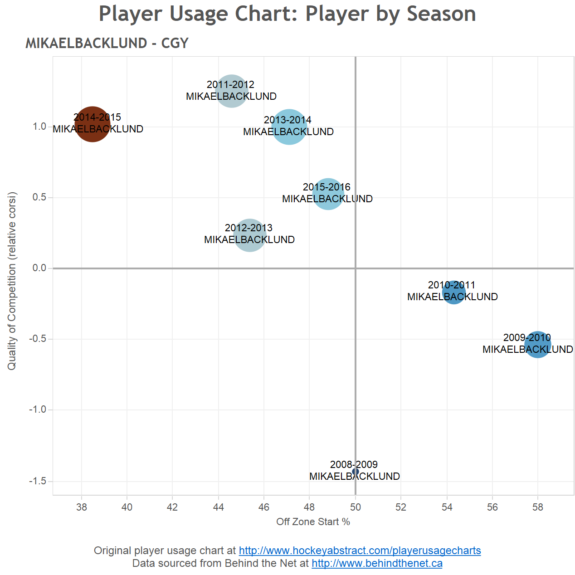 Backlund was given successively tougher and tougher assignments (moving from the bottom right of the chart to the top left) but consistently had some of the best Relative Corsi numbers on the team – ranging from +2.1% to +7.3%. His offense appeared to top out at a reliable 40 points per season, but this season his 200-foot play finally seems to have translated into high-level offense. He's been a very solid NHLer for seven seasons, but only now has he become a constant offensive threat.
Setting an Example
Sean Monahan was drafted in 2013 and Sam Bennett was drafted in 2014. Both players jumped straight to the NHL from junior and had offensive success as rookies. Both players were given a lot of offensive zone starts against bottom six opposition as rookies, similar to how Backlund was utilized. Both players were used in a top six role and were able to generate offense at a higher rate than Backlund as a result. Neither player was an amazing possession player – Monahan was a negative Relative Corsi player while Bennett was about even – but they took advantage of being sheltered.
Looking Ahead
Complete hockey players don't emerge overnight. It took awhile for Backlund to become a strong defensive player and figure out the offensive game. Both Monahan and Bennett have seemingly figured out the offensive side of the game and, given time and patience, perhaps they too can gradually develop into complete NHL centers. The same goes for former NCAA standout Mark Jankowski, the Flames' first rounder in 2012 who's become an offensive leader with their AHL affiliate this season.
The Flames organization's long-term success will probably be determined by how quickly their young centers can develop into players that don't require sheltering to be effective. The bad news is that process doesn't happen overnight. The good news is that their young players have already enjoyed some success, and progression of Backlund seems to suggest that given a little patience from the organization and a lot of hard work from the players involved, they should (eventually) emerge as fully-formed NHL centers.