On Nov. 3, the Nashville Predators announced a two-year extension for longtime netminder, Pekka Rinne. The deal, which goes into effect next season, carries a $5 million cap hit, a sizable decrease from his current $7 million hit. The new contract, like his current one, has a no-movement clause and modified no-trade clause that includes a 10-team approval list.
Rinne, who signed the extension on his 36th birthday, is coming off a career year in which he won his first Vezina Trophy and was named to the league's first all-star team for the first time. In 2017-18, he made 59 starts and finished with a 42-13-4 record, a league-leading eight shutouts, a .927 save percentage (SV%), a 2.31 goals against average (GAA), and 27.49 goals saved above average (GSAA), which also led the league.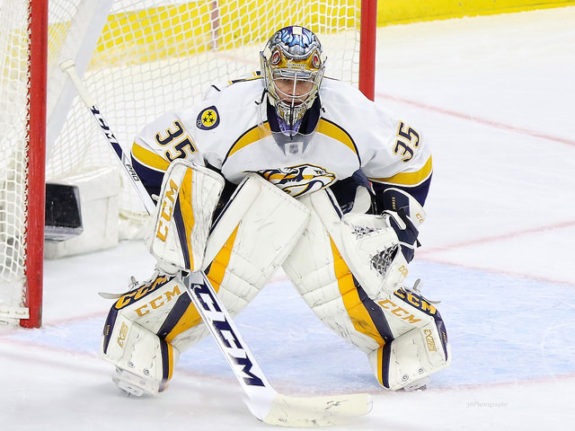 Rinne's Place in Predators and Hockey History
Considering the Predators took Rinne in the eighth round, one that no longer exists, his career has been surprising and one that no one could have foreseen. As a lifelong Predator, he holds the franchise record for every goaltending category. Over the course of his 13 seasons, he has made 562 starts and has accumulated a 317-169-66 record, 53 shutouts, a .919 SV%, and a 2.36 GAA. He ranks 11th all-time in save percentage, 19th in goals against average, and 23rd in shutouts.
His place in hockey history is even more profound when compared to fellow Finnish netminders as he is on pace to become the best goaltender from Finland. That's quite a feat considering the list of Finnish goaltenders includes fellow Vezina Trophy winners Tuukka Rask and Miikka Kiprusoff.
Rinne is currently the leader in starts and shutouts, is two wins behind Kiprusoff for the lead, is tied for third in save percentage, and is third in goals against average and goaltender point shares. Yet, despite all of those elements, an extension for Rinne still wasn't a guarantee and there are aspects of the contract that need explored to determine its value.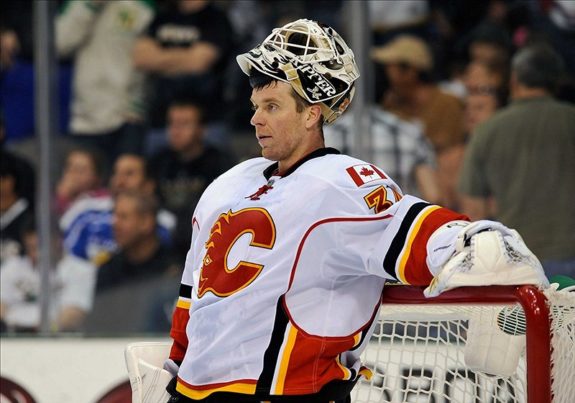 Rinne's Age and the Goaltender Aging Curve
Considering 2018-19 is Rinne's age-36 season, he is certainly in the twilight of his career. And because the extension covers his age-37 and 38 seasons, there is certainly risk involved with it. At this point in his career, a hip or groin injury could derail his career. However, because goaltenders age differently than skaters, there is reason for optimism with the extension.
While skaters generally reach their peaks between ages 22 and 25, goaltenders often don't begin to peak until 26. So if goaltenders don't peak until an age later than skaters, that means their primes extend later than those of skaters. That is good news for signing veteran goaltenders to extensions or new contracts. However, on the flip side is that goaltenders' primes tend to be shorter than skaters' primes. So if a netminder peaks at age 26, his decline could begin immediately and he could be out of his prime by age 30.
Veteran Goaltenders Having More Success
It is more common now for veteran goaltenders to receive playing time and even thrive in that playing time than it was just a few seasons ago. So far in 2018-19, there have been 35 goaltenders age 30 and older and 10 who are at least 35 who have appeared in at least one game. Just five seasons ago, in 2013-14, there were 28 goalies age 30 and above and eight who were at least 35. So there are already more veteran goaltenders this season than there were five seasons ago and the season isn't even a quarter of the way through.
Related: Three Old Goalies Breaking the Curve
There are already four goaltenders who are at least 35 and have contracts through next season – Roberto Luongo, Henrik Lundqvist, Craig Anderson, and Rinne. That doesn't include Mike Smith and Ryan Miller, whose contracts expire after this season, yet could be on NHL rosters next season. Not including the four goaltenders listed above with contracts through next season, there are five whose current contracts extend through at least their age-35 seasons.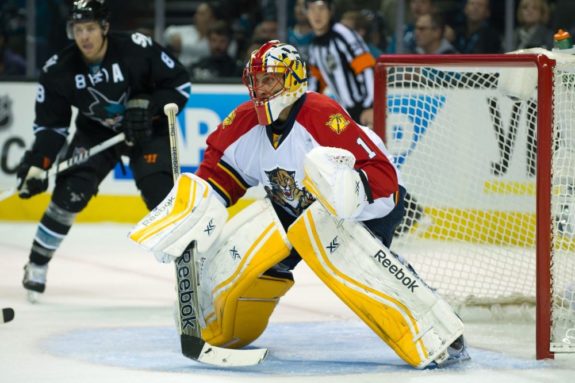 Rinne's Stat Trends
Although Rinne is an aging goaltender, his performance in recent seasons indicates that he should continue to be productive throughout the duration of his extension. Not including 2018-19, his save percentage has increased the past two seasons while his goals against average has decreased the past three seasons. If you include this season, his trends have continued to improve to a league-leading .949 SV% and 1.55 GAA.
At five-on-five, his trends continue to hold true, even when looking at the different shot qualities he has faced. Dating back to 2015-16, Rinne's save percentages against low, medium, and high danger shots have stayed relatively steady. Against low danger shots, his save percentage actually decreased from 2016-17 to 2017-18 but has rebounded this season. Meanwhile, his save percentages against medium and high danger shots have increased each of the past three seasons and have continued to do so in 2018-19.

Rinne's save percentages against low danger shots have remained fairly flat and are in line with league averages. However, what stands out is his increasing ability to stop more potent shots, including a save percentage against medium danger shots that's above his low danger save percentage. That almost unheard of. Add to that the fact that he has substantially increased his high danger save percentage the past two seasons and his talent level has clearly not regressed as he has aged.
On the Right Team to Be a Veteran Goaltender
Considering the Predators have what is widely considered the league's best defense, their goaltenders are somewhat insulated relative to other teams' netminders. Of goalies with at least 5,000 five-on-five minutes between 2015-16 and 2017-18, Rinne's 53.04 shots against per-60 (SA/60) were ninth-lowest in the league. Additionally, his .929 SV% at five-on-five in that span is tied for seventh-best and perfectly matches his .929 expected save percentage.
Rinne should only continue to excel behind Nashville's vaunted defense, a unit that has given up 29.0 SA/60 over the past three seasons, 10th-fewest in the league. During that same time frame, they allowed the second-fewest high danger chances per-60 (HDCA/60) with 8.99. Fast forward to this season and the Predators rank 11th with 29.8 SA/60 and fourth with 9.58 HDCA/60.
Juuse Saros as Heir Apparent
Soon after the Predators drafted him in the fourth round of the 2013 Draft, Juuse Saros was projected to take over for Rinne when the time was right. A save percentage of at least .920 in every full season as he's progressed through the leagues of Finland and North America have only confirmed these predictions. So when the Predators signed him to a three-year, $4.5 million contract in July, it further pointed to Saros being the heir apparent to Rinne as the Predators continue their run of talented Finnish goaltenders.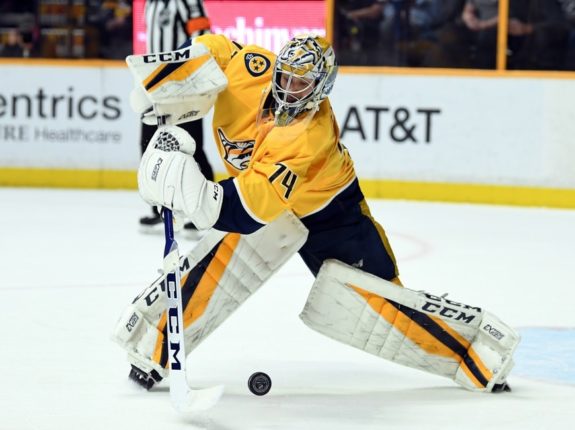 Currently 23 years old, Saros has yet to reach the typical prime years for goaltenders and when his current deal expires in two years, the same time that Rinne's expires, Saros may just be reaching his peak in his age-25 season. Since arriving in North America ahead of the 2015-16 season, his NHL starts have increased from one his first season to 23 last season and is on pace for 41 starts in 2018-19. Even with his increase in workload, his save percentages, in all situations and at five-on-five, have risen every year in the league.
With the structure of Rinne's deal and its expiration at the same time Saros needs a new deal, it allows for Saros to still be Nashville's goaltender of the future. He is likely to only continue receiving larger workloads moving forward, even to the point that Rinne could be Saros' backup in the final year of both players' deals.
Rinne's Contract a Bargain
Between 2015-16 and 2017-18, Rinne's .918 SV% ties for ninth-highest in the league among goalies with at least 100 starts. Of those ahead of him on the list, only Sergei Bobrovsky's $7.425 million cap hit is higher than Rinne's $7 million. In 2018-19, Rinne is tied for the fourth-highest cap hit at his position with Rask and behind Carey Price, Lundqvist, and Bobrovsky. Of those players, only Bobrovsky has a higher save percentage than Rinne between 2015-16 and 2017-18.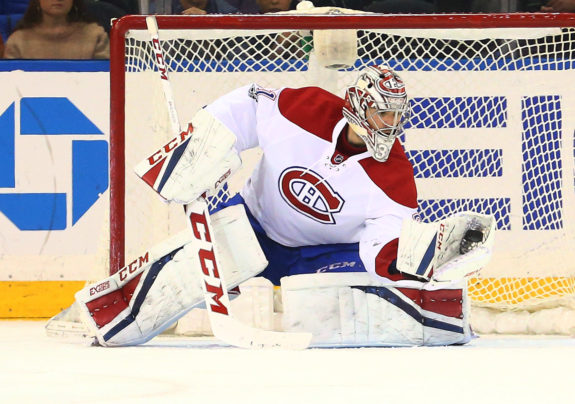 Given that Rinne has been underpaid the past few years of his current deal, the fact that he agreed to a lower cap hit is a bargain for the Predators. Considering his performance in recent seasons, Rinne easily could have gotten at least $10 million per season on a short deal, a cap hit only achieved by Price but likely to be matched by Bobrovsky on his next deal.
Will the Deal Have Expansion Draft Implications?
With the likelihood of the NHL expanding to a 32nd team in the next few years, any contracts signed between now and then will be done so with the expansion draft in mind. The Rinne extension is no different. It appears all but certain that Seattle will be awarded that franchise and the earliest the team could begin play is in 2020-21, which means an expansion draft in the summer of 2020. Considering that Rinne's deal runs through the 2020-21 season, he will be eligible to be selected in the expansion draft.
That puts the Predators in the same situation that the Pittsburgh Penguins found themselves in with Marc-Andre Fleury at the 2017 Expansion Draft. They had a veteran goaltender in Fleury who had term left on his contract but had trade protection, like Rinne, and was required to waive his no-movement clause to allow the Penguins to expose him in the expansion draft. But also similar to the Predators, the Penguins had a young goaltender in Matt Murray who was the heir apparent to Fleury and was going to be protected at all costs.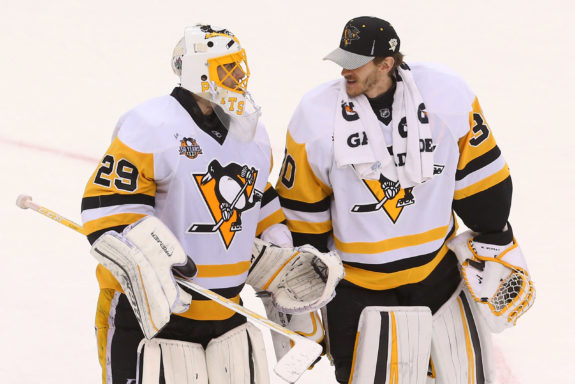 As every hockey fan remembers, the Vegas Golden Knights took Fleury in the expansion draft and he helped backstop them all the way to the 2018 Stanley Cup Final in the team's inaugural season. The Predators are in an eerily similar situation as the Penguins were in 2017. But will it play out the same? Will Rinne be willing to waive his trade protection as Fleury did or will the Predators have to trade him or even buy him out if the situation leads to it?
Rinne's Contract Gives Predators Cap Space
Like all Stanley Cup contenders, the Predators have to be careful with how they allocate their resources to ensure their ability to contend now, and in the future. The Predators currently have over $9.6 million in cap space this season, although that includes Dan Hamhuis' $1.25 million cap hit as he's on injured reserve. For next season, they have around $10.2 million free but have to re-sign Ryan Hartman, Kevin Fiala, Colton Sissons, and Anthony Bitetto and, with all but Bitetto deserving sizable raises, those contracts will cut into that cap space.
The following season Craig Smith, Miikka Salomaki, Roman Josi, Yannick Weber, and Matt Irwin are free agents with Josi deserving at least double his current $4 million cap hit considering he's been one of the league's most underpaid defensemen in recent years. Rinne taking less to remain a Predator allows the team to continue icing a competitive team.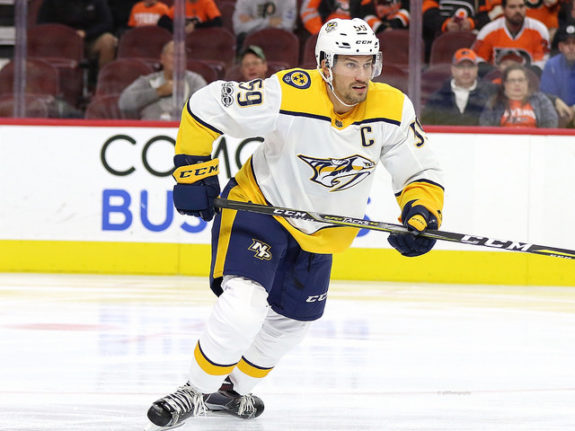 A Smart Extension All Around
Although it wasn't a guarantee that the Predators would extend Rinne, it has proven to be a smart and positive move for all involved. For the Predators, they get their veteran, franchise netminder signed for another two years and at a reduced rate. The contract provides them with cap space to strengthen the team in other areas and allows for a smooth transition to the team's next era with Saros in net.
For Rinne, he likely gets to remain a lifelong Predator. Although there's a chance he is taken in the next expansion draft, he will be in his age-38 season at that point and won't be as attractive to the expansion franchise as Fleury was to Vegas.
The deal is even good for Saros as he will be able to begin taking over the starter's role in Nashville while still having his mentor around for the duration of both players' contracts. As he continues to take on a larger workload and receives the reins to the net, it will also allow Rinne to stay fresher, providing the Predators with the best possible goaltending situation.
*All stats came from Hockey-Reference, Corsica, and Natural Stat Trick