Earlier this month, THW's Mike Colligan wrote of moments that can define a Stanley Cup run.  He described how specific events can alter a series, how a certain circumstance can ignite a club in route to a championship.  Mike's example came from an apparent Pascal Dupuis injury during Game 1 of the Pens' second round series against Ottawa and the versatile winger's gutsy return.  Not only did Dupuis come back to finish the game but his effort culminated with his short-handed tally that effectively iced the contest.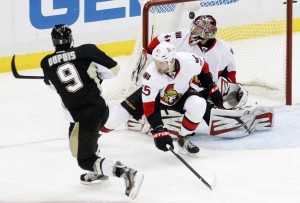 No doubt, such acts don't go unnoticed by one's teammates and Dupuis' valor could very well act as a catalyst should the Penguins continue their march to a second Cup in five years.  Another such instance, however, occurred just three games later in Ottawa.  Specifically, Pittsburgh's third period performance in Game 4 seemed to serve as a huge boost in confidence for a club that had been struggling to find consistency in the 2013 playoffs:
"We're not  done, you know. We're not. But it's important that we're confident. It's  huge, actually. I remember back in 2009, anytime something would go  wrong in one period, we were so confident in our game that we could come  right back and play the right way and win. That's how I'm starting to  feel about this team." – Kris Letang, after Game 4
Game 4 was huge for the Penguins for more than one reason.  First and foremost, the response to trailing after the first period and subsequent offensive explosion was vital for a Pittsburgh team that has faced more adversity than expected this spring.  Secondly, the offensive output from James Neal looms large for one of the league's most streaky sharpshooters who had been struggling to find the net since coming back from a late season concussion.
The Explosion
The start of Game 4 was eerily similar to the end of Game 3 as Milan Michalek's short-handed goal gave Ottawa an early 1-0 lead.  And despite a James Neal bullet to the back of the net and the fact that Pittsburgh carried much of the play, the Pens found themselves trailing 2-1 at the first intermission.  Indeed, more of the sporadic mental lapses that had plagued the Penguins for many of the first nine games of the postseason handed the Senators their first lead of the series.
Luckily for Pittsburgh fans, their squad quickly quieted the Scotiabank Place crowd early in the second period.  The Pens produced two goals that came early in the frame and only 40 seconds apart as Chris Kunitz tied the game on a breakaway and Jerome Iginla banged in a rebound to give the visiting team a lead they would never relinquish.  But the quick strikes were nothing compared to what would come in the third period.
It took the Penguins less than ten minutes to turn what had been a tightly contested match into a completely one-sided affair.  Power play goals by James Neal and Jarome Iginla sandwiched a short-handed marker by Pascal Dupuis and a highlight-reel goal by Sidney Crosby that allowed him to reach 40 career playoff goals faster than any other active player.
Aside from the fact that it allowed Pittsburgh to take a commanding 3-1 lead in the series, Game 4 seems to have provided the East's top seed with a level of confidence, almost a swagger, that they hadn't really displayed to this point in the playoffs.  To a man, the Penguins seemed to realize how dominant they had been and what kind of opportunity that they have.  As Dupuis stated after the game, "I think we showed we're for real.  I believe that."
James Neal
Since Neal came to Pittsburgh, he and Evgeni Malkin have formed one of the most dynamic duos in the National Hockey League.  Indeed, 120 regular season games have seen Neal pot 61 goals skating mostly alongside Geno.  However, Neal is also as streaky as they come and, prior to game 4, found himself in a bit of a slump – prior to Wednesday night he had just one goal in the 2013 playoffs.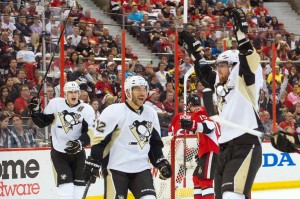 His teammates and coaches insisted Neal was doing all the right things; he was showing signs of breaking out of the slump.  In fact, Malkin displayed his hidden talent for fortune-telling before Game 4, stating that Neal would soon light the lamp.  Watch out Miss Cleo.
Neal was an absolute force in Game 4, notching two goals and adding an assist.  After ringing a shot off the post early in the game, Neal let an absolute rocket go that knotted the score at one in the first period and later buried a power play goal that would eventually serve as the game winner.
If history is any indication, that's more than Neal needs to get himself going:
 "He's a guy who just needs one. And he's been talking about that and felt that last game, but he came through for us and was a big factor — his line and the power play — in getting those two goals." – Dan Bylsma, on James Neal's performance in Game 4
Should Neal get hot, it'll just add to an arsenal that is averaging over four goals per game in the postseason.  Indeed, combining a confident James Neal with a group possessing four of the top five scorers in these playoffs will make for a club that not many teams will want to face.
So, yes, following Game 4, the Penguins suddenly have a new air about them.  The confidence of both the club as a whole and one of its streakiest players has suddenly skyrocketed.  And, to think, all it took was one ten minute stretch on a Wednesday night in Ottawa.