Nearing the halfway mark of the third period in their home game against the New York Rangers on March 12, the Pittsburgh Penguins were holding onto a 2-1 lead. Though already in the playoffs, they were looking to gain some ground on the Rangers, who were ahead of them by seven points in the standings. Sidney Crosby had already picked up one assist, and he and the rest of the team were playing a solid defensive game.
Then a questionable play – Rangers center Vincent Trocheck knocked down Evgeni Malkin, which started a rush that resulted in a goal by Chris Kreider, tying the game 2-2. But they'd been through this before. With the game in overtime, the Penguins sent out Crosby with Jake Guentzel, Malkin, and Kris Letang. Looking poised and in control, they set up in the Rangers' zone, and with some quick passing from Crosby and Malkin and a blast from Letang, they won the game 3-2.
Today marked the 11th time in the regular season Letang scored a goal with assists to Sid and Geno. 59th time all 3 have factored in on the same regular season goal.

— Bob Grove (@bobgrove91) March 12, 2023
Yes, it is something we've seen before, and that kind of patience generally comes with age. Yet with Crosby's production this season, it's easy to forget that we are not watching Sid the Kid anymore, but rather a savvy, battle-tested veteran of 18 seasons. So with about a month to go in the regular season and the playoffs, which the Penguins look to be preparing for, looming, it's worth taking a look at where Crosby is compared to others at the same stage in their careers.
What Might Have Been
There was a time when it looked like Crosby might end up as another great "What If?" player, a generational talent whose accomplishments were muted and his career cut short due to health reasons. With his concussion history early in his career there still is a touch of that. After all, he played only 99 out of 212 regular season games from 2010-13. In that time he amassed a staggering 159 points, led the Penguins in scoring while playing only 41 games in a full season one year, and ranked third in the league despite missing 12 games of a lockout-shortened season in another. Had he maintained his pace without missing any of those games, he would have finished with 345 points and would be closing in on 1,700 for his career now.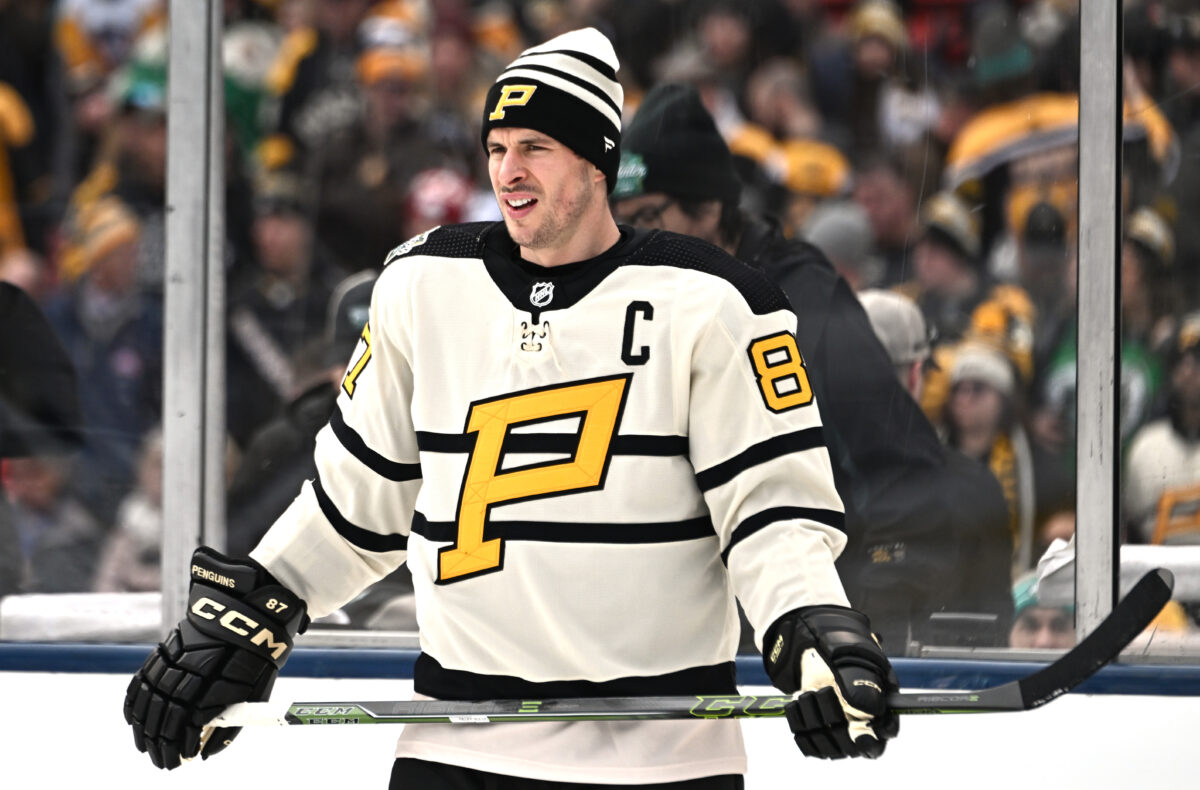 That was back after his eighth season, and he had already had a remarkable career up to that point. But fans were curious how he would proceed from there. Would the concussions turn him into another Eric Lindros or Pat Lafontaine, who played only 760 and 865 games, respectively? Crosby responded by winning the Art Ross, Hart, and Pearson/Lindsay awards for the second time. His 104 points in 2013-14 led the league by 17, but it is worth wondering whether he could have scored more.
Related: Penguins' Zucker Continues to Prove His Worth
---
Latest News & Highlights
---
Granted, the NHL had entered another period when scoring decreased, highlighted by Jamie Benn's 87-point Art Ross-winning season in 2015. A season in which Crosby led the league with 1.09 points per game, mind you. As we would learn, however, he was indeed not finished, and he played 394 of 410 games from 2013-2019, winning a second Rocket Richard Trophy, and two Conn Smythe Trophies leading the Penguins to consecutive Cup wins. He was scoring fewer points but playing a more complete game, reminiscent of his boyhood idol, Steve Yzerman.
Where Sid Is Now
Having made it through that early rough patch and delivering on his considerable potential, Crosby finds himself in season 18, which is an accomplishment in itself. Consider some of the greats who called it quits before reaching that milestone: Denis Savard, Dale Hawerchuk, Paul Kariya, and even Mario Lemieux. Others of note who made it to 18 but saw their production drop off include Marcel Dionne, Sergei Fedorov, Mats Sundin, Phil Esposito, and Bryan Trottier. Concussions, back problems, broken bones, and general wear and tear after regular season and playoff competition all ground these players down.
And then there's Crosby.
As of now (March 16), he has scored 29 goals, 52 assists, and 81 points while playing in all of Pittsburgh's 67 games. He finds himself on pace for around 36 goals and 99 points, which is nothing short of miraculous at his age. He plays in all situations, takes the important faceoffs, and is still The Guy. By comparison, Fedorov was cobbling together bottom-six shifts and killing penalties, picking up 33 unremarkable points in 52 games for the Capitals in season 18.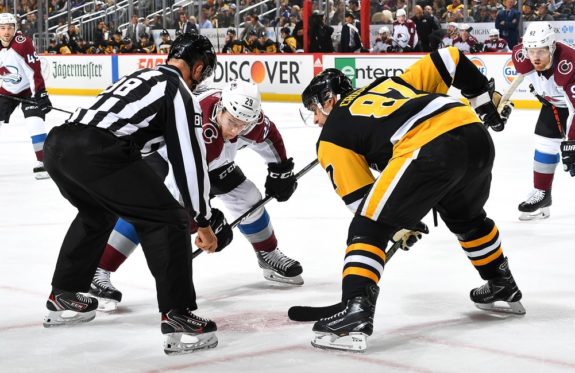 To find players competing at the same level as Crosby at this late stage from the past 30 years, one would have to look at Wayne Gretzky, Mark Messier, or Joe Sakic. Even Yzerman had begun his decline by the same point, as his problematic right knee would rob him of his speed when he was in the lineup during the final five years of his career. Meanwhile, the Gretzky of 1996-97 adapted to the slower play of the then-dawning Dead Puck Era and would finish with 72 assists (tied for the league lead), and ranked fourth with 97 points. Messier, reunited with the Great One that season in Rangers blue, enjoyed a similar scoring pace with 36 goals and 84 points in 71 games. In the modern era of the NHL, Sakic posted numbers that are closest to Crosby's, with 36 goals and an even 100 points during the 2006-07 season. Given his drive and consistency, Crosby matching Sakic this year would not be a surprise.
Where the playoffs are concerned, Crosby and the Penguins are already in a better situation than the 2007 Avalanche, who were eliminated after the second-to-last game of the season. Provided they hold onto their wild card spot–which is looking more likely–the Penguins won't enter this year's playoffs in the same way the 1997 Rangers did, i.e., in the middle of the pack. They will have a much harder task, likely drawing the Carolina Hurricanes in the first round. Could they claw their way to the Eastern Conference Final? Given the team's inconsistency this year, it seems unlikely. And after their March 14 game against the Canadiens, where they found themselves down two defensemen and losing 6-4, health and depth may become issues for a Penguins playoff run of any length. But with the way Crosby is currently playing, anything is possible.