Welcome to the Nashville Predators All-Time 25 in 25. In this series, we at The Hockey Writers will unveil our top 25 players in franchise history in honor of the organization's 25th anniversary. Starting Sept. 18, we will unveil a new player every day until the Predators' home opener at Bridgestone Arena on Oct. 12. Join us as we celebrate 25 years of hockey in Nashville. At 25 – Colin Wilson.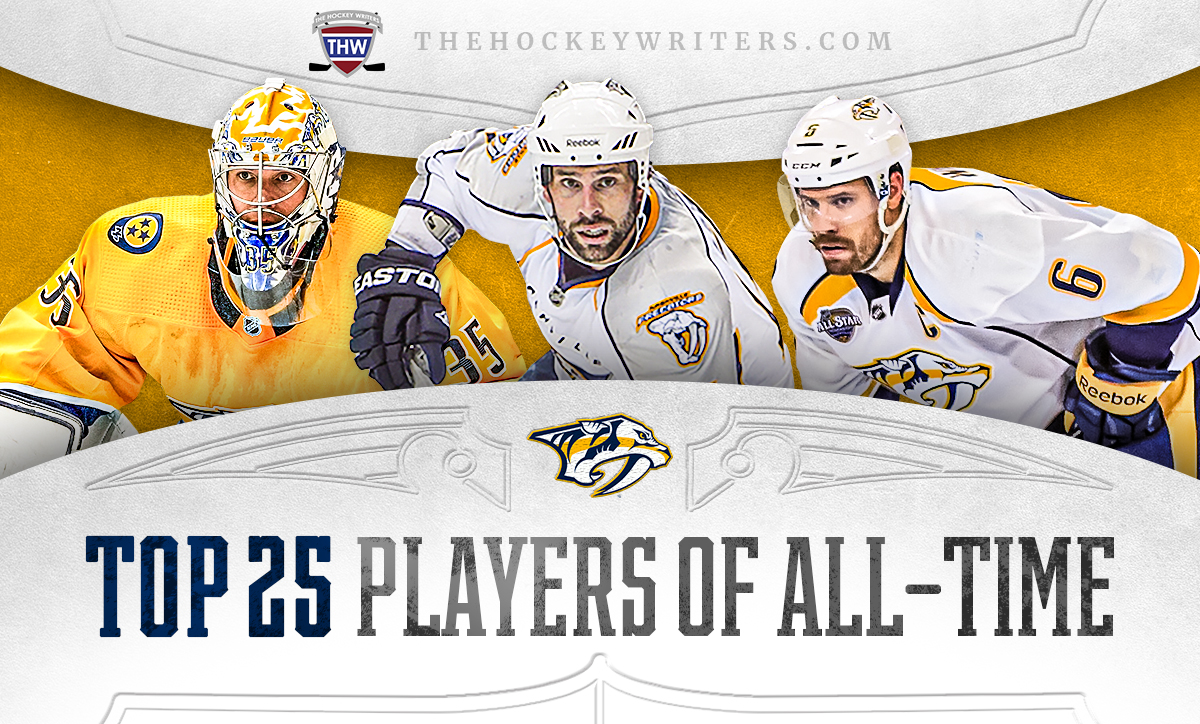 "It is very bittersweet to retire as I leave my childhood passion behind but look forward to what comes next," Wilson said in a statement issued by the NHL Players' Association at the time of his retirement.
Wilson retired from the NHL in January 2021. The moment, as he put it, was bittersweet. A childhood passion turned into a professional career; who doesn't dream of that? While he wasn't the flashiest player, his legacy left behind in Nashville is one of reliability, consistency, and occasional moments of genuine greatness. While his mention of the word wasn't intended to be used regarding his Predators' career, bittersweet is the perfect word to encapsulate his time with the organization. Close, but not close enough. Let's dive into Wilson's time with the Predators and what makes him a top-25 player in franchise history.
Wilson's Career With the Predators
The Predators drafted Wilson seventh overall in the 2008 NHL Draft. Enticed by his scoring at Boston University, they hoped he would become a key contributor to their organization for years. They were right. Colin, following in the footsteps of his father, Carey and grandfather, Jerry, became the third generation of Wilsons to play in the NHL. He debuted at the start of the 2009-10 season following a successful collegiate career, where he won a national championship and was named USA Hockey College Player of the Year. The 6-foot-1 forward scored 15 points in 35 games during his rookie season, flashing a smidge of his skillset.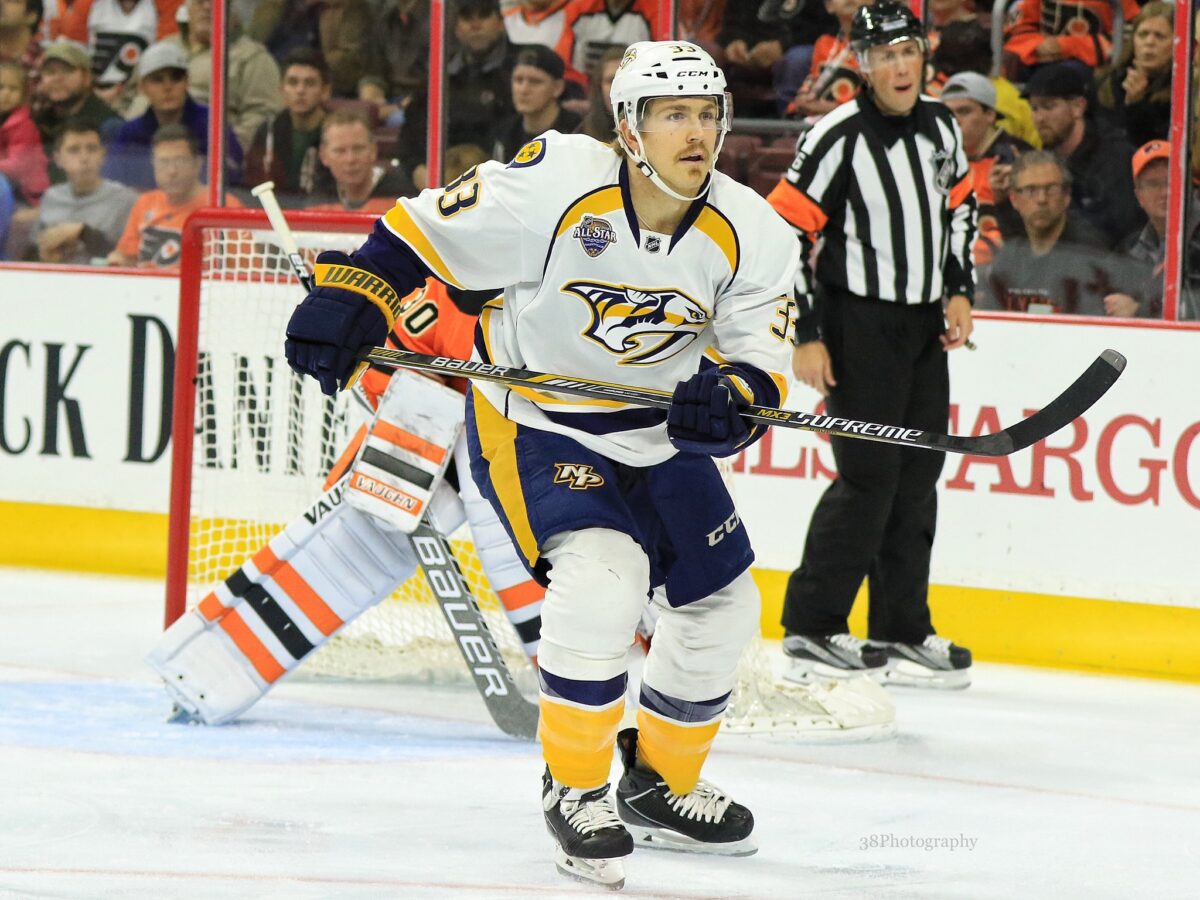 Wilson's most productive season came during the 2014-15 season, where he set career-highs in goals (20) and points (42). He reached the 30-point mark five times in his eight seasons with the Predators. While he was never a Selke Trophy threat, he also valued strong defensive play. His Corsi For never dipped below 52 percent during his time with the Predators, typically falling in the mid-high 50s. He also sprinkled in some physicality with his offensive and defensive play, making him an all-around threat when he was on the ice.
---
Latest News & Highlights
---
Wilson's name is found consistently throughout the Predators' record book. He is tied for 16th in games played (502), 17th in assists (142), 18th in points (237), and stands alone in goals at 15th (95). During his eight seasons with the team, from 2009-10 through 2016-17, he was second in game-winning goals (19) and games played on the Predators. He was a consistent, responsible, middle-six winger who brought good defensive play and intensity every match. In other words, he was a coach's dream.
Wilson Elevated His Play In the Playoffs
Wilson elevated his play once the NHL Playoffs rolled around. While his first three playoff series were ultimately disappointing, he became a go-to guy for the Predators as he grew older. Between the 2014-15 and 2016-17 seasons, he scored 12 goals and ten assists for 22 points in 34 games. In 2016, he led the Predators in postseason points with 13 in 14 games. In those playoffs, he had a point in seven consecutive games, tied for the longest playoff point streak in franchise history. In 2017, he didn't score at the historic rate he did in 2016, but he did score one of the biggest goals the franchise has seen in its history.
None of Wilson's playoff goals were more important than his game-tying goal in Game 5 of the 2017 Western Conference Final. Down 1-0 to the Ducks in Anaheim, the Predators faced the reality of going down 3-2 in the series. Their lack of production on the power play became a bigger and bigger talking point as they continued to go goalless with the man advantage in the series. With under a minute to go in the second period, on the power play, Wilson retrieved the puck and threw a backhander on the net. The puck snuck by Ducks' netminder Jonathan Bernier, knotting the game at one. The Predators went on to win Games 5 and 6 of the series, advancing to their first Stanley Cup Final in franchise history, in part due to Wilson's game-tying goal.
Wilson is tied for fourth all-time in Predators postseason goals (13) and ninth in points (24) through 47 games.
Related: Predators Top-10 Prospects Heading Into the 2023-24 Season
Born in Greenwich, Connecticut, raised in Winnipeg, Manitoba, bittersweet is an excellent word to summarize Wilson's career with the Predators—a true warrior who contributed consistently when healthy. While not the flashiest player, his two-way approach and ability to elevate his play in the playoffs made him a coach's dream. Falling just short of the ultimate goal in 2017 will always leave a bitter taste in his mouth, and the injury-riddled end to his career leaves many asking what could've been. Although, fans will never forget him for his playoff contributions in 2017, where the Predators almost won it all.
Advanced stats taken from MoneyPuck