With the annual Traverse City Prospects Tournament wrapping up, the high hopes that Detroit Red Wings fans had for the weekend did not translate to the ice, with the team going winless in three games. With that said, let's take a look at some takeaways from the tournament for the Red Wings.
Goalies Not Named Sebastian Cossa Perform Well
Overall, the Red Wings prospects team gave up a tournament-high 20 goals against, but both goaltender Jan Bednar and invitee Lukas Matecha played solid in net.
Starting with Bednar, who played parts of two games over the weekend against the Dallas Stars and Toronto Maple Leafs, only allowed one goal that came in the game Thursday against the Stars. He followed that showing up with a solid game against the Maple Leafs on Sunday afternoon, stopping all 29 shots he faced in just over 32 minutes of playing time.
He looked like a very confident goaltender throughout the time he was in net for the Red Wings this weekend and was able to help keep the team afloat when they seemed to be struggling. In total, Bednar faced a total of 40 shots while saving 39 of them for a 0.98 goals-against average (GAA) and an impressive .975 save percentage (SV%).
Matecha started off a bit shaky in his only appearance against the Columbus Blue Jackets, allowing a couple of quick goals, but was able to settle in nicely and look solid the rest of his time in net. Overall, he played 30 minutes of game time and allowed three goals for a 5.81 GAA and a .800 SV%. While the stats do not look the greatest, the Red Wings' defense was not a whole lot of help in situations that led to a couple of the goals that Matecha allowed.
Sebastian Cossa Struggles
There were hopes that top goaltending prospect Sebastian Cossa would be able to stand out for the Red Wings this weekend. He did stand out to fans, but not for the best of reasons. He struggled in all three games that he played and seemed to lose confidence throughout the weekend.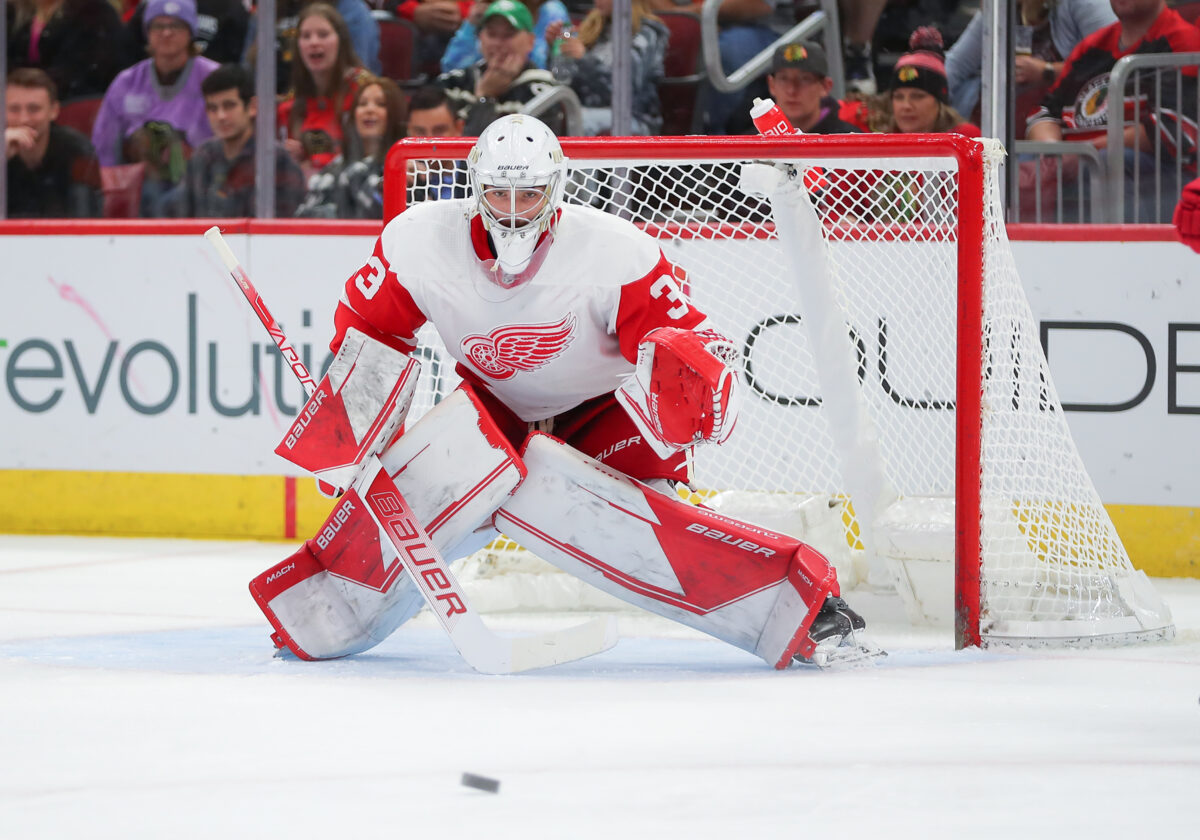 In his first game against the Dallas Stars, Cossa allowed two goals on 16 shots and it did not get any better in Saturday's game where he allowed six goals on 21 shots including five in the second period before leaving the game halfway through the period. He followed up Saturday playing the second half of the finale Sunday and gave up five more goals on 17 shots faced. Overall, he registered a GAA of 9.19 and a SV% of .759.
---
Latest News & Highlights
---
While it is only a prospects tournament, this performance in three games can be somewhat concerning as there are expectations for Cossa to make the next jump to Grand Rapids of the American Hockey League (AHL) this season. With Bednar performing at a higher level and the Red Wings drafting Trey Augustine in this year's draft, Cossa will have to perform well in training camp and prove his worth for the organization to feel confident in him going forward.
Numerous Prospects Step Up For Detroit
Even with the three losses, there were a few players who were able to step up and stand out in a positive way for the Red Wings. One of these players was Cross Hanas. He was able to factor in on the scoresheet in all three games over the weekend, scoring a team-high four goals and adding another two assists. He was also seen in all areas of the ice playing a well-rounded game for the team.
The same can be said for fan-favorite Amadeus Lombardi. While he did not put up the numbers that Hanas did, Lombardi was able to make his presence felt in all three zones of the ice, showing off his playmaking ability and willingness to go to the dirty areas of the ice to make plays. In total, he tallied a goal and two assists in the tournament.
Related: Red Wings Found a Hidden Gem In Lombardi
Another player who did not necessarily light up the scoresheet but whose presence was felt is Elmer Soderblom. He was able to use his big frame to manipulate his way around defenders and into the dirty areas of the ice. He also made his presence felt in the offensive zone mainly in front of the net where he was able to tally a total of three goals over the three games he played in.
A player that was able to surprise fans and the organization over the weekend was Riley Sawchuk, who tied Hanas for the lead in points with six. He was noticed big time on the powerplay as well, tallying three assists.
Possible Injuries to Top Red Wings' Prospects
Red Wings fans had high hopes and expectations for both 2023 first-round pick Nate Danielson and the highly-touted Carter Mazur for the tournament but both had their weekends cut short due to injuries.
Mazur was only able to play in part of the first game against the Stars before leaving with a lower-body injury that he was sent back to Detroit for further examination. If this injury is deemed to be one that is going to keep him out for an extended period of time, it could be a blow to Grand Rapids as Mazur is expected to play an important role for the Griffins this season.
Danielson was able to play in two games in the tournament before missing the finale on Sunday against the Maple Leafs. He was held out of the game due to taking a shot to his foot against the Blue Jackets on Saturday afternoon. Hopefully, this was done as just a precautionary measure, as Danielson is expected back with his junior club in the Western Hockey League (WHL) with the Brandon Wheat Kings.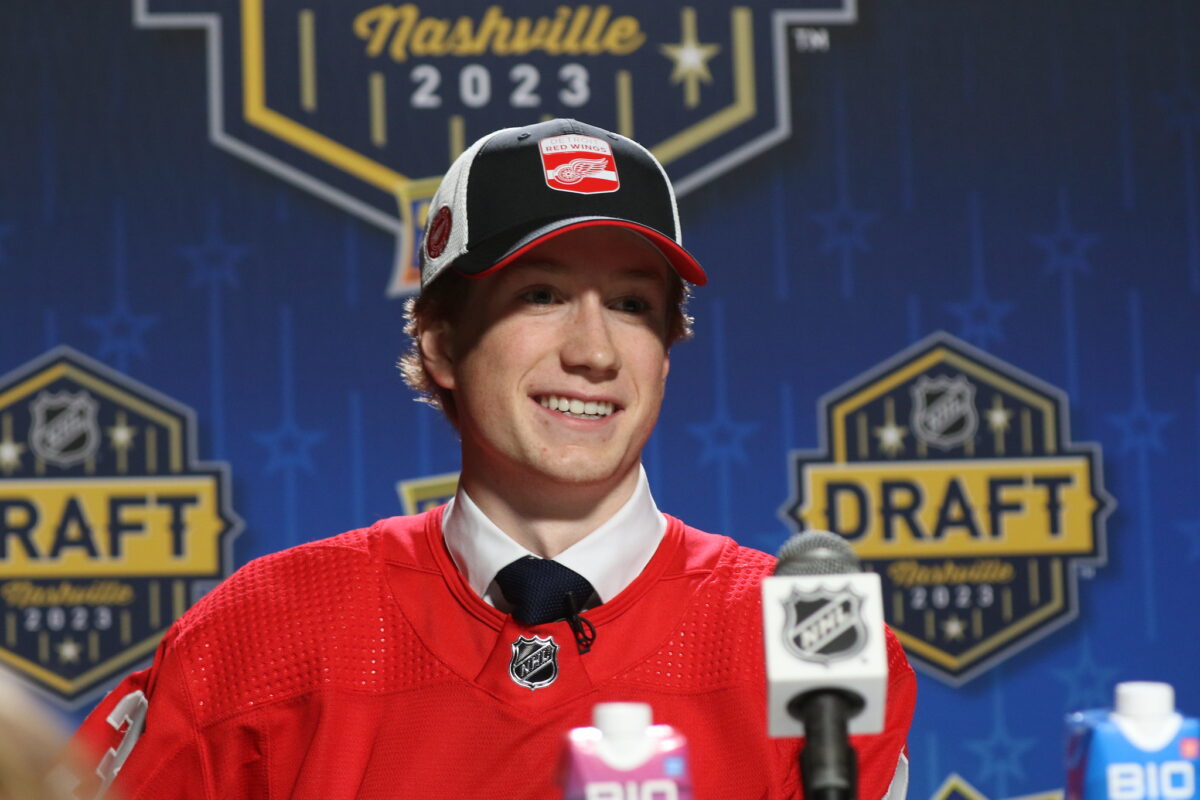 In the first two games of the tournament, he was able to display his game, spending time on the Red Wings' powerplay and penalty kill while also being able to control the faceoff circle. In two games, Danielson totaled five assists, showing off his playmaking abilities.
Overall, the 2023 Traverse City Prospects Tournament was not the success team-wise for the Red Wings that many had hoped for, but there were plenty of bright spots throughout the weekend as well.