Predators and Habs for the Cup! Admit it, you'd love to see this matchup in the Stanley Cup Finals. [tweetthis]One of hockey's "Original 6" versus a relative newcomer to the powerhouse party would be epic! [/tweetthis]The hope of Canada riding on the best of seven games to return to Stanley Cup glory, against "Music City" possibly devastating an entire nation.
Nashville has made seven playoff appearances in their short sixteen-year history. They have never made it to the conference finals. The Montreal Canadiens have 24 Stanley Cup wins, (including 1 pre-NHL win) in their long, storied franchise history. A Cup Finals featuring these two teams would be epic.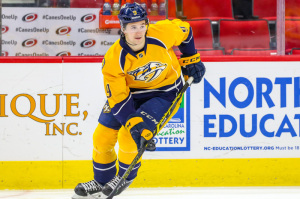 You laughed…
Back in December, some of you laughed when I predicted that the Predators would be hoisting the Stanley Cup in June. I felt then and still feel that the Preds have as good as, in not a better chance to be representing the Western Conference in the Stanley Cup Finals. While there is still a lot of hockey to be played in the season, and while the unforseen such as injuries can derail any strong prediction, the Predators are playing consistently strong hockey.
The Habs are making quite a run in the Eastern Conference. (Unless of course they are playing the Buffalo Sabres. Ouch!) They are currently tied for second in the Atlantic Division with the Detroit Red Wings with 67 points, 2 points behind the Tampa Bay Lightning. While the race to finish atop the division will certainly be furious, Montreal is well-suited to finish at or near the top.
Mind your nets
Pekka Rinne has been out with an injury, but is set to return Thursday when the Predators face the Anaheim Ducks.
HE'S BACK! Pekka Rinne returns from injury and is expected to start Thursday. Details —> http://t.co/89NfpxODxS pic.twitter.com/Q10SWaCtIB

— Nashville Predators (@PredsNHL) February 4, 2015
He has been out for three weeks due to a knee injury sustained in a game against the Vancouver Canucks. There is no debate that he is an elite NHL goalie. In case you missed it, Rinne's backup is not too shabby either:
These saves by Carter Hutton against the Toronto Maple Leafs were outrageous, and helped preserve the win for the Predators. Yahoo! Sports, Deadspin, and others are calling the no-look stick save the "save of the year." The win was Hutton's second in a row and fourth since filling in for the injured Rinne.
Pekka Rinne will return sporting a 1.96 Goals Aainst Average, second only to Brian Elliott of the St. Louis Blues at 1.95. Rinne is the backbone of a Preds team that is hitting on all cylinders. Rinne made an unreal save of his own in January against Nathan Gerbe of the Carolina Hurricanes:
You can throw Brian Elliott of the St. Louis Blues or Chicago Blackhawks goalie Corey Crawford at me if you like. I won't disagree that they, too are elite NHL goalies. But, I like Pekka Rinne who currently leads the league with 29 wins, and feel strongly that he will be the netminder from the Western Conference we will be watching in the Stanley Cup Finals.
Carey Price of the Montreal Canadiens is another strong goalie. I'd say elite but I don't want to wear the word out. Okay, he is without question elite. His stats thus far are almost identical to Pekka Rinne's, placing him third overall among goalies. Remember this windmill save against Sidney Crosby?
Price is having a phenomenal year for the Habs. He is also the backbone of his team. His 27 wins and .932 save percentage are first overall in the Eastern Conference.
Shea and PK
Shea Weber is a beast. His 108.5 mile per hour shot registered at the NHL All-Star Skills Competition was incredible. He is my candidate for the Norris Trophy as I wrote in January. He is a large defenseman who can dominate at either end of the ice:
Did Leafs goalie Jonathan Bernier even see that puck go by him and into the net? The television color analyst said he didn't. I can imagine that before it is all said and done for this season, we will "see" more of those Shea Weber blasts.
I can see the NHL's highest paid player blasting his team right into the Stanley Cup Finals. Can't you?
PK Subban is a controversial figure. His latest cause for public scrutiny revolves around is propensity for "diving." Say it isn't so! Do NHL players actually embellish in the same manner as their counterparts in the NBA or on the soccer pitch? Apparently so:
VIDEO: Canadiens' PK Subban has been fined $2,000 for embellishing contact. AKA, diving. http://t.co/LcXEA2bgpe pic.twitter.com/toj8GRo9Fs

— theScore (@theScore) February 4, 2015
A $2,000 fine for Subban will certainly put a stop to this kind of on-ice antic. Especially considering his $9 million a year contract. That $2k will really hurt.
All joking aside, PK Subban brings something special to the Montreal Canadiens. In what may very well have been a preview game to the epic Stanley Cup Final that you know you want to see, Subban lands the OT goal past Carter Hutton of the Predators for the Habs' win:
While neither PK Subban nor Shea Weber are at the very top in terms of overall stats for defensemen this season – Weber is 7th and Subban is 12th – both are vital elements to the success of their team. It will be an epic battle indeed of these two are on opposite ends of the ice in this season's Stanley Cup Finals.
Cast of characters
I could go into a lot more detail, focusing on individual players and what I see as their strengths for each team. I'd rather not write 2,000 words at this point. I will mention Filip Forsberg, Mike Ribeiro, and James Neal of the Predators. And Roman Josi on defense. These are a few of the Preds' top players, and I think they are a formidable group. Forsberg is leading all rookies at this point, and showing no signs of slowing down. He is still the leading the pack of likely Calder Trophy candidates:
https://twitter.com/ESPN_NHL/status/563017530185613312
Mike Ribeiro is solid, in the top 30 of all NHL skaters this season. James Neal came over to the Predators from the Pittsburgh Penguins after the Pens' disappointing postseason. Adam Gretz of CBSsports.com looked at how not playing with the likes of Evgeni Malkin affected a previously productive James Neal. Gretz noted,
"But while the power play has been an issue for both Neal and Nashville, his play at even-strength is just as good — if not better — than it has ever been, which might come as a bit of a surprise."
A trade that some have dubbed a "wash" for Pittsburgh, has been good for the Predators. James Neal could be playing deep into June with his teammates.
The Montreal Canadiens have a strong group as well. Max Pacioretty is a +24 and leading the team with 41 points. Tomas Plekanec plus Pacioretty make up what the Habs refer to as a "dynamic duo."
Make no mistake about it, Max Pacioretty and Tomas Plekanec are one dynamic duo. READ -> http://t.co/Bzwk90g4XT pic.twitter.com/9nN8tvFr8O

— Canadiens Montréal (@CanadiensMTL) January 31, 2015
Alex Galchenyuk is a young player that has already made his mark in the NHL. Andrew Berkshire of SB Nation recalls his rookie season:
"His 2.84 points per 60 minutes played was absurd, and should have netted him the Calder Trophy with ease, but he was given very little ice time, and even less powerplay time."
Berkshire goes on to call Galchenyuk an elite player:
Obviously Galchenyuk isn't better than Crosby, or Stamkos, or Tavares, but his point production at this age puts him in an elite category that most people are reluctant to include him in.
Predators vs Habs: Admit it, it would be epic
Montreal has a cast of characters that are very formidable when matched up against a team like the Nashville Predators. I know, you can mention Jonathan Toews and Patrick Kane. You can mention Marc-Andre Fleury, Sidney Crosby and Evgeni Malkin. You can throw Brian Elliott and TJ Oshie at me.
I'm not saying at all that the Blackhawks or the Penguins or the Blues are not legitimate contenders for the Stanley Cup this season, or that there are not other teams that could contend, too. I am saying that the Nashville Predators versus the Montreal Canadiens would be an epic Stanley Cup Final. I'd watch it eagerly. Admit it, you would, too.