One of the top prospects for the 2021 NHL Entry Draft, Michigan University forward Kent Johnson amassed an impressive five points in a big win. The Western Hockey League announced a commitment to a 24-game regular season, and two Montreal Canadiens prospects record their first NCAA goals.
Johnson Erupts For 5-Point Night
Much has been said about the Michigan Wolverines' impressive list of NHL prospects and 2021 Draft-eligible talent. Their list of NHL-affiliated prospects includes Boston Bruins' 2019 first-round pick Johnny Beecher, Vegas Golden Knights' 2020 first-round pick Brendan Brisson, San Jose Sharks' 2020 second-round pick Thomas Bordeleau, Philadelphia Flyers' 2019 first-round pick Cam York, and Vancouver Canucks' 2020 fifth-round pick Jacob Truscott. The roster also features three top prospects for the 2021 NHL Entry Draft in Matty Beniers, Owen Power and Kent Johnson.
While most of those names factored into the Wolverines' 9-0 victory over Michigan State on Friday night, Johnson stole the show with a goal and four assists. He now leads his team in scoring with three goals and 12 assists in 11 games played, and he is tied for fifth in NCAA scoring. Johnson also leads all freshmen in scoring with a one-point lead over the player behind him. The five-point effort was his second multi-point game of the season after he recorded four assists in his collegiate debut.
THW's own Matthew Zator had this to say about Johnson's ability in his player preview of Michigan's draft-eligible talent:
The 6-foot-1, North Vancouver native is quickly making a name for himself in the NCAA too. Often compared to Toronto Maple Leafs' star forward Mitch Marner, Johnson is a creative, multi-dimensional offensive threat in the middle of the ice. He's not afraid to try anything or just making defenders look silly with his ultra-soft hands. Johnson still needs to grow into his frame, but when he does, he should become a dominant number one center that racks up the points on both the power play and penalty kill.
Johnson spent the 2019-20 season in the BCHL where he dominated with 41 goals and 101 points in 52 games playing for the Trail Smoke Eaters. He was awarded the Vern Dye Memorial Trophy as the BCHL Most Valuable Player, the Brett Hull Trophy for the NCHL Top Scorer and was named CJHL Top Forward.
WHL Announces 24-Game Regular Season
On Friday, the WHL announced that they will have a 24-game regular season. It's still unknown when the season will start and the league is awaiting approval from local health authorities before proceeding with a date. There has also been no update on a proposed format or division realignment.
In a press release from the league, WHL Commissioner Ron Robison had this to say about the announcement:
The Western Hockey League is committed to providing a season for WHL players. This commitment ensures WHL players will receive the opportunity to compete at the highest level in the system and continue to pursue their hockey goals in the world's finest development league for junior hockey players.
In October, the WHL announced that their 2020-21 regular season was slated to begin on Friday, Jan. 8, 2021. However, due to the the increasing  public health restrictions across Canada, they delayed the season in December. This is the first update we've had since that announcement. We've already seen the exodus of high-profile WHL prospects such as Carson Lambos and Dylan Guenther to Europe and the Alberta Junior Hockey League. We might see these players return once a start date is determined.
Biondi & Tuch Grab First NCAA Goals
Canadiens prospects Luke Tuch and Blake Biondi both grabbed their first NCAA goals of the season on Friday night. For Tuch, it was his collegiate debut after Boston University's season was delayed. He finished the game with one goal and one assist. Drafted 47th overall by the Canadiens in the 2020 NHL Entry Draft, he spent the 2019-20 season with the United States National Team Development Program where he registered 23 goals and 21 assists in 66 games played.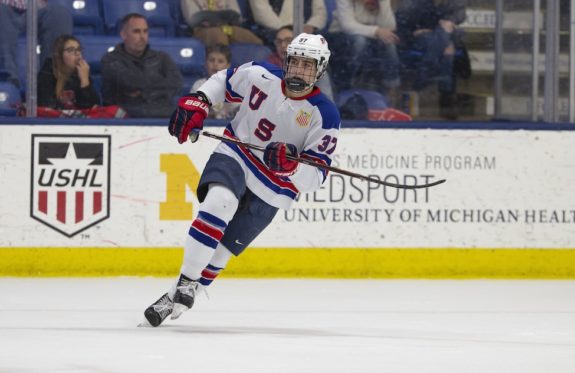 Meanwhile, Biondi scored his first NCAA goal in his eleventh game of the season for the University of Minnesota-Duluth. Drafted 109th overall in the 2020 NHL Entry Draft by the Canadiens, he spent most of his season in the US Highschool circuit with Hermantown High where he recorded 37 goals and 76 points in 25 games played. He played ten games in the United States Hockey League for the Sioux City Musketeers recording one goal and two assists.
---
---