The 2013-14 NHL season is quickly coming to a close and for fans of the Winnipeg Jets, the story is a familiar one. The Jets are in the playoff race, but on the outside looking in and that's probably where they will be come April  11, when they play their final game in Calgary.
There are a number of  issues facing the team going forward. Many are questions which won't likely be answered until July, if not later.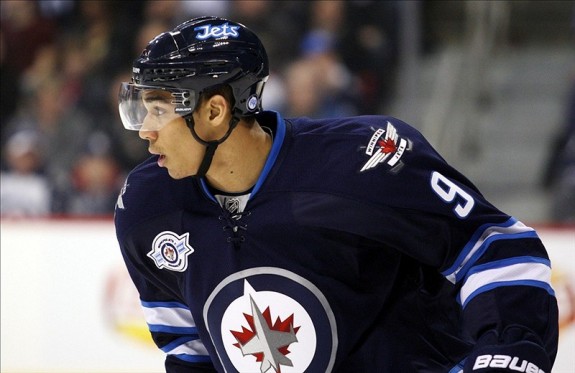 Will Evander Kane stay with the team long term?
Evander Kane is in the second year of a six-year, $31.5 million contract that comes with an annual cap hit of $5.25 million, according to CapGeek.com. And yet, that hasn't stopped the speculation in recent months and years that Kane could be shipped out. With Claude Noel gone and Paul Maurice in for now, that could bode well for the left winger's future in Manitoba. However, Kane has had a down season, due to injuries and simply not being able to find that back of the net. He has 17 goals and 19 assists for 36 points in 55 games. For a speedy forward with an excellent shot, it's reasonable to expect 35 goals and 30 assists from Kane in a 82-game season. But, remember, he's only 22 years old. Why not hang on to the Vancouver native for at least a couple more years and see if his play improves?
Will there be a change in goal?
Ondrej Pavelec is in the second year of a five-year, $19.5 million contract, which carries a $3.9 million cap hit. Backup Al Montoya is on a one-year, $601,000 deal. Also notable in Winnipeg's system is Michael Hutchinson and Eric Comrie. However, neither is ready for NHL play yet, let alone a starting job. Maintaining the status quo seems likely, unfortunately for those fans who have been calling for change since the team arrived in Winnipeg. There is cap room available going forward, but can the Jets attract a starter better than Pavelec? The goalie free-agent market includes Ryan Miller, Jonas Hiller, Brian Elliott, Jaroslav Halak and Jonas Gustavsson, among others.
Your move, Kevin Cheveldayoff.
Will Olli Jokinen be re-signed?
Olli Jokinen has been a lot better for the Jets this season than in the lockout-shortened 2012-13 campaign. The 35-year-old—who won a bronze medal with Finland in Sochi—has 16 goals and 24 assists for 40 points in 73 games. Whether that's enough to justify a $4.5 million contract is debatable. If the Cheveldayoff can work something out around $3 million per year for one or two years, it would certainly be worth it. Even in his mid-30s Jokinen continues to miss just a couples of games per season, at most. And, he's averaging nearly 17 minutes in ice time this year. He may not be a fan favourite, but he could offer good depth for another year or two.