Philadelphia Flyers general manager Ron Hextall has made nine trades since he was promoted to his current position in the summer of 2014. Eight of them were player trades, and an argument could be made that Hextall won all of them except for his first trade.
About a month after taking his general manager role, Hextall shipped fan favorite Scott Hartnell to Columbus for former Flyer R.J. Umberger and a fourth-round pick. Even then, the trade was met with criticism.
Hartnell was coming off a 20-goal, 52 point season. Umberger's 2013-14 campaign was injury plagued, yet he still managed to put up 18 goals.
In two seasons since then, Umberger hasn't scored 18 combined goals in the orange and black, while Hartnell has added 109 points to his career with the Blue Jackets.
The good news for Hextall and Flyers fans is that they'll soon be reaping the benefits of that trade.
On The Ice
Even at the time of the trade, Philadelphia knew it would be taking a step back by losing Hartnell. The former Nashville Predator had great chemistry with star Claude Giroux and was a consistent 20-goal scorer.
But Hartnell was also guilty of taking bad penalties and at horrible times. It wasn't uncommon to see the winger whistled for a two-minute penalty while battling in front of the net on the power play, offsetting a Philly man-advantage.
Umberger's career never hit the career highs that Hartnell's did, but that doesn't mean he didn't have a respectable career. After the Ohio State University product was traded to Columbus in 2008, Umberger produced four 20-goal seasons in a row and hit 50 points twice.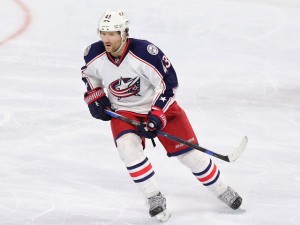 But the lockout-shortened 2012-13 season was an abysmal one for Umberger. He scored just eight goals in 48 games. The next year was a slight rebound with his 18 goals and 34 points, but Umberger's 20 goal, 50 point seasons were clearly in the rear-view mirror.
No one should have expected those numbers when Umberger arrived back in Philadelphia, but 10 goals and 15 assists seemed like a reasonable request from the then-32 year old. He could also play on the penalty kill unlike Hartnell.
The Flyers also may have expected Hartnell, who plays a very rough-and-tumble brand of hockey to start slowing down and suffer injuries in his mid-30s. While Umberger was coming off a bad injury year, an offseason of rest should have helped him get back to normal playing health.
Hindsight is of course 20/20, but neither of those things happened. Hartnell has played in 156 of 164 games over the past two years, while Umberger played hurt during the 2014-15 season and could only muster two goals this year.
Off The Ice
This is the part where the Flyers always knew/hoped they would win the trade – in salary and cap numbers.
At the time of the trade, Hartnell had five years remaining on his $4.75 million AAV contract. Umberger had three left at $4.6 million a season.
The monetary difference was only $15,000 but the two less years at the end was what the Flyers were paying for. Philly entered a rebuild after the Hartnell trade and with multiple bad contracts already on the books, losing one early seemed like a great reward.
And things get even better with the possibilty of expansion and an expansion draft on the horizon for the NHL. Teams will be permitted to protect a maximum of 10 skaters, but must use those spots on players with a no-movement clause:
More #nhl expansion draft info. sources indicate no-moves must be protected by teams. no-trade clauses not exempt and can be left exposed.

— gary lawless (@garylawless) April 29, 2016
Both Umberger and Hartnell have no-movement clauses, but the former's contract will be done if there's an expansion draft next season. Then there's also the likelihood that Umberger is bought out this summer, excusing Philly from having to protect him.
Imagine if the Flyers still had Hartnell. In the middle of a rebuild, trying to shed salary and implement a younger roster, and then being forced to protect a player signed for two more seasons at a $4.75 million cap hit. Philadelphia would take the first option with Umberger.
The trade will never go down as a win for the Flyers. They simply gave up the better player in a player-for-player trade, but things are going to start looking better for the team this summer.