It was long-awaited, but the first flash of Mika Zibanejad returning to form happened on Sunday night. Streaking down the right side on a 2-on-1, Zibanejad outwaited Pittsburgh Penguins goaltender Case DeSmith and buried one off the crossbar for a much-needed even-strength goal. His two other goals in 2020-21 have come in odd-man situations; his first a power-play tally and the second an empty-netter. It was the New York Rangers' lone strike of the game, as they fell 5-1.
The goal ended a six-game goal drought but gave Zibanejad points in three of his last four games and five of his last eight. He has been more noticeable of late, although he is still underperforming, especially when you consider the high bar he set last season. The Rangers need him to get going offensively and start to play like the superstar he could be during Artemi Panarin's absence.
When asked during the postgame press conference about how it felt to score his first even-strength goal of the season by Mollie Walker of the NY Post, Zibanejad's response was blunt:
Yeah, that is obviously the start that you would like to get with a goal like that, but it didn't really matter this game, so we will just move on and focus on the next game.

– 'Mika Zibanejad's Postgame 03.07.21' from NHL.com.
It was the response of a leader who, despite his struggles, still prides himself on the success of the team over the success of the individual. The goal was a big one for Zibanejad, and the Rangers hope that will carry over into Tuesday's rematch with the Penguins.
Rangers' Goaltending Carousel Continues
An injury to Igor Shesterkin handed Alexandar Georgiev the keys to the castle temporarily, or so we thought. Despite winning his first start in replacement of Shesterkin against the New Jersey Devils, Georgiev has looked shaky, giving up several bad goals, including a pair to Nathan Bastian (Devils) and John Marino (Penguins).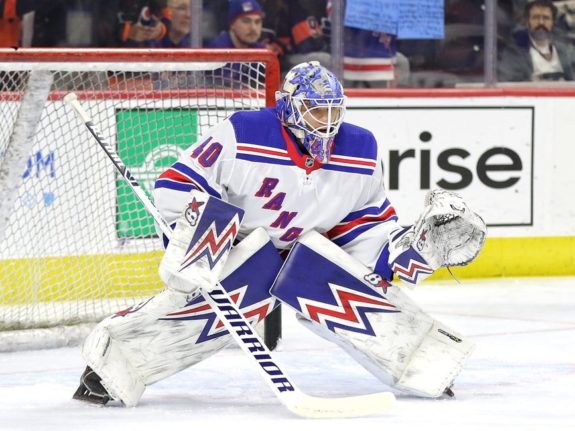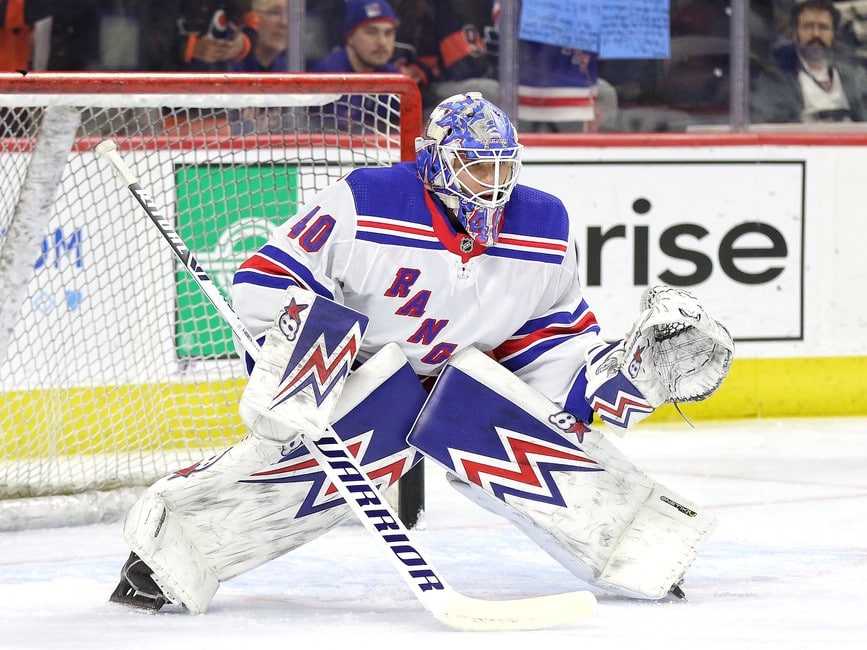 He stopped 24 of 27 against the Devils before only stopping three of six thrown his way by the Penguins, which forced head coach David Quinn to make a goaltending change. Georgiev, who now has a 3.03 goals-against average (GAA) and a save percentage (SV%) of .897, was replaced by journeyman Keith Kinkaid, who last played an NHL game on November 30, 2019.
Kinkaid was sharp once he entered the game, stopping a breakaway and making a phenomenal lunging save on a brilliant Pittsburgh passing play. He allowed two goals late in the third but was clearly the better netminder on the night. Considering Georgiev has been inconsistent all season, Kinkaid's play could open the door to him to get some more starts, depending on how long Shesterkin is absence.
Starts will have to be earned while the team's number-one goaltender is on the mend, and Kinkaid made his case for his first start as a Ranger.
Season Hinges on Upcoming 7-Game Stretch
The Rangers are about to begin a seven-game stretch which will determine whether their playoff hopes are a figment of their imagination or reality. Starting with Tuesday's matchup with the Penguins, the second of a two-game set, the Blueshirts then head to Boston for two games against the Bruins before returning home for two against the Philadelphia Flyers, finally finishing with two games against the Washington Capitals.
With a 10-10-3 record, the Rangers are six points behind the Penguins for the fourth and final playoff spot. A win Tuesday is critical to this mini-playoff push, but a successful seven-game stretch would put the Rangers in prime position for playoff contention.
Each game is against teams ahead of them in the standings, a recipe for a monumental rise in a shortened season. The most pivotal games are against the Flyers, who are four points in front of the Rangers with a game in hand. We know the Rangers can beat all of these teams when they execute well, as they have already taken down each opponent at least once this season.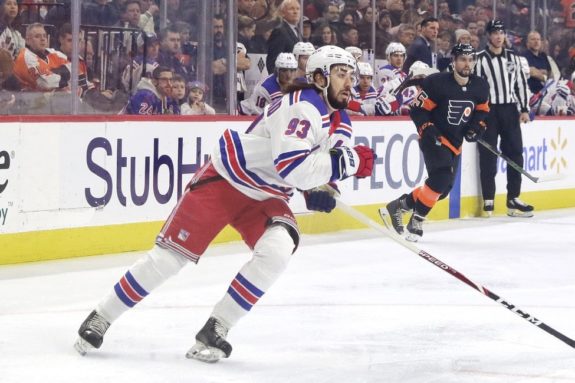 In fact, the only team that hasn't beaten the Rangers this season are the Capitals who have failed to come out victorious in their two meetings.
Can the Rangers continue to tread water without Panarin and Shesterkin? Let me know what you think their record will be over this seven-game stretch below!
---
---