With different fantasy leagues and settings, knowing who is more valuable can be tricky. Generally speaking most leagues have similar categories but when it comes to ranking the value of Sharks players, the following list may be helpful. The player yours truly predicted to lead the team in points might not actually be the best fantasy candidate.
10. Matt Nieto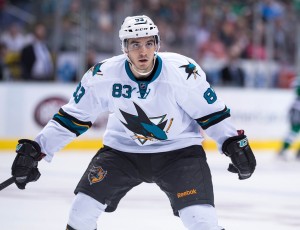 Originally I had Nieto one spot higher on this list. The second year winger is likely to start the season on a line with two thirty goal scorers. However, Tommy Wingels has also shown he can play well with Patrick Marleau and Logan Couture. It's no guarantee Nieto will stay there.
There is a lot of risk/reward with drafting Nieto. Depending on performance he could find himself as the best player on a third line, and finish the season with around 30 points. If he flourishes in the top-6 he could easily eclipse 50 points.
9. Tommy Wingels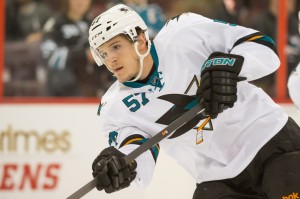 Wingels had a career year last year with 16 goals and 38 points in what his first full season in the NHL. Part of the reasoning for bumping him up over Nieto is his versatility. Not only is he likely to see time with top players at some point during the season but he is valuable in multiple categories. He will chip in on the penalty kill (three short-handed points last year) and he led the Sharks in game-winning goals last season with seven.
8. Jason Demers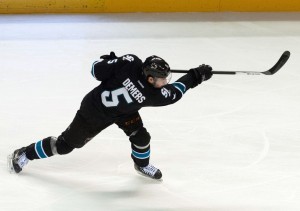 The 26-year-old defenseman is coming off a career year with 34 points. Demers was tied for 15th among all NHL defenseman in even strength assists last year, ahead of guys like Shea Weber and Cam Fowler. He flourished with Marc-Edouard Vlasic on the top pair last season and the Quebec native could possibly see some No. 1 power-play time this season. Behind Brent Burns, Demers is the most consistent fantasy threat on the Sharks blue-line.
7. Antti Niemi
People who know me understand how big a fan I am of Alex Stalock. However, Niemi's backup has proven little at the NHL level and never did put up great numbers in the lower leagues. As mentioned multiple times here at The Hockey Writers, Niemi's track record suggests he is an every other year stud. Last year he struggled which means this year he is due for a bounce back. He also happens to be extremely motivated going into a contract year. Fantasy wise he still was a top goaltending choice even in a down year. He finished tied for second in wins with 39 despite a pedestrian .913 save percentage. People tend to forget though that in two out of four years with the Sharks he's finished with a save percentage of .920 or higher.
6. Tomas Hertl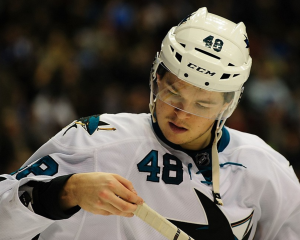 Hertl is my pick to lead the Sharks in goals this season so you may think the Czech phenom would be a bit higher. However, couple things to note. He plays on a line with Joe Thornton who doesn't shoot a whole lot. Hertl may not rack up many assists. In fantasy leagues with only goals and assists categories and no points category, this knocks his value a bit. Furthermore he likely will play on the second power-play unit and not the first.
5. Brent Burns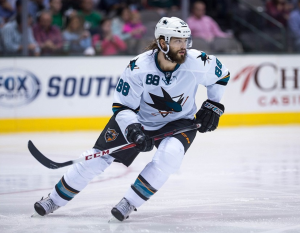 Many seem to think Burns won't be as valuable playing defense this year when it comes to having dual defense and forward fantasy eligibility. However, there is a good chance Burns goes from hardly any No. 1 power-play time to full time on that unit. It is very likely that Burns notches 45-50 points from the blue-line this year. Plus his versatility is still nice to have, particularly if you have already loaded up on defensemen.
4. Joe Thornton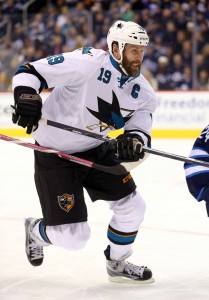 As previously mentioned, Thornton doesn't shoot a whole lot these days. He twice scored over 35 goals in his Bruins days so makes one wonder why he doesn't shoot more. However, he is one of the most dominant possession forwards with the Sharks, so the shooting more thing is a rather petty plea amongst us fans. Fantasy wise Thornton's value comes in both even strength and power-play assists but not much else. He does rack up assists like they are going out of style though. Chances are he will lead the Sharks in points with all those helpers.
3. Joe Pavelski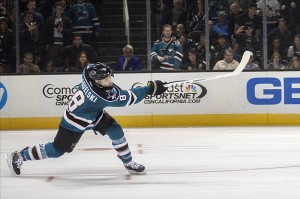 Playing on a line with Thornton, Pavelski will score a lot of goals but again, the assist totals might not be as high (still really good though). Even if he continues to play with Thornton, his shooting percentage from last year is bound to come way down. Far more likely to finish in the high 20's than low 40's in goals based on his normal shooting percentage. While he scored 41 goals last year, more realistic totals for this year are 28 and 32. He is more valuable than Hertl though for his power-play and penalty kill contributions.
2. Patrick Marleau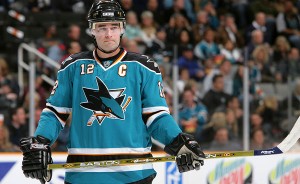 While Marleau is hardly slowing down (if at all) chances are he will finish with a few less points than his 33 goals and 37 assists from last season. He is still incredibly valuable fantasy wise though because he shoots a ton (285 shots last season led the team), plays in all situations, and will have a few more points than Pavelski this year. Projecting Marleau to finish with 30 goals and 35 assists.
1. Logan Couture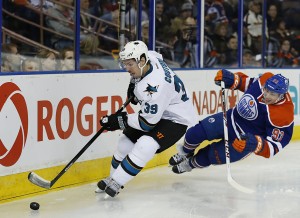 At first I had both Pavelski and Marleau ranked ahead of Couture but then I remembered one very important thing, Logan is 25-years-old. He is in the prime of his prime and is bound to have a career year if healthy. The London, Ontario native is an absolute fantasy dynamo with the most room for increased performance. If not for injury last year and the lockout shortened 2013 campaign, Couture would likely have four straight 30-goal seasons to open his career. That's just downright filthy. While he spent time injured last season, he still scored 54 points in 65 games, including 23 goals. Extrapolate that pace over 82 games and you get 29 goals and 69 points. Not to mention last season was his career low shooting percentage at just .099 (career average is .121). Like his linemate, Couture also shoots a ton (235 shots in those 65 games), will score on both the penalty kill and the power-play, picking up both goals and assists. He will push Thornton for the team lead in points with a projected career year of 32 goals and 42 assists.